There's no more free passes; it's win or see you later!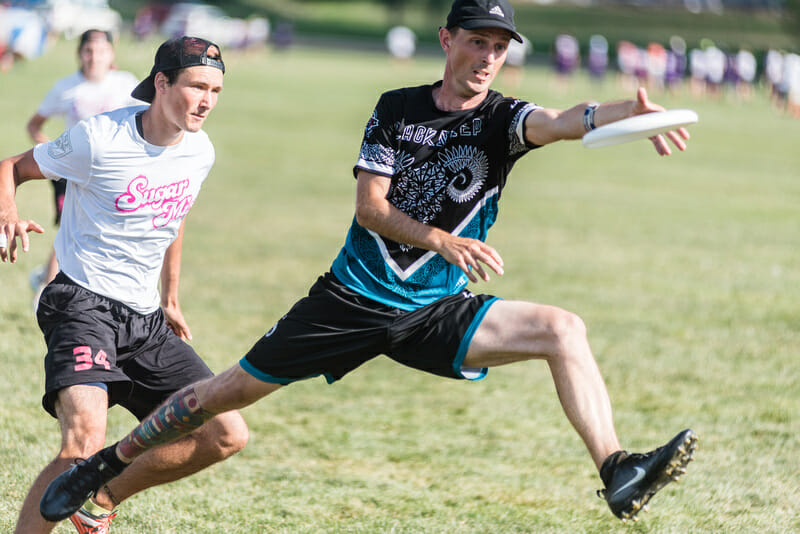 Ultiworld's coverage of the 2018 WFDF World Ultimate Club Championships is presented by VC Ultimate; all opinions are those of the authors. Please support the brands that make Ultiworld possible and shop at VC Ultimate!
Tuesday was the last day of pool play for the mixed division with every team rounding out their respective groups in the morning. The teams who finished in the top three of each pool booked their place through to the prequarters, leaving the fourth and fifth place teams to battle it out in crossovers for the remaining spots in bracket play. Click here to see the matchups in the prequarters.
Smog (GBR) vs Disco Sour (CHI)
Smog needed to beat Slow White in order to avoid the playoff round. When they broke for their first lead in the game at 11-10, it seemed an achievable dream. However, the Bostonians turned it on to finish the game on a four point run, setting up Smog to take on Disco Sour. The Chileans carried a solitary win over Stall7 (IND) into this game and never really looked like adding to that tally against Smog, falling 15-10 to the Brits. Congratulations of a kind, as the Brits get rewarded with a matchup against Mixtape (USA) tomorrow.
Macondo (COL) vs Disctèrics (ESP)
Both of these teams found themselves at the bottom of three way ties in their respective pools. Disctèrics were never able to find their feet against the Colombians and lost 15-8 to their lightning strike style. Macondo already have a win against North American competition after they defeated Battleship (CAN) in pool play. Slow White, their next assignment, are an entirely different game altogether.
GRUT (NED) vs BOOM! (KOR)
GRUT had a strong showing against the surprisingly scrappy Chuckies (SGP) in the morning, bringing their time in the incredibly tight Pool E to an end. At the same time, BOOM! notched their first win, coming over the Flying Tigers (RSA). A close first half was followed by GRUT dominating the latter exchanges, running out winners 15-8. With unexpected Pool D winners Mulatto Pilipinas (PHI) waiting for the young upstarts, that matchup promises to be one of the most exciting of the prequarter round.
Shinshu Loose (JAP) vs Freakshow (SGP)
In one of the closest crossovers, Shinshu were able to bounce back from a hard loss to Marvellous DC (NZL) in the morning to overcome Freakshow 13-9. Freakshow will be hurt to go out early as their double game point loss to Sesquidistus (FRA) earlier in the day placed them in this unfavorable matchup. Shinshu Loose have had their moments this tournament, and have the potential for another one against a tough but imperfect Wild Card tomorrow.
Sesquidistus (FRA) vs NEON (HKG)
Thanks to the above mentioned double game point victory, Sesquidistus were able to book themselves the easier playoff. NEON looked weaker against the bigger, more western-style offenses in their pool games, a trend that continued here as the French were able to use their depth and size1 to push past them 15-8. BFG await the winner, so…congratulations Sesquidistus?
Kisimu (KEN) vs Chuckies (SGP)
Kisimu's historic run at WUCC came to an unfortunate end as they ran into the strongest fifth finish team, Chuckies (SGP). The Kenyan's have strength in spots but couldn't match the more balanced approach of Chuckies, falling 15-7 to the Singapore side. Crash will need to be on notice, as Chuckies are far from the walkover their pool record would lead you to believe.
Urosoul (COL) vs Cóndor (MEX)
In a desperate bid to avoid a playoff game Urosoul pushed group leaders Hassliche Erdferkel (GER) to double game point before falling to the Germans.  Unfortunately for Condór, this seemed to awaken the true depths of Urosoul's power as the quickly dismissed the Mexicans 15-6. As impressive as their performance was, they'll need to find several more gears to hope to move past AMP (USA) in their prequarter contest.
Sugar Mix (GER) vs Black Sheep (NZL)
Both of these teams carried in two wins to this game from their respective pools. The most impressive among them was Black Sheep defeating Smog 15-13. However, Sugar Mix were able to find a new gear in this game and played their best ultimate of the tournament at the right time, winning 15-11. Fellow Germans Hassliche Erdferkel2 are the reward for their effort. The last time these two met at German Nationals, Mix lost a one point game. Cincinnati seems as good a place as any for revenge.
---
and a phenomenal defensive performance from captain Gaël Ancelin ↩

The only undefeated European team left in the tournament ↩