Molly v. Revo. Fury v. Riot.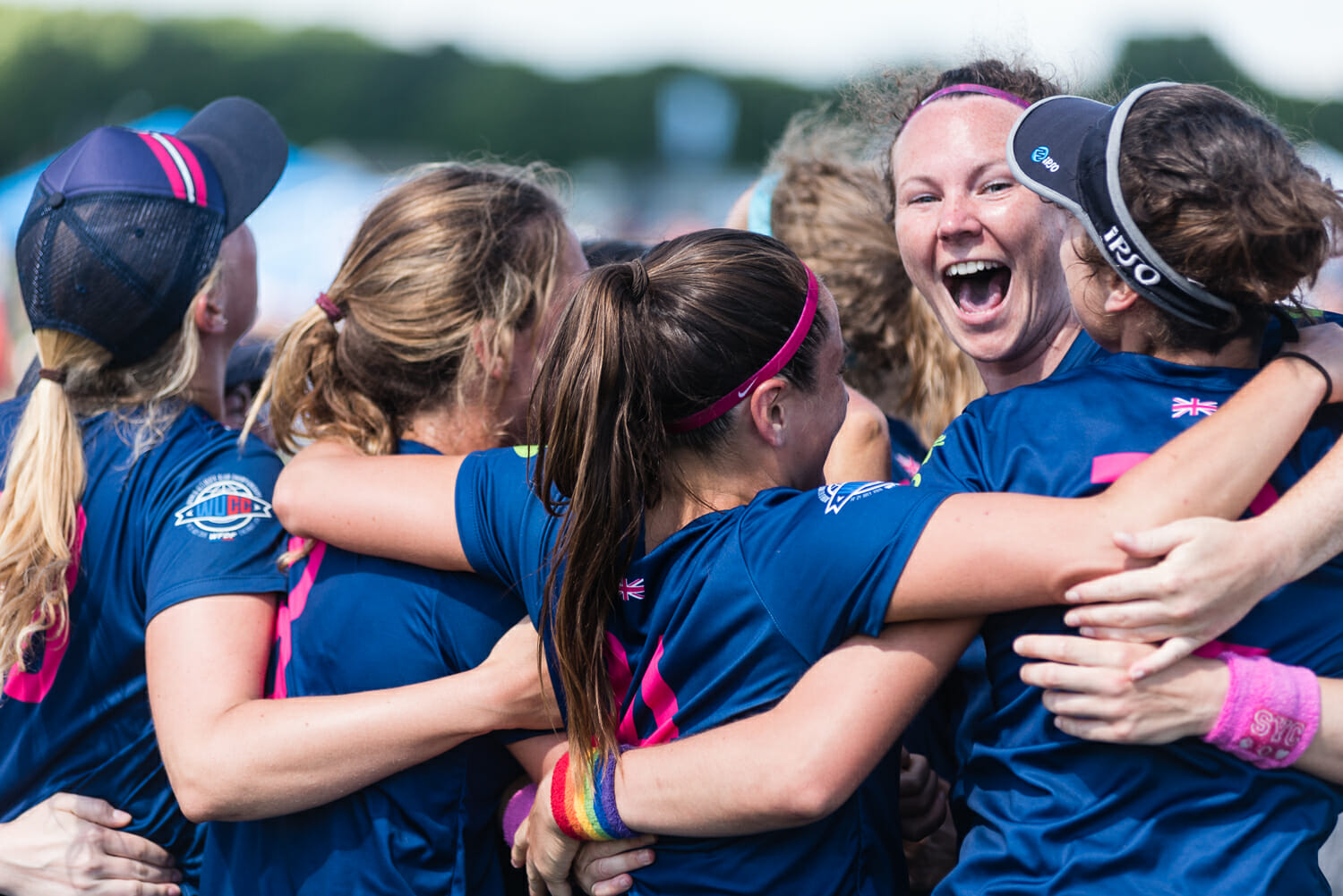 Ultiworld's coverage of the 2018 WFDF World Ultimate Club Championships is presented by VC Ultimate; all opinions are those of the authors. Please support the brands that make Ultiworld possible and shop at VC Ultimate!
Tuesday's power pool action in the Women's Division did not disappoint. The first two full days of the tournament often felt somewhat subdued, and the lack of exciting, high quality games left many looking forward to power pools, when the top teams would finally begin to square off. The games were worth the wait, as they featured rivalries, instant classics, and high intensity.
Pool J wound up being the headliner, with the six games decided by an average of fewer than three goals. The top two seeds both won their first games of the day. Brute Squad (USA) defeated UNO (JPN) 14-12 in a great game (available with an Ultiworld Full or Plus subscription!), and 6ixers (CAN) knocked off Brilliance (RUS) 15-12. Those results set up a battle between the American and Canadian sides for the top of the pool. The game was an instant classic.
6ixers grabbed a break on the first point of the game and were able to hold that advantage into halftime. Brute scored four of the first five points of the second half, though, and it appeared as though Brute would pull away as they had so many times before. But 6ixers scored three straight to immediately retake the lead. All they would need to do to win is hold on their remaining offensive points.
The final point could get its own entire recap, but the short story is that the two teams combined for seven turnovers, and Brute eventually got the break for the dramatic victory. 6ixers impressed with their ability to hang with one of the top teams in the world, particularly given their late resurgence after falling behind, but their errors on the final point meant they wasted a fantastic opportunity to register a marquee victory in their young history as a program.
Pool I featured the greatest rivalry in ultimate: Fury (USA) v. Riot (USA). The game was well played and tight throughout, but Riot came out on top with a 15-13 victory. Riot has arguably had the most most impressive tournament so far, waltzing through their original pool in more dominant fashion than any of their rivals. The Fury win should do even more for their confidence as they continue to work towards defending their 2014 WUCC title.
If Riot has looked like the top team so far, then Revolution (COL) has been a very close second. Their 15-10 victory over Molly Brown (USA) was a resounding statement that the Medellin side is not just a contender for a medal, but a contender for gold. They were especially impressive in the second half, when their immense defensive pressure, the impeccable throws from Yina Cartagena and Valeria Cardenas, and team-wide athleticism combined to overwhelm Molly during a 5-0 run to end the game. Revolution is as star-studded and deep as any of their American counterparts, and if anyone thought their U.S. Open win in 2017 was a fluke, they emphatically proved otherwise with their power pool victory.
Pool L didn't quite hit the same heights as the other power pools, but Ozone's (USA) 14-10 win over HUCK (JPN) was exciting enough.
The lower pools offered similar entertainment to Power Pool L. For the most part, the teams coming in with a win in hand advanced to the championship bracket. Traffic (CAN) won comfortably against Nice Bristols (GBR) and was absolutely dominant against Mantis (AUT), with Mantis claiming the second spot out of the pool. Swampybarg (JPN) won their pool ahead of FABulous (SUI), while Ellipsis (AUS) beat out Atletico (FIN) in Pool P. YAKA (FRA) were the only team to overcome a carried-over loss by beating Mainzelmädchen (GER) 15-12 to take second behind Fusion (CAN) in Pool M.