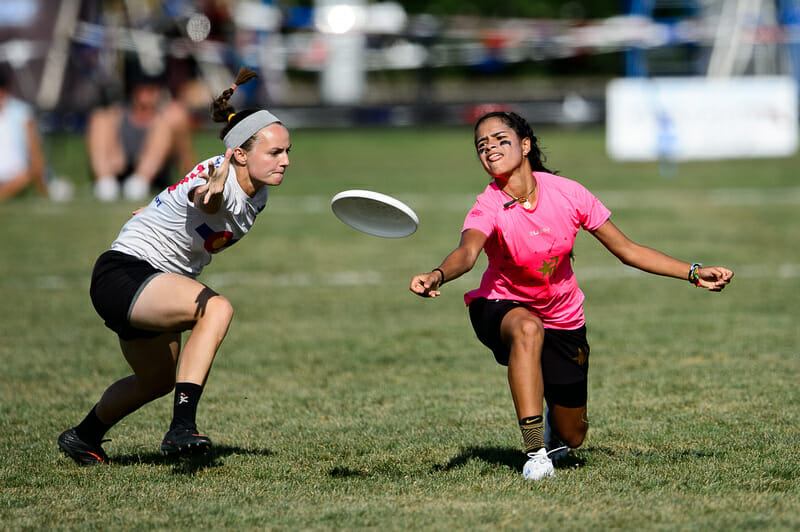 Throughout WUCC, we will be "embedding" with select teams and telling their stories with daily updates about their journey, history, and more. We call it Inside Break.
Ultiworld's coverage of the 2018 WFDF World Ultimate Club Championships is presented by VC Ultimate; all opinions are those of the authors. Please support the brands that make Ultiworld possible and shop at VC Ultimate!
In a rematch of the classic 2017 US Open final, Colombia Revolution played Denver Molly Brown in their final game of power pool play on Tuesday.
Revolution won the game with an emphatic 5-0 run to close out the game with a 15-10 win, and it was clear that winning the game was a priority for the whole team. For one Revolution player, though, the game provided some conflict and extra stress: Manuela Cardenas, one of Revolution's biggest stars and ultimate's most famous personalities, has a history with Molly Brown. She played with them during the series of the USA Ultimate 2017 club season, and she very quickly became a loved member of the tight knit Molly Brown family.
The closeness between Manuela and her former Molly Brown teammates was apparent throughout, as seemingly every Molly player stopped to hug and speak with her at some point during the game. "When I knew that we were playing against Molly Brown this game, I was a little confused," she said. "[Revolution] is my team for this tournament, but you never want to see your friends sad."
Cardenas suffered through some on-field struggles early in the game. She committed two red zone turnovers on the team's second offensive point, and Revolution ended up getting broken. She credited her rough start with the conflict she felt in those early moments. "I felt super bad [and] confused in the first part of the game and I made so many mistakes," she said.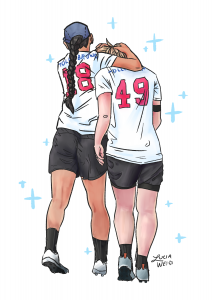 But she was able to right her game as she was able to embrace playing against her teammates. "The feeling is difficult because you are [making] your friends feel bad," she said. "In the first part of the game, I felt something like that. But [they are] incredible, the energy, they take the mistakes, they support their other teammates. I'm glad to be a part of both teams."
"I wanted and I did give to both teams my best," she continued. "To my team Revolution, my play on the field, and to Molly Brown, being spirited in the game. I wish I could play with both teams, but it's impossible. Last year, I had an incredible experience with Molly Brown, and I will keep going with them and with Revolution."
Cardenas ended up with two assists and two goals and threw just one more turnover after that two turn point. She ended up having a solid game despite the emotions she had to fight through before and during the game. But beyond her successful play on the field, she also regathered her customary contagious style of humor as well.
On one point in the second half, there was a discussion about where the disc needed to be after a call. Molly Brown's Dena Slattery suffered a slip of the tongue when she announced that the disc should be back with Manuela, and gestured to her twin Valeria. Manuela, who was actually on the sideline for the point, stepped onto the field and helped Slattery with her mistake by reintroducing herself to her old teammate, "Hey Dena, this is Valeria, I am Manu," eliciting laughter from every player on the field and sidelines alike.
Upon the conclusion of the game, Manuela hugged each and every Molly Brown player in the high five line once again and shared further laughs with her teammates — both Revolution and Molly Brown — in the spirit circle. There, it was clear that Manuela had brought both teams closer, and that the connection was not just between Manuela and her American team. Revolution had a special disc made to give Molly Brown as a gift, and head coach Mauricio Moore, who doesn't usually participate in the players' circle, made a speech thanking the Molly players for taking care of Manuela and telling them how proud he was that she had played with such a good team.
Manuela is a naturally effervescent personality on the ultimate field, and that makes her a popular figure in the game. But it was clear in the early stages of the game that the emotions of the moment were affecting her. But with two ultimate families on the field with her, she was able to find comfort in a tough situation. As she said, she gave her best for both teams, and helped Revolution to a big win in the process.