Impressive showings in quarterfinals make the semifinal matchups look exciting.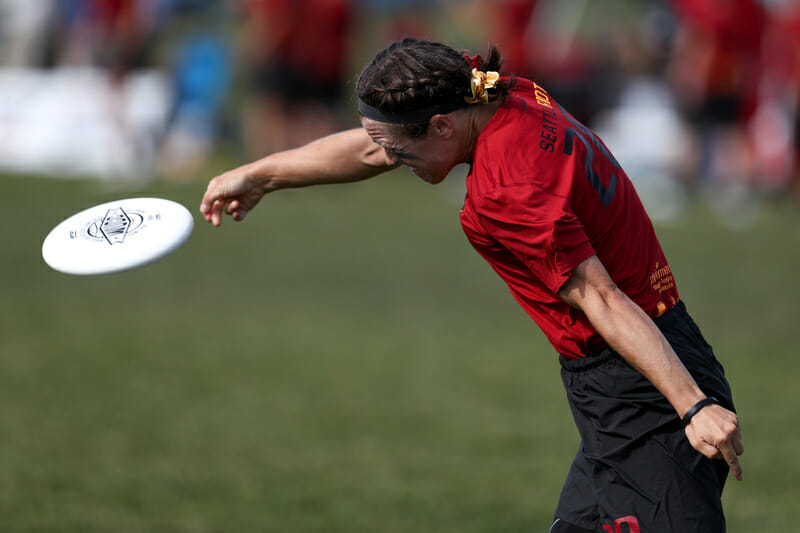 Ultiworld's coverage of the 2018 WFDF World Ultimate Club Championships is presented by VC Ultimate; all opinions are those of the authors. Please support the brands that make Ultiworld possible and shop at VC Ultimate!
After waiting four days for quarterfinals, the action on Thursday was a major disappointment. Not one of the matchups was close, even though two of the games featured two semifinalists from the 2017 USAU Club Championships. In fact, one of them was a rematch of the final from U.S. Nationals. But even that game between Fury and Brute Squad was not a close contest, and on Fury's side it wasn't especially well played either.
Brute Squad broke on their first two defensive points, taking an early 3-0 lead. The breaks came as a result of inexplicable sloppiness from the Fury offense, who committed far too many simple errors. Fury did get one break back immediately after their first hold to make it 3-2, but after that point their defensive pressure wasn't up to par either. Brute Squad was able to answer Fury's break with another of their own, and with Fury's inability to slow down the Brute Squad offense, Brute took half at 8-5.
The teams traded holds for the first five points, with Fury's offense being efficient enough, but the D-line was still not able to get the breaks they needed to get back in the game. At 10-8, Fury completely crumbled, the offensive errors returning to their game and burying them in the process. Brute Squad took advantage of the mistakes with a four goal run to put the game away at 14-8. The teams traded holds to the end, to seal the 15-9 win for Brute.
They were the better team from the beginning of the game to the end, and they deserve credit for their impressive performance, but it was stunning to see Fury struggle so mightily. Every team is capable of having an off game, and this clearly was one for Fury, but it's always disappointing when a great matchup on paper doesn't live up to its potential.
What was more frustrating about the disappointing Brute Squad Fury game, though, was that it was still the best quarterfinal game. Revolution (COL) was broken twice early by HUCK (JPN), but a switch to a backhand mark on defense immediately flipped the game in in Revolution's favor. They went on an 7-3 run to take half 8-6, and outscored their opponents 7-2 in the second half to win the game comfortably at 15-8. Manuela Cardenas had a strong game, with four assists and a goal, and her sister Valeria had five assists of her own. Maiko Hara had a team high four assists for HUCK, but as a whole, HUCK were never able to match the offensive efficiency they've shown at their best moments this week.
The other two quarterfinals games, Molly Brown (USA) vs. Ozone (USA) and Riot (USA) vs. 6ixers (CAN) were even bigger blowouts. Ozone were all out of sorts from the start of the game and could never recover, ceding a six goal lead to Molly Brown before they could even register a goal. The 15-4 final score reflected Molly Brown's dominance and the nature in which the game snowballed on Ozone. The box score does the same. Seven different players had three total points1 for Molly, while not one player reached that mark for Ozone.
6ixers looked overwhelmed by the moment, or at the very least, their opponent. Riot played lights out reset defense and applied immense pressure to the 6ixers' handlers. That pressure was not handled well. Anouchka Beaudry, in particular, had a rough go, but as a whole, the team played their worst game of the week. Obviously it's inopportune to have your worst game in quarterfinals, but Riot has been a dominant force all week and right now they look like the favorites to win the tournament. Charlie Eide had their most impactful game of the week, posting three assists and and a goal, while Dominique Fontenette added an assist and two goals.
With those results, the semifinals are now set. Brute Squad will play Revolution and Riot will square off against Molly Brown. Molly Brown is the only of those four to have suffered a loss to this point, with their 15-10 defeat to Revolution being the only negative mark on their record. Riot and Revolution have been the most consistently dominant teams during the week, but Brute Squad has been fearsome since the start of bracket play. At this point all four are very capable of snagging a medal, and all will fancy themselves to take the gold. Neutral specators, though, will simply be hoping for better games in the semifinals round than they got in quarters.
---
goals and/or assists ↩