Will those who disappointed at Club Worlds bounce back, or fall prey to hungry opposition?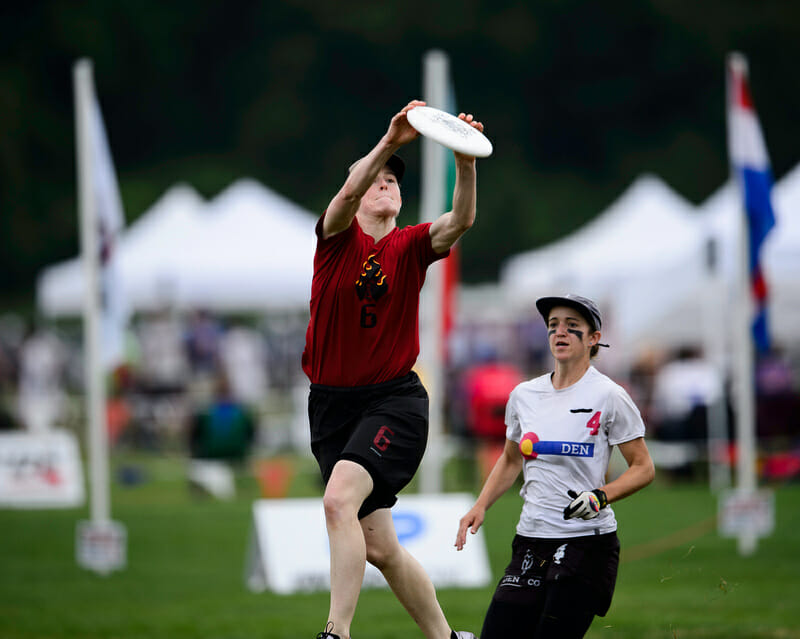 Ultiworld's coverage of the 2018 Women's Division is presented by VC Ultimate; all opinions are those of the authors. Please support the brands that make Ultiworld possible and shop at VC Ultimate!
The second leg of the Triple Crown Tour is here. 12 teams are set to congregate in Blaine, Minnesota, and take part in the U.S. Open1 to mark the halfway point of the regular season. With defending national champions #3 San Francisco Fury being joined by #2 Boston Brute Squad, #4 Denver Molly Brown, and #7 Atlanta Ozone, the top four finishers at 2017 Club Nationals are all present. The rest of the field is fleshed out by a interesting group of Nationals mainstays and hopefuls, and even though there are some notable teams not in attendance, the Open promises to provide some critical developments and twists in the narrative of the 2018 club season.
Tournament Profile
Date: August 3-5
Location: Blaine, MN
Weather: Highs in the 80's, potential for rain Saturday and Sunday, 10-15 mph winds
Top 25 Teams: 11
International Teams: 1
The Field
The U.S. Open was the most exciting leg of the Triple Crown Tour last year. That was due to the usual collection of high end teams from the U.S. being joined by top teams from all over the world in 2017. Elite clubs from Colombia, Japan, and Great Britain squared off with North America's elite, and when Colombia's Revolution won the whole thing, it sent a real jolt through a division.
Freshly crowned world champions #1 Seattle Riot elected not to attend, as did silver medalists and defending U.S. Open champs Revolution. They are joined by #20 Seattle Underground, #14 Portland Schwa, and #10 Madison Heist as 2017 Nationals qualifiers to pass on attending. Canadian clubs #12 Vancouver Traffic and #6 Toronto 6ixers (both WUCC participants) are absent as well. Of the 12 teams at the U.S. Open, three of them are the three bottom place finishers at club Nationals last year, and a further, #13 Boston Siege, missed the championships altogether. This is only the second time in the five year history of the tournament that an American team that did not make Nationals the previous year will be at the Open.2
The international aspect of the tournament is almost entirely absent this year, with the Asian collective Blackwidows as the only non-American based team in attendance. With WUCC concluding less than two weeks ago, it was never going to be feasible for any of those top international teams to come back to the United States, or for them to stay in the country between the two tournaments. But it's still disappointing to miss out on a key aspect of what made the U.S. Open the most fun TCT regular season tournament in 2017.
The more open field shouldn't be an entirely negative thing. It will give different teams a chance at the spotlight, and there's the potential for upsets that change the course of the season for teams that will be on the fringe of the Nationals picture. But for those that enjoyed the international flavor and greater depth of elite teams of U.S. Open 2017, this year's field feels like a bit of a disappointment.
Storylines
Even without the potential for exciting international storylines, there's still plenty to keep an eye on at this year's event. Riot icon Sarah Griffith will make her first appearance with her new team, Fury. San Francisco is fresh off of a disappointing performance at WUCC, where they finished tied for fifth after entering as no. 1 seed and favorites. At times their defense struggled to get breaks against the other elite American teams they played, Riot and Boston Brute Squad.
Fury lost 2017 Player of the Year second runner-up Claire Desmond this year, and her absence made a very noticeable impact on the team's defensive performance. While Griffith won't be a like for like replacement for Desmond, there aren't many players you'd rather add to your D-line than her. Griffith has been one of the best D-line players in the world for years and her addition should go a long way to helping the reigning champs on that side of the disc. We'll get our first look at how she'll be used on her new team, and how she'll adjust to her new teammates after having played with Riot for so many years.
Ozone is another team that had a disappointing week at WUCC. They didn't look fully sharp in their opening couple of games, but they still went largely untested until their quarterfinal matchup with Denver Molly Brown. But with a chance to affirm themselves as a true member of the division's top tier, the wheels fell off and they were out of the game before they ever really got into it. They wound up losing 15-4, and then lost again to 6ixers to finish tied for 7th.
They'll have the chance to bounce back this weekend and prove that performance against Molly Brown was a frustrating fluke. Ozone play Brute Squad in pool play and will have a good chance of playing Fury and Molly Brown if they make it deep into the bracket, so the opportunities will be there. They'll just need to do a better job of seizing them this time around.
Ozone's pool mates #5 Washington DC Scandal have had an inverse storyline this season. After major roster departures, the worry was that Scandal would fall away from the top of the division. But they didn't show any signs of that at Pro-Elite Challenge, where they finished third. Their pool play game against Ozone to conclude pool play on Saturday could be the best in all of pool play, and should determine which side gets the inside track to a spot in semis.
They should also be fresher than their counterparts at the top seedings, as they're the only team in the top five to not have attended WUCC. With another impressive performance this weekend, Scandal would prove they're still one of the top challengers to the big four, and that the fears that they would slip back into the middle tier of the Nationals qualifiers were misplaced.
The rest of the field–#9 San Francisco Nightlock, #11 Columbus Rival, #16 Texas Showdown, #17 Chicago Nemesis, and #18 Minneapolis Pop–were all at Pro-Elite Challenge. All of those sides had up and down weekends in Denver, posting a combined 15-17 record, and just one of them (Nightlock) finishing above .500. That feels indicative of the parity in the division outside of the very top teams.
It'll be interesting to see if any of those teams are able to create separation from the pack this weekend. Nightlock and Rival were picked as strong candidates to be Nationals quarterfinals teams before the season started, and their rosters seem to have the highest ceilings of of this cluster of teams. But based on all of their performances at PEC, those perceived quarterfinals teams spots are completely up for grabs. There's more intrigue to the course of a club season than simply who will win the title at the end of the year, and this weekend should be where those other stories really start to take shape.
---
USAU has rebranded the tournament: US Open now comprises both the International Club Championships (ICC) and Youth Club Championships (YCC). ↩

In fact, Siege was the first team to do so, back in 2015. They went 1-5 on the weekend. Canadian team Winnipeg Fusion also attended that year after not having gone to Club Nationals the year before, and they went 2-4, although both of their wins came in pool play. ↩