An easy win over Sub Zero.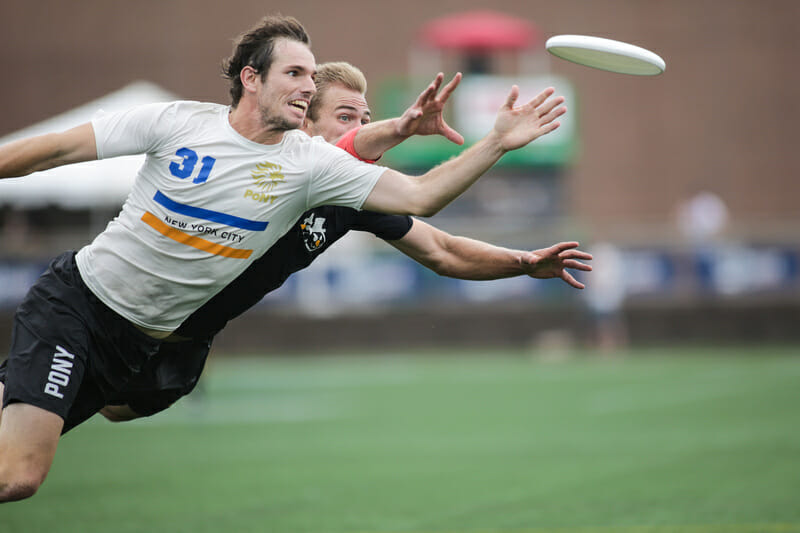 MINNEAPOLIS — Did anyone predict a Pony-Sub Zero final this weekend? Instead of the foretold Revolver-Ring matchup we're accustomed to1, we were treated to something refreshingly different: a Minnesota-New York throwdown. When the dust settled, New York Pony easily came away the victor by a hefty 14-8 margin.
The game started out ugly, with both offenses struggling to put together clean holds. Sub actually managed to get a break (their only one of the game) on the third point. But that break came with a downside: Sub had used both their first half timeouts with the score just 2-1.
After a hold to make it 2-2, Pony started galloping. A Greg Cousins drop gave their defense prime field position, and they quickly converted on a high-stall high release.
At 3-2, another Sub mistake and subsequent Pony injury allowed Mickle to come onto the field for the offensive possession, where he eventually found John Wodatch for another break. Next, an unbelievable Chris Kocher block led to another break as Mike Drost found Conrad Schloer.
It was around this point Sub must have been kicking themselves for squandering their timeouts so early in the half; perhaps they could've used one to steady themselves, to take a breath and talk about what wasn't working. Instead, Sub simply had to to ride out the storm.
An overwhelming amount of Mickle and Kocher — playing in their first tournament with New York this season after they guided Sydney Colony to a World Ultimate Club Championships finals appearance — helped Pony storm to an 8-3 halftime lead. The two were far and away the best players on the field: Mickle's size and break throws, Kocher's speed, and the potent chemistry they two have developed over the last six months was simply too much to bear for the beleaguered Sub Zero defense.
At halftime, Sub's Jason Tschida was curt. "We just need to execute," he said. "Throw the easy passes, make the easy catches. Just play frisbee the way we know we can."
Sub fared better in the second half as their offense finally found its rhythm. The teams traded holds for much of it, though Sub had plenty of chances to narrow the PoNY lead. With the score 9-5, Minneapolis had three opportunities to punch in a break, but Sub rookie KJ Johnson had a brutal series of turnovers, including a stone-cold drop in the endzone.
That was as close as Sub would get. Both team's offenses held the entire second half until PoNY's game point. A Tschida to Cousins missed connection was pounced on by the hungry PoNY D-line, and they patiently swung the disc until Ben Spielman hit Matt LeMar to clinch the US Open title and a $2,000 prize.
The Sub offense, the picture of consistency all weekend, simply picked the wrong time to play their worst game. Without Ryan Osgar (who injured his ankle on the game-winning play against Revolver), the offense would often sputter. That's not surprising, giving the heavy lifting Osgar has done for the O-line.
Meanwhile, Pony's defense turned in a complete performance, one of their best of the weekend. While they might lack the overwhelming star power of the team's O-line, its defense is filled to the brim with players that do their jobs, plain and simple. Coach Bryan Jones gave his defenders props post-game.
"Our marks were super important," he said. "Sub had to grind for every hold, which was exactly what we were aiming for."
After the award ceremony, Sub Zero got on the line and ran a series of sprints, not so much a punishment as a refresher that they still have room to improve and are hungry to do so. As for what Sub is taking away from one of their best tournaments in recent memory? "We're still building," Tschida said. "This is great for just a few weeks together, but developing trust and chemistry takes time. We're a really young team and we're only going to get better."
For PoNY, the excitement about the team's first major tournament win in many years will be brief.
"We get one day to celebrate this," said Jones. "We played well in this weather, sure, but are Nationals in San Diego going to be like this? Probably not. One day to celebrate, and then we'll go back and look at everything we did wrong this weekend."
---
those two teams faced off in the third place game, available to watch for Ultiworld Full and Plus subscribers ↩