Powerline fought off a Seattle comeback on double game point.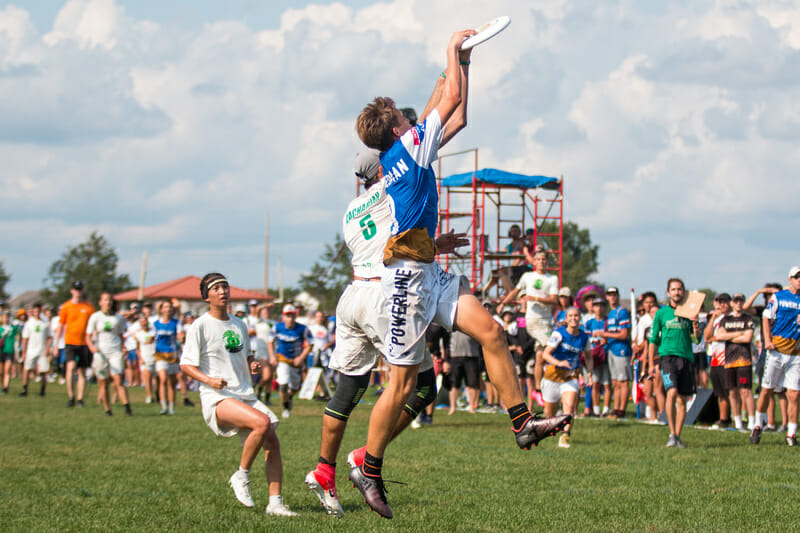 Ultiworld's coverage of the Youth Club Championships is presented by CUT Camps; all opinions are those of the author. Please support the brands that make Ultiworld possible and check out CUT Camps!
In a rematch of their pool play game from the day prior, no. 4 seed San Diego Powerline shocked no. 2 Seattle DiscNW Bankroll, and the division in general, with a double game point 15-14 victory in the U-20 Mixed final of the Youth Club Championships. Powerline looked in control of the game from early on in the second half before a late comeback from Bankroll put their title hopes in jeopardy. The win, however, completed a perfect tournament record for the first YCC title in the program's history.
Before the first pull was thrown, it was clear that these teams were familiar with each other and knew who the important matchups would be. Bankroll's loss to Powerline on Sunday had given the Seattle team a healthy respect for the formidable offensive line that faced them across the field. That same unit had powered San Diego past Bankroll the day before without being broken once. That's no small feat against a roster featuring five players joining the USA U-20 National Team for WJUC in Toronto later this year.
Almost half of Seattle's women on their roster will be representing team USA at Worlds, less than a month after YCC. Players like Hazel Ostrowski and Stephanie Phillips were particularly adept at schooling their opponents and proving why they earned a spot on the U-20 roster. Apart from these two, Bankroll was never really reliant on any one player, and showed their depth time and again. The only exception to the rule was handler Otis Williams, who was a revelation at this tournament and one of the most imposing players to match up against.
Powerline, on the other hand, had very specific roles for their players, and preferred to run their offense through a few key individuals. It was clear that the trifecta of KJ Koo, Daniel Landesman, and Calvin Brown was a combination that teams just had no answer for. Still, Powerline's greatest weapon was the strength of their women. It was not uncommon for the offense to start with four women on the line, giving Ava Hanna a chance to shine in the backfield and letting Vanessa Beeler, their leading goal scorer, get a chance to stun her defender with her otherworldly deep cuts.
Without a single USA U-20 player on their roster, Powerline was singularly focused on YCC. The team had made their way to the final behind a disciplined horizontal offense that received the compliment of being called "patient" and "boring" by DiscNW's YCC twitter account. Their O-line had been rolling over teams all weekend, winning by a margin of three or more in all their games up to the finals.
As the first pull went off on Monday, to anyone tuning in for the first time, Seattle seemed like the obvious favorite. To anyone that had been following the tournament all weekend, it was clear that this was San Diego's game to lose. So when Seattle earned a break on the first point of the game–due to two pinpoint hammers from Williams–it might not have seemed consequential for some viewers, but it was the first time during the tournament that Seattle had really managed to put a chink in the armor of Powerline's starting seven.
From there, the two teams settled down and started trading points. The San Diegan offense picked up some momentum and, with the help of some big plays from Landesman, found their groove. The Seattle defenders struggled to find opportunities to prevent Powerline's handlers from getting the disc, allowing plenty of room for San Diego's cutters to develop big gains downfield. Seattle's offense was a little more energetic, but bordered on frenetic at times. Their fast style coughed up the disc a little more, giving San Diego's D-line plenty of break chances. Despite Seattle's mistakes, Powerline couldn't string anything together until the seventh point, when they were able to punch in a break off a huge 50 yard hammer from Koo to bring the game back on serve.
With the two teams tied at 5-5, Seattle managed to take advantage of a rare Powerline miscue to gain possession with 25 yards to go. Powerline's pressure defense contained Bankroll for five passes before a high around backhand allowed Williams to show off his vertical, going over Brown for the goal.
The teams traded until 7-7, when a thundering layout block from Lauren Hanna gave Powerline another chance to break and put the game back on serve. However, Koo gave Seattle this disc back with an ill-advised hammer into the back of the end zone. That could have been it for the San Diego defense, but a high flick from Munoz sat in the wind, allowing Powerline's Vanessa Beeler to sky the pack and give possession back to the San Diegans. Beeler then completed the bookends with a breakside pass from Lauren Hanna. Just like that, the game was back on serve, 8-7.
While the first half tightly contested by both teams, most of the second half belonged to Powerline.
It took Powerline all of one minute to score a Callahan out of half. Seattle's Kenny Tong threw a wide swing that sailed past his reset handler and was easily plucked by Bryan Cloutier for the first break of the half. That was all the momentum San Diego needed to get going. While Seattle continued to trade holds with Powerline, the San Diegans no longer had to play their starters every defensive point, which allowed them to return to the field fresh when they needed a hold. San Diego's offense wasn't perfect, but Daniel Landesman–easily the MVP of the final–made a number of huge plays to keep Powerline's offense going.
Powerline broke again to make the score 11-8 and took a comfortable lead. After a rushed turn from Seattle's O-line, Powerline's cutters continued to find space on the open side and marched the disc downfield for the break. Taking a commanding three-point lead would normally be enough to tie a bow on the game, and it seemed like that was the case from that point forward. Seattle's offense settled, but San Diego's offense was equally comfortable and held all the way to 14-11, game to 15. San Diego needed one goal to put the game away, but Seattle wasn't done yet.
After a clean Bankroll hold past a Powerline zone, the young Seattle team managed to close the margin to 14-12. It was there that the weight of the game finally seemed to hit San Diego. Despite sending out a line that featured the same seven players that had played cleanly all weekend, it was clear that their nerves were getting to them. A huge flick from Brown was well past Landesman, his intended receiver, and was easily blocked by Seattle's Carly Campana, who was expectantly poaching in the deep space. Seattle closed out the point soon after. A beautiful huck to Le'Trell Paris gave them a short endzone and a quick goal, 14-13.
The point after fared no better for Powerline. Even after a timeout call from the coaches to settle the nerves, Powerline still looked a little off-kilter, while Bankroll was playing with seemingly nothing to lose. The team worked the disc upfield with guarded throws and safe cutting, but that allowed the Seattle defenders to play more aggressively and a bidding Anika Quon managed to stuff an underthrown pass meant for Ava Hanna.
Just like that, Seattle got the disc back. And with Otis Williams on the field, it was only a matter of time before the disc was launched out to him. Brown played tight coverage but could not find the disc in time, and Williams went up to pluck the disc as it sailed over Brown's shoulder to tie the game at 14-14.
With the game coming down to winner-take-all point, Bankroll seemed to have all the momentum on their side. The sideline was roaring with appreciation for the Seattle team, and Powerline seemed to be in a bit of a daze. Even though they were coming out on defense, it seemed as if the advantage was with Seattle.
But just like they had all weekend, San Diego's O-line came through when it mattered most. A few cautious passes had brought the disc up to half-field before Calvin Brown collect it in a power position. His eyes were firmly locked on Landesman in the endzone, and just as he had done so many times before, Brown launched the disc to his teammate, ignoring the coverage that surrounded him. Landesman, without the slightest hesitation, went up and tore down the disc before his defender had a chance to make a play on it.
Goal, San Diego. Game over at 15-14. Powerline claimed the championship.
Even with their loss, Bankroll showed that they were clearly the team that was best prepared to challenge Powerline and rightfully earned their spot in the final. The final of a national tournament always promises the best ultimate from two powerhouse teams. In the youth division, Seattle has cemented their status as a title contender over many years of fantastic youth ultimate. If we learned anything this past week though, it's that San Diego has become a force in their own right.