The Triangle's skill, athleticism, and height couldn't be matched.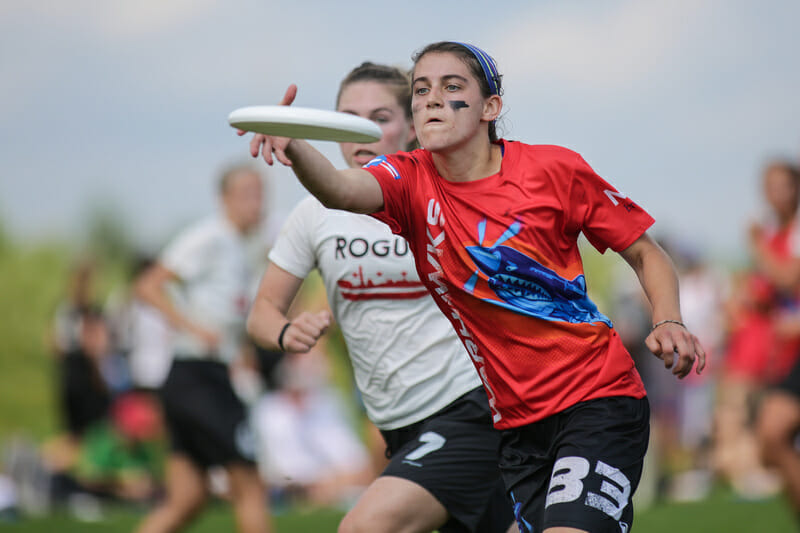 Ultiworld's coverage of the Youth Club Championships is presented by CUT Camps; all opinions are those of the author. Please support the brands that make Ultiworld possible and check out CUT Camps!
The matchup in the U20 Girls final was a rematch of 2017, but this time around it was not a surprise, as both defending champions North Carolina Warhawks and 2017 finalists Washington DC Rogue returned most of their top contributors. The game was a back and forth affair in the first half, but North Carolina pulled away in the second half to win 14-11 thanks to a greater depth of athleticism and disc skills.
With a modest breeze behind the offense, the game started with three holds, but there was a noticeable difference that presaged the final result. The Warhawks' cutters usually had plenty of space for a comfortable grab, while almost always the Rogue catches were tightly contested by North Carolina defenders. It was a bit of surprise, then, that Rogue broke first, as Olivia Arellano made the first of several great blocks as she leapt to knock the disc away from Jennifer Wang in the endzone. Maria-Petra Sutherland came down with a floaty upwind huck between two NC defenders, and after a foul call on hand block, Maya Nir connected with Grace Alston upline for the 3-1 lead.
Dawn Culton skied Ella Juengst for the upwind hold, and, after Rogue missed long, NC worked it down easily, finishing with Kate Lanier to Culton from midfield to tie it up again at 3-3. The next six points felt a lot like the first three–quick holds by NC and long, multi-turn holds by DC. Arellano had a nice layout D at 5-4, but after an overthrown swing, the Warhawks scored on the next throw on an IO from Ellen Yu, as Clil Phillips missed the catch, but Margaret Barry picked up the trash.
By 6-6, the wind had died down, and North Carolina finally delivered on one of their many break opportunities. The Warhawks loaded up their D-line and got a quick opportunity as Rogue dropped a hot swing. However, Barry muffed an attempted dish to Lanier near the goal line. NC got it back on the next throw, as a high stall prayer was pulled down by Phillips, but two throws later, NC popped an attempted inside break up and out of bounds. The chances kept coming, with a Rogue drop two throws later, and this time Alyssa Ehrhardt delivered a nice flick up the sideline to Culton for the break and the Warhawks' first lead of the game at 7-6. Both teams held into an 8-7 half.
To begin the second half, NC worked it down smoothly, finishing with Lanier to Barry to go up two, 9-7. A Lanie O'Neill bid led to a Rogue drop, but NC put up a floaty huck that was easily picked off by the defense. Tornquist floated a huck the other way with the same result to give NC another break chance. This time, the Warhawks worked it up patiently, finishing with a nice grab by Sydney Rehder just ahead of a bidding defender, and she sent an unmarked backhand up the sideline to Nola Kim-Mayer for a 10-7 lead.
After holding to 11-9 North Carolina, Rogue upped their defensive intensity and Arellano got a handblock on Lanier, but after a nice layout catch she turfed the next throw. Barry floated one down the line, and Chloe Fugle got up to block. However, after a timeout, Rogue put up a prayer of a huck that was defended easily. Lanier, Phillips, and Culton took over, working it down quickly. Culton finished to Barry over Juengst, and NC was back up three, 12-9 with soft cap on. Perhaps tiring, the teams traded huck turns, but a foul call by Sanz was uncontested on the third try and Arellano finished to Nir for hold. More of the same on the next point, as a Warhawks throw was just out the side, and a Rogue huck was easily defended by Ehrhardt. Yu powered it to Phillips all alone deep and NC finished off the hold with Yu upline to Phillips. 13-10, game to 14.
On the next point, Barry got a run through block, but a drop gave it right back and Tornquist grabbed it in a crowd and delivered in space for Juengst, 13-11. The end was uneventful, as the Warhawks got huge separation on tired Rogue defenders. Ehrhardt finished it off with a midrange throw to Culton for the 14-11 win.
Throughout the game, the North Carolina Warhawks depth of both handling skills and downfield athleticism overcame DC Rogue's gritty effort. Some sloppy play by the Warhawks kept it close in the first half, but they pulled away in the second half for what felt like a comfortable win. NC had a major edge in having three handlers — Yu, Lanier and Ehrhardt — with smooth break throws and accurate hucks. Putting up three assists plus several hockey assists as well as a couple of Ds, Ehrhardt was a particular standout, exhibiting precise throws and sound decision-making. Downfield, the Warhawks three tall speedy cutters — Culton, Barry, and Phillips — were too much for Rogue to handle. Phillips was particularly impactful cutting under and then delivering deep, leading the Warhawks with four assists and a goal plus several Ds.
As expected, Ella Juengst was effective for Rogue and led the team with six goals plus an assist, but her height disadvantage limited her impact versus the top Warhawks cutters. Olivia Arellano was a standout on defense, helping to keep her team in the game, but along with several of her teammates put up too many floaty hucks that might have worked against weaker teams but were defended by the tall and fast Warhawks. Similarly, Caroline Tornquist, Grace Alston, Kat Sanz and Kirsten Knisely were all effective at times, but struggled for consistency against the tight NC defense.
The victory makes it back-to-back championships for the Warhawks, and the College Division will soon start to feel the impact of the tremendous growth of girls' ultimate in the Triangle.