The memorable moments from day one.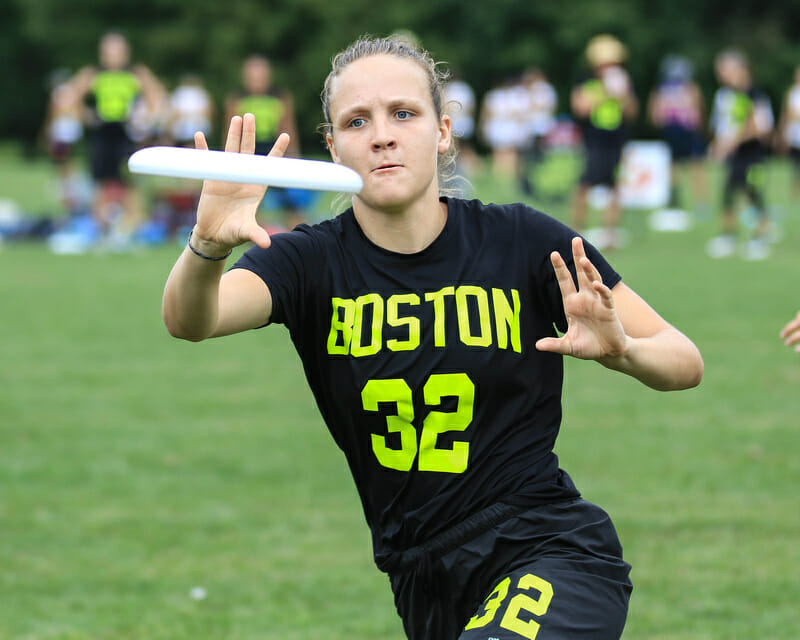 Ultiworld's coverage of the 2018 women's division is presented by VC Ultimate; all opinions are those of the authors. Please support the brands that make Ultiworld possible and shop at VC Ultimate!
The first day of Pro Championships is in the books. Here are four moments we saw that defined the first four rounds of pool play.
Scandal vs. Ozone: Allen Finds Zhou at the Back Out of Half
The first half between the top two teams of Pool B was largely even. #5 Washington DC Scandal led two breaks to one, and 8-6 on the scoreboard, but #8 Atlanta Ozone were still very much in the game at the intermission. On the first point of the second half, Ozone underthrew two hucks, and lost the defensive deep space to Scandal the other way. Lauren Allen tossed a forehand to Amy Zhou at the back line, a continuation of DC's dominance in the deep lanes during the game. Scandal got the break to take a 9-6 lead, but more consequentially, it started a three break run for the District. Ozone had two more turns on hucks as they continued to struggle in that phase of their offense. The three point break run capped off a four point run altogether, with their hold to take halftime, and opened up an 11-6 lead that Ozone could not surmount.
Siege vs. Bent: Alexandra Harris Hucks for the Game
In arguably the most surprising result of the day, #23 New York Bent knocked off #17 Boston Siege, thanks to a hold on a marathon double game point. With both teams in the Northeast region, and Siege much nearer to earning a third bid, it was assumed that Bent would make little effort to win the game. It was in their best interest for Siege to win, and for them to win comfortably. But Bent battled the whole way, led 8-6 at half time, and did just enough to hang on against a late come back bid from Siege. Alexandra Harris threw out an out-of-timeout huck on the sudden death point to win it for New York. Bent coach Jeff Babbitt said after the game that the team were aware of the game's bid implications, but the team's leadership elected to play to win the game, rather than "gaming the system."
Brute Squad vs. Heist: Sharon Yee Scores Heist's First Goal
#1 Boston Brute Squad's 15-5 final score over #3 Madison Heist is pretty indicative of a complete performance from Brute Squad. But even that score was closer than the game really was. Brute seriously flirted with getting the shutout, getting out to an 11-0 lead before Heist were finally able to score. To get so close to shutting out a regular Nationals attendee was stunning, but Brute Squad were untested in all of their games on Saturday. They beat Bay Area FAB 15-2 and Toronto 6ixers 15-6. Before play began this weekend, Brute looked like heavy favorites to win. After Saturday, it seems like they may not even play in a close game.
Heist vs. Grit: Austin Prucha Lays Out to Score on Double Game Point
Heist and #19 Washington DC Grit played in one of the closest games of the day. Heist led by one break at half, up 8-7. But Grit were able to get the break back over the course of the second half thanks to their tough, physical brand of defense. They were able to force double game point at 12-12, giving themselves a chance to add another upset to their already impressive 2018 resume. Heist were able to work it down the field fairly easily to gain the red zone. But to get the score, they needed a big layout from Prucha, something she did several times throughout the game. The win preserved Heist's opportunity to advance to the bracket, and demonstrated an improved ability to win games through adversity from when we saw them last at Elite-Select Invite.