We check in on the division's top performers so far as the season heads into the Series.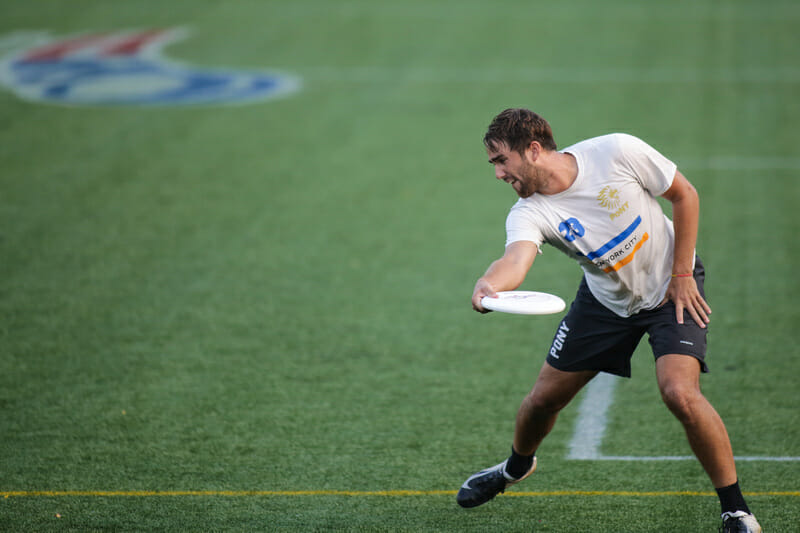 Ultiworld's 2018 Club Awards are presented by Greenbackr, a custom crowdfunding platform from Savage; all opinions are those of the authors. Please support the brands that make Ultiworld possible and utilize Greenbackr!
The regular season is now in the rearview mirror and teams are gearing up for the games that really matter. While the meat of the season lies ahead, it's time to check in on which players have risen to the top of the club division thusfar in 2018 and could be in the running for Player of the Year honors come season-end. Here's a list of leading contenders the this year's top award.1
Ashlin Joye (San Francisco Revolver)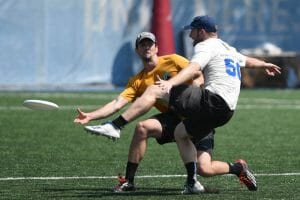 Ashlin Joye has used this season to truly cement himself as one of the best and most important players in the men's division this decade. His case for POTY begins and ends with a relatively simple statement: the best team in the world asks more of him then it does any other player on its roster. Joye is the center of Revolver's offense, the famed "King" role, and being that center requires that he employ both a high level of skill and on-field IQ to make one of the most fluid offenses in the history of the game flow. That skill and awareness makes itself most evident in Joye's ability to initiate the offense with the disc in his hands. Joye can access break or deep space that few other throwers reliably reach, or simply look off high pressure cuts in favor of more sure resets that allow Revolver to change their angle of attack. He has the technical ability and mentality that every team in the game is looking for in its center handler.
Unfortunately for Joye, his years of elite play and playing for the reigning USA Ultimate and WFDF club champions sets a high bar of expectations. A Joye supporter would have a hard case to make for Joye's POTY campaign if Revolver isn't holding the trophy at the end of Nationals. To guarantee he wins the award San Francisco needs to take the title and Joye can't afford to be outshone too much by his teammate Grant Lindsley who, often times, has the opportunity to make bigger plays in bigger moments. Aside from a stellar Nationals performance from Lindsley, if Revolver wins a title, you won't need to search for your POTY, he'll be wearing No. 27 and he'll be marshalling the most talented offense in the game.
Grant Lindsley (San Francisco Revolver)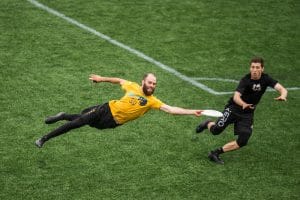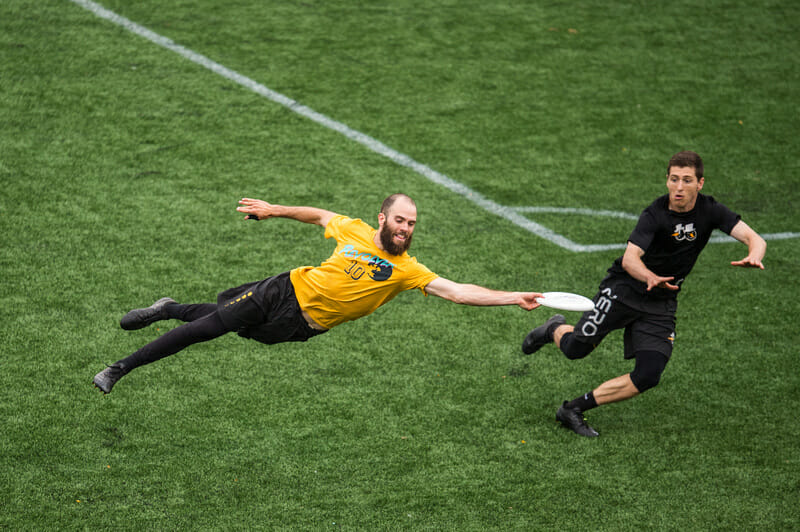 On a roster stacked with superstar talent, Grant Lindsley still manages to shine bright. Lindsley has been arguably the most versatile piece on the Revolver O-line, and has consistently served as the sure-handed fulcrum for the offense, even during turbulent times. He is an all-world two-way threat downfield who is able to torch ace defenders deep with his speed or comfortably huck in motion to keep the offense dynamic.
In their toughest moments this season, Revolver's offense has flashed a penchant for loose decision-making and occasionally struggled to regain shape when a defense has disrupted their rhythm, but Lindsley's poise and field sense have often allowed him to wriggle free and reignite the offensive flow. Lindsley checks the boxes for highlight reel plays, winning matchups against world-class defenders and performing under pressure, but it's the subtle elements of his game that set him apart. His unflappable composure, textbook discipline, and reliable execution have made him one of the top players in the men's division.
Revolver will again enter the postseason with their eyes on the title, and a successful repeat would strengthen Lindsley's odds at taking home the award. His biggest obstacle is likely his own teammates, whose immense talent has to potential to render a signature performance from him unnecessary — a situation which the humble Lindsley would surely relish.
Josh Markette (Boston Dig)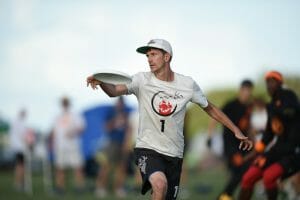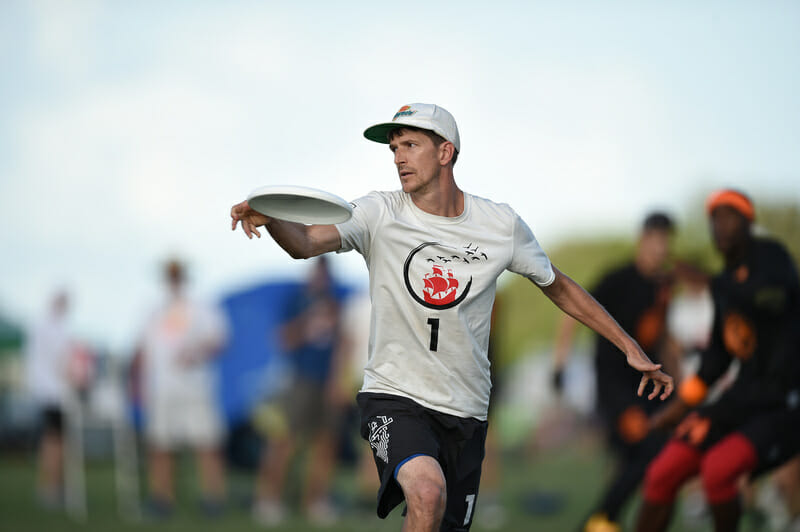 It doesn't matter what year it is anymore, Josh Markette is still an elite player. Cricket, after two decades of playing, is the motor that makes the #4 Boston DiG offense run. Coming from years of playing with Ironside and Chain Lightning, he is one of the smartest players in the game and it shows when you watch him pick apart a defense. Markette's understanding of how the offense should run and how to manipulate defenders into giving him what he wants is second to none. His throws are as precise as ever. The top speed and physicality might not be the same anymore, but the explosiveness is still there, ensuring Cricket remains dangerous.
Winning the Northeast region over a loaded PoNY team and sneaky-good Toronto GOAT, then leading Boston in assists on a run to the semis would do a lot for Markette's chances. Outside of a dominating win over a floundering Ring team at the Pro Championships, DiG does not have any marquee victories this year. Boston has been streaky; they lost to Truck Stop and Revolver in New York and took losses against Condors and Machine at Pro Elite. In a two-bid Northeast region, DiG will need Cricket to be his irresistible best to get back to Nationals. Bet on him performing.
Matthew Rowan McDonnell (Washington DC Truck Stop)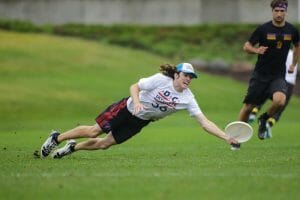 Remember when you were a little kid, and adults told you that you could be anything you wanted to be if you put your mind to it? Turns out that for most of us, that wasn't true. But Rowan McDonnell put his mind to becoming the best ultimate player in the world, and he's coming damn close. Improving by leaps and bounds every season, Rowan has gone from Ironside walk-on to taking on the mantle of being Truck Stop's best player and soared. As the team struggled through early season growing pains he was the rock, and as Truck Stop has rounded into form his qualities have been given.
Of course, the promise that Truck Stop showed at the Pro Championships could amount to nothing if they don't deliver in the postseason, and the same goes for Rowan. His growth as both a thrower and a premier deep threat has put him on a short list of players who can carry a team deep into the bracket at Nationals. Now, he has to go do it.
Jimmy Mickle (New York PoNY)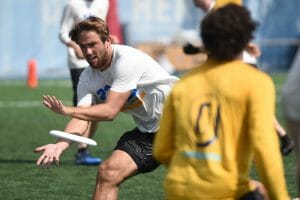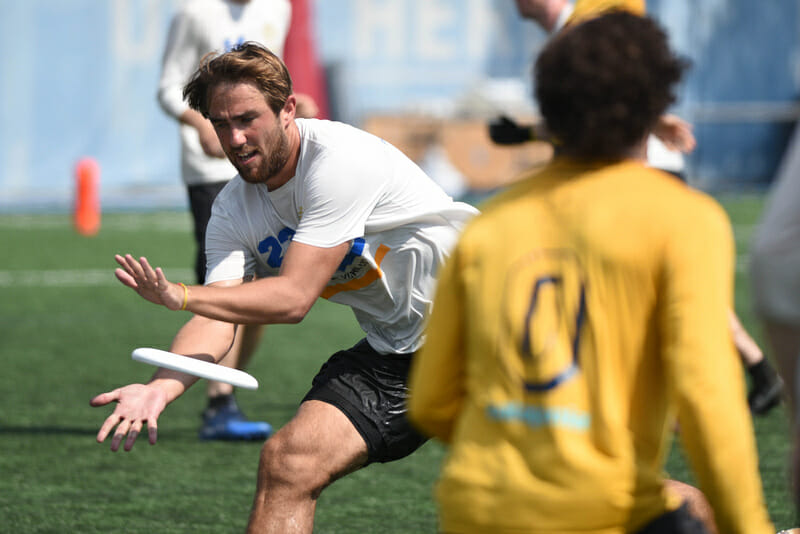 It's difficult to understate the impact that Jimmy Mickle has had on #1 New York PoNY in his first year with the team. Mickle's first action with PoNY came at the US Open, where they lost two of their first four games while figuring out how to integrate Mickle against opposition. Since then, PoNY is on a nine game winning streak, highlighted by two wins over Ring of Fire and a win over Revolver. Mickle really hit his groove during PoNY's 6-0 tournament victory at the Pro Championships. His stat line was ridiculous, notching 21 assists against just three turns, but it was his work that doesn't show up in the box score that was most crucial.
Mickle looks more fit and explosive than in years past, and his combination of size and speed have made him nearly uncontainable in the reset space. The clear favorite entering the postseason, a strong performance while taking PoNY to the quarterfinals of Nationals will likely see Mickle bring home the award. Should he take PoNY any further than that, it's hard to see anybody surpassing him in this race. That said, it's not even a given that PoNY qualifies for Nationals. While certainly the favorites entering Regionals, PoNY will be competing with #4 Boston DiG and #13 Toronto GOAT for just two bids to the season finale in San Diego. As impressive as his regular season has been, failure to lead PoNY to Nationals would eliminate Mickle from POTY contention.
—
Also keep an eye on: Chase Cunningham (Austin Doublewide), Tyler DeGirolamo (Pittsburgh Temper), Dylan Freechild (Seattle Sockeye), Kurt Gibson (Chicago Machine), Jonathan Nethercutt (Raleigh Ring of Fire)
---
Listed alphabetically ↩