Madison's breakout star is still getting better.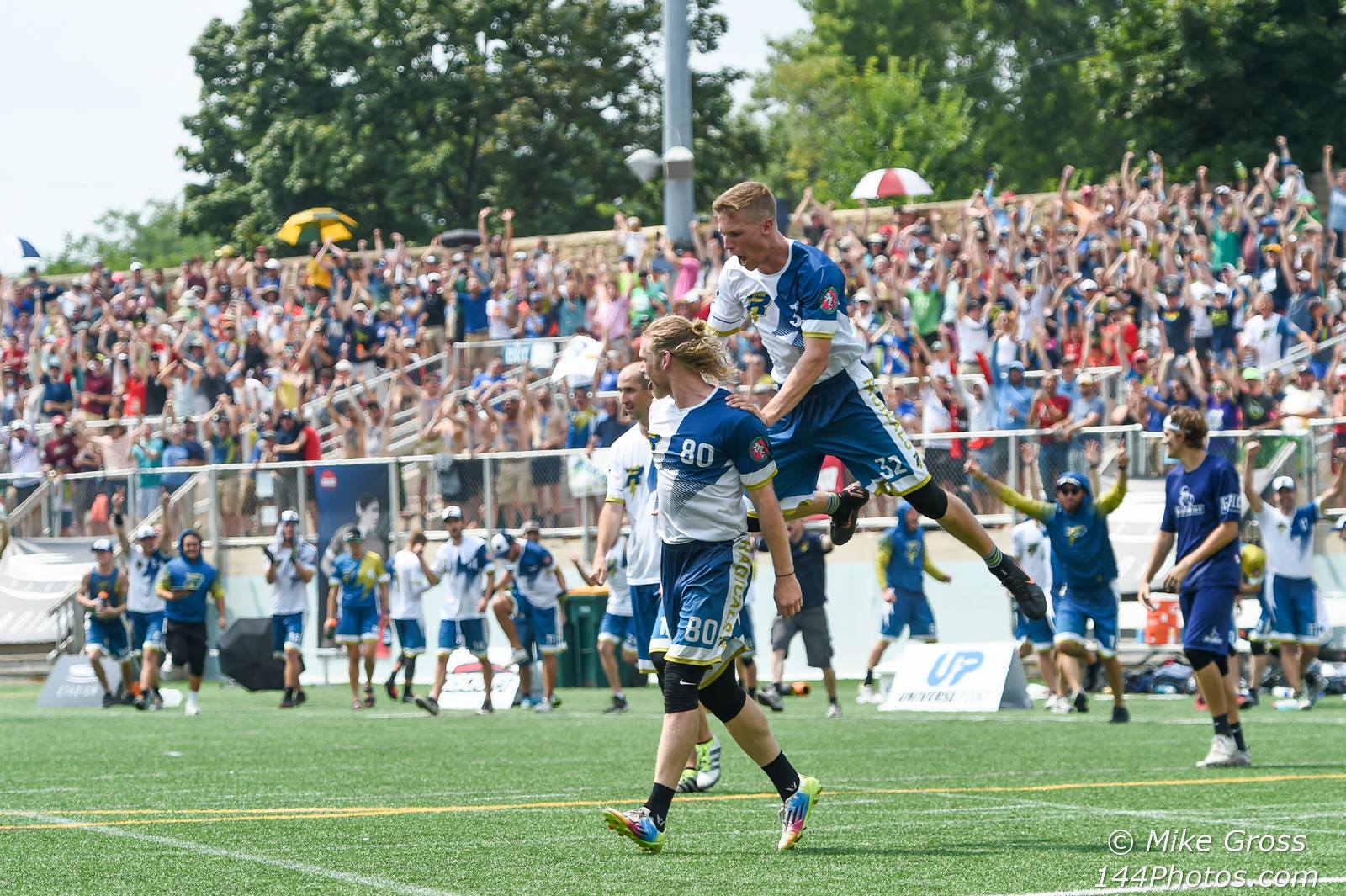 Ultiworld's coverage of the Men's Division at the 2018 Club Championships is presented by Spin Ultimate; all opinions are those of the authors. Please support the brands that make Ultiworld possible and shop at Spin Ultimate!
I remember the first time I saw Kevin Pettit-Scantling. It was 2013 North Central D-III Regionals in Delafield, Wisconsin. In pool play, it was St John's BAM — my team — versus the University of Wisconsin-Parkside. Squinting across the field as Parkside warmed up, I noticed a large, hairy man who looked like he was in his mid-to-late thirties. He didn't move like it, though: fast, built, and clearly their best thrower, this sizable blonde man was going to be a problem matchup for every single defender on my team. While we eventually won the game, that player stuck with me for a while. He was the quintessential big fish in a small pond.
Not anymore. He's got an AUDL title to his name. A 2018 All-AUDL second team selection. A Madison Club captainship. A selection by AUDL coaches as the best handler and zone defender in the Midwest. And his reputation is still on the rise.
A Troubled Start
Pettit-Scantling began his competitive ultimate career, as so many of us do, in college. He luckily was already familiar with the game; many of his best memories come from just goofing around with his friends and a disc.
"Playing barefoot, 20 vs. 20 on a field half the size of a club field," he said. "It never felt like we were in a stadium, or that anyone was watching. We played for each other, we played for fun, we played til the sun went down, and scores never ever mattered. Back then, young in high school and even into my early college days, it was about the lifestyle. Groovy, but so true."
Pettit-Scantling enrolled at the University of Wisconsin-Milwaukee in 2009. With his raw athleticism, height, and familiarity with the sport, he easily earned a spot on the A team, Black Cat. After his a first season, however, life got in the way.
"I wasn't a confident player or person when I was 18 and 19, so I made a lot of the assumptions that young people make, namely that everyone on Black Cat didn't like me," he said. "There were some other things, too. I wasn't a good student, I was depressed, and I was experimenting with drugs and alcohol. To put it mildly, I did a great job at making my life harder than it needed to be."
Despite his love of the game, KPS decided to put ultimate on the back burner as he worked through his personal issues. He didn't cut it out completely, of course, continuing to play with Milwaukee's developmental team, forging new friendships and sharpening his skills and game IQ. It was a struggle at times.
"I remember my last year at Milwaukee, I was considering quitting the sport," said KPS. "It was the friendship of a few individuals on the B team that brought me back—Ben Hirsch, Joe Blankenheim, Ryan Sutter, and Logan McDermmot, to name a few. They had no reason to be patient with a confused young hot-head, but they were and I'm very grateful for that."
Parkside's Prodigal Son
After three tough years at Milwaukee, Pettit-Scantling decided to transfer to UW-Parkside in order to be closer to his hometown of Racine, WI. An ultimate team had just formed there the previous year. With three years of experience at a high-level program and the added benefit of already being friends with many of the guys on the squad (who were also locals from Racine), he had an immediate impact.
While Parkside didn't have much in the way of depth, they did have a talented core and a budding superstar. By Pettit-Scantlings's fifth and final year of eligibility, Parkside had Nationals aspirations, and for good reason—just ask the 2014 version of me, who wrote a glowing review of Parkside's ascendance in Ultiworld's 2014 North Central D-III Regionals preview.
"Nothing will compare to the ten men who I played with for my remaining two years of eligibility," said KPS. "We went from last at Sectionals our first year to last at Regionals the next season, to barely missing Nationals our last year."
KPS continued to improve the team after graduating, coaching them for two seasons. While they never again achieved the same success as when he was playing, it allowed him to remain close to the team that had rekindled his love of the game.
A Radical Decision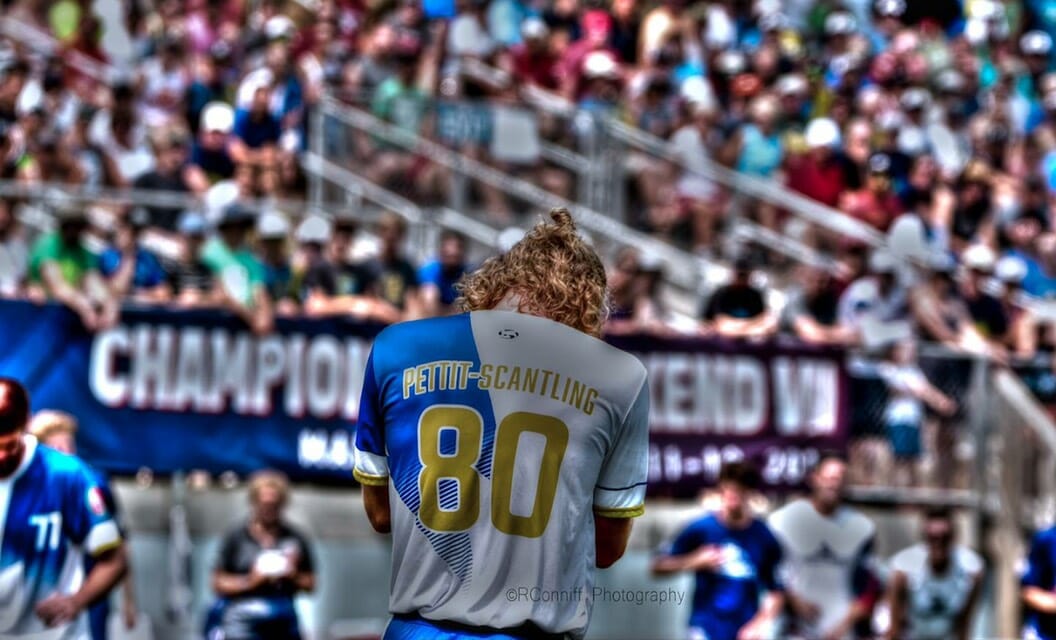 In the spring of KPS' senior year, he heard talk of a new AUDL franchise starting up in Madison. KPS had tried out for the Detroit Mechanix in the AUDL's inaugural season, but after being invited to practice with the team, realized that it simply wasn't monetarily feasible to live in Milwaukee and play in Detroit.
Madison, considerably closer to home, was a natural fit. KPS made the team and, six years later, he captained them to an AUDL Championship.
"Those guys and gal are the strongest and most talented individuals I've ever had the privilege to play with," he said. "We shaped a team culture that produced wins. I'm happy to have been a small part of that success."
With the Radicals, Pettit-Scantling metamorphosed from a great D-III player to one of the best defenders in ultimate today. With constant coaching and veteran teammates, KPS resolved to improve whenever and wherever he could. He cited the Radicals' defensive cohesion as the driving force behind their success:
"My greatest strength is being a unit within the Radicals defensive line. I've completely bought into our plus-one defensive philosophy. So much so, I find it difficult to play with players who do not have the chemistry and mindset for it. It's crazy to think about how ubiquitous switching and help defense has become.
Try rewatching any film from any of our games. Then ask yourself these questions:
"How often do you see a Radical defender 1v1 against his offender in the deep space? Rarely.
"How often does a Radical block come from a player who was not guarding that offender to begin with? Frequently.
"How often does a Radical defender end up guarding the same offender when the point is over? Almost never."
Work smarter, not harder; KPS and the rest of the Radicals have embodied this ethos for years. It finally paid off this past spring, but can they maintain that success next season? Is a repeat possible? I don't need to tell you what KPS thinks.
Playing Club (with Madison)
Pettit-Scantling has been using the experienced he gained with the Radicals to defensively dominate the USA Ultimate men's division. KPS didn't begin his club career with Madison Club, however: that honor went to H1N1, a non-practicing team from Milwaukee, back in 2012.
"We were just a group of the most talented non-committal men in Wisconsin," he said. "While I was definitely bottom of the bench, those guys taught me the beginnings of what I know about positive club culture."
After two seasons, KPS was ready for something more substantial. Taken by Mad Club for his defensive fire and formidable size, KPS was the rare player that started at the bottom of an elite roster but, worked his way to the top. In 2018, he was selected as a captain, a daunting task after Madison Club's poor showing (both results-wise and team culture-wise) the previous season. Half of the team was gone; intra-squad drama threatened to tear down what, for almost a decade, had been an incredibly competitive, focused, and elite team.
KPS, along with fellow captains Colin Camp and Avery Johnson, agreed on what the team needed.
"We decided back in the spring that our goal would be to focus on culture before how to win games," Pettit-Scantling said. "We established a set of core values that dictate how we practice, how we communicate, how we win, how we lose, and even how we roster. Those values are Respect, Unity, and Vision."
Club brought in a new coach (Matt Bruss) to compliment head coach Tim DeByl. They, along with the captains, have but the focus on getting their 2018 squad to buy-in to the team's new mentality—and so far they've been seeing fantastic results.
"In what was clearly a year, we've put together a band of brothers committed to improving as a team," said KPS. "Those guys, returners and rookies alike, had no reason to come and play for us after last season. They could have found a home anywhere, but instead they chose to help us rebuild."
What does KPS see in Club's future? Hopefully, he says, consistency.
"My overall goal for Madison Club is establishing a longstanding, positive culture for years to come," he said. "I think one of the reasons I was able to self-appoint myself to captain of the Madison Radicals is the same reason why people voted me to be Madison Club captain: I have a passion for finding ways to make people work together. Improving our team culture will come with time and the continued commitment from our players."
AUDL vs. Club
Has Pettit-Scantling given the issue some thought? As someone who is an essential part of both an AUDL team and a USA Ultimate sanctioned club team, you bet he has.
"I've been a huge critic of club for a lot of reasons. Four to five games a day is terrible for the body, it's expensive, and it can be a 'who-do-you-know game' to name a few [reasons]. After last season I've started to come around to liking it more. Along with my mission to deliver Madison Club to a healthy team culture, I like the aspect that promotes a player owned league. However, I see myself retiring from club long before retiring from AUDL. Unless USAU makes changes toward accommodating a shorter schedule per day for teams, I see myself prioritizing a healthy life after ultimate rather than a national club championship. I've already had one hip surgery, and will probably need another before I retire.
"AUDL may be geared toward spectators, but the format also protects players physically and financially. I like that I can exert myself completely in one game, sometimes two on a road trip. I like that the league has owners committed to sponsoring us to play. I like the timed quarters, referees, seven-second-stalls, and double teams. Man do I freaking love double teams; everyone should experience the pure joy of double teams (and the terror of being double teamed). Overall, the AUDL has a lot to offer and I think we've just scratched the surface as to the experience it can offer all of us as current players, new players, and fans."
Pettit-Scantling does, however, think that there's enough room for coexistence between the two leagues.
"I don't think there needs to be a Club vs Pro debate," he said. "I like the idea of a conversation highlighting the positives of both instead. I see no reason why these two leagues cannot coexist, and do so in a way that is prosperous for both. It will take player buy-in for both, that's for certain. That buy-in will have to include readjusting our perspective from competition to cooperation. Variety is good! We should all be a little more willing to embrace things others find important. I'm excited for when that day comes around—and I think we're getting there."
What's Next?
To many it might seem as if KPS came out of the clear blue sky. Where was this guy a few years ago and how did he suddenly become one of the best defenders in the country? The old fashioned way: lots of hard work.
"I'm always in a state of improvement, which means I'm also always in a state of critical self-assessment," he said. No one has been more impressed than his fellow players. Co-captain Colin Camp has had a first row seat to the KPS Show.
"The biggest flip I've seen in the last few years is this hunger and killer instinct to be the very best," said Camp. "But the thing that is so amazing about it is that it doesn't feel like he is doing it for personal glory; he does it because he feels that is how he can most help the team. Obviously his physical gains have been incredible the last few years and it's due to the fact that he never lets any outwork him. I'm not sure a team of 25 KPS's would lose to anyone."
KPS has kept his success in perspective.
"While there are other responsibilities in ultimate that govern all my attention at times, and don't get me wrong I love those responsibilities, my passion for the sport has always come from the people who I started playing with over 10 years ago. I love all of you so so much," he said.1
After Nationals, he knows there's still plenty of work to do.
"I spent about six months for the 2018 season solely training on power, strength, and top speed," he said. "I've seen good results, but there's so much more for me to learn. It's exciting to pick a skill and dedicate yourself to perfecting it. By identifying my weaknesses this year, I've identified my goals for next season."
The hustle never stops—and neither does Kevin Pettit-Scantling.
---
KPS started a pick-up group in Racine called D-Jones. Using his own money, KPS hosted free 5v5 tournaments every month over the summer, drawing dozens of players from Northeastern Illinois and Southeastern Wisconsin. ↩