How does day one inform the rest of Nationals?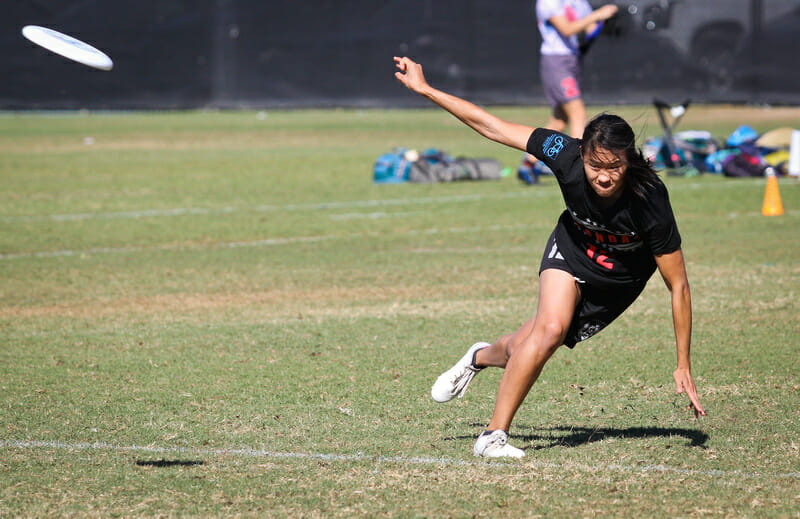 Ultiworld's coverage of the 2018 Women's Division is presented by VC Ultimate; all opinions are those of the authors. Please support the brands that make Ultiworld possible and shop at VC Ultimate!
Day one may be a wrap, but we still have just as many questions as we did before the tournament started. Some are the same questions that permeated the pre-tournament conversation. But the events of Thursday introduced new uncertainty to the narratives to the bracket. Lets take a look at the surprises, and see if they augur more for Friday and beyond.
Rewriting the Prequarters Round
The top four seeds of the tournament won their pools, taking the coveted byes to quarterfinals, with undefeated performances. The same four teams have managed that feat for a fourth straight season. But if you only looked at the top of the pools, you'd miss out on how wild Thursday's results really were. The quarterfinals portion of the bracket may look as expected, but slide over to the left to the prequarters column, and you'll find the tangible outcome of day one's surprises.
Schwa and Wildfire!?
Be real, how many of you had Portland Schwa or San Diego Wildfire even making the bracket? One of them is going to be in quarterfinals. Wildfire barely made Nationals, and at times this season it looked like Schwa would be in the same boat. But a stunning showing from Schwa on Thursday won them second in Pool A, and Wildfire put on an impressive defensive display against Nemesis to take a third place finish in Pool D.
Schwa upset Nightlock with a break on double game point to get their tournament rolling, and only built off that performance. Perhaps even more stunning than the win over Nightlock was their performance against Brute Squad. Schwa were within two at 10-9, and finished with a 15-10 loss. That was one round after Brute Squad beat Heist 15-2. It was the first time Brute Squad had allowed double digit goals in a pool play game since 2015.
Schwa then went on to beat Heist 15-12 to take second place in the pool. Mariel Hammond, who led the team with nine goals and tied for the team lead with four assists, said the Nightlock win was one of the biggest in her time with Schwa. But they didn't let it be a one-off, nice moment. They put in a complete performance on the day and are well deserving of their second place finish.
Wildfire didn't have the three rounds of impressive results that Schwa did, but they did start the day off strong with a closer than expected game against Scandal. They got back to back breaks at 12-9 to get within 12-11, and ended up losing 15-13. Scandal had been in the driver's seat for much of the game, but the second half surge from Wildfire was indicative of how they would finish their day.
A commendable defensive performance from the beginning of the game to the end earned the team plenty of break opportunities, and their D-line offense was strong enough to maintain a cushion of a break or two for most of the game.
"We have two D-lines and one is a little bit unconventional in the way that they run and they just do their thing," said team star Kristen Pojunis. "They…tired them out and Nemesis has a line at one point afterwards, like three players kind of collapsed on the ground…Then it really helped the ability for the other D-line to get breaks."
So now Schwa and Wildfire face off in prequarters and the winner will play Fury in quarters. Neither team will have a significant chance of making semis, but the fact that both of these teams are in this spot is a big surprise in and of itself. That both have a legitimate chance of making it to the late Friday rounds still in the hunt is the most exciting and unpredictable result from the first day.
Unexpectedly Done on Day One
With Schwa and Wildfire stealing prequarters spots, that means some favorites missed out. Nightlock finishing in last in Pool A was the most shocking finish of the teams to miss out on the bracket. The no. 8 seed seemed to be a step above both Schwa and Heist in their pool, and while it was unlikely they would challenge Brute Squad for the pool win, they didn't seem susceptible to finishing lower than second, either, let alone fourth. Their losses to Schwa and Heist were both close, but Nightlock had a 3-1 record against the two during the season and a +10 goal differential.
It's the first time Nightlock has missed quarterfinals since 2014. They simply committed too many turnovers on the day. Simple drops and missed resets plagued their play and it caused their tournament to end much sooner than anticipated.
Raleigh Phoenix, a trendy pick to make quarters, also underwhelmed on Thursday. It's far easier to write their struggles off to lack of Nationals experience than it is for Nightlock, but they'll still have had much higher expectations for their tournament. Star players Jenny Wei, Jessi Jones, and Ashley Powell all struggled to find a rhythm and their lackluster performances set the tone for the rest of the team.
Many of Phoenix's players were making their first Nationals appearances and, as a team, they didn't handle the tests that Nationals presents. It should be a learning experience for a young team that still had an impressive season, but at the end of the day, Phoenix was a team that had quarterfinals potential and ended up well short of that. They lost all of their pool play games by five goals or more.
Nemesis was unable to really push Molly Brown or Scandal late into their games, but challenging either was always going to be a tough task. Nemesis just needed to hold off no. 16 seed Wildfire to make the bracket. With the chaos in Pool A, they were in position to get a favorable matchup in prequarters, too. But Nemesis lacked the necessary surge to take over the decisive game against Wildfire. Nemesis never led during the game, or in fact, the entire day. They were able to get breaks back to within one of Wildfire a couple of times, but they could never find that moment or two to fully grab the momentum of the game.
They were disappointments in different ways, but Nightlock, Phoenix, and Nemesis all had expectations to make quarterfinals, but instead had their tournaments end on day one. Their absences from the bracket mean that there are spots for others and quarters hopes for teams that probably didn't expect to still have them going into Friday.
Making The Case for the Underdog
In the women's division, the top four teams took care of business and showed that there is a very clear path for them to progress straight to the semifinals. But there are still eight other hungry teams hoping to be the unlikely contender and this October's surprise.
The Big Four, as we've come to call them, have been daunting opponents, mostly resistant to the ineffective attempts of the division's lower ranked challengers. But we've heard so much about how good these favorites are. Let's look at what signs there are that 2018 could feature an upset like last year's signature quarterfinal, when Atlanta Ozone toppled Seattle Riot in the Sarasota winds. However slim the hope may be, the beauty is that there is a chance. And any hopeful would happily take it.
If there are any two teams that can challenge that narrative, it's Ozone and Scandal. Both teams managed to reach double-digits against the top seed in their pool and could do more in the right circumstances. After their first day, it's worth asking whether either team has a real chance to make semis.
Scandal Comes Up Just Short (Again) In Gritty Loss
Scandal went to work on day one. They may not have clinched a win in their 15-13 loss against Molly Brown, but anyone who watched that game could see how hard they hustled. Scandal is willing to exert every effort to beat their opponent. They're never keeping anything back or holding anything in the tank. Any team that plays Scandal knows that they'll have to grind out a win.
You had to look no further than Keila Strick to see a player who was giving it her all. She was in perpetual motion every time she was on the field. Even when she wasn't making a play on the disc, she was angling her positioning to allow her teammates to get open. Strick was a perfect example of a team player that was working to make her team play better, and it showed in how they excelled when she was on the field. Whenever Scandal needed a big play downfield, they could rely on Strick to create one.
As good as Strick was, she wasn't the only one that left everything on the field, though. Oldershaw and Zhou were right there with her. Even when Zhou was having a rough game –like in their match against Nemesis– Scandal knew she was going to play her heart out. Zhou was right in the thick of it, handling, going deep, or forcing crucial turns. Every time she turned the disc, Scandal trusted her to get it back, and she frequently did.
But as much as we like to claim hard work can solve everything, it's not always enough. So what does Scandal need to make the next level? Enter Katey Forth. Forth has been the dynamic scorer that Scandal needed when the game got tough. While Scandal has many elite players, it's really been Forth that the team has quickly come to rely on. In all of their day one games, Forth kept the team surging forward.
Despite losing to Molly Brown, Scandal proved that the combination of their grinding game style and the talent from their top tier players is enough to trade pound for pound with the best teams in the world. If they are to beat one of these teams, they'll need to be at their peak. Their road is tough, but not impossible. Their prequarters game is against Heist, whom they have beaten comfortably earlier this season. Assuming they play to the same standard that they have in the past, they should have no trouble defeating the Madison women.
Riot, who waits a column over in the bracket, is another story. Scandal has not been able to overcome the Seattle team for many years now, and Riot looks as confident as ever. There is still a chance, though. Riot has already lost to Traffic this season, a weaker team than Scandal by most metrics. And the struggles of the Seattle team in Nationals' biggest spots are well documented, most recently in last year's quarterfinal loss to Ozone. Riot is looking far more locked in this year, but a momentum swing could really do damage if Riot starts thinking about last year.
Ultimately, Scandal has shown that they are a team that can challenge the top four. What they need to do now is take control of the games that they'll play in the bracket. Any less than a quarterfinals appointment would be a disappointment, anything more would be tremendous.
Ozone's Throwers Make Them a Threat
Ozone is unfortunately plagued by the expectations they set last Nationals. After upsetting Riot in one of the most surprising and memorable games of the past decade, Ozone has had to deal with the expectations that come with being a team of that caliber. This all came to a head during pool play, when they matched up against Riot once more. Riot left little room for doubt with a comfortable 15-10 victory.
That's not to say that we should write Ozone off just yet. They may have lost to Riot, but they also made it a much closer game than Seattle had hoped. On top of that, Ozone still has a lot in the tank, and now will not have to play a team that is hell-bent on erasing the ghosts of seasons past.
Instead of Riot, Ozone's path to semis involves getting past Traffic and Molly Brown. Traffic no longer has the same fearsome reputation that the program once had, and barely made it into bracket play. They have the personnel to be taken seriously. Catherine Hui and Rachel Moens are some of the most lethal threats beyond the border and have the potential to take over a game if they're given an inch of room. Still, Ozone has their own talented players to match. Paula Seville is on a tear this tournament and is flanked by Kate Travaglini and India Stubbs. Katherine Wooten has been consistently great, as we've come to expect, and forget about Sophie Darch at your own peril. Ozone should have no problem closing out over Traffic if it's a straight contest of talent.
Their game against Molly Brown will definitely require something more. Ozone has shown that they can stay tight with teams like Riot, which is good, but they still haven't actually earned a win over a top four team, which is troubling. Molly Brown is filled with athletes and dominant throwers that can run away with a game if they're given the chance. On the other hand, they have a penchant for rushing and forcing a few throws if they're thrown out of rhythm. What will make or break it for Ozone is how well they can work the disc downfield after causing a turn. If they aren't able to convert, Molly Brown will be able to take some liberties and gain momentum.
Ozone has been at their best this tournament when they have easy resets and can shoot to players from power positions. If Molly cannot contain Ozone's handlers, the Atlanta side could find themselves in the the underdog success story of the division once more.
Phoenix and Schwa Demonstrate Big Four's Imperfections
Fury defeated Phoenix by a healthy 15-9 margin in their pool play matchup, but the game wasn't always so secure. The reigning champions took half 8-3 and led 10-4, but then let Phoenix get right back in their flow until the score was 10-7. Phoenix went on to lose all of their Thursday games, and did not score three straight against any of their other opponents. What happened in those few points?
Fury relies heavily on their defensive superstars like Opi Payne, Maggie Ruden, Marisa Mead, and Meeri Chang to generate blocks and convert them when the score gets close. Today, they also started throwing a junky defensive look somewhere between a wall and a zone, which worked to earn them a few break points. But Phoenix unlocked the defense and rushed Fury. If San Francisco can use this defense again to give themselves a cushion that enables them to play confidently and take risks on offense, they look essentially unbeatable. But if Fury's opponents can solve it quickly or Fury has some trouble converting their break opportunities again, the game will be much closer.
Schwa surprised everyone today by winning their games against Heist and Nightlock, and putting up more points than both of those teams combined against Brute Squad. Brute took half up 8-6 and then the teams traded holds and the occasional break until the score was 10-9 in favor of Brute. Realizing it was too close for comfort, Boston turned up their defensive intensity – but stayed in their standard person defense set – and rattled off four points in a row to make it 14-9. After a Schwa hold, Brute scored one last goal and ended the game 15-10.
The keys to Schwa's success against Brute were playing with grit, valuing the disc on offense, and playing with fervor on defense. But it should also be noted that Brute Squad dug their own grave. In fact, Schwa – who came in no. 13 seed – even broke during the second half of this game. Boston squandered some break opportunities during the first half and could have given themselves a much bigger lead with just a bit more focus or confidence rather than letting Schwa stay close.
What does this mean for tomorrow? Brute Squad's vaunted defense is everything you've heard it is, but their offense can't always keep up. An efficient and careful opponent can get opportunities for the breaks that win games and end seasons.