Philadelphia wins their first-ever club title.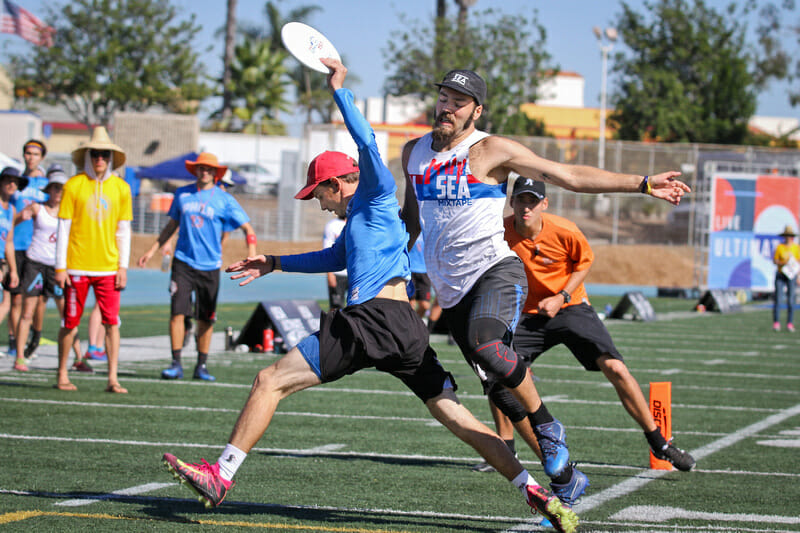 Ultiworld's reporting on the Mixed Division is presented by Universe Point cleats. All opinions are those of the authors. Please support the brands that make Ultiworld possible and shop at Universe Point!
SAN DIEGO — It was a comprehensive victory for the Mixed Division title by Philadelphia AMP as they defeated Seattle Mixtape 15-8, avenging their loss from the 2017 National final.
AMP's offense was clinical: their O-line only registered one turnover and their D-line converted nearly every opportunity Mixtape gave them.
"That was the best game AMP's ever played," said Mixtape's Khalif El-Salaam. "They didn't throw any bad decisions, they stuck to their system, and they didn't get lost in the moment. They played the game that they had to play to beat us by that much in the national championship."
Mixtape, though, seemed hampered by lingering injuries, especially those to El-Salaam and captain Bert Abbot earlier in the weekend, and a collision between AMP's Nicky Spiva (1G, 2A) and Mixtape's Mark Burton (2A) that temporarily knocked Burton out of the game didn't help either. AMP took advantage of Mixtape's limitations and looked deep often, most notably finding Linda Morse (2G, 1A) and Ryan Flamberg (2G) for a combined four goals.
The game started to get away from Mixtape early, as they gave up a break to go down 2-1 on a perfect pass from Anna Thompson (1G, 2A) to Luke Ryan (1G, 1A) after Burton couldn't connect with Brad Houser (3G). A second break after a poach block by Morse put Seattle in a hole that they would never escape.
"Our O just couldn't find our flow," said Burton. "We finally found some flow in the second half but it was just too late."
Mixtape and AMP exchanged six straight holds going into the second half, with AMP dealing with everything that Mixtape could throw at them including a zone look, and Mixtape steadied themselves after being broken three times in the first half.
Out of half, Mott and El-Salaam traded deep haymakers as El-Salaam initially covered up a huck from Spiva to Mott, but at the other end, Mott got the block on El-Salaam on a similar throw. After the turn, Roos boosted it to Morse deep and AMP held after their only offensive line turn of the game.
Another break for AMP made it 10-5 before another six holds, but in the midst of the exchanges, each team's stars were making their presences felt. AMP's Carolyn Normile (1G) laid out for a deep throw in a point that Thompson eventually scored, and Thompson picked up an assist on a rifled pass to Spiva for the next AMP hold.
"That was a definition, full-team win," said Spiva. "Everybody stepped up at different points in the game. I think a lot of people played great and it felt like a full court press from the whole team."
Dominic Cavalero (1G, 1A) stepped up for Mixtape in the second half, getting a score from Burton and throwing a goal deep to an open Kahyee Fong.
At 13-8, it was clear that there was only a matter of time before AMP closed out the game and the last two points epitomized the game.
Mixtape received the disc but popped up a throw towards the sidelines and AMP took advantage. They almost immediately put it deep to Flamberg, who reeled it in, and AMP had a chance to break for the win.
Burton tried to extend Mixtape's stay in the game with a huck to Abbie Abramovich (1G, 1A) but it tailed away from her. The teams each had a quick turn before Pelleg put up another deep throw for AMP and Morse brought it in for the final break and the 15-8 championship.
AMP celebrated their first title in team history. It meant everything to those who had been on the team since the beginning.
"I started playing when AMP started in 2006 with Patrick [Sherlock]," said AMP veteran Raha Mozafarri, "It feels amazing. I don't what else to say. I'm so proud."
AMP was a constant at the top of the USAU rankings throughout the season, coming into Nationals as the overall No. 1 seed. However, they had never won the title, so finally breaking through after 13 seasons "was incredible, I feel so happy for the people who have been on the team for so long," said Normile, "like Raha [Mozaffari], this is her 13th year on the team and they've never won before, so to finally get a win for the people who have built this team feels amazing."
Coach Patrick Sherlock also gave his thoughts on AMP's future going forward: "I told the team after 'I'm just so excited for what we can do together.' We'll be back together again and we'll always have this experience together and that experience will keep growing over time."
Mixtape came into the USAU regular season off a disappointing fifth place finish at Club Worlds, but played well late in the season and earned the No. 3 seed. After their Triple Crown Tour win last year, they knew it was going to be hard to repeat. "Last year we kind of were spoiled with winning the triple crown going 27-3," said Jesse Bolton. "After losing Worlds, we realized this was going to be a whole new season we were going to have to rebuild, and to go from fifth at worlds at our first tournament to get the national final is pretty huge."
Mixtape co-founder Mark Burton said afterwards that he is retiring this season after eight years with the team and that he "couldn't ask for any better way but at the same time I'd love to finish one more on top. I hope they keep playing continue the values that we have embodied here."
As for the future of the team, captain Bert Abbott hinted at a possible dissolution of Mixtape. "A lot of the team is either retiring or moving away," she said, "and so I think everybody's just looking at this as our last hurrah, where we were trying to give it everything that we had, and what we had wasn't enough to repeat, and you know that's ok sometimes. That's ok."