The best of the best in the 2018 club season.
Ultiworld's 2018 Club Awards are presented by Greenbackr, a custom crowdfunding platform from Savage; all opinions are those of the authors. Please support the brands that make Ultiworld possible and utilize Greenbackr!
With Nationals over and the winners crowned, it is time to take a moment to recognize the top performers in the women's division this season. While the talent of the division reaches far beyond short lists, the Club Awards are meant to honor those players who put together what we believe to be the best seasons in the women's game this year.
While we consider both regular season and postseason performance, because of the nature of the Club Division, we weight success in the Series and at Nationals above all else. The Club Awards are selected based on input from Ultiworld reporters, contributors, and editors.
To see the 2018 Club Women's Player of the Year Award, go here.
Offensive Player Of The Year
Robyn Fennig (Madison Heist)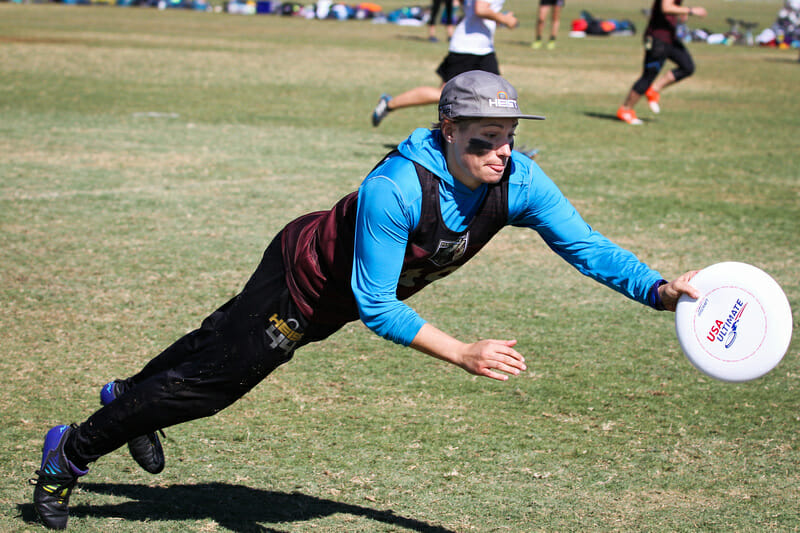 It felt like every tournament Fennig played in this season was merely a stop of her 2018 Tour de Force. Everywhere she went, she put up colossal numbers. At every tournament where stats were taken — Pro-Elite Challenge, Pro Championships, and Nationals — Fennig led the Division in assists, always by a considerable margin. Like a tank with infinite ammo, Fennig barraged her way to one of the most potent offensive seasons in recent memory. Her end of season stat line is staggering: 21 goals, and 80 assists. 80 assists! Yes, her volume of touches was astronomical this year after the departure of Georgia Bosscher from the Heist backfield, but Fennig was in fine form. Whether it was going every other or sailing hucks through the air, she wasn't just the focal point of the Heist offense. She was the Heist offense.
Fennig did have a couple of off games here and there, and Heist really struggled when she hit those speed bumps. Far more often than not, though, that reliance was rewarded with unbelievable individual play. When she was at her best, Heist were a formidable group. In their two best games at Nationals, the 13-11 pool play win over San Francisco Nightlock and 14-13 double game point loss to DC Scandal in prequarters, Fennig had four goals and 14 assists.
Even with all the attention she drew defensively, she still could not be stopped. Along with deep target Austin Prucha,1 she pushed defenses to the brink. Heist lived and died by Fennig's production, but with as good as she was this year, it's difficult to fault them for that. Heist's plan was to get Fennig the rock, and all she did was put up a prototypical Offensive Player of the Year type season with it.
1st Runner-Up: Lauren Kimura (Toronto 6ixers)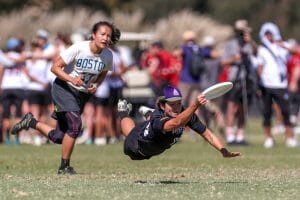 You only need to watch one of 6ixers' games to see why Kimura is the leader of this team. Everything clicked into place for the 6ixers when Kimura transitioned to offense. She has been consistently aggressive with her shots and forces the defense to adjust to everything when the disc is in her hands. No other player on the 6ixers' roster opens space the way Kimura can. 6ixers' cutters give themselves more space to develop a cut and will strike deep without any intention of returning.
By the end of Nationals, Kimura recorded 20 assists. Watching her play made you feel like that number should be doubled. For a player that often was matched against the best defenders in the nation, Kimura never seemed to feel the gravity of the situation and was always ready to unleash any throw that was necessary to hit her receivers in stride.
2nd Runner-Up: Manuela Cardenas (Denver Molly Brown)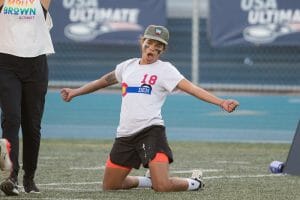 Molly Brown has been known for their high-powered offense for years now. So when the team added Manuela Cardenas last season, the hype train was so over capacity that it struggled to make it out of the station. Cardenas didn't manage to have the impact many had hoped she would last year, but did she ever make up for that in 2018.
When Molly were at their best this season, it was often because of Cardenas. Her arsenal of mark-defying throws and boisterous athleticism were a nightmare for teams to try to slow down. She paced the Denver club with 11 assists at Nationals and during Molly's surge back into their semifinal with Brute Squad, it was largely due to Cardenas' grabbing the game by the scruff of the neck.
In a year where a lot of players had seasons worthy of being OPOTY finalists, Cardenas' electrifying play earned her spot here, as well as announcing to the world that she's ready to play at the highest level of club competition in the U.S.
Defensive Player Of The Year
Kelly Johnson (Seattle Riot)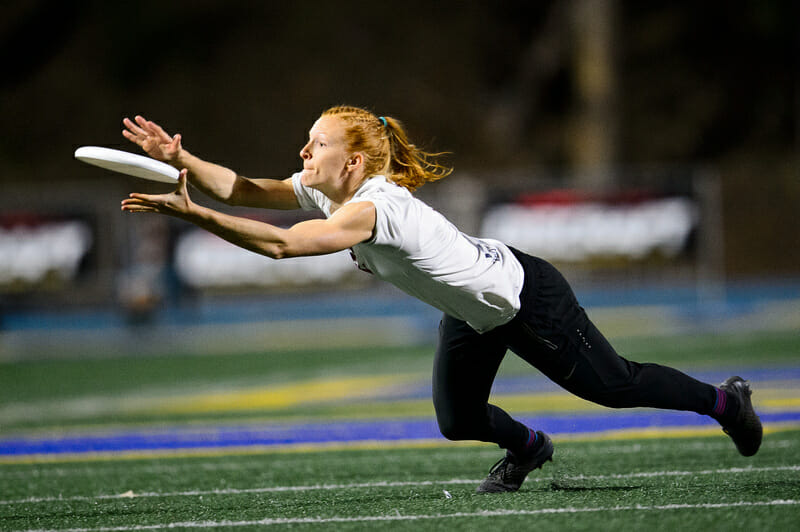 They call her "Vegas," but Johnson isn't glitzy nor is she a risky bet. In fact, Johnson is sandpaper to opposing offenses' smooth flow, sent out to scrape and scrap until the offense is uncomfortable, then worn down, and eventually shaped by her presence. She latches onto handlers with the stubborn resistance of an attack dog, and handlers would be equally unnerved to see either one sprinting towards them as the pull heads their way.
There's a business-like tenacity to the way Johnson plays, on both sides of the disc. She's not out there to make friends; she's out there to take the disc for her side. Few players exude confidence on defense the way Vegas does, and it doesn't take long to see why she feels that way. She's got impressive physical tools, with strength and explosiveness to work in small backfield spaces. In particular, she's a vexing mark. She can also frequently be spotted leaving her feet for a block on an imperfect swing or reset pass.
As with many defensive stars, Johnson's stats offer only a glimpse at her impact. Still, her five blocks were tied for the lead for Riot at this year's Nationals. But she lived up to her hard earned reputation in the Division this season, as she harassed offenders at every turn, pushing her assignments into bad positions. In a standout class of defenders, when all the chips were pushed in, it's Johnson who claimed the pot.
1st Runner-Up: Angela Zhu (Boston Brute Squad)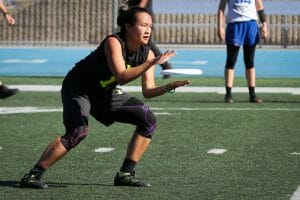 It hasn't taken Zhu long to transition from one of the best players in college to one of the best players in the club game. In perhaps the best defensive unit in the Women's Division, Zhu was still a standout among her peers.
Zhu led Nationals in blocks and was only just behind Amber Sinicrope in assists within Brute Squad. Her versatility as a two-way player was one of the keys to Brute Squad's season. Despite her age, Zhu has a mature knowledge of the game. As a defender, she has an instinctual understanding about where her opponent wants to go, and will deter that option all while setting herself up to stop the next pass, too.
Every handblock, footblock, and stall out is a testament to her ability on the mark. It's the reason why she's given free reign to take even the toughest matchups. Now in her fifth year with the team, Zhu has a reputation that is as fearsome as ever.
2nd Runner-Up: Lakshmi Narayan (San Francisco Fury)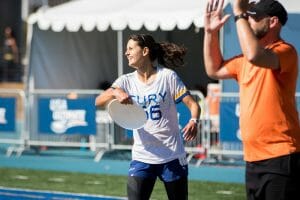 At the beginning of the season –with the departure of Claire Desmond– the biggest question about Fury's defense was which player was going to take the toughest matchups downfield. If that was the question, Narayan was the highlighted, emboldened, exclamation-pointed answer.
While the San Francisco squad had a number of young, talented defenders that made up the bulk of their roster, Tsang and the coaching staff relied fully on Narayan to lead the charge in close games. No other Fury player had more points on defense than her or were as effective protecting the deep space. Narayan recorded a modest three blocks for the tournament, but that doesn't account for how many cuts she prevented from developing and how many passes she prevented players from throwing.
At the end of the day, Narayan was the defender that Fury relied on to stop their opponents from beating them with deep throws. That led them all the way to a National title.
Breakout Player Of The Year
Brittney Dos Santos (Toronto 6ixers)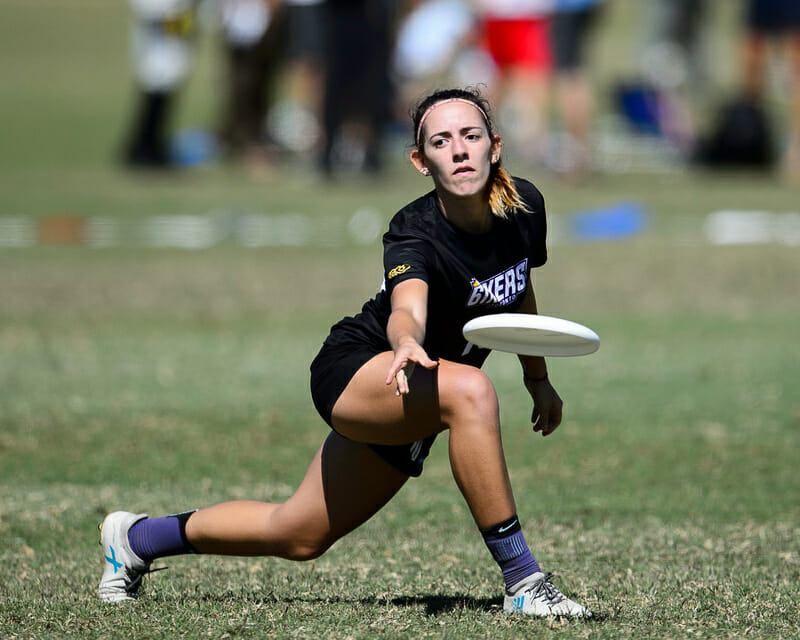 It has been a tremendous calendar year for Brittney Dos Santos, who burst onto the wider North American scene after developing a reputation within Canada's youth community. That earned her a starring role on Team Canada's U20 team, and she was also Ultimate Canada's Youth Athlete of the Year. That transitioned into a significant role for Toronto 6ixers. Few teams, particularly playing at the level of 6ixers, trot out their youngest and least experienced players as touch-heavy handlers, but that speaks to how impressive Dos Santos' bountiful talent is.
Dos Santos' role only increased after the team became disconnected from Anouchka Beaudry. That thrust her into a central handling role next to Lauren Kimura. While her assist volume decreased with the addition of Cat Phillips at Nationals, Dos Santos showed off her athleticism from the backfield, attacking up the line to the tune of nine goals, second on her team, to go with four assists and three recorded blocks. She's a long and tenacious defender with a penchant for athletic playmaking that handles a high percentage of her team's touches, all in her fourth year of her ultimate career.
It's remarkable for a second straight handler under the age of 20 to win this award for Toronto 6ixers. If Beaudry returns to the fold, the trio of Beaudry, Kimura, and Dos Santos as throwers could power Toronto women's ultimate towards the elite tier of the division. The talent level Dos Santos adds is upper echelon.
1st Runner-Up: Nicole Canning (Boston Brute Squad)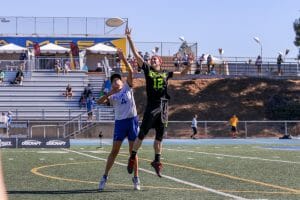 Nicole Canning's coming out party at the U.S. Open was one of the more fun stories of the season. The first year Brute Squad member, who hadn't even planned on trying out for the team before being invited, had one of the most memorable individual 2018 performances in their semifinal against Molly Brown. She was arguably their best player in the game, logging a pair of critical second half bookends scores, and providing exceptional handler defense all game long.
Her impact wasn't as obvious elsewhere as it was in that game, but she was still a valuable addition to an already fearsome defense. Canning took tough matchups throughout the season and more than held her own. She was a threat after the turn as a cutter, too, and an important part of Brute's defensive unit. They didn't need any Breakout Player of the Year candidates on the D-line in Boston, but they're surely excited about her future impact after the season she's had.
2nd Runner Up: Kelly Ross (Washington DC Scandal)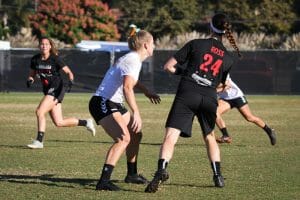 Several Scandal players felt deserving of recognition here. In the end, it was impossible to ignore Ross' gaudy statistics.
Ross led the team in goals at Nationals and was second in assists, and she matched both of those feats for the duration of the season. The last time Ross appeared at Nationals, as a member of mixed team Ambiguous Grey, she had zero goals and five assists. But the women's division first timer was a dangerous option for Scandal all season long, and a critical part of the team's offense.
Ross was a primary deep threat and a dangerous hucker when she did catch the disc underneath. For an offense that didn't ask too much of any one or two players, Ross consistently put up big numbers, and looks like she'll be a key part of the Scandal offense for years to come.
Coach Of The Year
Alex Ghesquiere (Washington DC Scandal)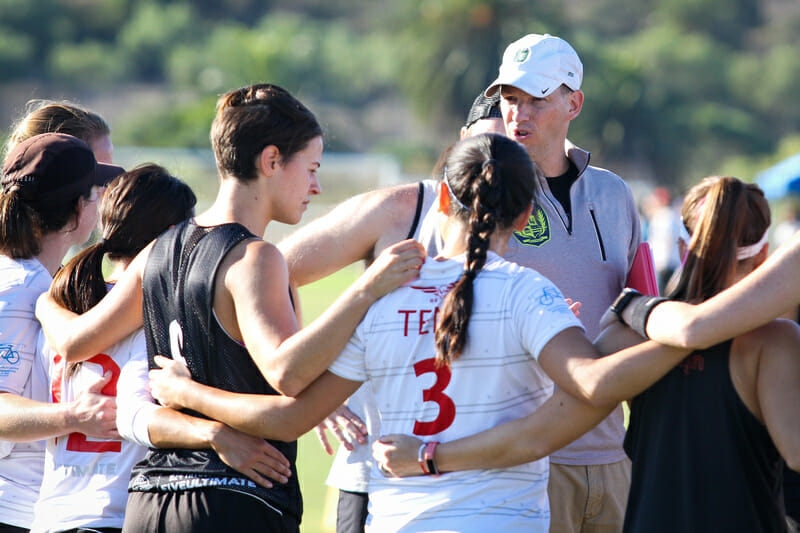 We may have slightly overreacted to Scandal's roster departures. But at the time of their 2018 roster release, it felt like it may be the beginning of the end for one of the defining teams of the division over the last decade. But Ghesquiere completely remodeled the team offensively and defensively, and Scandal wound up being even better in 2018 than they were the year prior.
Losing depth players is one thing, and Scandal lost a lot of those pieces, but they lost the player their offense was built around in Jenny Fey as well as their defensive safety net in Sandy Jorgensen. Scandal benefited from a surge of depth thanks to a strong rookie class, but Ghesquiere did a remarkable job of retooling the team's systems to maximize the new-look roster. Quicker disc movement and more evenly spread responsibility characterized the offensive this year, while better team defense, built to take away quick scores, defined the other side of the disc.
Scandal is operating at a different depth of talent from the four teams above them, and they weren't quite able to make up for that gap this season. But Scandal were ninth in our preseason rankings, which means we thought they had a real chance of not making it to a quarterfinal this year. It's a major testament to the coaching job of Ghesquiere that Scandal were a better team this season, despite all they lost from a year ago.
1st Runner-Up: Ariel Jackson (Boston Brute Squad)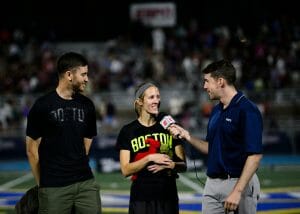 Brute Squad came the closest of any team to having a perfect season. They entered Nationals without a loss during the Triple Crown tour and are now two double-game point losses away from having won Nationals four years in a row. This is in large part due to the effort of their coach, Ariel Jackson.
His defensive systems are well-renowned at this point and yet he still finds new ways to confound and confuse his opponents in each game. But perhaps his greatest strength is the in-game adjustments he makes to help Brute Squad stay one step ahead in tight contests. The versatility and experience of the players on his team allow Jackson to reevaluate strategies when needed and change his angle of attack.
It's not just that Jackson is good at staying ahead of the curve in women's ultimate, it's that he's so often the one setting the curve in the first place.
2nd Runner-Up: Matty Tsang (San Francisco Fury)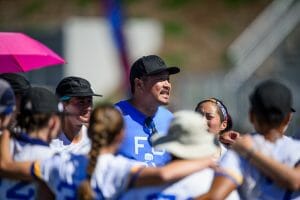 Is there a better culture coach in the game than Matty Tsang? Sure, his roster is akin to Batman's arsenal, but somehow, Tsang gets the egos aligned, builds the buy-in high, and creates a team that can survive the most pressure-filled moments and still remain connected.
Fury's iconic coach is the tie that binds, a unique character who has his own way of navigating the trials of a championship run with deftness and intention. Fury was tested in dramatic ways during their semifinal against Riot and again in their final against Brute Squad.
Despite trailing in both games, the team stayed mentally strong. They fought back. When their belief was put the fire, it held up.
It's just another exhibit in the case for Tsang as one of the game's best leaders.
---
who hada  career season and Nationals best 24 goals. ↩