The eight best players in Europe this season.
With the 2018 season over and the winners crowned, it is time to take a moment to recognize the top players in the Mixed Division in Europe this year. While the talent of the division reaches far beyond short lists, the All-Europe Awards are meant to honor those players who put together what we believe to be the best seasons in the Mixed game this year.
While we consider both regular season and postseason performance, because of the nature of the Club Division, we weighted success at WUCC and at European Championship events above all else. The All-Europe Awards are selected based on input from Ultiworld reporters, contributors, and editors.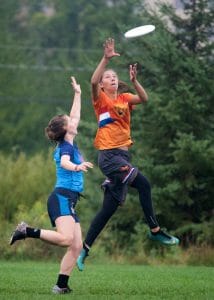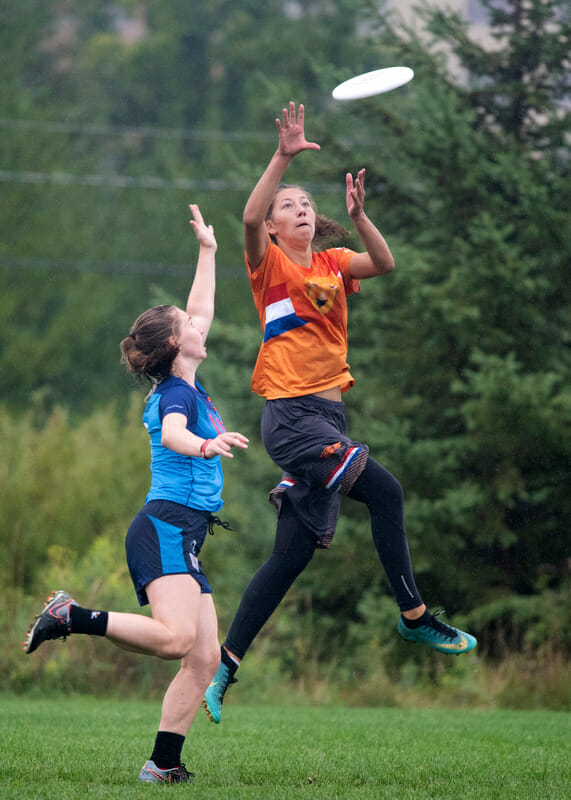 Lola Dam (Netherlands GRUT)
First come, first served, and there is no one in Europe who can outpace Lola Dam. The Defying Dutchwoman has spent this season slicing the established powers of her division apart with her inimitable brand of controlled cutting. When the world wondered whether GRUT could stand up to the expectations our continent held for them at WUCC, Lola never slouched.
In a tournament filled with big questions, looking up from a dead disc to see Lola meters separated from her defender became one the few certainties GRUT could turn to. The confidence she exudes became a rallying point for her side as they corrected their initial missteps and took the uphill road to the quarterfinals. On the defensive end, she prowls like Athena, laying traps for those unfamiliar with her phenomenal closing speed, a trait that became crushingly apparent in the Windmill final as she spearheaded the defensive adjustments that saw GRUT dismiss their talented Latvian opponents.
4 assists and 18 goals in Cincinnati show why the divinity of her movement causes commentators to frequently replace her first name with the almighty's.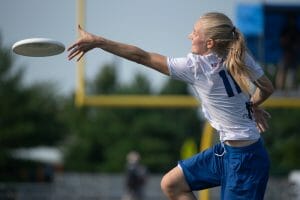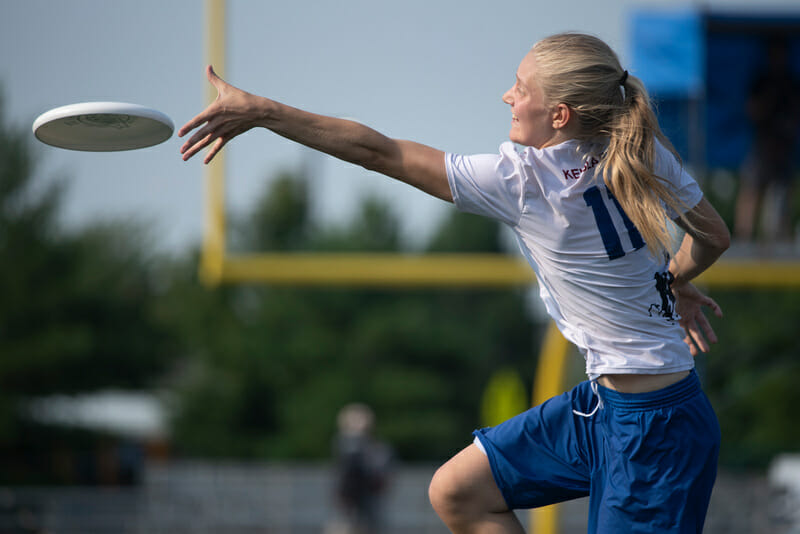 Floor Keulartz (Netherlands GRUT)
If you need us to explain why Floor is on this team, then first you'll need to explain who you are and how practical living under a rock is in today's housing market. Keulartz is simply the best female player in Europe. She has the throws, the speed, and the commitment required to be the best. She can be prone to a questionable decision or two, but she is 19 after all.
She was the fire that powered GRUT out of their station. She seemed to always have a big play in her back pocket for when her team needed her the most. Whether this took the form of soaring hucks, barbarous blocks or galvanizing grabs depended on the moment, but the result was always the same for her teammates: inspiring.
Whenever GRUT seemed threatened by predators on the pitch, it was Keulartz they turned to to draw first blood. For us, that's what makes her the best in Europe. There are other women in Europe who can throw like her, some who can cut like her, break the mark, bid…and they might just be the next best thing. She separates herself from the rest of her division in desire. Nobody wants it more than her, and as long as she maintains that attitude, it's hard to see anyone else taking the crown from her.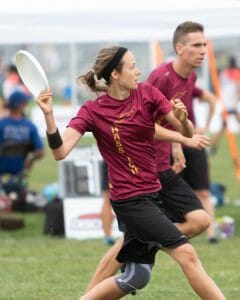 Nora Wilkening (Marburg Hassliche Erdferkel)
Nora Wilkening was an important cog in the well oiled Hassliche Erdferkel machine. She had a primary cutting role on an offensive line that very rarely gave away breaks. Many of the players on the German side had previously attended the University of Marburg and they play like a group of friends with great chemistry. It was their performance at WUCC that really earned the team a lot of praise this season. Double game point wins against Colombia's Urosoul and Japan's Cafe de Luida propelled the side into the top 8 in the world.
In their quarterfinal matchup, Wilkening showed that one of the standout defenses of the tournament (Philadelphia AMP) couldn't contain her. Due to lightning delays, Wilkening never got a chance to battle it out against GRUT's Lola Dam and Floor Keulartz for the best European team bragging rights but a T-7th finish was something they should be proud of.
Many people had tipped the Marburg team to go all the way at EUCF this year but the Swedish side SeE6 proved to be too strong in the stadium game.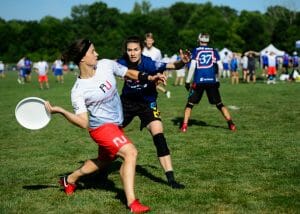 Ania Godbold (Reading Mixed)
There's a very good reason why Ania Godbold was affectionately known as 'The General' for Reading Mixed at WUCC. She runs the show and gets things done, and it's nothing less than incredibly effective. In the past, Godbold has earned a European gold medal with GB Mixed (EUC) and Reading Ultimate (EUCF), and a bronze on the beach with GB Women (WCBU) amongst countless other achievements. For the 2017/18 season however, Ania shifted her focus back to the Mixed Division, training with Reading leading up to WUCC in Cincinnati.
Her offensive style involves expansive and dynamic play, opening up the pitch to move the disc into the waiting hands of every receiver. A powerful thrower, she can blast a backhand or fire a flick deep (much to the dismay of her opponents). Alongside teammates such as Avril Hunter, Mark Bignal, and Rachel Naden, Godbold became the lynchpin for the Reading WUCC primary O-line, racking up 12 assists and 5 goals. She is considered as one of the strongest female players in the UK right now.
Ben Oort (Netherlands GRUT)
The only thing common about Ben Oort is his name. After that, he is an entity entirely unto himself. The longstanding leader of GRUT Oort combines all the skills that make the modern Ultimate player excited, big shots, massive ups and a healthy disregard for what traditionalists would view as 'sensible throw choices'. He had 16 assists and 15 goals at WUCC, all while running at about 80% efficiency thanks to his poorly timed thumb injury. To get to see the established powers of Mixtape and Wildcard debating on the sideline how best to contain Bort's lethality was a wonderful, though somewhat anticipated joy, of WUCC. For the most part teams could not restrict the young Dutch lion and he pillaged his way through the tournament. The follow up performance at EBUCC where he recorded 18 assists and 18 goals is further proof of Ben's devastating versatility.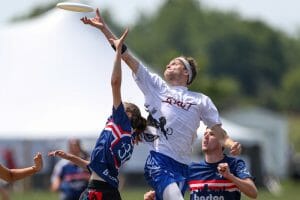 Walt Jansen (Netherlands GRUT)
There is a very good reason why Ben Oort is so effective at pulling off ambitious throws in high pressure situations, and that is because he learned how to play with Walt Jansen.
Jansen bails people out with such frequency you'd think he was a defense attorney. He has spent this season taking it to absolutely anyone who dared to stand in his way. I watched him sky people from all corners of this planet in Cincinnati, before returning home and dominating at EBUCC in a similar fashion. However, this season saw his throws take a big step forward.
He lines up his flick huck like a slingshot, frequently downing the goliaths that dare to stand in GRUT's way. This allows Walt to develop a much more rounded skillset, reflected in him leading GRUT in stats at WUCC, not to mention him surprisingly having 21 assists to his 13 goals at EBUCC.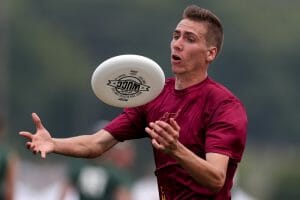 Stef Doscher (Marburg Haasliche Erdferkel)
Stef Doscher is the 1700's Indian spice shipping routes to Hamman's pirate. The ever reliable downfield target has made the leap to world caliber talent this season. For my money, it was Doscher's presence of mind that allowed Erdferkel to settle after the tumultuous start to their WUCC quarterfinal. He  is an expert at efficiency in the cutting lanes. His tactical knowledge far exceeds the standard requirements for a European player of his physical capabilities.
That said, he is not averse to getting on the end of the odd desperation huck should the opportunity become inevitable. When the Aardvarks found themselves in their most crucial point of their WUCC tournament, it was Dosscher who delivered the goods. 11-10 down to Cafe De Luida, he strode confident as ever onto the line before connecting with Hamman to tie the game. He then moved over to the D-line for a crucial cameo on double game point.
The subsequent 13 minutes were emotionally draining, but it was apparent to everyone on the sideline that it was only ever going to end with Doscher scoring. Reliable, quantifiable, and at times undeniable, he was always going to make our list.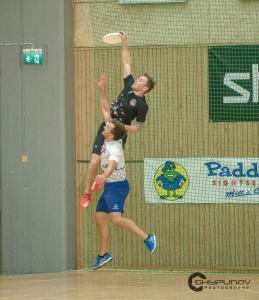 Jonathan Sjögren (Gothenburg SeE6)
SeE6 had a fantastic season this year. They came in 4th place at Windmill and won the EUCF. The team is very deep, and this is truly a team where individuals don't stand out as much as a solid team, except for Jonathan Sjögren.
Sjögren is the leader, the lifeblood, and a huge reason why SeE6 were able to take the European title this year. He is a very solid all-around player. He will typically work from the handler space and has very confident break throws and hucks to get things moving. He is also not afraid to attack deep and can come down with some very impressive one on one discs in the endzone.
His throws, particularly, were huge in their comeback against Disc'over Lisboa in the semifinal. As the heart and soul both on and off the field for the European champions, Sjögren is at home on the All-Europe line.