The seven best players in Europe this season.
With the 2018 season over and the winners crowned, it is time to take a moment to recognize the top players in the Women's Division in Europe this year. While the talent of the division reaches far beyond short lists, the All-Europe Awards are meant to honor those players who put together what we believe to be the best seasons in the Women's game this year.
While we consider both regular season and postseason performance, because of the nature of the Club Division, we weighted success at WUCC and at European Championship events above all else. The All-Europe Awards are selected based on input from Ultiworld reporters, contributors, and editors.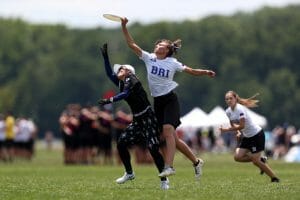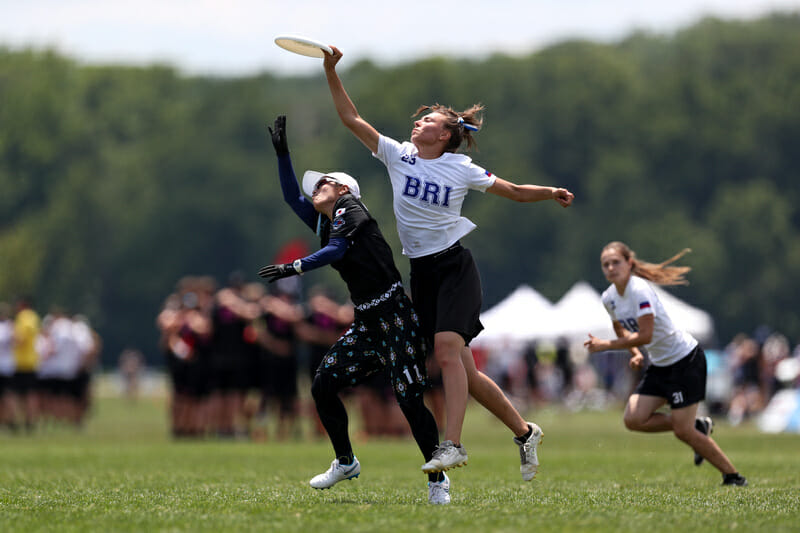 Olga Podolskaia (Moscow Brilliance)
Being the best European player on the best European team at the biggest tournament of the year books Olga Podolskaia a place in our Tsarina seven. She can do everything, and we know she can do everything because she had to in order to lead Brilliance as far into the week in Cincinnati as she did. She led her team from the front, collecting 27 goals and 22 assists at WUCC. The sight of her back speeding towards the endzone became a frequent and welcome relief for Brilliance's beleaguered handlers.
On the occasions where she found herself with the disc in hand outside of the endzone, Olga displayed her extensive repertoire, mixing pitch perfect hucks with well toned breaks. When the going got tough, Brilliance turned to their talisman on both sides of the disc, as Podolskaia moved effortlessly between the two units. After watching the way she galvanized those around her all season long one can't help but feel like they are capable of conquering hell, provided Podolskaia was the one leading the charge.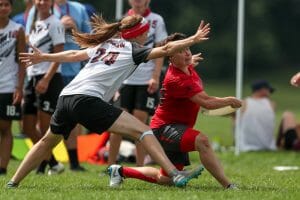 Aline Mondiot (Paris YAKA)
When people think of top tier Women's ultimate, they think of YAKA, and when they think of YAKA, they think of Aline Mondiot. She has long been one the key figures and leaders during YAKA's decade of domestic dominance. This season was an ambitious one for YAKA, as they started in stellar form winning Tom's Tourney in their build towards WUCC. In Cincinnati, Aline Mondiot continued her tradition of leadership with 24 assists and 3 goals. When the world stood against them, it was Mondiot whom YAKA stood behind.
Back in Europe, she moved to CUSB Shout for the European championships, helping the Italians finally secure the title they've grasped at for the past five years.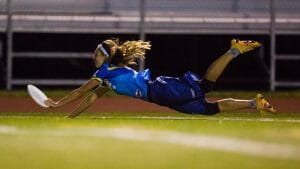 Nici Prien (Hamburg Seagulls)
In baseball, there is a term used to describe players of great versatility: 'five-tool' players, who possess aptitude in all five key aspects of the sport. In ultimate, I would consider these five categories: throwing, cutting, defense, leadership, and spirit. Nici Prien is a five tool player.
On the Eurostars tour, the world got to see what everyone in Germany has known for a long time. She has been competing on international sides for years since debuting on the Germany U24 squad in 2010. Her movement is fluid, her throws assured, and her defense nigh impenetrable. This season, she took a major step forward with her local club Seagulls. Wearing the mantle of leader with poise and driving her club to their most successful season to date, capped off with those final three points, THAT grab, and the European beach gold it brought home to Hamburg.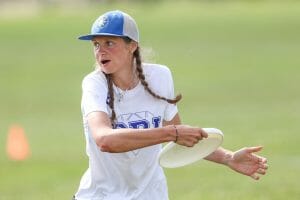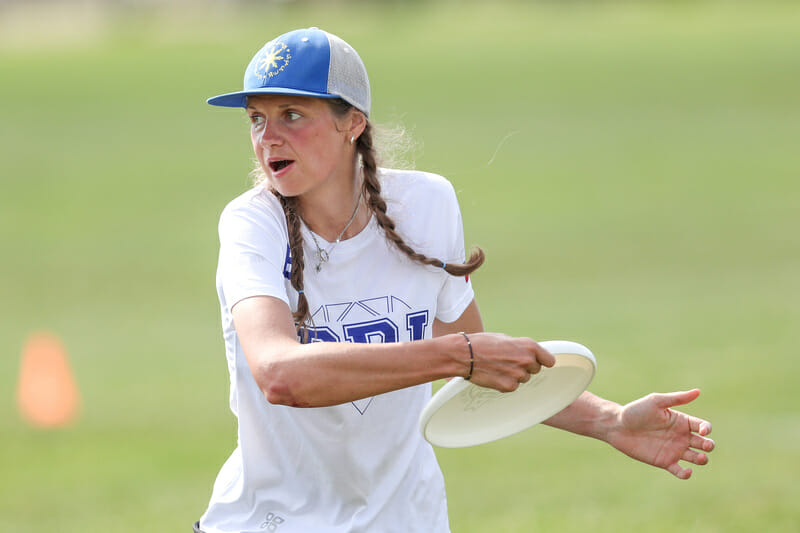 Aleksandra 'Sasha' Pustovaya (Moscow Brilliance)
Dubbed 'Russia's best handler' by Get Horizontal in 2013, Sasha Pustovaya has long since established herself as a surgeon with the disc in hand. She spent the summer slicing apart defenses across the world, leading her team in assists at both WUCC (42) and EBUCC (24), collecting a silver medal with Cosmic Girls in the latter event.
Indispensably expansive with her ordinance, Sasha delights in luring opposing defenses into hubris before ripping them open. At this point in her career Pustovaya has a reputation that precedes her wherever she goes. Opponents single her out for their best defenders in the ambitious hope of stifling her, which makes the consistency with which such efforts fail all the more impressive.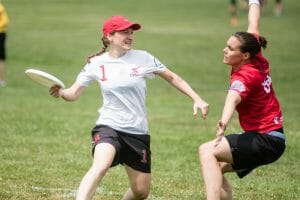 Laura Farolfi (CUSB Shout)
Laura Farolfi plays with so much heart. She is a workhorse who fights tooth and nail for every disc. Her passion to succeed resonates throughout the whole team and is vital to their success. Farolfi was the stat leader for CUSB Shout at WUCC this year, recording 24 assists and 10 goals in just nine games. She has played a large part in growing the sport of ultimate in Italy and can take huge credit for the nation's ongoing success.
A big goal for this team was to finally claim a persistently elusive European title for Bologna and they did just that this year with a fantastic win over Iceni. When the final point was scored, there was an outburst of jubilation on Farolfi's face. You could tell that years of hard work had finally paid off in that one moment of pure joy. She also showcased her talent for the second time on the Eurostars Tour this year. A great season made Farolfi an easy pick for our All-Europe Team.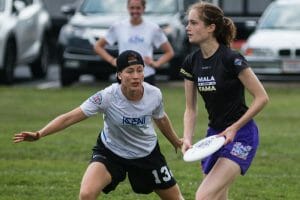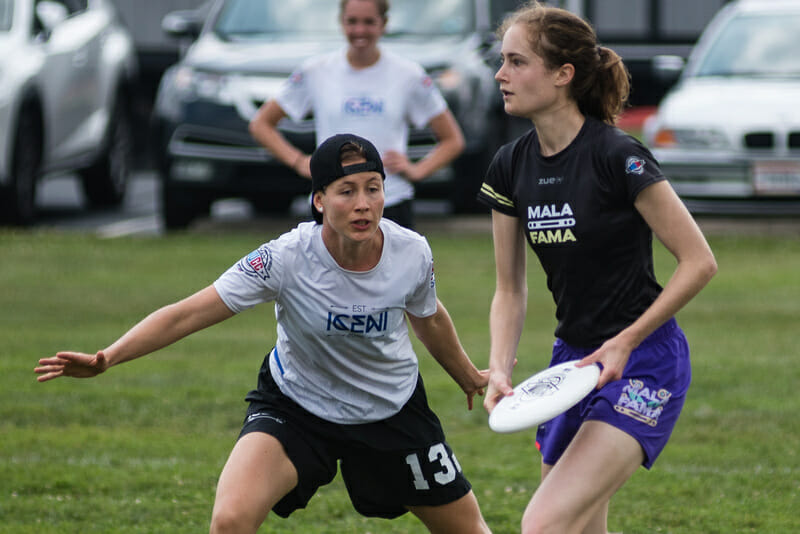 Maya Mileck (London Iceni)
We've already gushed over Mileck's defensive prowess, so here we'll justify her inclusion with more offensive logic. Maya 'Great Dane' Mileck is one of, if not the, best mids in Europe. Over her two tours with the Eurostars, she showed just how integral a cog she can be in any system, her grace and grit serving as grease when the all-star team's offensive gears would start to jam.
She is a master of cultivating spacing with movement. Time and again, she created room for her teammates with her opening move before returning as an undeniable option with her second. Her throws, while not as elite as some of the other women on this list, are invariably effective. From quick breaks to arching leading passes, Mileck has the wonderful prescience to seemingly always make the right choice.
She joined the legendary ranks of Iceni this season, bringing her sure footedness to a squad that dared to stumble for the first time over half a decade. At WUCC, she collected 13 assists and 11 goals for Boudica's brightest, showing that she can deliver the goods regardless of the terrain.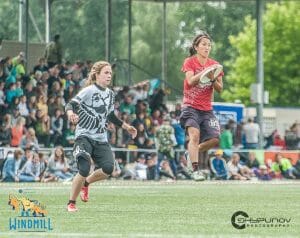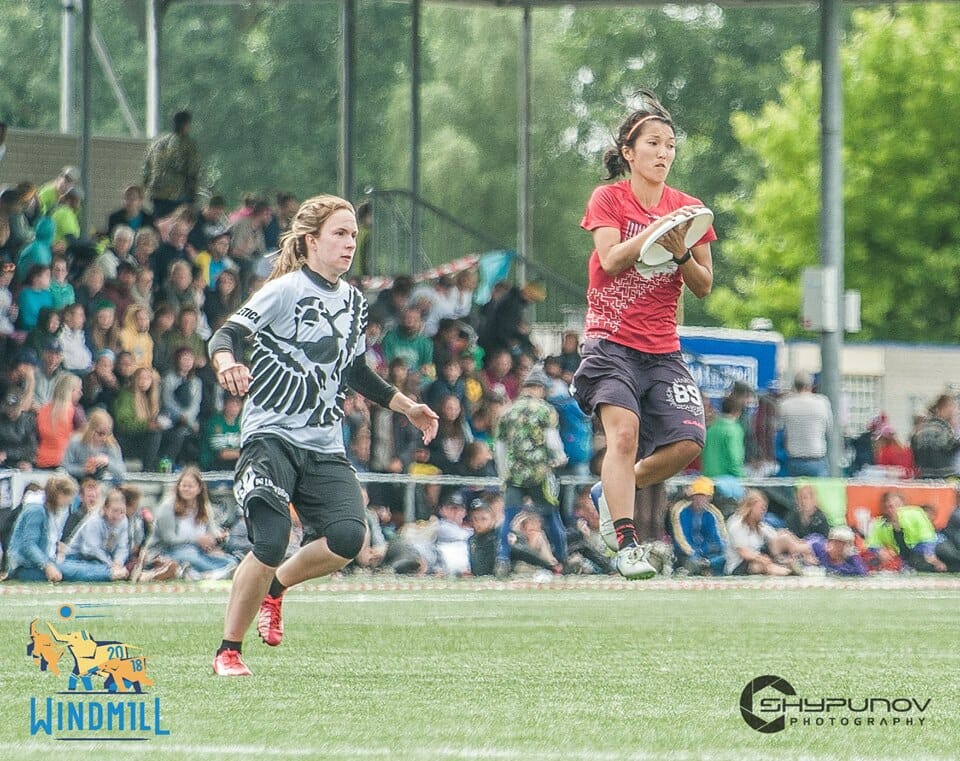 Kyoko Hosokawa (Mainz Mainzelmädchen)
Kyoko Hosokawa has long been the tip of Mainzelmädchen's spear. She has been shredding defenses across Europe for years with her razor sharp cutting and throws. Seriously, go back and watch the Windmill final against Iceni and tell me how she was legally brought on a plane to go to Cincinnati.
Hosokawa proved what a lethal a weapon she is for Mainz at WUCC, leading the team in stats with 13 assists and 18 goals. While stats never tell a full story, the even spread on Hosokawa's resumé shows why she takes the final spot on our list. If your team has the disc and Hosokawa on the roster, give it to her, and if she has it in her hands, do what she tells you and you will score. It's a simple recipe for success, but it's one Hosokawa serves up masterfully.