Lots of water, mud, and forfeit in the final left something to be desired.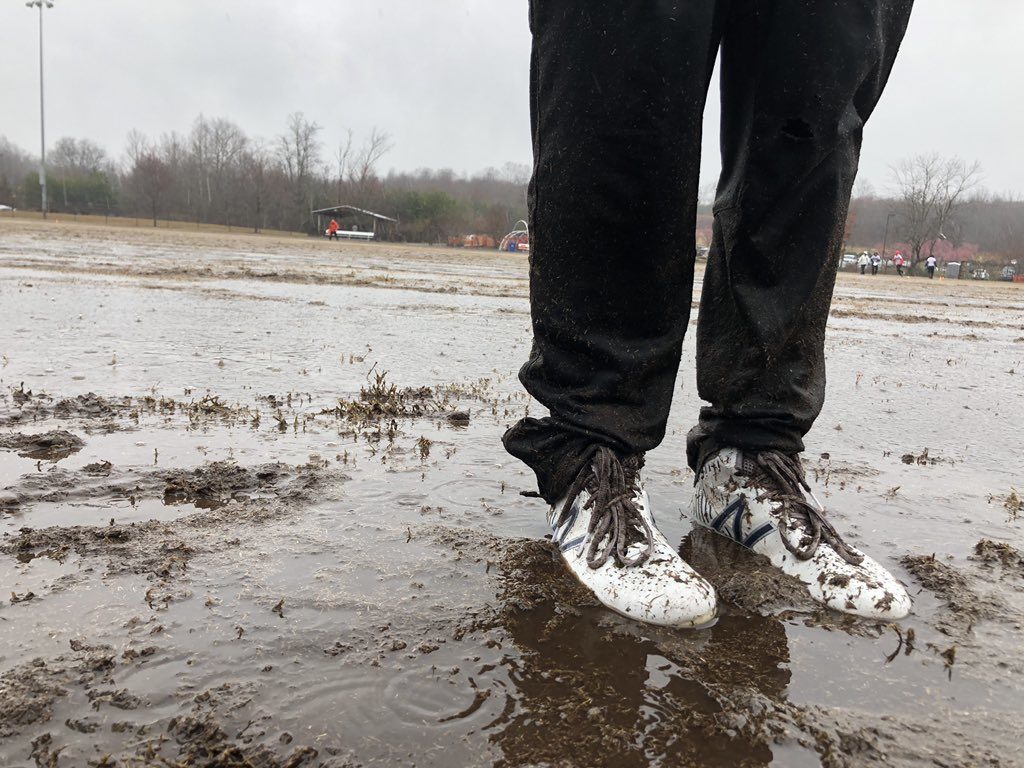 Ultiworld's 2019 college coverage is presented by Spin Ultimate; all opinions are those of the authors. Please support the brands that make Ultiworld possible and shop at Spin Ultimate!
Martinsville, VA — Commonwealth Cup finished on a sunny Sunday afternoon with a forfeit, marking the second time in two seasons that Ohio State Fever has beaten*1 Dartmouth Princess Layout on a weird and weather-influenced final. These results – while expected early in the day as Dartmouth notified the semifinals qualifiers that they needed to leave early to travel two hours to reach their flight – left the tournament with a blaring 'incomplete' feeling. This tournament brings several questions about the standard process for tournaments in rain and the lengths to which we will go to finish out games in potentially dangerous conditions. We'll get to that, after we talk about some top teams going toe to toe.
Ohio State Goes Up Early, Holds on vs. UNC in Semifinal
#9 Ohio State Fever jumped off the blocks on Sunday in their semifinal and caught #3 North Carolina Pleiades on their heels with five consecutive breaks to start the game. Sadie Jezierski pulled the disc deep into the corner of the end zone as Pleiades received on the first point, and UNC gave the disc back downfield with an early throwing error that a receiver could not save. The tone had been set, and for the next four points, it was more of the same. Fever utilized a three person cup zone and managed to cause more than a few overthrows or miscues in the Pleiades offense. While Jezierski put on a show with backhand after backhand in a moderate amount of wind, Fever also relied on Emily Barrett to bail out more than one possession with her ability to come down with a disc in a crowd.
While UNC started slow, they began to chip away at Ohio State's lead late in the first half to bring the halftime score to 7-5 in Ohio State's favor. This comeback was no small task, as the wind continued to gust, but can be credited predominantly to the attitude set by a UNC sideline that was highlighted earlier for their perseverance in all conditions. Led by Anne Worth, Pleiades battled until late in the game and came within striking distance as the score was brought back even at 8-8. UNC rookie Sydney Rehder blocked a Jezierski backhand huck with her arms and took an injury substitution just outside their attacking end zone, and Pleiades notched the conversion. While UNC scored once more, Ohio State took the victory 11-9 and moved on to a final game that never happened.
— UNC Women's Ultimate (@UNC_Pleiades) February 25, 2019
Shorthanded Dartmouth Fends Off Pittsburgh in Semifinals
While #2 Dartmouth Princess Layout started with low numbers on the weekend, two potential concussions and a sidelined Claire Trop with a hand injury left the Dartmouth team looking worse for wear by the time the semifinal round arrived on Sunday. The no. 1 seed still led with a break to start the game, as #7 Pittsburgh Danger and Princess Layout both looked for multiple hucks that went incomplete. Danger utilized a box and one defense in an attempt to limit Jack Verzuh, with some success, particularly on pressure originating inside the three person cup on the mark. The tactic resulted in more than one block by a hungry Pittsburgh defense.
While Miranda Kosowsky was involved in a collision on an early point resulting in an injury that left her with reduced playing time, she was notably on the field between points re-enforcing team strategies and providing additional support for the Danger lines. That's impressive presence for a sophomore. Each point in this game had multiple turnovers, but eventually Dartmouth did capitalize on the match up and bring home the win. The major take away for Princess Layout in this game was that even with a short staff, they were able to hold on to a lead against Pittsburgh in a game that, while exciting, Dartmouth clearly looked in control of. Pittsburgh has promise, and featured contributions from a host of players who have not been historically touted. Dartmouth took the victory 8-6 and forewent the final to travel home.
Early Exits, But Notable Weekends
#25 UNC Wilmington Seaweed has added another strong showing to their resume, and a resounding five point redemption win against Tufts, who they were very narrowly defeated by at Queen City Tune Up. Seaweed struggled at times with decision making in their quarterfinal matchup against Dartmouth and ultimately chalked a loss, finishing their weekend as the tournament had no consolation bracket. The strength of the schedule they faced at this tournament may be of the highest caliber UNCW has recently faced. Of their five games, four opposing teams were in the top ten of the Power Rankings. Hannah Samuelson put on a throwing clinic in extreme inclement weather on Saturday, and UNCW is poised to make a push for the postseason if they can expand on their progress against top competition and carry that into their regional play.
#18 West Chester held strong this weekend in the conditions – breaking seed on the weekend and losing only to eventual finalists Dartmouth and Ohio State. While the scoreline may not reflect it, the West Chester vs. Ohio State matchup felt arguably closer than Fever's other games on the weekend. Lindsey McKenna is still carrying the majority of the workload for this West Chester team, and they will be even more dangerous if they can pool contributions from elsewhere on the roster. Keep an eye on this team moving forward.
NC State Jaga Monsta had a solid showing overall and took care of business when necessary. Carmen Tormey had several key defensive stops, and anchored their offensive possessions with clean play in the wind and rain. There were flashes of excellence this weekend as Jaga hung close with Pittsburgh in bracket play and defeated Tufts in pool play. The Atlantic Coast region may snag more than one bid this year, and NC State could be a top contender. Unfortunately, Jaga Monsta may not be able to build on this performance until the postseason series, as their only remaining tournament registration is a waitlisted position at I-85 Rodeo.
How Far are We Willing to Go to Finish As Scheduled?
This weekend, the tournament field played in four inches of standing water in some areas, near freezing temperatures, and mud that rose to submerge cleats completely. Where usually the field complex will cancel play to protect their investment in the fields, this weekend, the complex officials were willing to let the teams play out the weekend as the complex schedule is sparse over the next few weeks. While the precedent has been set for high and low temperatures, should USAU establish limitations for safe play when rain storms have no lightning component? At what amount does rain reduce the safety of players and therefore require additional accommodations to be made?
Certainly Saturday was a case study for the resiliency of women in college ultimate. While many teams  individually differed in opinion of the safety overall of the event, a common theme emerged in their collective will to push through the uncontrollables of the conditions. Pittsburgh Danger, Ohio State Fever, and UNC Pleiades noticeably showed no difference in energy or sideline presence from Saturday and the muck to the sunny turf in Sunday's bracket play. Women across all teams were duct taping their pants closed around their socks, wearing wading pants, and fashioning trash bags into another layer of water resistance.
An added layer of complication was caused when teams began playing shortened games to reduce exposure to the elements. Weather is commonly referred to across sports as an equalizer for teams of different calibers, but as teams were shortening games, eventual quarterfinalists faced larger disparities in points and time played. Many teams with an eye on the bid picture were uncomfortable with reducing points played, as close games could negatively affect their algorithmic standing. For the top four seeds, all mostly secure in their bid standings, there was little to no pressure to maintain large margins of victory. The lack of an official USAU rule on this type of condition and the difference of opinion among teams in the field put the tournament director and overall support staff in an awkward position.
The Final That Wasn't
The final of Commonwealth Cup 2019 was set to be Ohio State Fever facing Dartmouth Princess Layout. There are mixed reports as to whether the semifinals teams agreed to shorten rounds to a seven point cap to ensure that semifinals and the final were played to completion. With some concern over whether or not USAU would certify such results, teams began semifinal play. Dartmouth requested a shorter semifinal due to low numbers, and teams agreed. Additionally, there was no third place game scheduled. 2
All-Tournament Team
Sadie Jezierski (Ohio State)
Emily Barrett (Ohio State)
Jack Verzuh (Dartmouth)
Anne Worth (North Carolina
Miranda Kosowsky (Pittsburgh)
Carmen Tormey (NC State)
Hannah Samuelson (UNC Wilmington)
---
Last year, at Queen City Tune Up, their game was interrupted by the early conclusion of the tournament. Ohio State was ahead and the result counted. ↩

A previous version of this story reported Pittsburgh also requested shortened gametime, but that was inaccurate and has been corrected. ↩