Perhaps the biggest non-Nationals D-III event ever produced plenty of great action.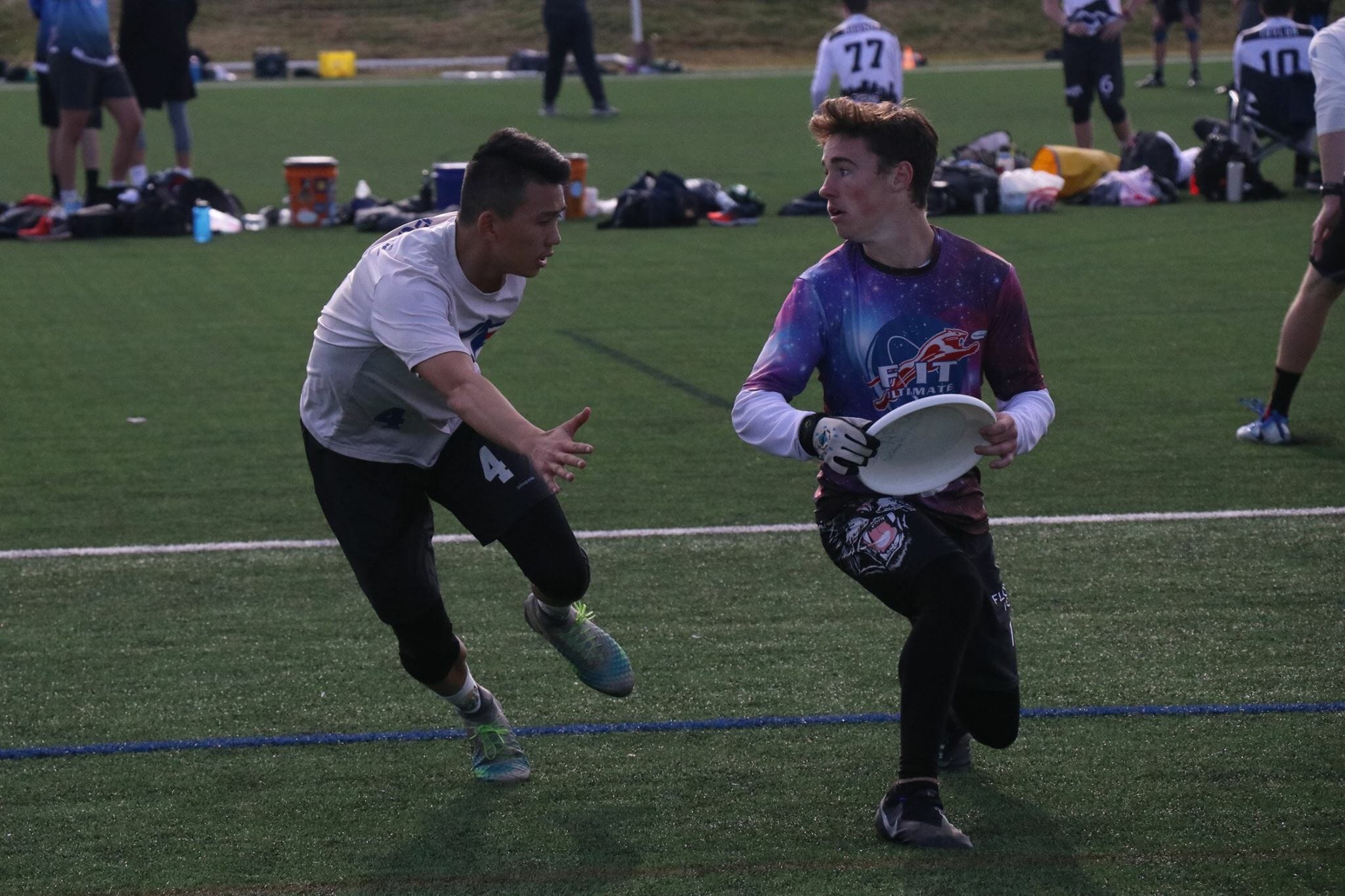 Ultiworld's 2019 college coverage is presented by Spin Ultimate; all opinions are those of the authors. Please support the brands that make Ultiworld possible and shop at Spin Ultimate!
Disclaimer: the author of this piece was the tournament director for FCS D-III Tune Up, as well as a coach for High Point University Bagheera, who participated in the event.
This past weekend, 21 D-III teams from six different regions converged on Bermuda Run, NC to measure themselves in the biggest tournament for the division so far this season. A match play format saw maximum connectivity and created enticing matchups in every round, and there was a lot to learn from the results. Here are five major observations from the weekend:
1) Richmond, Middlebury, Air Force, and Mary Washington Impress
In a tournament that was filled with parity and upsets in the middle class, these four teams distinguished themselves as being a step above the competition.
The #5 Richmond Spidermonkeys had a weird start to their weekend. A fraternity event on Friday evening meant that about half of their team was late to their opening round game, and it showed as Richmond got off to a slow start, trailing Franciscan 7-6 at the half. The cavalry showed up, Richmond won that first game 13-11, and never looked back. After focusing on development their first two tournaments, the Spidermonkeys demonstrated the fruits of that patience all weekend, utilizing their depth to create relentless pressure on their opposition en route to a perfect 7-0 record. Senior Graydon Cowan was particularly impressive as center handler on the Richmond O-line, utilizing a variety of angles and release points to break marks and keep the disc moving.
Matching Richmond's undefeated weekend were the #2 Middlebury Pranksters. Entering the tournament shorthanded with just 14 players, the Pranksters showed impressive discipline on defense and efficiency on offense to finish their games quickly, conserving their legs against their weaker opponents so they could run hard against the stronger teams they faced. Despite missing star handler Dylan Salzman, the Middlebury offense was sharp, with Zach Levitt stepping into a bigger role than last season and Kai DeLorenzo falling into the handler space when needed. Freshman Leo Sovell-Fernandez was everything we expected on the weekend, with his best play being his backhand huck on universe point against Air Force in the Saturday night showcase game. If this weekend is how Middlebury looked shorthanded, they will be a scary proposition with a full roster come May.
Without context, this looks like a disappointing weekend for #1 Air Force Afterburn; however, context of the weekend gives a more balanced perspective on their performance. Afterburn went 5-2, with both of their losses coming to top five teams. Due to travel constraints, Air Force played five games on Saturday, only losing their fifth to MIddlebury, and they lost their leading goalscorer Matthew Moshea to injury for the remainder of the weekend halfway through the showcase game. All of that said, Afterburn leaves this weekend with some questions they must answer before Nationals. Their D-line in particular has quite a bit of work to do, struggling to create turnovers and converting on the possessions they had at a low rate. Alan Villanueva and Noa Chun-Moy crossed over frequently to help, but in order to be successful at Nationals, Air Force will need to find a way to create and extend leads without their two stars on the field.
Rounding out the top performers on the weekend are #13 Mary Washington Mother of George. After a disappointing start to their season at Mid-Atlantic Warm Up, MoG got back on track with a 6-1 showing in North Carolina. Ironically enough, their most impressive performance on the weekend came in their one loss, 13-11 against Middlebury. Mary Washington looked out of their depth last year in a 15-8 loss in the quarters of Nationals to the Pranksters, but they looked much more up to the task this past weekend. Joe Richards was equal to DeLorenzo, Zack Richardson and Landrum Beard both played much better than last May, and the rest of MoG's roster looked more comfortable and confident against Middlebury's pressure. Mary Washington's one shortcoming is a tendency to become enamored with and reliant on the deep ball. It's hard to blame them, with the height and athleticism on their roster, but their offense becomes one-dimensional and predictable. If they can round out their attack, they'll be in fine shape to make another run to quarters, or beyond, this May.
2) Oberlin, RPI, and Georgia College Disappoint
There are many reasonable explanations for the performance of the #4 Oberlin Flying Horsecows this weekend. They faced four teams who attended Nationals last year, giving them maybe the toughest schedule of the weekend. It was their first tournament of the season and they were missing a handful of players, including their best player in Julian Bregstone. All of that being said, the Horsecows had every opportunity to make more of their weekend. Up 11-5 against Elon and up 6-2 against Mary Washington, Oberlin let both leads slip away. The Horsecows were impressive defensively, but their offense lacked the discipline required to get the holds and close out wins. Bregstone will go a long way in fixing this problem, but Oberlin has plenty of work to do if they're to return to Nationals this May.
Just as disappointing as Oberlin was #14 RPI Trudge. With the losses of Andrew Yale and Alex Curerri, it was always going to be a learning weekend for Trudge, but their performance in Bermuda Run was exceptionally discouraging. RPI managed to remain competitive in all of their games, never losing by more than three, but they failed to close any of these close games out with a win. This is to be expected of a team being led by junior captains, and that leadership group should be commended for keeping the team's spirits up until the very end of the weekend, as RPI finished with their best performance in their final game, a 13-6 win over Oberlin. While this weekend surely didn't go the way Trudge planned, they were competitive in every game, and the foundation is there for success later on this season.
It might be a bit unfair to classify #15 Georgia College Disconnected's weekend as disappointing, but for a team who made it to the quarters of Nationals last year, expectations were high, regardless of who they graduated. Disconnected also had an exceptionally difficult schedule, playing four teams from last year's field in Rockford, and they went 1-3 against those teams, with the lone win coming against a struggling RPI. Disconnected has a lot of work to do to defend their Southeast crown, but there were bright spots. Jacques Perivier was as good as anticipated, and players like Alec Powers and Parker Rhinehart looked good for stretches in their new, bigger roles. While Georgia College looks short of having the talent to make another run to quarters, with measured development, they have a strong chance to once again win the Southeast.
3) Big weekend for the Atlantic Coast
While Richmond and Mary Washington were expected to have strong weekends, several of the teams in the middle class of the Atlantic Coast also stepped up. Davidson, Elon, and UNC Asheville combined to go 10-6 against opponents from outside of the region.
#11 Davidson DUFF played with less than two lines worth of players on the weekend, but one would have never known from looking at their results or listening to the energy from their sidelines. DUFF plays a grinding style of ultimate, wearing down opponents with under after under, and their work rate with a shorthanded roster was impressive. Kaylen Alexis was fantastic in the handler space, using his length to get around marks with ease, and Mac Harris showed an expanded arsenal of throws to step up in the absence of Davidson's usual handling core.
Elon Big Fat Bomb started off their weekend in dramatic fashion, coming back from down 11-5 against Oberlin with seven straight breaks to win 13-11. They kept their momentum going for the rest of the weekend, picking up convincing wins over RPI, Florida Tech, and Messiah. Ethan Gould, Connor Whiffen, and Sam Alston were all impressive as expected, but BFB showed that they have depth, with players like Garrett Wibbelsman, Remy Benzel, and Jonathan Duen showing they can be real difference makers. While Elon lost to both Richmond and Mary Washington this weekend, they've shown they have the talent to compete with anyone and won't be an easy out come Regionals.
Sometimes in ultimate, having two of the best players on the field in any given game is enough be successful; the UNC Asheville Bulldogs were a testament to that this weekend. Fifth year Jacob Warshauer and junior Dean Merritt were one of the most potent duos at the tournament, with Merritt boosting the disc and Warshauer finding ways to come down with it. Players like Wilson Matthews, Nathan Griffith, and Darius Anglin slotted into their roles alongside these two nicely, but Asheville's success the rest of the season will largely rest on the shoulders of Warshauer and Merritt. Fortunately for the Bulldogs, they look up to the task.
4) Ohio Valley and Southeast wide open
With Oberlin and Georgia College both struggling despite entering the weekend as favorites in their respective regions, the Ohio Valley and Southeast look to be wide open, with regional contenders finding various levels of success.
In the Ohio Valley, Franciscan Fatal and the Messiah Falcons both arose as challengers for the crown. Franciscan had a nice little surprise for everyone when 2017 OPOTY Dom Schuster appeared on their roster for the weekend. The star handler is back for his fifth year while working on his MBA, and his throwing ability opens up the entire field for Fatal's athletic cutting crew. Franciscan went 5-1 on the weekend, albeit against not the strongest schedule, but they were dominant on the way to that record and should currently be considered the favorites in the region.
Coming off a 10th place finish at Regionals in 2018, expectations were low for Messiah coming into the weekend. After an impressive 4-3 showing, the Falcons are firmly in contention in a crowded Ohio Valley. Messiah picked up impressive wins over #16 Missouri S&T and RPI and almost beat UNC Asheville, losing on double game point. Nate Harnish will be in contention for an All Region spot, and the coaching staff of Charlie Hoppes, Gabby Cincotta, and JM Rallo have the Falcons well-coached and organized. They might not have the depth of talent to win a series of games and take the region, but they won't be an easy out and are capable of upsetting anyone they'll see at Regionals.
In the Southeast, Florida Tech FIT's stock is way down, while the stock of the Berry Noble Savages is way up. Florida Tech entered the weekend with high expectations for themselves, looking to push for a spot at Nationals after only losing by one to Georgia College at Regionals in 2018. Instead, they went 1-6, only picking up a win over 0-6 Campbell and getting blown out 12-7 by Berry. While Josh Newman and James Krenger both had strong weekends, FIT as a whole has a lot of work to do to reach the standards the program set for themselves last year.
Speaking of Berry, nobody had a more surprising weekend than the Noble Savages. In our preview, we wrote that Berry was simply happy to be at the tournament. Instead, they went 6-1 on the weekend and picked up several big wins, including two over regional rivals. Captain Miles Lally was very impressive for Berry, showing the ability to lead his team from both the handler space and as a deep threat. On defense, Berry deployed a 2-3-1 zone where the seventh defender was matched up on the closest reset, causing teams to throw long resets that their athletic wings were able to block. While Berry didn't notch any wins over Nationals-level competition, they were dominant in many of their wins and should be considered a serious threat in the Southeast.
5) Standout Sophomores
It is expected for players to make a leap between their freshman and sophomore year. Players go home for the summer and join a league and/or play club for the first time. They show up for the next season feeling confident and capable of carrying a heavier load, and because they are no longer rookies, their captains trust them to do more. All over the complex this weekend, sophomores were making big plays and stepping into new, important roles for this team, and it was striking to see the strength of the class of 2021.
The freshmen we saw playing big roles at Nationals last year continued to play major parts on their teams. Defending FOTY Noah Zobel from Oberlin was once again dominant in the deep space and showed an improved throwing ability that made him more dangerous on unders. Ian Hanson, Danny Grubbs-Donovan, and Kevin Strenski were all incredibly impressive for Middlebury, with Strenski in particular making a major leap from last season. Beau De Koninck of Mary Washington was steady as ever with the disc and showed improvement as a defender.
However, it was the sophomores from the Regionals-level teams who really stood out. Jordan Chambliss from Samford was remarkable in all facets of the game. According to the team, Chambliss finished a +39 on the weekend with 19 assists, 19 goals, and 24 blocks. Matt "Cheeto" O'Neil from Messiah was one of, if not the, fastest players in attendance this weekend, and he had a breakout performance in the Falcons' final game against Elon, finishing with 7 goals, 1 assist, and 4 blocks. Wilson Matthews from UNC Asheville was a treat to watch in the handler space; the lefty had a variety of break throws, with his around flick release being incredibly fast.
These players are already showing that they're among the best in the division. With at least two more years to continue developing, these players will only continue to improve; the division is in good hands.
All Tournament Team
Kai DeLorenzo (Middlebury)
Graydon Cowan (Richmond)
Dom Schuster (Franciscan)
Jacob Warshauer (UNC Asheville)
Joe Richards (Mary Washington)
Noa Chun-Moy (Air Force)
Alan Villanueva (Air Force)