Five top 25 team and a pile of challengers will meet in Georgia.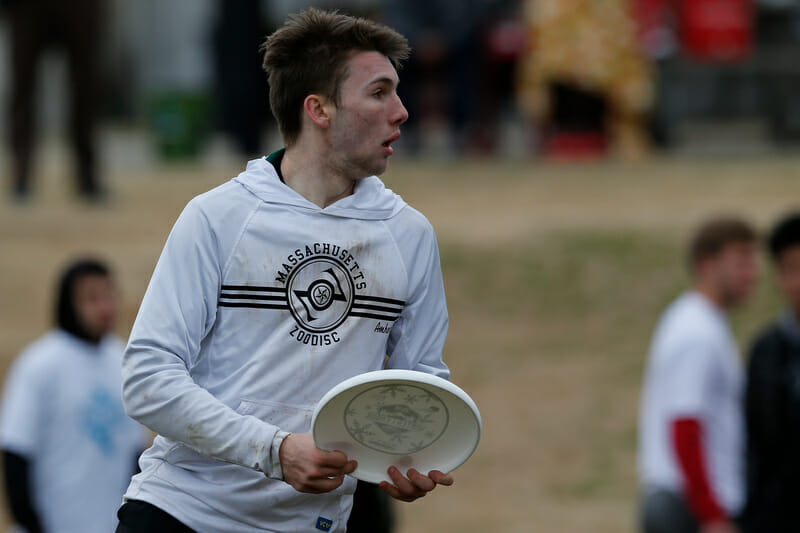 Ultiworld's 2019 college coverage is presented by Spin Ultimate; all opinions are those of the authors. Please support the brands that make Ultiworld possible and shop at Spin Ultimate!
Last fall's Classic City Classic was a bit of a strange affair, as heavy rain played havoc with the schedule and pushed games to a secret alternate location — a single turf practice field, halved. It was a good attempt to make the best of a bad situation. Hosts Georgia Jojah hope to put a better show on this spring with the Classic City Invite. They've got a handful of Nationals-level teams, some intriguing potential spoilers, and, mercifully, full-size grass fields.
Tournament Profile
Date: March 9 – 10
Location: Madison, GA
Weather: Highs from 60 to 70 degrees, some rain on Sunday, 10 mph wind
Top 25 teams: 5
Who's Going to Step Up?
Pittsburgh, Massachusetts, NC State, and Georgia are the top four seeds, and while all of them had good showings last month at either Florida Warm Up or Queen City Tune Up, each of them fell short in the bracket. They are teams at the cusp of the top tier. The field is thinner here than it was at Warm Up, and there isn't a UNC or a Brown — or a Texas, for that matter — to dash anybody's Sunday hopes. The opportunity is there for one of these teams to make a statement. An undefeated weekend or an emphatic win over one of the other top teams would be an awfully good look at the season's midpoint.
#3 Pittsburgh En Sabah Nur looked like they were on a course to meet Brown in the final of Florida Warm Up. They toe the line between discipline and aggressiveness on offense, and the amount of space they are able to keep open on the field is something to admire. A one-point loss to an equally disciplined BYU squad was nothing but an early-season blip; they were cruising in the Sunshine State. All of a sudden, however, they found themselves on the wrong end of a bad game, as they were summarily bounced in quarters by an unorthodox and athletic Texas squad. So is the 2019 iteration of Pittsburgh one that should consider themselves lucky to see Sunday at Nationals? Or, on the other hand, are they a real contender to knock off UNC when it counts?1 When they look good, they look like one of the best teams in the country. The question, at this point, is whether they will put together a complete weekend against a variety of styles — which is what they'll have to do in May if they want to go deep at Nationals again.
This year, it seems as though #7 Massachusetts Zoodisc will go as far as Tannor Johnson can take them. With his arsenal of powerful throws, his go-for-the-gut attitude, his size, and his experience, he's as elite a cutter as there is in the division, a gravitational force with which opposing defenses struggle to contend. It was enough to eke past NC State and make it to the final of Queen City — but losing by seven to UNC once they made it can't have felt good. It's like there's a line they're butting up against, one way or another — are they a top team, or aren't they? Their athleticism can carry them a long way with players like Eddie Scott and Phillip Joyce emerging as deep threats, but they'll need more from facilitators like Elijah Mishkind and Reuben Philip to stake their claim.
So far, the re-branding campaign for #8 NC State Alpha has been an unqualified success, with just two losses — in the final at Carolina Kickoff to UNC and 17-16 to UMass in a semifinal at Queen City. And it isn't just the results: this team looks good. The offense uses the width of the field like it's second nature. The defense plays with intelligence and intensity. There are solid players up and down the roster. Austin Von Alten could be a feature player on any offense in the country. They could be the best team on the field this weekend. But without any world-beaters to take away pressure by taking fate out of their hands, will they rise to the occasion?
It's hard to know how to assess #11 Georgia Jojah. On the one hand, their game results are just peachy, with losses only to Brown (twice) and Texas. On the other, they haven't had the look yet of a team that could threaten to crack the top five. In Florida, they often struggled to move the disc between their handlers, or to establish much flow downfield. Against worse teams, the defense is strong enough to earn the rock back and make up for a miscue — but against the best teams, those opportunities are scarce. Georgia has enough size, athleticism, and coordination on defense to force plenty of turnovers against anybody. The question they have yet to answer is whether Jason Jones, Brandon Li, and co. will be able to attack the end zone effectively and consistently after that. The lines have become more stable since the "pods" approach they took to Warm Up — we'll see if the more settled roles yield the better returns.
Who Is Wilmington?
One of the more intriguing stories of the year is what to make of #16 UNC Wilmington Seamen. Are they something more than the team that flamed out in 2018 at Atlantic Coast regionals and looked a step or two behind the top flight in the fall? They might be. The Seamen overcame Maryland — one of the teams who beat them out at Regionals last year — and made a run to the semifinals at Queen City, which is an accomplishment that bodes well. Rick Hennighausen, Matt Ellis, and Willie Stewart have enough talent between them to earn more good wins. They're out to prove that they're more than just a spoiler with a championship pedigree.
But they aren't just playing for pride — Wilmington currently sits on the right side of the bid cutoff for a third ticket to Nationals from the AC. They're playing the rest of the season to keep that bid out of the hands of other hungry regions — such as the North Central or Southwest — and give themselves the best chance to control their own destiny in April. A win or two against one of the teams seeded above them would stack the deck in their favor.
Trap Games
It's far from a foregone conclusion that the ranked teams skate to pool play victory. There are a number of intriguing lower-tier squads in attendance with the capacity to take a round off the heavy hitters. Tufts Emen already have a pair of nice pelts in Carleton and Minnesota. An upset over NC State in pool play would fit nicely in the trophy room. Carnegie Mellon Mr. Yuk features one of the tournament's (and division's) best players in Jasper Tom. Georgia Tech Tribe, led by Micah Jo and Tyler French, has a win over Wilmington already. Kennesaw State Parliament beat Tufts at Florida Warm Up, but lost to preseason buzz-earner Northeastern and narrowly defeated South Carolina,2 the latter of whom took a game from Texas A&M. And don't forget Florida State DUF, unranked and undistinguished so far in 2019, who had a middling regular season last year but stole a ticket to Nationals behind the light-footed play of Stephen Muir. It might not work out for any of these schools to compete for the duration of the tournament, but any of them are likely to get hot for a game, and the top teams had better be ready.
Quirky Format Should Provide Excitement
All of these games will be played in a pretty bizarre format. With limited field space, no more than three games will be going on at a time. Saturday is going to be a long one, with the first round starting at 8:30 AM and the last starting at 8:45 PM, which should make for some a fun atmosphere under the lights.
Where things get real weird, though, is on Sunday. There will be no bracket play. Instead, a sort of glorified power pools will be played, with the top two finishers of each pool playing round robin style, and the bottom two to three finishers doing the same in another pool. The odd seeding for pool play, with Pitt as no. 10, should work itself out on Saturday and set up a really fun Sunday in the top pool. Barring any major upsets, Pitt, UMass, NC State, Georgia, and Wilmington, along with the team that finishes second in Pool B, should all get to take cracks at each other on Sunday.
In short, the tournament is set up to be a Florida Warm Up lite, without the bracket play. That tournament's format has been praised as of late, so emulating and iterating on it makes sense.
It's obviously less than ideal to only have three fields in use, and the teams that play the late night games on Saturday will probably hate Sunday morning's switch to Daylight Savings Time as much as anyone in the country. The bottom finisher in Pool B will play a game in both the early morning first round and the final round over 12 hours later; others could be in for the same or similarly tough schedules. But this format seems to do a nice job of making the best of the facility's limitations while also providing a lot of opportunities for some of the country's top teams to get a lot of games against each other.
---
Remember that they were the only team to beat UNC in 2018, aside from William & Mary during UNC's annual sell out game once they've locked up their Nationals pool. ↩

A previous version of this article erroneously stated that Kennesaw State lost to South Carolina. ↩