Armed with a new mentality under a new flag, NC State is hoping to change their fate.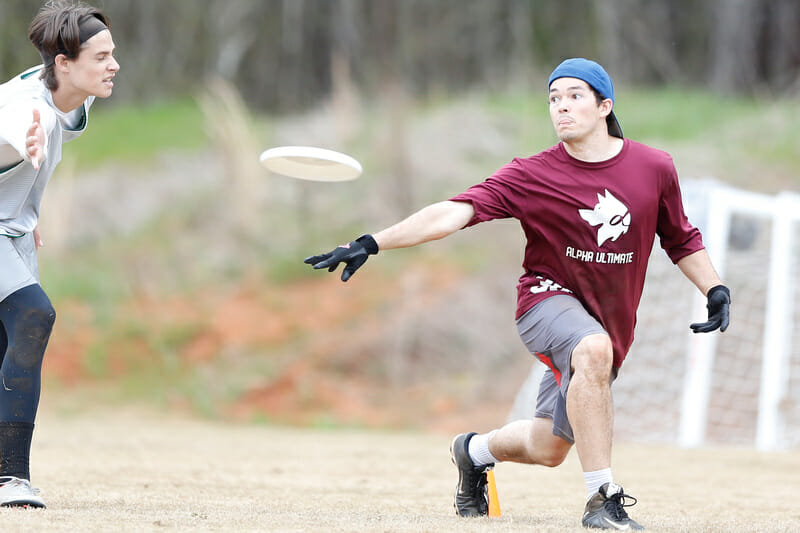 Ultiworld's Men's Division college coverage is presented by Spin Ultimate; all opinions are those of the author. Please support the brands that make Ultiworld possible and shop at Spin Ultimate! 
Since the regional redraw, North Carolina1 and UNC Wilmington have dominated D-I men's Atlantic Coast ultimate. And in this game, as in ACC men's basketball, NC State has been playing third fiddle (or worse) for years. Ultimate has its own Tobacco Road rivalry.
In the 1980s, NC State fielded a championship quality basketball team. And exactly a decade ago they were a Nationals-qualifying ultimate team, featuring Ken Porter and Brett Matzuka. Whether you play for an NC State team or root for one, standing just outside the spotlight while the big teams tussle is part of the culture.
"There's always been something of an underdog mentality at NC State," said NC State junior and captain Michael Lee. "To always feel like we're on the outside of the rivalry between UNC and Duke, and to be sort of written off by other schools in the area. I think that that manifests itself in our athletics in general, not just frisbee."
All season #15 NC State has been working to scrap the underdog mentality and claim a new place as a Nationals qualifying team. After an official christening as NCSU Alpha in 2019, State has been building for the postseason with a different approach to their team culture and use of local talent.
Previously, On…
Ever since the regional redraw, the men's side of the AC has largely been the stomping ground of UNC Darkside and the Wilmington Seamen. The two have owned the fields in Axton (the location of Atlantic Coast Regionals) almost every season.2 To anybody closely following college ultimate the last two seasons, NC State can feel like a bit of a tragic case.
In 2017 NC State, fueled by a new class of promising freshman out of the Triangle's YCC programs, earned a third bid for the Atlantic Coast. Their achievement opened up the possibility of going to Nationals without beating either UNC or Wilmington. At Regionals, they had their hearts snatched from their chests by Virginia Tech Burn, who bounced State down into the third place bracket in quarterfinals alongside the same UNC Wilmington team that would go on to catch fire at Nationals and go all the way to the championship game. State didn't join them at the College Championships.
"After that Virginia Tech game we felt like we had to play our way out of a slump and that never really works," said Lee.
In 2018, State's path appeared more favorable in a four-bid Atlantic Coast. But even before Regionals there were questions about State's ability to remain level-headed and consistent in big games. Injuries also plagued the squad throughout the season. A lot of the heavy lifting for NC State's backfield offense fell on the shoulders of David Jones, who matched some excellent skill with the disc with an overly aggressive style that could lead to injury. Jones was banged up well before Regionals and, once State arrived in Axton, insanity set in.
Virginia handed them a 13-11 first-round upset to kick off the weekend. State's body language coming out of that game told the whole story. It was their only pool play loss, but players were visibly shaken, as if they'd just been bounced in the game to go to Nationals. They never found steady legs for the remainder of the tournament. Maryland ultimately delivered the coup de grace on Sunday morning, knocking the Wolfpack on Sunday morning to the tune of 15-7.
"Without a couple of playmakers, we leaned more on our other top players, and that just isn't a consistent way to play ultimate," said Lee. "We were playing frisbee based on talent, not frisbee based on strategy or based on the team."
Talent isn't an issue with NC State. Their 2017 freshman class was a group that just about any college ultimate team would kill to have. Lee was one of a group of nine YCC freshmen who all came to school in the fall of 2016. While a handful of those nine did not continue to play into subsequent seasons, that class has become the core driving State forward this season. And where in prior years there was some difficulty fully passing the torch to impressive newcomers, NC State's successful 2019 campaign so far is the result of an intentional effort made by that same group to translate talent into wins.
"Any team that gains talent is going to go through some bumps in the road and some changes," said Lee. "It took a little longer for us because we had to figure out where and how our leadership should work and where we should fit different pieces. It wasn't like my class came in and said, 'Okay, we're taking over here and doing everything differently.'"
Becoming Alpha
It's easy to point to a literal rebrand and attribute a team's success to it. Before the fall of 2018, NC State was officially identified as "Men's Club Ultimate At NCSU." On the field, they went by the school's official mascot, Wolfpack. The official name change to Alpha coincided with NC State finally figuring out how to put players in the right roles and how to rise to the challenge of playing the best ultimate teams, not just in the Atlantic Coast, but on the East Coast as a whole.
"I think the name itself maybe isn't a huge deal, but the reason why we picked Alpha was to prove we weren't an underdog anymore," explained Lee. "We were an alpha dog that could play with anyone in the country."
Branding aside, the biggest change in State's culture has been an emphasis on accountability. In previous seasons, a pattern emerged in games against opponents like UNC. State would take an early lead and even take half on occasion. But they wouldn't sustain that level of focus throughout a game.
Tournaments like 2018 Eastern's Qualifier showed how hot and cold State could be. A blowout 15-7 win over the same Maryland team that would go on to end State's season was accompanied by several glaring red flags against regional opponents. Against South Carolina in the semifinal, they completely lost their offensive composure after taking a convincing four-point lead and eked out a 13-12 win on double game point. Things got so heated between the two teams that a shoving match between one of State's handlers and a South Carolina defender had to be broken up by Mitch Dengler, who was observing an adjacent game. Lapses in focus and a bizarre chippiness undermined State's ability to sustain leads.
But the symptoms of State's mental collapses in past seasons were curable and their captains understood coming into the 2019 season.
Lee stressed that the team needed to show more accountability on the field. "If you make a mistake, you shouldn't react by being angry or frustrated with yourself of your teammates. You should think about what type of energy is actually needed in the game and what is helpful to the team," he said.
Part of enforcing a culture of accountability meant spending more time together as a team. For the captains and team leadership, that meant meticulously planning out the progression of State's practices throughout the preseason. Bailey Laberteaux and Michael Wes spent two extra hours a week in the fall figuring out those progressions for the team. That level of investment may not be something every single player on a college team can invest all the time. But enjoying the process of building a program and playing together was absolutely something that State's leadership wanted every player to find this season.
"We don't expect every single person to want to hang with each other all the time, but you should enjoy spending time with and love one another at the very least," said Lee. "Practices should be something we look forward to, tournaments should be something we look forward to, and not just for the ultimate."
But even "just the ultimate" has looked different this season. It has been some of the best the program has played in years. A brief glance at State's 19-6 record this season just how much better they have become and how much more consistent and versatile they are, particularly on offense.
The missing piece that has made State dangerous this year has undoubtedly been junior Austin Von Alten. The O-line starter sat much of his first two seasons battling a spate of injuries. The 2019 season is the closest he's ever been to 100 percent during his college career. Von Alten's return to play and transition over to State's O-line gifted them the kind of explosive downfield athleticism that frees up players like Conor Chickos and Avery Acierno to be more aggressive and active, alongside the throwing prowess of senior captain Bailey Laberteaux. On the defensive end, Trevor Lynch has had a banner year as a top defender, backed by a strong unit of players headed by Lee and junior Rhys Gretsch.
The headline names for State though are just one piece of what has given this year's team the ability to play well against blue chip programs. NC State's depth resembles some of the UNC Wilmington teams they've faced in years past, with reliable role players on every line and a never-give-up-on-any-play-ever attitude. Alpha is now sniffing their first trip to Nationals in a decade. They even have an unsanctioned win over UNC Darkside (from the Atlantic Coast Showcase) as a confidence booster—that familiarity could help them quite a bit in Axton this year.
Answering the Question at Hand
The rebranding, the arrangement of different pieces on the board, and a heavy emphasis on playing together as a team has brought NC State within striking distance of UNC in sanctioned play. It has brought them two great performances against UMass including a Queen City semifinal in which State's defense caused problems for Zoodisc. It has made Alpha a reasonable favorite heading into this weekend to assume a new mantle as one of the top two teams in the Atlantic Coast and definitively exorcise the demons of the last two seasons.
And yet, one of those longtime Atlantic Coast opponents looms large.
UNC Wilmington has continued to own the matchup between the two teams. At Classic City Invite, State was unable to close a 4-1 lead and lost to Wilmington 9-8. At a rainy North Carolina Conferences, State once again lost 11-10. Looking at the tape, State's offense devolved at CCI under pressure and Wilmington contained Von Alten effectively enough.
The complexion of the games between the two teams this season has been fiery. Occasional outbursts over calls, aggressive spikes, and celebrations are enough to make anyone forget that many players between the two rivals have played together during the club season. Though they are in different pools this weekend, a meeting at Regionals is far from unlikely. A win over Wilmington stands as one of the final mental hurdles for Alpha.
To go to Nationals this weekend, State will need to play like the team they've have been aspiring to be, rather than the team that they were. Maryland, who've played spoiler for them before, sit in the second spot in Pool B. Virginia Tech, a team that got hot at Conferences, is another possible bracket opponent.
"As a captain last year I can say that we weren't ready for Regionals and it was because we didn't prepare how we needed to," said Laberteaux. "Practices weren't focused, drills weren't organized with intention, tournaments weren't approached with intention. In the prior two years we definitely wanted to work hard and wanted to win but as a young team we failed to see what that looked like on a day-to-day basis."
The knowledge of what has and hasn't worked in prior seasons is empowering for Alpha players who have spent multiple seasons aiming for College Championships. It's the ghostly memory of previous Wolfpack seasons that can gnaw at them. After earning a bid and losing it repeatedly in recent years, history threatens to repeat itself.  And NC State's worst games of this season have come against their neighbor a few hours south.
"Regionals for us is going to be all about the team that we're playing at that moment," said Laberteaux. "Issues in the past have come up because of that overlook into what the next matchup will be once we win this game."
'Survive and advance' is a terminology that Alpha can't really lay claim to yet. But if you look hard at this year's NC State squad, the uncanny similarity to their journey putting talent in the right places and getting out of their own way mentally bears a certain resemblance to a beloved Tobacco Road basketball team. State has been a traditional underdog in North Carolina. This season is the best opportunity they've had in years to snatch the torch away from Wilmington as one of the best two teams in North Carolina. And there's something else to consider: the possibility of a rematch against North Carolina in a potential game to go to Nationals. Should that opportunity present itself, is it unreasonable to believe that State would want to give everything they have to claim that win?
NC State may have not made it out of the Atlantic Coast region,3 but before the Atlantic Coast even existed, they were one of the best college teams in the southeastern United States. They won a national title in 1999, after reaching semifinals the year prior, and last qualified for the Championships in 2009. It is totally reasonable to believe that they could become that kind of a team in the final weekends of the college season. The first step is claiming a bid of their own in Axton.
"I hope we beat the team in front of us in the Series," said Laberteaux. "For us, Regionals is about knowing that when we perform at our best, hardly anyone in the country has a shot at stopping us. And if we can demonstrate that, there's some tournament in Texas we hope to attend."
---
Chapel Hill ↩

Editor's note: not in 2018. Wilmington was also eliminated on an absurd catch by upstart Georgetown. ↩

Prior to the redraw, they were in the Mid-Atlantic region. ↩