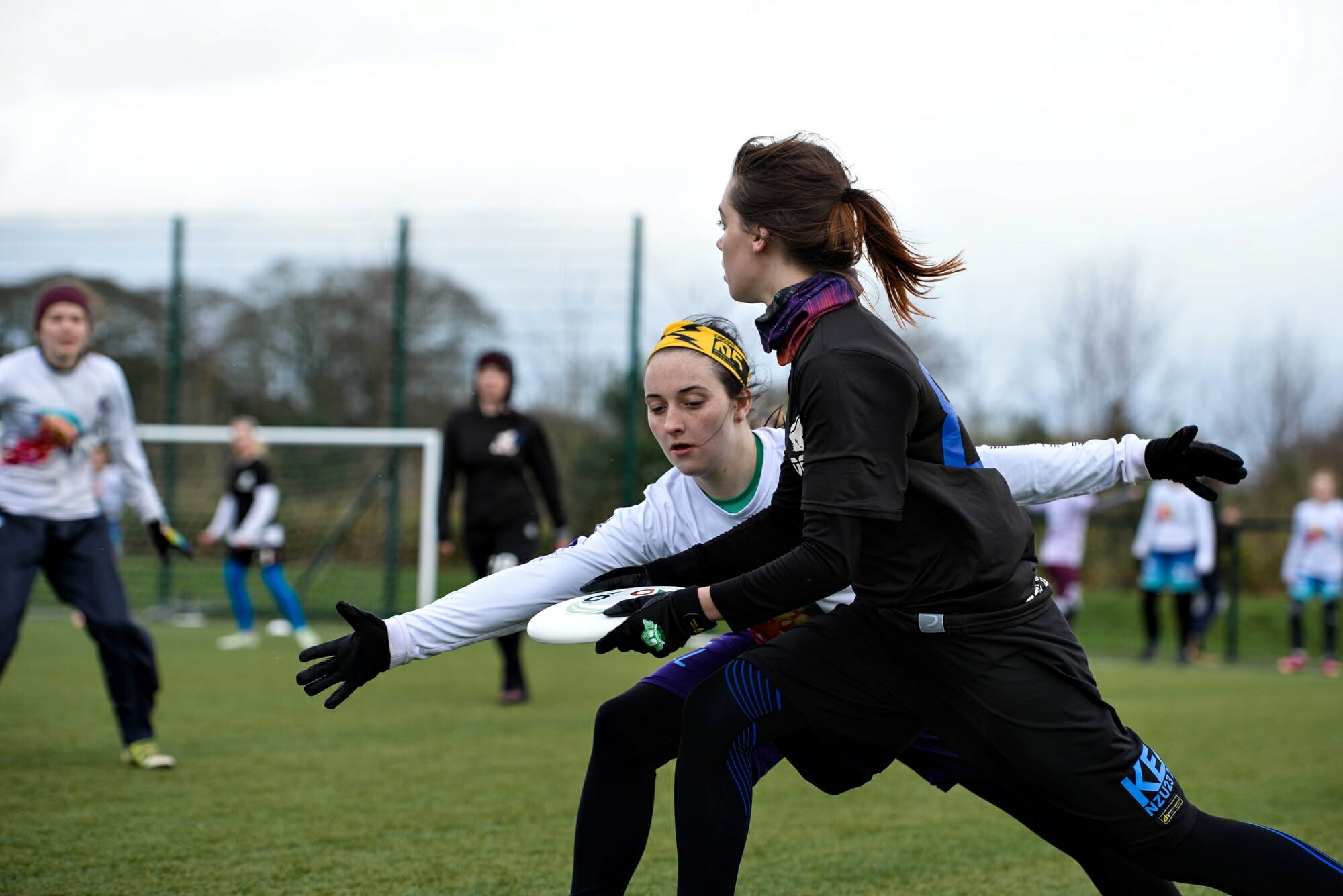 The women's division of this year's edition of the Siege of Limerick is split into two equal pools of five teams. There is a lot of national team representation in these squads. You can expect a very high level of competition and quite possibly some upsets.
Tournament Profile
Date: March 9-10
Location: Limerick, Ireland
Weather: Highs between 45-50°F (7-10°C), cloud cover and showers, 15-20 mph (24-32 kph) winds
Pool X
Reading Ultimate
As one of the largest clubs in Europe, Reading Ultimate has a wealth of talent on its books. The most prominent threat on the squad is Avril Hunter. She is a multi-sport and multi-division GB representative, having played on GB Mixed at WUGC 2016 and will be competing with GB Women in 2020. Expect her to make a lot of contributions during the tournament. Hunter is not the only national team representative on this squad. Rachel Lee and Gee Morrison have both played on GB U24 Mixed and will be joined by Gemma Coleman who played on Australia U24 Mixed. Reading Ultimate have never competed at Siege of Limerick prior to this year's event. However, if the experienced players can figure out how to gel with the rookies, this team has what it takes to win on Irish soil.
University College Cork
Just after celebrating the club's 20th birthday 2018, UCC is the highest-ranking university team at this year's tournament, entering as the third seed. UCC are coming off the back of a very strong indoor season having just taken the crown over Trinity College Dublin in a convincing 10-4 victory making that six wins in seven years of making the final. Watch out for Emma Healey and Kate Crowley to be standout performers on this team. They will be hoping for a smooth transition from the indoor season into the wind-ridden outdoor one. The conditions should not play too large a factor for this cohesive unit.
Rebel Ultimate
Rebel has had a very successful mixed season. The club based in the Cork area since 2009 peaked at the right time last year getting a bronze at the EUCF. The beginning of this season will be an interesting one for Rebel, as there tends to be a lull in intensity after a full year of tournaments. But if this women's team can bring the intensity that their mixed squad brought at the EUCF, then Rebel will be a force to be reckoned with.
Galway Tribe
Based out of Galway, Tribe1 has been in this current iteration since 2017.  They were originally based on players from the National University of Ireland Galway (NUIG). Now the team has mostly graduated, but are sticking together to continue to develop as a unit.
University of Limerick
The University of Limerick Ninjas have been around since 2006, and are the current IFDA College of the Year. However, the women's team is relatively new in comparison to some of the other teams at the tournament. They may be seeded towards the lower end of the tournament, but they have proven this season that they have the ability to defeat teams such as UCC at Cork Open. A nearly full squad will be present at Siege this year including the likes of Aine Harte and Emma Sexton (both Ireland U24 Women) and some American influence from Kristal Xie, Maya O'Loughlin, and Abby Jackson among others. Particularly exciting will be the youth talent from Joanne Egan and Christina McKeon, both of whom are 16 years old, and already proving themselves staples on this team.
Pool Y
Gravity
Gravity is a club based out of Dublin and was formed as part of a merger in 2014 between Broc Ultimate and OCS. They were further bolstered by another merger with Little Miss Sunshine in 2015. Gravity took second place at their most recent outing to All-Ireland Indoors. The talent on this roster should give every other team here something to worry about.
GB U24
Early in this cycle, GB U24 will be looking to develop on-field relationships before Worlds this summer. They are coming in with a nearly full roster for Siege, providing valuable game time for nearly all players. This squad already boasts international experience. Look for 2018 European Youth Player of the Year runner up Rupal Ghelani; Ghelani dominates the handler space and ruins her opposition's offenses with trademark athleticism. Another player to watch is Nat Brown. One of the younger members of the squad, it will be exciting to see what Brown can deliver at Siege this weekend. She will likely be at the top of the game for years to come. This team will build during this weekend and expect them to finish towards the top of the rankings.
Trinity College Dublin
Trinity is looking very strong in both divisions this year, with Ireland representation throughout the team. Over 50% of the players have been selected to compete for either a U24 or senior Ireland national team, though the team will be missing Amelia Keenan (Ireland U24 Women) and Natasha Hinwood (Ireland Mixed) this weekend. Similar to Reading, the question for this team is how their depth will fare against the competition, but their core should be deadly. Expect them to break seed this weekend.
University College Dublin
UCD recently played at mixed InterVarsity's, coming in fourth place. This was achieved with several players missing, showing the depth that the club has. The women's team also came fourth at Indoor InterVarsity's, breaking their seed in the process. This team looks to be in impressive form going forward but they will likely find it difficult in this tough pool.
Maynooth University
Maynooth was founded in 2008 and ten years later they have been named Club of the Year by their university. They have been consistent in their results over the last few years, finishing between sixth and eighth at InterVarsity's. They will be looking to improve upon their current seeding; they will be well drilled and will put up a good fight against any side at this year's tournament.
Predictions
UCC
Gravity
Reading
GB U24
Rebel
Trinity
UL
Galway Tribe
UCD
Maynooth
---
Formerly known as Snatch ultimate ↩