Who would win this year's brackets if they were competed in ultimate?
This article was written by guest author Greg Spitz.
It's March Madness time! While everyone scrambles to fill out their picks on which schools will advance to college basketball's biggest stage, we once again are filling out our own bracket, judged solely on the merits of each school's ultimate teams. Same bracket, same format. Here's how things would shake out, based on teams' current standings in the USAU algorithm.
Women's Division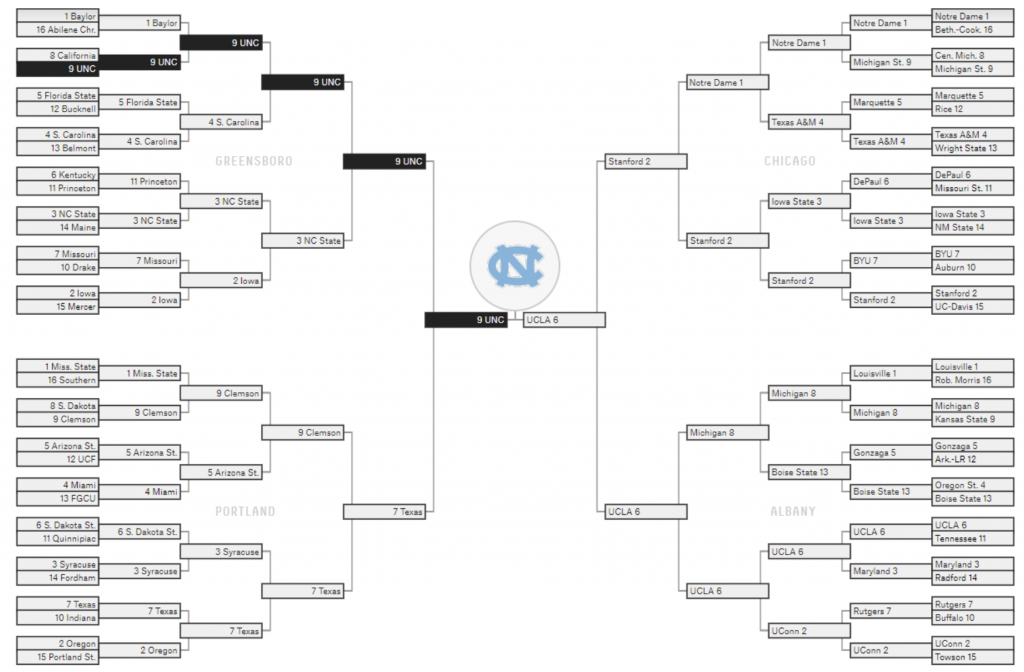 GREENSBORO
Three Carolina teams make the Sweet Sixteen as no. 9 seed UNC hands South Carolina their first sanctioned loss of the season before taking down their regional rival 3 seed NC State to make the Final Four.
PORTLAND
A region with only three teams in the top 100, no. 7 seed Texas faces off with 2 seed Oregon in the second round in their most competitive game en route to the Final Four.
CHICAGO
BYU-Auburn is one of the better first round games in the women's division as CHI advances but falls in the next round to Stanford, who cruises in a region that goes almost perfectly to seed.
ALBANY
Another weak region with regards to ultimate teams, UCLA sees little resistance prior to an Elite Eight matchup against the only other team ranked inside the top 50, no. 8 seed Michigan. BLU still advances.
FINAL FOUR
Pleiades takes down Melee and advances to face BLU, who defeat Stanford in these semifinals just as they did at the 2019 Santa Barbara Invite. Getting big contributions from their talented freshman class, North Carolina claims this title.
Total ultimate bid earning teams: five (North Carolina, Texas, UCLA, Stanford, Oregon)
Men's Division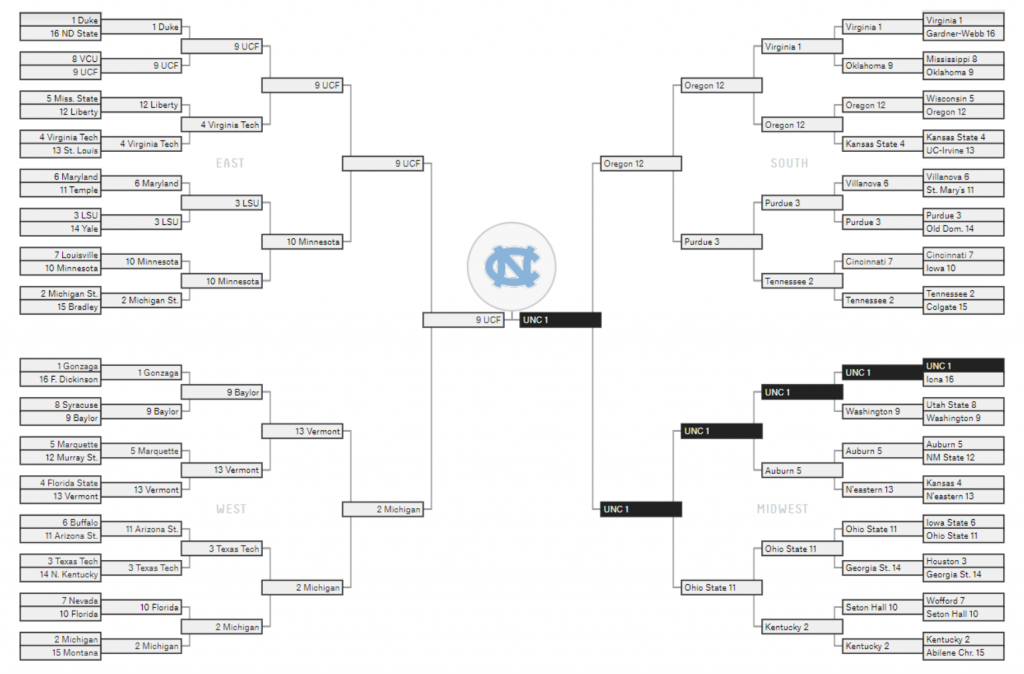 EAST
The bottom half of this region is quite the bloodbath with three nationals contending squads in LSU, Maryland, and Minnesota. The 1 seed is out in the second round as UCF takes down Duke and advances all the way to the Final Four.
WEST
Despite a Cinderella run from no. 13 seed Vermont, Great Lakes favorite Michigan takes this region as the lowest ranked team to qualify for this bracket's Final Four.
SOUTH
The best first round matchup of the bracket is in this region with Wisconsin drawing the short straw of playing 12th seeded Oregon in what would likely be one of the two or three best games of this tournament.
MIDWEST
The deepest region of the bunch has four bid-earning teams in 9th seeded Washington, 5th seeded Auburn, and 11th seeded Ohio State going down in order to the juggernaut that is UNC.
FINAL FOUR
UNC dispatches Oregon in a rematch of last year's national semifinal that went down to double game point and then takes the final over Central Florida. They complete the double win, taking both gender divisions.
Total ultimate bid earning teams: seven (North Carolina, Oregon, Wisconsin, Central Florida, Ohio State, Washington, Auburn)