What should you be paying attention to at one of the longest running college tournaments?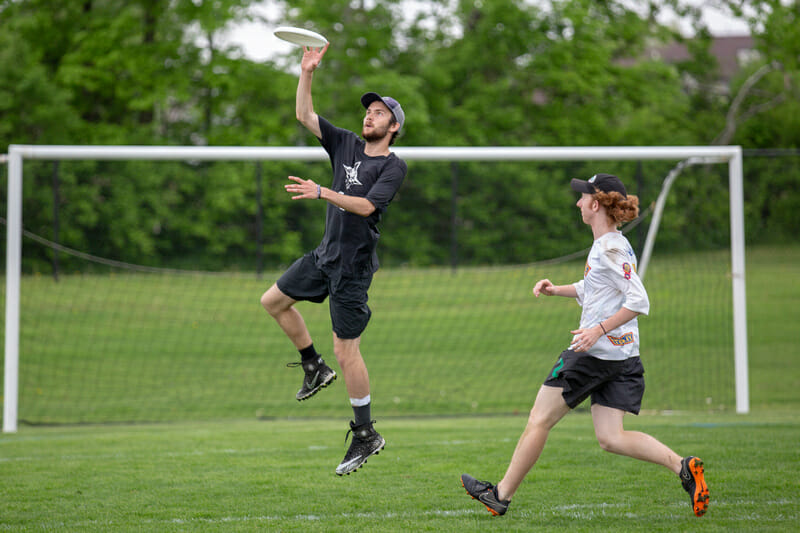 Ultiworld's 2019 college coverage is presented by Spin Ultimate; all opinions are those of the authors. Please support the brands that make Ultiworld possible and shop at Spin Ultimate!
Note: The author of this article is a Geneseo Snail alumnus.
Now in its 25th year, Layout Pigout stands out as one of the longest running men's tournaments in college ultimate to date. Consistently attracting top teams in the division, it also remains one of the benchmarks of the D-III season as a major opportunity for inter-regional connectivity among Nationals contenders and bubble teams eager to break into the national scene. With the college series on the horizon, and the Northeast winter beginning to thaw into spring, crucial wins against outside-of-region competition is exactly what teams will be looking for in order to secure an additional bid for their region and enter the postseason with some momentum.
Tournament Profile
Date:

March 30-1

Location:

Haverford, PA

Weather:

Highs between 60-70, Sunday showers, 10-15 mph winds

Top 25 teams:

5
Games to Watch
#18 Brandeis Tron vs. #7 Franciscan Fatal
Two perennial nationals contenders will be competing Saturday afternoon as Brandeis faces off against Franciscan. Each team is riding the momentum of a strong regular season thus far, and this pool play game will act as a major test of how early season success can translate to stiffer competition later in the season.
Marginally behind the top tier in a New England-heavy Power Rankings, Brandeis enters this matchup as a slight underdog. Having amassed a host wins so far at Oak Creek Challenge and D-III Midwestern Invite – with only one and two-point losses on the season – this provides Tron the opportunity to add a signature win to their resume. With that, they could burst into the chaotically competitive New England region with confidence that they may be able to secure one of the tickets to Texas this May.
Franciscan, consistently among the top of the Ohio Valley region, are looking to use this tournament as an opportunity to gear up for the series, hopefully using veteran talent along with roster-development to build momentum towards winning what looks to be a one bid region. Expect veterans like Dom Schuster, Louis Heisler, and Nick O'Brien to power Fatal's offense, while an array of adaptive defenses aim to keep Brandeis off balance. So far, the formula has been successful at FCS D-III Tune-Up, with several strong wins and only a two-point loss to constant  powerhouse Richmond.
#24 Bowdoin Clown vs. #19 SUNY-Geneseo
Another top New England team faces off against a Metro East program looking to re-establish itself in the Nationals conversation. This pool play matchup provides a major opportunity for Bowdoin to climb back up the Power Rankings and establish itself as a force to be reckoned with in its region. Geneseo Snail is eager to steal as many wins as possible as one of only two Metro East teams in this tournament. Every game is an opportunity to climb the ladder of legitimacy and potentially attain a second bid for their region.
Bowdoin is bouncing back from a turbulent Spring Awakening last weekend, with gusty wind up to thirty miles per hour. In this chaos, they had some uncharacteristic losses in pool play, but showed their ability on Sunday with solid wins over Boston and Army. Taking down an out-of-region competitor on the rise is just what Clown needs to regain some traction and re-establish themselves atop the Power Rankings.
On Geneseo's end, this game is a chance to back up some of the "good losses" against strong D-I programs at Oak Creek Invite with a legitimizing win against an established D-III contender. Led by junior captain and 2018 ME-III POTY Anthony Prato, Snail looks to use its tight top-tier talent to execute a smooth offense with the likes of veterans Paul Oleyourryk, Connor Evans and Matt Orobona. Add on an arsenal of junk defenses and tricky transitions, and it's easy to see where Snail's early-season success comes from. This tournament is a major test to see how it all holds up against stiff D-III competition that's only been sharpening as the season progresses.
#20 Bates Orange Whip vs. Army West Point
This is easily going to be one of the most fun matchups to watch at the tournament. Bates and Army may be the two most athletic teams taking the field this weekend. While they are alike in athleticism, their team cultures and play styles are vastly different, creating the recipe for an exciting clash in Pool B.
Orange Whip is led by Max Rein, Will Sanders, and Jack Molho, all versatile players capable of standing out with big plays while keeping the team positive and lighthearted. Having already gained a lot of chemistry through three regular season tournaments so far – with only a single loss – Bates is capable of throwing some funky, well-practiced junk defenses that tend to keep them in games against fundamental teams such as Army. Bates is definitely the favorite here, but it will be interesting to see how the attitude they thrive on will hold up through some of this season's first adversity.
Army, on the other hand, is a highly structured and well-coached team that excels at grinding out games with their athleticism, forcing the other team to play a more physically-taxing game, and using their conditioning and discipline to succeed when the other team fatigues. Led by veteran handlers Hunter Hill and Zach Reimer, Army looks to bounce back from a disappointing 2018 season by clearing the slate, eliminating expectations, and focusing on each individual point, each game, and each tournament one at a time. West Point isn't looking too far into the future, but fostering a culture of accountability by attacking the immediate task at hand
Bubble Team to Watch
Haverford Big Donkey
Having just dropped out of the Power Rankings, Haverford is not a team to be ignored, especially with the opportunity to use the home field advantage to steal wins from those teams that do remain in the rankings. Coming off a strong 2018 season that saw them exit in the Ohio Valley game-to-go, BDU is looking to develop a huge class of energetic first and second year players alongside veterans like Jordan Acker and Gabe Halpern-Goldstein to lay the groundwork for another successful season. Layout Pigout provides a great opportunity for this young team to see what it is capable of in a well-established, highly competitive setting.
***
It wouldn't be a surprise for any of the top five teams to cement themselves as national contenders with a strong performance this weekend in Haverford, PA, or for some of the teams on the periphery of our Power Rankings to gain serious algorithm points towards bid-allocation. For every team in attendance, however, this will be a terrific opportunity to sharpen systems and develop the entire roster in preparation for the approaching college series, where the fun really begins.