Beau Kittredge will begin a chase for his 17th championship tomorrow with the New York Empire.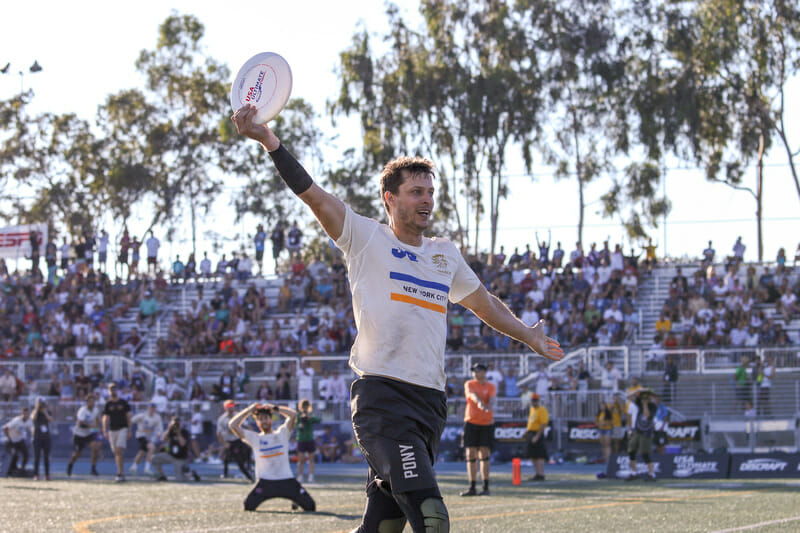 Few superstars, in any sport, age gracefully. Former heroism is too seductive a swan song, and recapturing past glory appeals more than changing one's entire game. Like he has so many times before, Beau Kittredge is happily breaking the mold.
Once able to sprint past and jump over anyone in ultimate, Kittredge reshaped his game to become a defensive stopper. He helped New York PoNY win the 2018 USA Ultimate National Championships in his new role, but it's far from the end of the road for Kittredge. He wants to use the lessons he's collected over the years as guiding lights for his future, both inside and outside of the ultimate world.
As a 10-year-old living in Fairbanks, Alaska, Kittredge began playing pick-up frisbee mostly as a means of getting out of the house. One player there, Pete, adopted Kittredge as a sort of protegé.
"He loved the sport, and loved to throw, and I loved to run, so as I grew older, it was a natural progression for him to just throw me the disc as far as he could, every single time," remembered Kittredge.
When a young Kittredge earned an informal athletic scholarship to the University of Colorado for ultimate, he encountered proper Division I athletes in sports like basketball and football. He decided to mimic their effort level. As a result, Kittredge became one of the most athletic ultimate players ever to play, forging a path for future stars of the game.
One Final Bow For Beau is only available to Ultiworld Subscribers
Already have a subscription? Log in
Whether you visit Ultiworld for our reporting, our podcasts, or our video coverage, you can help us continue to provide high quality content with a subscription. By becoming a subscriber, not only do you receive benefits like exclusive articles and full article RSS feeds, you also help fund all of Ultiworld's coverage in general. We appreciate your support!