Some of the team's best talent is headed to Chicago.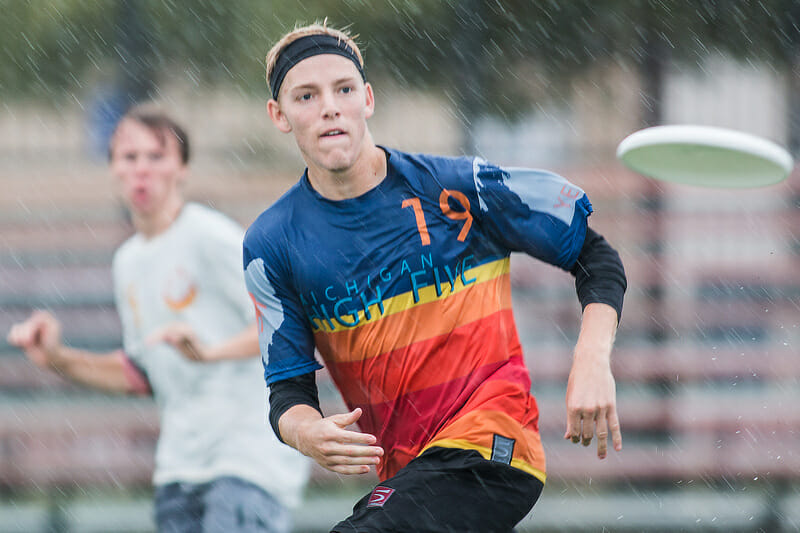 After six years as a team and fresh off of qualifying for the Pro Flight at the 2018 National Championships, Michigan High Five will not be returning to the fields in 2019.
The Midwest superteam that merged with Ohio's Madcow in 2015 had become a consistent presence at Nationals but struggled to find success in the biggest games, falling in prequarters in three of their four appearances and missing the bracket entirely in 2016.
After a thumping 15-8 loss to regional rival Chicago Machine in prequarters of Nationals last October, the writing may have been on the wall.
"With High Five, it's important to remember that it was a very specific moment that started the team, which was losing to Machine over and over again," said Joe White, a member of the team's leadership and a player that was seen as a likely captain for the 2019 season.
"A lot of it just came down to fatigue and people not being that bought in, because we had to travel every single weekend for practices and tournaments," he said.
The long distances required to play together, and the lack of Nationals success, started to take their toll. Talented, young players on the team–including White, Paul Arters, Keegan North, and Johnny Bansfield–decided to try out for Machine this summer. A team that already faced frequent turnover from year to year was suddenly staring at a rebuild. Other players began to opt out of coming back for another go.
"At the end of this, we had seven [returners], the minimum to retain the Flight status," said Dan Donovan, a High Five captain in 2018. After an initial tryout interest form didn't turn up much potential new talent, even those seven were having second thoughts.
"A lot of the older guys were trying to right a sinking ship," said White.
The initial promise of the team was obvious: there was always plenty of talent outside of Chicago in the Great Lakes, but not enough in any one community to really threaten on the national stage. A merger of the best players in Ohio and Michigan made for a formidable roster. In the team's first combo season in 2015, they went 9-4 in the regular season; beat Ironside, Truck Stop, and Johnny Bravo; dominated Machine to win the Great Lakes; and earned the overall four seed at Nationals. They walloped eventual semifinalist Ironside in their first game in Frisco, 15-10, but flamed out in the first round on Friday, falling 15-12 to Madison Club in prequarters.
"We definitely had a team that had a reputation for not winning the games that mattered," said Donovan.
That reputation stuck, though the team did beat expectations in 2018, rising from the 13 seed at Nationals to knock off Rhino Slam!, Temper, and Machine in Pro Flight qualifying play to land a spot in USA Ultimate's highest tier. But winning consolation wasn't much consolation for players with bigger aspirations.
With High Five dissolving, the landscape in the Midwest is in flux. Machine, a team that was already expected to have a strong roster, may be a legitimate title contender. Many area Mixed teams could benefit as well. Initial conversations about a new Michigan-based Men's team haven't found much traction, but there may be a new one in Ohio this club season.
"I feel like we had a pretty good run," said Donovan. "For a lot of people in the Midwest that were sick of picking up the scraps behind Machine in the Great Lakes, it was a really great experience for four years to come together and be a competitive, elite team."
"There's a ton of young talent in Michigan and Ohio," he added. "I hope we're able to put everybody back together at some point."