Entering a new chapter.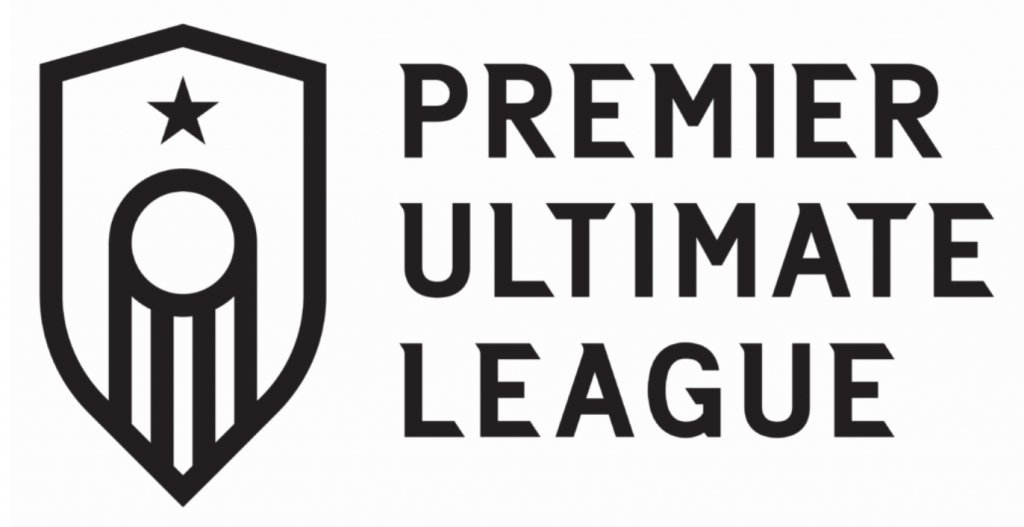 The Premier Ultimate League, announced this winter, is set to for its opening, ahem, pull this weekend as the Nashville Nightshade take on the Columbus Pride on Saturday, April 20th, at 7:30 PM Eastern. An hour later, the Atlanta Soul will face off against Medellín Revolution in a showcase game at Torneo Eterna Primavera in Colombia.
We get you ready for the season below in our PUL Primer!
Nuts and Bolts
The regular season runs from April 20th to June 14th. Here is the full game schedule.
Each team plays five regular season games. Every team plays 2-3 home games with the exception of Revolution, who only plays one.
The top four teams advance to the Championship Weekend, set for Atlanta on June 28-29. The Soul have already been guaranteed a spot, regardless of their finish in the regular season. Other postseason qualifying information is not yet available.
Most games will be livestreamed for free on team YouTube channels. Week 1 links: Soul/Revo and Nightshade/Pride. Every game will be filmed and posted online.
Rules largely adhere to the USA Ultimate ruleset, with some modifications including timed quarters, other timing tweaks, and substitutions on timeouts. More below.
Team Rosters
Major Storylines
Can Any Team Challenge Medellín?
It will come as no surprise that Medellín Revolution are entering this fledgling PUL season as the heavy favorites. The Colombian squad that is among the best five club teams in the world has essentially translated their entire roster to the PUL, and they don't have the likes of Riot or Fury to challenge them. On top of that, Medellín has added Claire Chastain, Calise Cardenas, and Kayla Helton to their ranks, which already included Yina Cartagena, Manuela and Valeria Cardenas, Elizabeth Mosquera, and Laura Ospina. Talk about a surplus of talent!
Even with Medellín's abundance of riches, they haven't won the trophy yet and still have to make it past some of the top female talent in the world just to earn their spot in semis. The first step would be beating Atlanta Soul this weekend at TEP.
After a decent performance last year, the Soul have reloaded with talent in 2019, adding Katelyn Travaglini, Jin-mi Matsunaga, Erynn Schroeder,  & Robyn Fennig.1 Atlanta's club team, Ozone, famously beat Riot at the Club Championships in 2017, a feat that Revolution could not accomplish at WUCC a year later. Much of the same talent that took Ozone past Riot is on their Soul roster, making them a definite threat to challenge Medellín.
Raleigh is the next obvious contender. The Radiance have drawn from the best talent in North Carolina, along with a few additions that could be the difference maker in a game against Revolution. Jessi Jones and Ashley Powell make for a powerful backfield, but Raleigh's best hope of beating Revolution probably comes from downfield. Jenny Wei, Lindsay Soo, and Lisa Pitcaithley are athletic marvels that will test Revolution on every point. Add UNC standouts Rebecca Fagan, Anne Worth, and Elisabeth Parker to the mix and Raleigh already looks poised to test the Colombian squad when the teams meet in May.
After that, the only two other teams with a chance to play Revolution before semis are Indy Red and Columbus Pride. Neither team has the pedigree to take down one of the world's best teams. That being said, with the PUL rules and new format, there will be an adjustment period from all parties. If Red or Pride can unlock the field better than Revolution, or take advantage of clock management and end-of-quarter situations, there is still a slim chance they could pull out a victory.
Ultimately, the shorter season plays in Revolution's favor. The team won't need to exhaust themselves with travel and games on a weekly basis but instead can prepare for their games enough that their talent won't be affected by extenuating circumstances. Make no mistake, this league is very much Medellín's to lose.
Playing The Odds In A Muddy Middle
There are four spots at the PUL's Championship Weekend. One of those spots is already taken…and not by Revolution! The Atlanta Soul, playing host to Championship Weekend, are guaranteed a spot so as to encourage ticket sales. They will also, the PUL announced in their podcast, not have to face Revolution in semis, regardless of the outcome of the regular season.2
Given that Revolution is a lock to claim the second spot, which two other teams are going to make it to the postseason?
Good luck figuring it out. Raleigh, New York, and Austin are all talented enough to pull it off: even deciding where those teams should slot in the preseason Power Rankings is tricky. Raleigh lands at #2 in our official rankings, but there are pretty good arguments to be made for the other three teams in the top five.
The early odds favor Austin, simply because they don't have to face off against Revolution during the regular season, and Raleigh, who have the easiest road schedule. In a five game series, avoiding an almost-guaranteed loss is a pretty big advantage, and an already solid core of Texas players gets to add former World Games player Cara Crouch and big downfield threat Julia Schmaltz.
To be fair, the league has not yet landed on a postseason qualifying structure, and there was talk on the latest podcast that there may be adjustments made for the teams that have to face off against Revolution.
Here's the early postseason and championship odds.
Odds to Reach Championship Weekend
Revolution: -10000
Torch: -150
Radiance: -150
Gridlock: +130
Pride: +225
Indianapolis: +400
Nashville: +650
Odds to Win The Championship
Revolution: -5000
Soul: +400
Radiance: +600
Torch: +700
Gridlock: +1000
Pride: +1500
Indianapolis: +2500
Nashville: +5000
How Much Will Travel Be a Factor?
While in the past we've seen professional ultimate leagues take a more regional approach to gameplay, the PUL does not have that luxury. With one team originating outside the US, the league has had to be more flexible with its schedule and format. This has necessitated a lot of travel from many competitors. Both Revolution and Austin Torch are fairly isolated and will be forced to fly for all of their away games.
Travel for any length of time is already taxing on the body, and often is followed by a game on the same day. How this will affect gameplay has yet to be seen in the league but could account for some sluggish starts by teams that face longer journeys. When speaking of 'home-field advantage' in professional sports, the advantages center around crowd atmosphere, calibration to the environment, and the luxury of following a standard daily routine — travel is the oft-forgotten factor that could have the greatest impact at this level of competition. This season should give us an idea of how much it will matter going forward.
How Will the Rule Changes Affect Gameplay?
Putting the semi- in semi-pro, the PUL will play this season with a hybrid set of rules mixing the familiar USA Ultimate 11th edition rule set with some WFDF- and AUDL-influenced adjustments. These rules are meant to streamline the game to be played in a set time window and watched by spectators in the stands and on a livestream, and to keep the players as the featured people on the field, rather than referees, observers, or game advisors.
To start, PUL teams will play on an 80 yard x 40 yard playing field with 20 yard end zones — basically, AUDL length with USAU width. The extra ten yards of length will not change too much of teams strategies, though we could see an increase in the amount of zone defense played with more ground to cover.
For many of the athletes playing, the most notable difference between PUL games and USAU or WFDF games will be the presence of a clock. In deference to stadium rentals and spectator schedules, and with the anticipation of a few doubleheader games with local AUDL teams, the PUL will play games this season with four 12 minute quarters. Unlike the AUDL, which also plays 12 minute quarters, "at the end of the 1st, 2nd, and 3rd quarters, once [the] clock expires, play ends with the conclusion of the current possession. That is, the offense gets one final chance to score. Once there is a turn, the quarter is over." The 4th quarter and overtime will play out a bit differently: once the clock hits 0:00, play ends when the result of the throw is determined.
Hopefully only having one (or two, if there is overtime) buzzer beater rather than four will reduce the potential for injury during those 10+ player endzone pile-ups. Additionally, teams will need to keep an eye on the clock during the first part of the game. It will behoove a team to hold the disc for the last possession. In other timed games, scoring with a few seconds left on the clock is okay, because it leaves precious little time for the other team to score. However, under this set of rules, a team receiving a pull with just one second left on the clock can still take their time trying to score before the quarter is over. As the clock winds down in the first three quarters, look for teams to switch to a more conservative, possession-based offense.
As in the AUDL, during a time out, teams can substitute any number of players on the field and reset the stall count. For many players and coaches, this will be their first opportunity playing with the ability to make non-injury substitutions mid-point. They will now be able to sub on O-line players to punch in a break after a turn, or burn a time out on stall 9 and draw up a new play rather than cough up possession with a stall out or rushed turnover. Coaches and players who adapt to this new rule set sooner could quickly earn advantages for their team by calling opportunistic time outs and substituting the right players.
Like under USA Ultimate rules, PUL games will be mostly self-officiated with observers. The PUL, however, uses a hybrid rulebook: marking and throwing fouls are ruled as stated in USAU 11th edition, while receiving and positioning fouls are ruled as stated in WFDF rules. WFDF rules generally allow less contact than most PUL players are used to from USAU competition. In WFDF, "All players must attempt to avoid contact with other players, and there is no situation where a player may justify initiating contact. 'Making a play for the disc' is not a valid excuse for initiating contact with other players." Furthermore, the league is taking a hard line on player safety, specifically noting, "Any player who commits a dangerous play will be ejected from the game."
Because these rules are self-officiated, PUL games between American teams will likely look very similar to high level USAU club series games. Games between Medellin Revolution and American teams could see a clash of cultures, though Revolution has played in enough American tournaments before and should be acclimated to the theoretically more physical nature of American ultimate.
The PUL is making a conscious effort to move the game along quickly by limiting conversations about fouls. Once a call is made, players will have 10 seconds to reach an agreement (contest/no contest) on the call. Either player involved may choose to go to the observers for a ruling at any point if there is no agreement. If there is no observer ruling after 10 seconds, the call will stand as contested. One observer will be wearing a microphone, so hopefully viewers in the stands and on the livestreams will be able to listen to the short conversations.
The time between pulls will also be shortened to 70 seconds from USAU's 90 (but notably longer than the AUDL's 50).
Taking some burden off of the players, PUL observers will actively call Up/Down, In/Out of bounds, In/Out of end zone, Offsides, and Delay of Game infractions. To give the balance of power back to the players, the Player Overrule Rule is in effect, similar to the AUDL's integrity rule. "Any coach or player on the field may make or reverse a call by an Observer if they believe it unfairly benefits their team."
At the end of the day, the PUL will look and feel like ultimate — none of the league's rule changes are dramatic. However, we should see some interesting strategic developments around the final possession of each quarter and the way timeouts are used. Teams that adapt to the changes quicker will have a leg up early in the season as the rest of the league catches up to their innovation.
Which Players Will Define This PUL Season?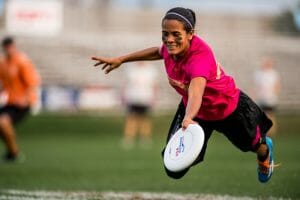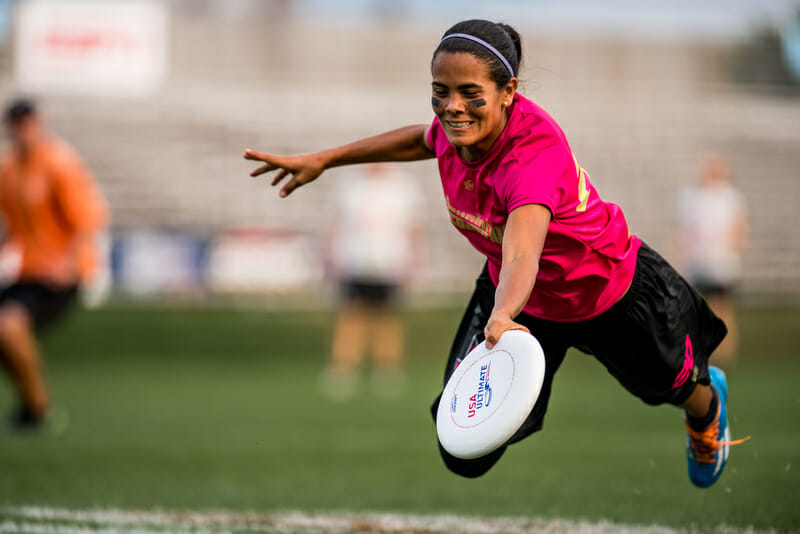 Yina Cartegena (Medellín Revolution)
While the Cardenas twins are undoubtedly the most famous players on Revolution, they have yet to dethrone Cartegena as the best player on the squad. Since WUGC 2016, Cartegena's ability has been on full display in the international ultimate community.
Her inexhaustible offensive prowess has been the difference maker for Colombia in the past and her time in the PUL should only serve to solidify her legacy. Cartegena's full range of talent harkens back to old sports games where you could max out every possible stat for a playable character. You want an explosive first step? Check. Full field hucks? Check. Unrelenting defense? Check.
We're privileged to have at least five filmed games for Revolution. Having a platform to watch Cartegena play is worth every cent that is going into production fees.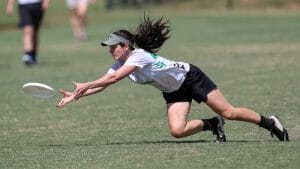 Paula Seville (Atlanta Soul)
Soul has their semis spot locked up, but that doesn't mean they won't also earn it the old fashioned way. Soul has one of the hardest schedules — including two games against Revolution — and, yet, players like Seville show why the Soul are still considered one of the best teams in the league. She's a classic handler if by 'classic' you mean fierce, lethal, and indomitable.
With the space that the PUL fields provide, Seville's ability to huck from anywhere will be even more useful to Soul. There's no safe space to poach off your mark when she has the disc in hand. Atlanta has never shied away from shooting their shot, and it's mainly because Seville does it so well.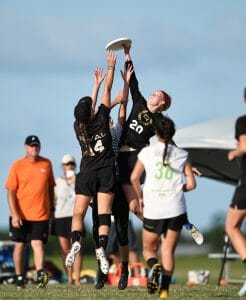 Sophie Knowles (Columbus Pride)
Make no mistake, the larger field and additional rules for the PUL could have been tailor-made for Knowles. She's an incendiary player that can light up any area of the field. With more space to operate, Knowles will have the ability to really shine coming off of her 1st Team All-Club appearance in 2018.
Columbus will need her to operate in this role, too. Pride is a young team compared to much of their competition and have the rumblings of a strong defensive team that needs players to step up on offense. While Sadie Jezierski is certain to help with that, Knowles will likely be asked to take the largest burden downfield. Her give-and-go style will keep Columbus moving and could be enough to propel them into one of the coveted semis spots.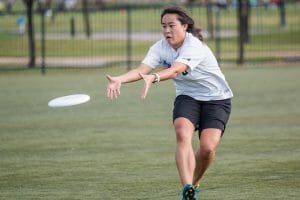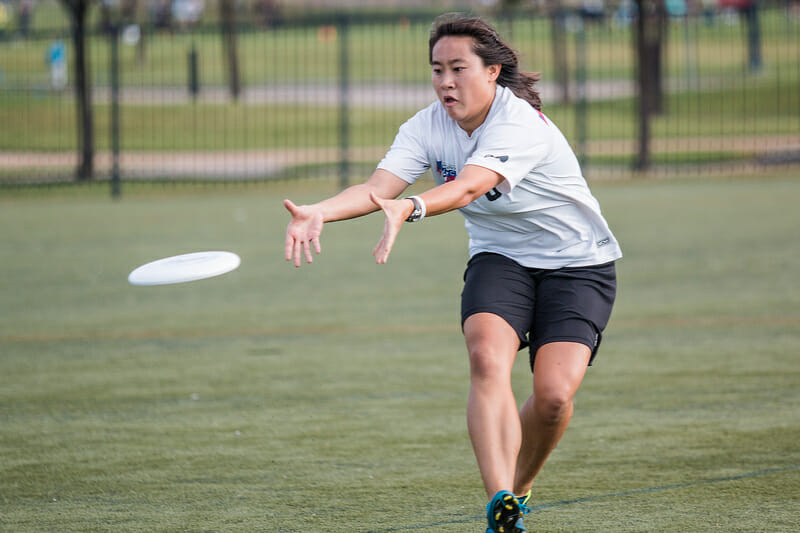 Jenny Wei (Raleigh Radiance)
Raleigh's roster is filled with talent, but there's no reason to overthink who will play the most pivotal role on the team. Wei's potential to change a game just by being on the field cannot be denied. As the PUL has adopted timeout subbing rules, Wei's versatility as a defensive and offensive threat is going to allow her to soak up precious minutes in high stakes situations. With a reputation as a premier thrower and ruthless deep threat, Wei is exactly the matchup nightmare no one wants to face.
She is the anchor leg of Raleigh's team. The player who you hand the baton so she can close out the race for you.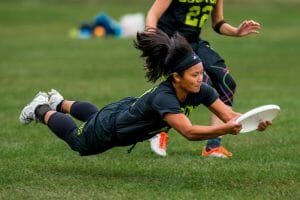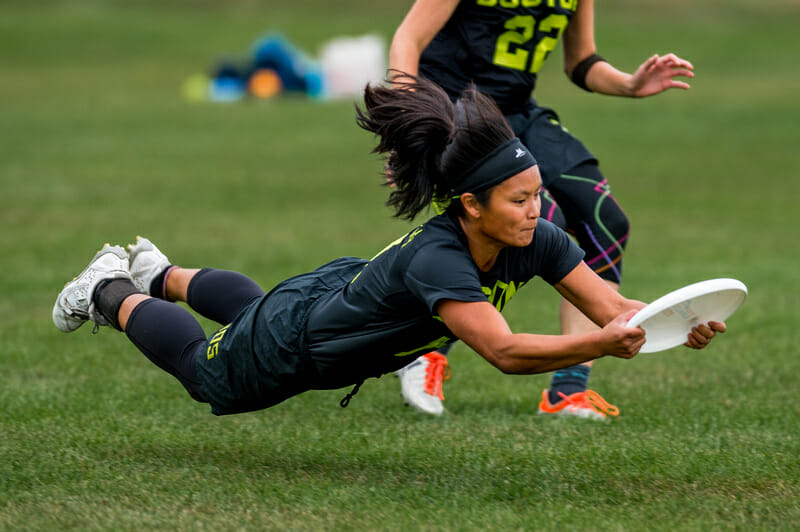 Cassie Wong (New York Gridlock)
Wong's reputation as a fearless defensive dynamo has been earned through years of smothering opponents and piling up highlight reel blocks. But Wong's speed and determination have given her increasing value on offense and her playmaking provides a shot of adrenaline to her side.
As one of the big names on the mysterious New York club, Wong's going to have a major role and could help power Gridlock to an impressive first season.
Preseason Power Rankings
1. Medellin Revolution
What more needs to be said? Revolution took 2nd place at the 2018 World Ultimate Club Championships and have added another superstar in Claire Chastain. No team in the league can match their talent, chemistry, or depth.
2. Raleigh Radiance
A deeper Radiance roster with some explosive playmakers sets Raleigh up with top contender status. Raleigh's two road games come against Columbus and Indy, a much softer slate than most teams face away from home.
3. Atlanta Soul
Atlanta has long been one of the best cities in the world for ultimate, and the Soul have the added benefit of being able to focus on development throughout the regular season since they are already ensured a spot in the playoffs.
4. Austin Torch
On the road, the Torch knocked off Atlanta 24-23 in overtime in an absolute classic last season, so you could make the case for Austin to be higher on this list. With Cara Crouch bringing some veteran star power this year, Austin is a sneaky longshot to win the league. Their team is overflowing with experience, and they'll be one of the smartest and most skilled teams in the league.
5. New York Gridlock
Gridlock is something of a regional All-Star team, making them one of the league's biggest curiosities. Cassie Wong, Tulsa Douglas, Linda Morse, Amy Zhou, and more join the NY core. But how will this unproven cast fit together?
6. Columbus Pride
Pride's entry into the league was a bit surprising, but their playstyle might just blow you away. Sadie Jezierski, Stevie Miller, Zoe Hecht, and Cara Sieber aren't afraid to sling the rock, and they have bountiful targets, star Sophie Knowles chief among them.
7. Indianapolis Red
While Indy does have some valuable experience from last year, the team actually has quite a few new faces. Lauren Boyle, Austin Prucha, and Liz Gates add valuable playmaking and experience to the roster, which earned some wins over Nashville and Detroit during their inaugural season.
8. Nashville Nightshade
The short history of pro ultimate in Nashville is lacking for marquee victories, but the Nightshade are hoping to rectify that. Colleen Wright's throws are a staple of Nashville ultimate, while athletic options like Liz Barnes, Abbey Hewitt, and Sierra Rimmer will have to handle tough matchups.
---
Fennig may only be suiting up for Soul's first PUL game in Colombia ↩

The Soul play the Revolution twice — home and away — during the season. ↩