Ultiworld's 2018 Club Awards are presented by Greenbackr, a custom crowdfunding platform from Savage; all opinions are those of the authors. Please support the brands that make Ultiworld possible and utilize Greenbackr!
With Nationals over and the winners crowned, it is time to take a moment to recognize the top performers in the Women's Division this season. While the talent of the division reaches far beyond short lists, the Club Awards are meant to honor those players who put together what we believe to be the best seasons in the Women's game this year.
While we consider both regular season and postseason performance, because of the nature of the Club Division, we weight success in the Series and at Nationals above all else. The Club Awards are selected based on input from Ultiworld reporters, contributors, and editors.
Player of the Year — Women's Club Awards
Carolyn Finney (San Francisco Fury)

Following a tremendous season, Carolyn Finney has firmly earned the first spot in our annual All-Club ceremony. The Fury sparkplug has actually never made an All-Club team or one of our awards lists, but her arrival at the top of the club game was not a quiet one. It's always been tough to pull individual stars out of a Fury system that deemphasizes relying on them, but this year, Finney's capability shone through.
She's got an incredible sense of tempo, able to dictate the pace of play with her reaction time, quick decision making, and even faster footwork. Her motor is always running with the gas pedal on the floor, putting defenders through a gauntlet of her skillful attacks until they simply give way. And that intensity serves her well on the defensive side, where she was create turnovers with the best of them. Finney may have just gotten into our lists, but she looks like she's going to make herself comfortable.
Kami Groom (Boston Brute Squad)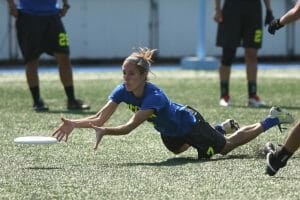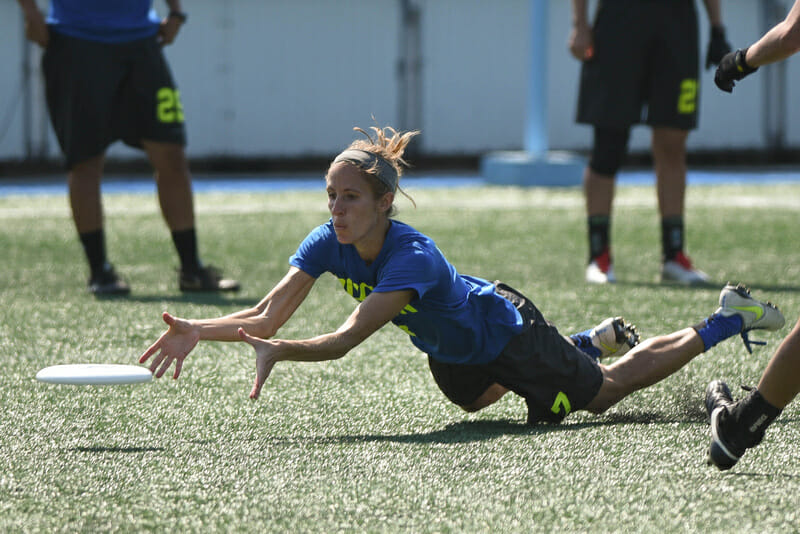 What would the All-Club first team be without Kami Groom? By now, her spot on this list is one of the best preseason bets you can make, period. With breathtaking speed and predatory defensive instincts, Groom had a 2018 season that was yet another victory lap for an already impressive ultimate career. It's not so much that she added some new facet to her game or developed a new skill this season; it's that she's continued to hone and refine her game to a point where there is really no questioning her talents.
After watching Groom all season, it was clear that she was among the top seven players in the division. But Groom's performance isn't predicated on the eye-test either, the stats back her up. Ending the season with a staggering 26G/20A/21D statline would be unheard of for most players, except this is Zoom Zoom we're talking about. Her performance this year gave her the most recorded blocks of any player in the women's division and she matched it with assists and goals. If there's a limit to what Groom can accomplish, she hasn't seem to hit it yet.
Liên Hoffmann (Boston Brute Squad)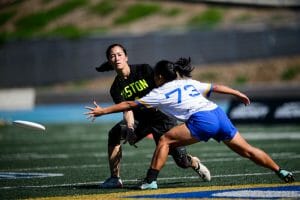 While Hoffmann might seem the least Brute-ish by nature, her presence on the ultimate field is every bit as commanding and powerful as you'd hope from one of Boston's biggest stars. Her quickness and body awareness allow her to make plays that would seem impossible to others, and support the Brute Squad offense in all the right ways. She's just as fast at the end of a cut as she was when she started it.
As one of Brute's key offensive cogs, Hoffmann's on-field abilities elevated all the players around her, too. With every initiating cut or downfield strike, Hoffmann enabled her teammates to make better plays and get open with ease. Let's not forget her prowess with the disc, either. Hoffmann was a key distributor on the field, able to work the disc through Brute's system or reignite a stagnant stack. At Nationals, Hoffmann notched an efficient 10 goals, three assists, and six blocks, and that's without even counting the number of other ways she affected the game every time she stepped on the field.
It's Hoffmann's second consecutive All-Club appearance and there's no reason to think she won't do it again. Brute Squad has shown that they have all the necessary parts to consistently make a title run at Nationals, Hoffmann just happens to be one of the pieces that makes the entire machine work.
Sarah Griffith (San Francisco Fury)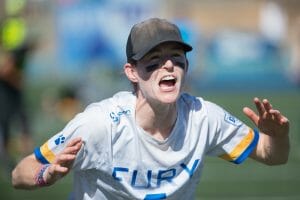 Surge was her usual self this season — that is to say, one of the best players in the division. A pillar of the Fury O-line, Griffith easily could have been a Defensive Player of the Year finalist. She's arguably the best two-way in player in the game right now and, while ultimate is obviously a team sport, Fury may not have won the championship without her.
Her numbers don't necessarily jump off the page. Eight goals, one assist, three blocks, and seven turns give her Fury's 12th highest plus/minus for Nationals. But there were few times when Griffith didn't look like the best player on the field.
Lauren Kimura (Toronto 6ixers)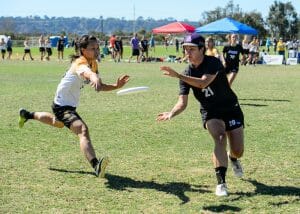 Kimura has a strong argument for being the most fun to watch player in the division. The way she commands the field, her imposing athleticism, and silky throws were routinely on display this year. When her backfield deputy Anouchka Beaudry stepped away from the team and Kimura had to take on even more touches, 6ixers only improved.
Kimura was an under-the-radar playmaker for 6ixers a season ago. But she helped them take a big step up, finishing sixth this year, and had her coming out party as one of the best players in the division this season. Her efforts also earned her first runner-up to Offensive Player of the Year, but it's her complete game — offensively and defensively — that earn her a spot on First Team All-Club.
Robyn Fennig (Madison Heist)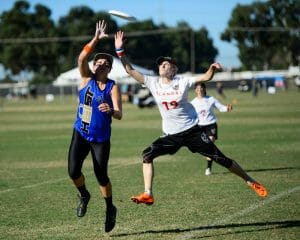 One of the most reputable stars of the women's division, Fennig continued to show how she earned that rep in 2018. She's a joy to watch, displaying passion and athleticism, a combination that begets highlight reel play after highlight reel play. And there's not a major area of the game in which she can't succeed, due to her experience, athleticism, and size.
With her powerful throws, she can stretch the field with dramatic effect. Fennig was able to sling her way to Offensive Player of the Year this season with a gaudy statline. There will be invariable criticisms of her turnover rate, but it's clear that her role has been to take aggressive throwing options when they present themselves. She's a classic rule-breaker on offense; when you have a thrower with this unique a skill set, you open up options and let them use their inimitable talents.
Sophia Knowles (Columbus Rival)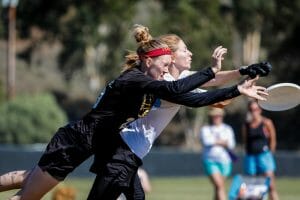 One of the most destructive offensive players in the division this year, Knowles was a problem for every team she faced. Every team she played knew Knowles was Rival's biggest threat and she still couldn't be stopped. She put up 21 goals and 46 assists in tournaments in which stats were kept, including three goals and 21 assists at Nationals.
In most years, with those sort of numbers, she would have been an OPOTY finalist. This year, she just missed out on those final three spots due to a depth of extraordinary offensive performances, but she gets her well-deserved recognition by making this team. Knowles was one of the most powerful offensive forces in the game this year, and put together one of the seven most impressive individual seasons as a result.