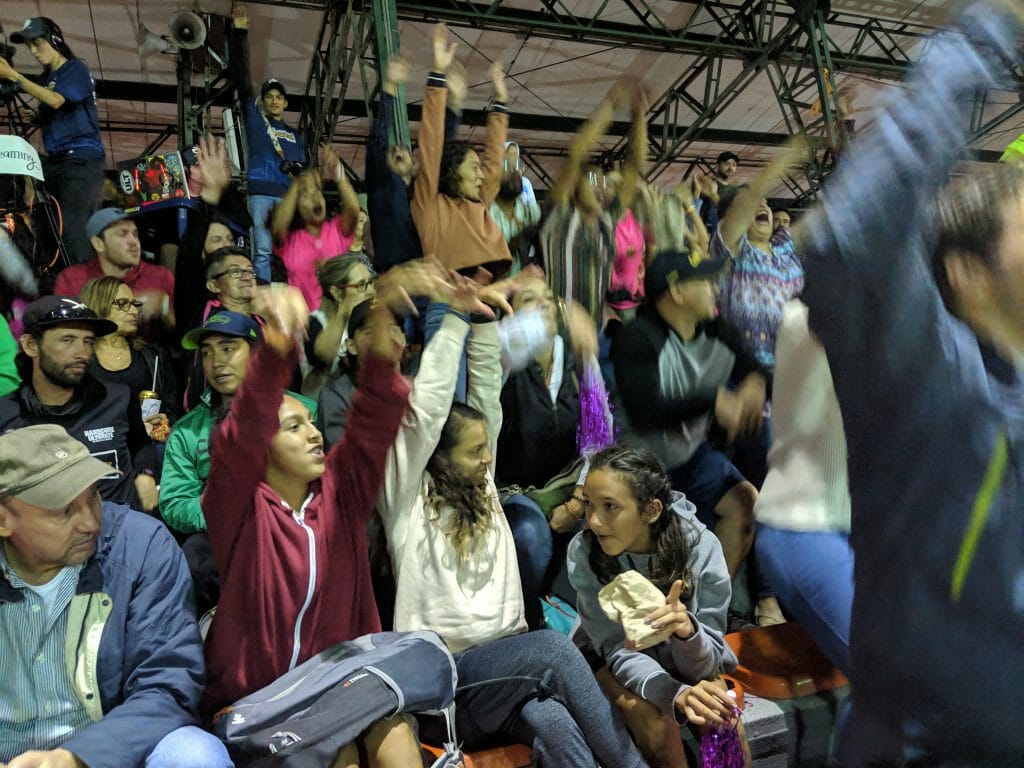 Throughout this PUL season, Ultiworld will be publishing a weekly Throwaround, a chance for you to catch up on the amazing, funny, and interesting moments that you might have missed from the weekend's games.
The Premier Ultimate League's first-ever games are in the books! We get you caught up on all the action from Week One as the season gets underway.
The Scores
Atlanta Soul 20-30 Medellín Revolution
Nashville Nightshade 13-24 Columbus Pride
Revo Steals The Show
As far as memorable evenings go, it's hard to beat Medellin Revolution's win over Atlanta Soul on their home fields. The Colombian team was clearly the darlings of the game, but the raucous crowd showed their appreciation for both teams as the extended game format led to a full catalogue of highlight-worthy plays.
The game didn't start quite as romantically, though. A large storm rolled through the field site moments before the game, threatening to derail the entire event. Hearing PUL Commissioner Timothy 'Bonesaw' Kepner tell it, the PUL organizers were initially very worried about how the game was to be played, and filmed. "Having one of the first games be down in Colombia obviously added quite a few extra layers of complexity to the opening weekend but Mauricio Moore and his whole operation down there have been putting on big events and pulling off logistical miracles for a bunch of years at this point. . . a big rain storm isn't going to knock them off course!"
To Medellin's credit, the rain didn't put a damper on anything. Once the game started, the teams were firing on all cylinders. Medellin struck first, with a picturesque backhand huck from Claire Chastain to Manuela Cardenas. Atlanta would return in kind, notching an easy hold with a huck to Erynn Schroeder. The game seemed destined to be traded with holds, until a wayward centering pass went just wide of Alejandra Torres, giving Atlanta a short field. Katelyn Travaglini blazed past her defender and coralled an easy upline pass for the break.
That woke Revolution from their slumber, and the Medellin women brought the momentum firmly on their side. It took the home team ten minutes to go from 1-2 down, to 5-2 up. This was mainly due to incredibly red zone defense from Revolution and the indomitable Elizabeth Mosquera, who took over on offense after the turn. Soul had no option to stop Mosquera early on, allowing her to eat up yards downfield. She assisted or scored on every point she played in the first quarter.
Despite Mosquera's stellar first quarter play, Soul regained their footing and started trading hold with Revolution. These holds did not come easy, but Atlanta's handlers were patient and their cutters made ridiculous plays to keep possession alive. The most notable of these was Katherine Yost's spinning grab to reel in a trailing huck.
The breadth of Atlanta's talent really started to shine through in the second quarter. The team slowly began to chip away at Medellin's sizable lead by capitalizing on loose hucks and throwing errors from Revolution. Patient offense from players like San Stovall-Jones, Samantha Hill, and Erynn Schroeder brought them within one, down 9-10.
This was the closest Soul came to closing the gap, as the teams traded a few points before Revolution's defense once again found an advantage and stole another break. It was clear that the extended duration of a PUL game was wearing on Atlanta, who weren't able to feed off the energy of the crowd like Medellin. To their credit, they played tight on every point, and nothing came easy for Revolution. By the time half rolled around at 16-13, both teams were ready for the respite.
In the second half, the pendulum swung completely in Medellin's favor. Everything was coming up Colombia. The team scored three of the first four points out of half, and had a commanding 20-15 lead ten minutes into the 3rd quarter, Yina Cartegena, Valeria Cardenas, and Claire Chastain were predictably brilliant in their roles but Ximena Montana had a chance to shine as the team's deep threat, bringing down a lion's portion of the hucks that went her way.
As the game wore on, so did Revolution's lead, and the team took a commanding 24-17 lead at the end of the 3rd quarter, essentially putting a lid on the game.
Soul kept fighting, but their fatigue and Revolution's ever-increasing lead forced them to rely more on their star players. Robyn Fennig was especially stellar in the 3rd quarter, assisting or scoring on three of Soul's four goals.
Not much changed for the Soul in the final period. While they continued to play disciplined offense, most of their hucks were into coverage, sometimes even double coverage. The separation downfield that had kept them in fighting range of Medellin was suddenly nowhere to be found.
Mauricio Moore, Medellin's coach, ensured that there was always at least one Revolution player who was sagging deep off her cutter, and the handler defenders sat back deep of their throwers to prevent easy passes down the middle of the field.
Credit where it's due, Soul earned a break late in the 4th quarter after a swing to Cartegena sailed too wide and she couldn't toe the line. Travaglini quickly pounced on the mistake to get open in the endzone, dropping Medellin's lead from eight breaks up, to seven.
Once again, all this did was inflame Revolution, as they went on a 4-1 tear to end the game. The final score was 30-20, but the game was well over by the end of the 3rd quarter.
Soul may have lost the game, but there is a lot to like about this team. They play hard and proved in the first half that they can hang tough with some of the best ultimate players in the world. Soul has plenty of stars of their own. If they can pace themselves and play the clock smarter in their rematch against Medellin, the score could be dramatically different. As for Revolution, they have unquestionably washed away all doubt that they're the favorites. Remember, Soul likely will not have Fennig next game.
Atlanta Soul #52: Erynn Schroeder – NKolakovic
Pride Powers Out the First-Ever PUL Win
On the very first point of the very first PUL game, Columbus Pride made a statement. A deep pull from Pride's defensive unit set Nashville Nightshade's handlers close to their own endzone. A few short swings eventually led to a unforced error, which Columbus capitalized on quickly. Within two passes they were at the endzone and a wily Sadie Jezierski lost her defender, flashing into the open-side space. The throw was a little low for an easy score but Sadie was undeterred. An instinctual layout got her underneath the disc in time to scoop it from the grave, earning Columbus their first break and the first point of this young league.
This was the first of many breaks for Pride. Along with tight downfield pressure, Pride's D line was clearly given the green light to shoot deep with reckless abandon. More often than not, Nightshade was caught flat footed as Columbus' players struck deep. Seven of Pride's first ten goals came off hucks1. This perfectly suited the young core of cutters on their line. Zoe Hecht, Cara Sieber, and Emily Barrett all had their moments to shine.
To Nashville's credit, they continued to fight and managed to develop a rhythm on offense in the second quarter. After going down 2-7 in the first half, Nashville rallied to triple their point total by half time. They still trailed 6-13 but looked much more comfortable. Most of this was due to a heroic effort from Abbey Hewitt, who was a juggernaut on both offense and defense. Kayla Ferguson, Meaghan Creamer, and Julia Hill also stepped up for the team, but it was Hewitt who took center stage.
Even with their heightened offense, Nashville was unable to break Columbus all throughout the first half. Pride wasn't shy with their hucks or risky throws and often didn't convert, but they proved preseason predictions right by being defensive stalwarts. For every mistake they made on offense, they matched it with a defensive stop that stole them back into each point. It kept them break-free for three full quarters.
Nashville's finally snapped that streak with a break late in the fourth quarter, with Columbus leading 20-10. An early turnover from Columbus' offense gave Nightshade's defenders a short field, and their first real chance at showing what their defense could do with the disc in hand. It wouldn't take them long, as Hewitt tore free from her defender and reeled in the break. Nightshade was still a little far from striking distance but it certainly helped their confidence to break against a Columbus team that had always clawed themselves free of giving up a break until that point.
Their success was short-lived. Columbus held confidently on the next point and posted another three breaks before Nightshade had a chance to recover. This is largely a credit to the energy that Pride's defenders brought on every point. Sophie Knowles, Zoe Hecht, and Emily Barrett ran Nightshade ragged in the fourth quarter, exhausting Nashville's cutters and limiting the throwing lanes for the handlers.
It was only in the very last minute that Nightshade would break again. A dropped pull once again set them up with a short field, which gave Ellen Yu plenty of space to hit Kayla Ferguson with a sharp I/O flick. This shortened Pride's lead to 24-13, which ended up as the final score for the game. Pride's roster flocked to the field after the win, eager to celebrate together. A fitting scene for a team whose victory was so clearly a full team effort.
Clip of Sadie scoring the first PUL goal ever
Highlights from the Weekend
Revolution really went above and beyond as hosts of what will be their only home game this season. My favorite aspect of the night was the VIP section, which costs $10 per person to sit in. It was right at midfield, and members of the Revo youth teams handed out juices, popcorn, candy, and these limey, ring-shaped corn snack things that were really good. Before the game, they were also handing out cutouts of Revo players' faces to whoever wanted them. It was an awesome experience and went a long way in creating a professional feeling "sky box" type atmosphere.
The crowd was also spectacular for the Revo-Soul game. There was a sizable contingent of the crowd that was rooting for Atlanta, mostly made up of American club players that were playing at TEP. New York PoNY's Grant Lindsley was one such character, and he repeatedly tried to start a wave in the crowd, to varying levels of success. His valiant efforts still helped add to what was a very memorable atmosphere.
Notable Quotables
"I was literally sitting in the stands, surrounded by the crowd. Every other commentating gig that I've done I've been separated from the fans. I think that is a good indicator for the game and the league – it was of the people for the people and built by the people. It was fitting!" – Qxhna Titcomb on the difference of commentating for a PUL game.
*I don't think I fully understood the magnitude of that goal until after the game had finished. Looking back, I feel honored to have caught the first goal and be a part of this stepping stone in womxn athletes around the world." – Sadie Jezierski, on catching the first ever PUL goal.
"[I was] keeping an eye on the social media channels and such. I was just so happy to see the outpouring of excitement and to feel the almost palpable collective exhale from the greater ultimate community as this womxn's professional finally became a reality. It's happening!" – Bonesaw Kepner on the PUL's opening weekend.
Latest Power Rankings
Have contributions to add to the PUL Throwaround? Email us at [email protected] and we'll add them to the next Throwaround.
---
including two tipped hucks that Sophie Knowles and Alaine Wetli saved from the grave ↩