Vermont's junior defender leads with a natural athleticism and inspires deeper communication on and off the field.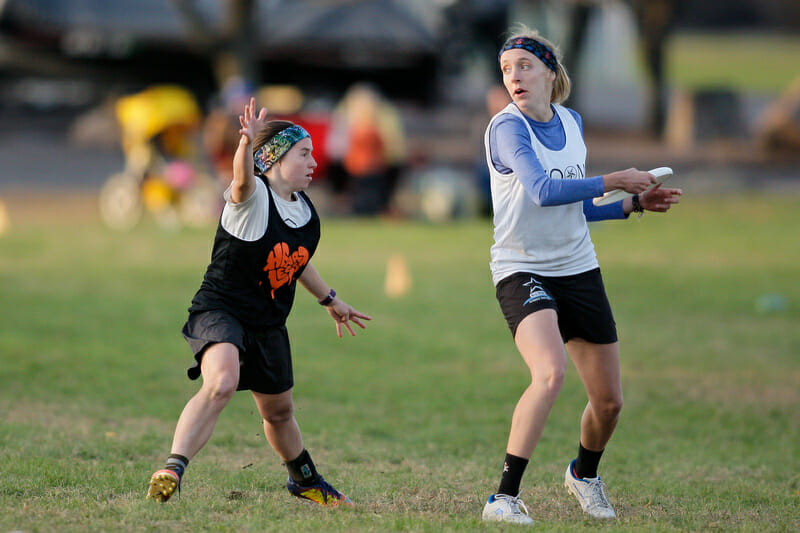 2019 postseason coverage of the D-I Women's division is presented by VC Ultimate, the official gear outfitter of the Premier Ultimate League. 
You probably haven't heard of Greta Pellerin. She's a second year D-liner on Vermont Ruckus, a program that has made Nationals just once, and not since the regional redraw of 2011. Ruckus has been a solid team the last couple seasons, earning a strength bid in 2019 and losing in the game to go at New England Regionals in 2017 and 2018.
But Pellerin isn't one of Ruckus' biggest stars. She's an impressive athlete and a reliable defender, on a team that's been on the fringes of Nationals in recent seasons, but she's far from a household name.
She simply isn't a player that would stand out to most people watching Vermont play. Pellerin wouldn't stand out, that is, unless you were to notice the American Sign Language (ASL) interpreter that joins the team's head coach Daron Byerly for his between-point discussions with his line when Pellerin is on the field. Pellerin was born deaf and is, as far as she knows, the only deaf player in women's D-I college ultimate.
If you've seen Vermont play the last two seasons, you probably have noticed the ASL "R-U-C-K-U-S" emblazoned on the team's jerseys, headbands, and other gear. That's all because of Pellerin. She may not be the most polished playmaker, or a budding superstar ready to light the division on fire. But Pellerin has had a major impact on her teammates and the Ruckus program, and her story is one that deserves as much shine as the biggest stars of the game.
Finding A Community In Ultimate
Pellerin was born in Russia and came to the United States at age three when she was adopted. Around the age of nine, she was adopted again. She didn't experience language of any kind before arriving in the States, and didn't start playing sports until after she was adopted for the second time. But Pellerin was a quick learner, and a natural athlete. She played basketball, hockey, and rugby growing up, including rugby at the college level.
But none of those sports felt quite right for Pellerin. Particularly in middle and high school, when access to interpreters was limited, it was tough for Pellerin to settle in with her teams. Even rugby in college didn't quite have the right culture. But Pellerin transferred to Vermont from the Rochester Institute of Technology (RIT) in the spring semester of her freshman year in 2017 and picked up ultimate right away. She played on the program's B team, and knew she'd found her spot.
Pellerin joined the A team in 2018 and the group immediately tried to make Ruckus a comfortable place for Pellerin. A few players started taking sign language classes before Pellerin even made the jump from the B team, so that they would be more prepared when she did. More players have started taking ASL classes since, so that communicating with Pellerin on and off the field would be easier. The team also learns words of the day in ASL before practices. It's all gone a long way in helping Pellerin find a home with the team, something she hadn't been able to find with any of her other sports.
"It's pretty amazing. As far as an experience, I really couldn't believe it. It's hard to describe. It's hard to believe that I've been so included and I guess I could go on for two or three hours how much that I feel valued as a player. I feel valued for my diversity that I bring," Pellerin said, through an interpreter. "It's just been a cool experience. I've tried rugby for a while here at UVM and communication was really different. It just wasn't as welcoming to me as the ultimate team was. And so I stopped playing rugby and just went full force into ultimate."
That welcoming atmosphere has been one of Coach Byerly's priorities since Pellerin first joined the program. The first thought that went through his mind was, How do I make sure Pellerin is fully a part of this team? In his 14 years as the head coach at Vermont, he'd never coached a deaf player before. But the potential on-field challenges were something that could be dealt with later. "I had to figure out, 'How am I going to keep this person part of the team?' How, how am I going to contribute to her feeling like she is welcome and feeling like she has access to what she needs to, to participate as fully as you can," said Byerly.
For Byerly, running the Ruckus program is about more than winning games. It's about the experience for all of his players, and Pellerin was no different. "One of my goals as a coach is to make Vermont ultimate a fantastic place to play ultimate. Our program should have everything that it needs to be an amazing place to play, both competitively in terms of how good we are at the sport, but also culturally and how many long-term friendships are we forming, and how many people are we exposing ultimate too."
Byerly focused on making sure Pellerin would be able to feel like part of the team and her teammates saw her as an amazing athlete above all else. "You could tell she's just a natural athlete, and when she stepped on the field, it was like 'Yeah, you've definitely played sports before,'" said junior Anna Humphreys, who was a first year on the B team with Pellerin that spring three season ago. "She picked it up really, really quick. And we were all just blown away by her speed. And she's  little, but she's fierce."
"We did hear about her being a deaf athlete, so that's like a totally new thing for us, and so we thought that was cool," said second year Ruckus captain Mariz Mangundayao. "Then we got to see her playing a little bit more and we were really impressed with her. She is a real athlete athlete. She'd been playing sports basically, I think like her whole life. She's super fast and just such a great athlete and also a great person once we got to know her."
There were, of course, some transitional moments as Pellerin's teammates and coaches learned how to best communicate with her. But everyone was pretty eager to make it work for Pellerin from the beginning. "There was never any hesitations or like negative feelings surrounding it. It was definitely just like, 'Alright, well, we're gonna adapt.' There was a lot of asking Greta, 'What's gonna work best for you so that we can make this as like easy a transition as possible for you onto this team?" said Humphreys.
That initial welcoming atmosphere has only grown for Pellerin, as more and more of her teammates have started taking ASL classes. Some are even in the class that she is a TA for at Vermont. "It's great. I haven't had any team experience like this that the team players are actually so motivated. They want to learn," she said. "Just making those relationships, it's great. It's been great to see the team really being motivated to learn whether we're on field, or working in academic environments, it's just great to be able to have people around me that are using ASL and learning ASL. So yeah, it feels very supportive and it feels like a very inclusive environment."
Overcoming Challenges 
Naturally, there have still been plenty of challenges for Pellerin on the field and in being  a member of the team. Signing a replay of a candid, funny moment in a team car ride doesn't always quite recapture the magic. Sometimes things get lost in translation when the team is trying to communicate with her on the field. Pellerin's frustrations have bubbled over at times, and the team and her coach take notice when they do.
Byerly likened Pellerin's frustrations to those of a gifted student, chafing at the sluggish pace of a class. "Greta is someone who seeks to be excellent at what she does. She pushes herself so hard and it's like when you've got a super smart kid in class and things are moving too slow, there's frustration that builds up because that student can do so much more," he said.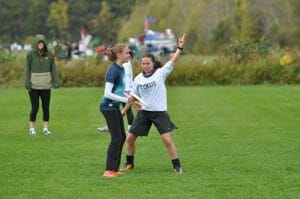 "I think that in a similar way, Greta's athleticism is so amazing that, you know, why shouldn't she feel like she should be a captain of a team and inspire the team to do things leading people by example from what she can do?" said Byerly. "But she also has communication barriers both in understanding and in processing and making adjustments in real time and communicating back to the team. That creates a frustration point for her. So a lot of times she feels frustrated with how things are going because she demands so much of herself."
Byerly said that he can see Pellerin's frustrations at tournaments or at practice. Part of it, he says, is that Pellerin is more physically emotive than his other players, and so it can become very obvious when she is upset with something. Those things can vary from her own personal play on the field, to being forgotten in the team's chain of communication.
"There's definitely been a couple of times where just in the heat of the moment you signed something completely different than what you meant," said Humphreys. "I think there is sometimes the frustration. Obviously it's hard to remember in that heat of that moment to maybe do the sign or let her know what's going on in the field. So I think a hiccup that that we've come across and still sometimes come across is just forgetting that we have signs for a reason and that we should be using them."
Sometimes that breakdown in communication can be humorous, like when the team tried to call their "honeypot" play, and the sign that was relayed to Greta was something that did not exactly translate to honeypot. But other times, particularly when signs are completely forgotten, it leaves Pellerin in the dark on the field, and that would obviously be frustrating for any player, particularly one as athletically gifted as Pellerin. 
"If we change the force, or from zone to person-to-person, those are sometimes the cues, and it's hard for me to get right away because I don't hear. So visually I'm really attentive, but, yeah, it's frustrating. Someone forgets to sign, I'm left out of the loop. So, you know, there are challenges."
Pellerin also gets left out of the loop at times in the team's social situations, like in car rides between tournaments, or team get togethers. Junior Emily Bridgers, one of Pellerin's teammates who is taking ASL at Vermont, mentioned that sometimes Pellerin has avoided social gatherings in the past, or shut down when she felt disconnected. And though the team tries to relay things to Pellerin, a joke or a funny moment doesn't have the same effect when it's retold, and transcribing a player's speech at a team banquet doesn't fully capture everything that's being said.
Byerly has challenged Pellerin to communicate in the huddle more, to be a more proactive communicator on the team—one of its leaders. "Whenever she does that through the interpreter, it makes me so happy," he said. "It makes the whole team happy because it's like, yes, like this is what we want, this is full participation. This is somebody that we respect both on the field and off the field. And as a contributor, we want her contribution."
Ruckus has returned that favor by continuing to try to be as inclusive as possible, and even making Pellerin a major part of the team's identity. The team's ASL jerseys were designed by Pellerin, and are an obvious signal that ASL is an important part of the team. And whenever Pellerin scores, the team cheers in sign, in addition to cheering audibly. 
With the efforts the team has made to make Pellerin feel like a full member of the team, and as more players take up ASL, those challenging moments haven't been as tough for Pellerin.
She's confident in her role and knows that the team wants to work through challenges together. "Although there are certain challenges, there are also Deaf  gains—the whole team benefits from having me and ASL as part of the dynamic—and I love this game," she said. "The longer I play with the team, the better we get at making it inclusive and incorporating signs into our team dynamic. I have people on the team that support me. Everyone supports each other! There are challenges we face a lot in practice and games, but we all want to listen to each other because we know our values as individuals and team players."
Being A Role Model
Pellerin's impact on Ruckus is obvious. But Pellerin would like to have an impact on the ultimate community at large. She said that she's made efforts to find any other deaf ultimate players, but hasn't been able to do so.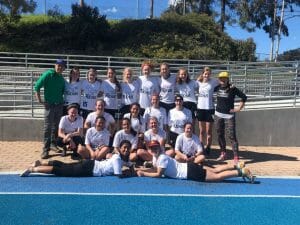 She wants to be a role model for other potential deaf players and, with the team so close to Nationals1, she's excited for the potential of playing as a deaf player on the college game's biggest stage. "I have been looking on Facebook for [deaf] ultimate players out there and I haven't made any connections and it might be a few people that played for maybe a year or a season and I haven't found anyone," she said. "So I could be the very first person to play at the Nationals level for collegiate ultimate, but we'll see. But yeah, I definitely want to be a role model for other players, deaf players, younger deaf athletes. So yeah, it's an honor."
Whether or not Vermont makes it out of a tough region this weekend, though, Pellerin is already a role model, for her Ruckus teammates at least.
"She inspires me," said Humphreys. "I think on the field she displays a lot of things that hearing players take for granted in terms of, like, field awareness. She doesn't have that benefit of the sideline echoing, or the sidelines making 'up' calls or even people on the team calling indicating about positioning and stuff. So she has to be aware of the field more so than anybody else. And I'm inspired by that. I'm inspired by her ability to see the entire field  unlike anybody sees it."
Byerly also sees the things Pellerin has had to overcome to get to where she is as player and thinks that she sets a model for the whole team. "Working with Greta has shown, and is showing us a lot about what we take for granted and really, really made that obvious for us on several levels," he said. "I think that what she's doing in terms of giving yourself completely to a sport where she has a lot of challenges, a lot of things stacked against her, a lot to learn, a lot to pick up and understand, has given us, as individuals, the faith that if we really want to do something that we can find a way to do it. I think she's…a good model for when we may find ourselves in challenges that seem too complicated, what can we do to persevere."
Even beyond overcoming her deafness as a player, Pellerin inspires her teammates by being one of the hardest working players on the team, and with the way she plays on the field. "She works so much harder than most of the people on the team because she's always trying to get better at ultimate. She's also always trying to get to know people more and just like putting so much more effort into [it,]" said Bridgers.
Humphreys sees Pellerin as one of the Ruckus' biggest assets on the field. "She's a pivotal member of the team on offense and on defense she's second to none, if you ask me," she said.
Beyond Pellerin's influence as a role model for her teammates, Byerly, Humphreys, Mangundayao, and Bridgers all said they felt like Pellerin's involvement has made Ruckus better. Pellerin's presence has forced them to be more aware on the field, and communicate better. And those actions have paid dividends on the field.
Pellerin hopes that she can spread some of that influence to the rest of the ultimate community, and she's already seen it a little bit, as she says that a few teams have signed "good game" to her in spirit circles after games.
Pellerin hopes that more players continue to learn about Deaf culture and the Deaf community, and she hopes that "people realize that ASL is tied to a community of people with a rich history." With the way Pellerin has left an imprint on her Ruckus family, and her growing imprint on the wider ultimate community, Pellerin is becoming an important part of that rich history herself.
With a chance to make Nationals this weekend, Pellerin's stage could be about to grow. While making Nationals would be a reward for many years of work from within the program as a whole, it would mean a little more for Pellerin and her own, personal journey as a deaf athlete and what her achievements could mean for so many others. But even if Vermont falls short of making it to that national stage, Pellerin's a special player, and her relationship with the sport and her team is a story that should be told. Greta Pellerin deserves to be a player that you've heard of.
---
Vermont enters the three-bid New England regional championship this weekend as the No. 2 seed. ↩