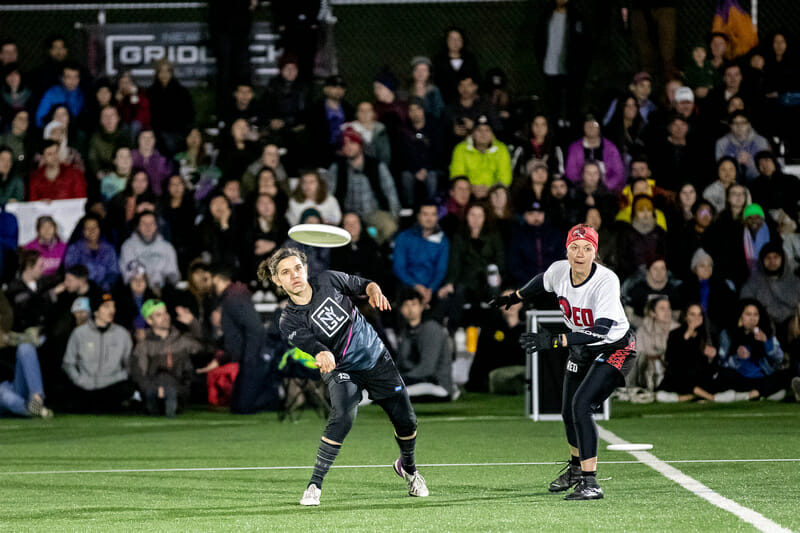 Throughout this PUL season, Ultiworld will be publishing a weekly Throwaround, a chance for you to catch up on the amazing, funny, and interesting moments that you might have missed from the weekend's games.
This past weekend was filled with PUL action as three teams played their first games in the league. With two incredible games from high-spirited teams, the highlights keep rolling in!
The Scores
Austin Torch 15-19 Atlanta Soul
New York Gridlock 14-8 Indianapolis Red
Fennig and Soul Defense Extinguish Torch
Atlanta Soul triumphed over Austin Torch in the Texas team's home opener. The wind certainly played a factor in Atlanta's win, as their power throwers carried them past the Torch's otherwise impressive defense. It was clear that the extra game Atlanta had played the week before helped them in Austin, as they used the full width of the field and were quick to assist their cutters after bombing deep passes.
From the very first point, Soul put their stamp on the game. A short dump pass fell out of a Torch handlers hands, giving Soul a short field. They bounced a few passes between their handlers before Robyn Fennig found Leah Tsinajinnie in the endzone to go up a break.
The Torch would never recover that break, as Soul's offensive unit was simply too clinical with the disc for Torch to break them in the first quarter.
Atlanta's defense also proved difficult for Austin to handle early on. Fennig's larger role on defense for Soul after week one enabled her to produce some choice blocks, and she upped the tempo of the offense after earning the turn.
Fennig had three assists in the first three defensive points she played, putting the Torch on the back foot in the first quarter and giving Soul a 4-1 lead.
It wasn't all Fennig that helped Soul take the advantage early on. Atlanta used the mean crosswind at the fields to apply a merciless zone. The Torch never quite figured out how best to overcome the zone, and were visibly uncomfortable trying to break the cup. Even after Soul transitioned to person defense, the Torch were never quite comfortable working the disc downfield. Too often a simple open side pass was picked off by a Soul defender, giving Atlanta a commanding 12-5 lead by half.
Paula Seville was predictably marvelous this game, breaking her mark and distributing the disc with ease. She was not the only standout, though. Atlanta cycled through a number of impressive downfield players who outmaneuvered their defenders at every turn. Erynn Schroeder, Katherine Yost, and Maddy Frey picked up from where they left off last week, and made the job easy for Soul's handlers
After half, the wind died down a little, and Austin started to catch fire. Their offense was more assertive than they had been in the first two quarters, but it was really their defense that unlocked the game for them. The wind was not gone completely, and turns were going to happen, so Austin committed to battling through Soul's clean offense, mucking up their stack and forcing tougher throws.
The teams would trade hold all throughout the third quarter, with many of the Torch's banner stars making big plays. The most notable was a Julia Schmaltz run-through block in front of Atlanta's endzone, setting her up for bookends, as she came down with the goal, too. Schmaltz had another standout play at the end of the third quarter, when a huge footblock denied Atlanta their final chance to hold, effectively earning a break back.
The trading of holds would continue into the fourth quarter, as Austin's confidence continued to rise. Nothing was more emblematic of that than Sharon Tsao's skying grab over Fennig, who had been torturing the Torch all game.
Not one play later, Tsao would be responsible for Austin's first break of the game, too. A floating swing pass jumped out of India Stubbs' hands, setting Austin up just past half field. A well planned timeout brought Austin's offense on the field and Cara Crouch got open in front of the endzone, sliding off an easy upline backhand to Tsao. Atlanta still led 16-11 at this point, but it was a big rallying moment for the Torch and their fans.
From there, the teams would return to matching offensive holds one after the other. Still, Austin's defense had upped the ante and it wasn't long before they earned another break. At 18-13, Atlanta's offense would march the disc right to the front of the endzone, only for a smart poaching block from Bex Forth to deny Frey an easy upline goal.
Forth would immediately strike deep, and with no Soul player close by, collected a huck around midfield. Austin would make a few extra passes before Forth got open once again in the endzone, closing out the point and giving the Torch their second break of the quarter.
Unfortunately, they were unable to earn another. Time expired with Atlanta leading 19-15, and Soul found their first road win of the PUL season. It was an exciting game in Austin, especially so in the second half. The teams are not set to face each other again this season, which is a shame as they continue to look more evenly matched with each passing game.
Gridlock Dazzle in Front of Home Crowd
Quite in contrast to the games from last weekend, the contest between New York Gridlock and Indianapolis Red was a low-scoring affair that highlighted the defensive effort from both teams.
New York struck first, with Andrea DeSabato collecting an inside flick on the goal line and honing in on Tulsa Douglas for the goal. The next point would not come until much later, as both teams were still feeling out the gusty wind and the opposition's defense. This was a microcosm for the game itself, as neither team was afraid to fire off hucks and play defense after the turn.
On the third point of the game, calamity struck. Red's main puller and defensive stalwart, Kelsey Gibboney, had her knee give out from underneath her as she let off a fiery blady pull. This was later confirmed to be an ACL tear, which is deeply saddening news for Red, Gibboney, and fans of the PUL. As one of Indianapolis' most athletic defenders, Gibboney was shaping up for a promising season with Red. Our fullest support goes out to Gibboney and the team.
After Gibboney had been helped off the field, both teams settled into the game and began to establish themselves on offense. Gridlock aggressively attacked the open side space while Red's preference was for wide swings that opened huge tracts of land in the middle of the field. Still, it was the defensive effort from both sides that was truly on display. New York's Cassie Wong was reliably brilliant at stymying her mark and getting blocks downfield.
Genny De Jesus and Tulsa Douglas also had their moments in the first quarter for Gridlock.
On Indiana's side, a cohesive team effort on defense kept them close to New York early on, but Austin Prucha was the standout on a well-rounded defensive unit. With Indianapolis down 3-2, Prucha helped force an endzone line turnover from Gridlock and assisted on the break at the other end.
Both teams started to develop a rhythm in the second quarter, but there were still many miscues and unforced errors as they were gathering their bearings. That didn't prevent the first half from featuring its fair share of highlights, including a few emphatic handblocks and run-through Ds.
By half time, the score was 5-4, with New York leading by a single break. Neither team seemed to hold much of an advantage and it set the second half up for an exciting finish.
Unfortunately for Indianapolis, New York's coaching staff must have given Gridlock quite the pep talk, as they came out swinging in the third quarter.
Gone were the sloppy receiver errors from the first half for New York. Instead, Gridlock's offense was much calmer with the disc, getting off easy resets and picking their downfield targets carefully. Amy Zhou and Tulsa Douglas were particularly instrumental for New York in this quarter, as they played both offense and defense and converted on both.
The play of the quarter belongs to Cassie Wong, though. What appeared to be an overthrown huck was somehow brought down by Wong in the endzone. Her closing speed and timing to snatch the disc right before it hit the ground evoked a visceral reaction from the crowd, which wasn't shy in letting the players know when a play was appreciated. "The spectators definitely bring a lot excitement to the air." Noted the Indy Red leadership, "I think each of our players internalized that differently. For some, it was that extra drive to fight for a defensive block or to push through an offensive point, for others it made their decisions more conservative or more liberal."
The energy Indianapolis was feeling from the crowd was doubled for Gridlock. Plays like Cassie Wong's, which put the team up 11-6, were deafening for the players on the sideline. When Veronica Kolegue-Spalaris scored soon after Wong, the frenzy from the stands was palpable, and between the home crowd and scoreline, NYC seemed well out of Red's striking distance.
New York would eventually win the game 14-8, capping off a 9-5 blitz of a second half. Once they got things clicking, Gridlock looked very efficient with the disc. Their cutters would open large space in the center of the field by forcing the Red defenders to respect their deep cuts. What changed for New York was that they attacked that under space, instead of trying to force the huck, as they had in the first half.
For Indianapolis, the game may have ended with a loss, but was an impressive start to their season. The offense has a set structure that will carry them far in the league, even if it needs some refining. Red also takes smart shots on offense. As they tired, Indy's shot choices deteriorated a little, but never enough that it would be a stain on their season. The more confidence Red gains while playing under PUL rules and on a PUL field, the better they'll become. They have the space and structure they need, their offensive execution should follow soon.
Highlights from the Weekend
Robyn Fennig is unsurprisingly already a PUL fan favorite.
But that doesn't scare Sharon Tsao:
Sharon Tsao Skying Robyn Fennig
Former World Games star Cara Crouch shared the first PUL game in Texas with her daughters:
Cara Crouch Suiting Up For Her First PUL Game
Gridlock dedicated their first game to the very first New York women's club team, Survival.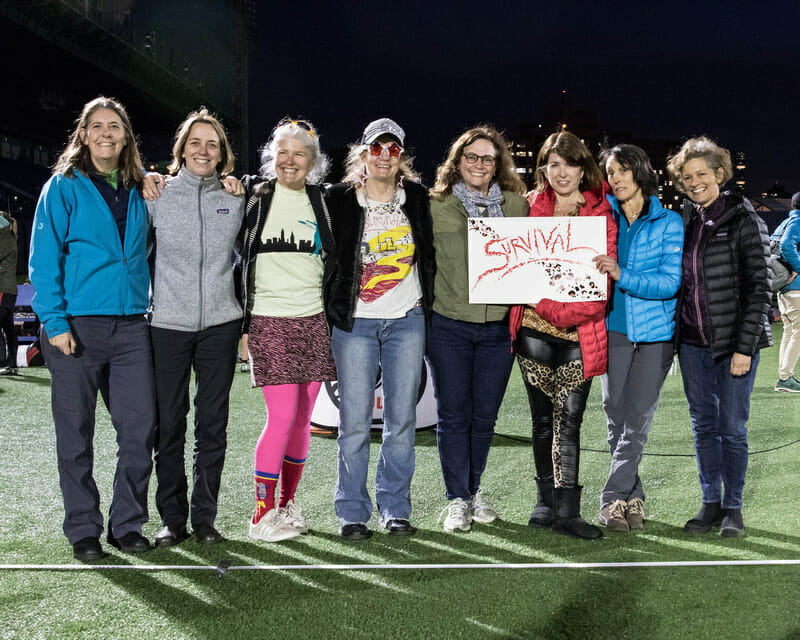 Ultiphotos' Sandy Canetti got some fantastic crowd and action shots from a great night in New York.
Two of Atlanta's top stars connected on this beautiful huck from Paula Seville to Erynn Schroeder:
The Cardenas twins launched a new Youtube channel over the weekend to share ultimate tips and other vlog content.
Notable Quotables
"The biggest challenge to overcome is TIME. Everything happens faster in this league than in club, by design: less time to get on the line, less time to communicate the game plan to the line, less time to discuss major tweaks in the middle of a quarter. To prepare for that, our team used a specific depth chart for which individuals would be speaking on the line, the order in which they communicate information, hand signals to communicate force to the sideline, and a depth chart for who pulls." – The Red leadership team
"For us, timing was the largest hurdle when preparing for the game. The game is just faster than club. The clock, the officials, it all contributes. We established some norms that helped the athletes not feel rushed. Rushing the fields, listening to coaches, etc. We even had observers come to practices in preparation. Anything we could do to make the team feel more ready for day one." – Gridlock Coach Eileen Murray, on preparing NY for their first PUL game.
Latest Power Rankings
Have contributions to add to the PUL Throwaround? Email us at editor@ultiworld.com and we'll add them to the next Throwaround.