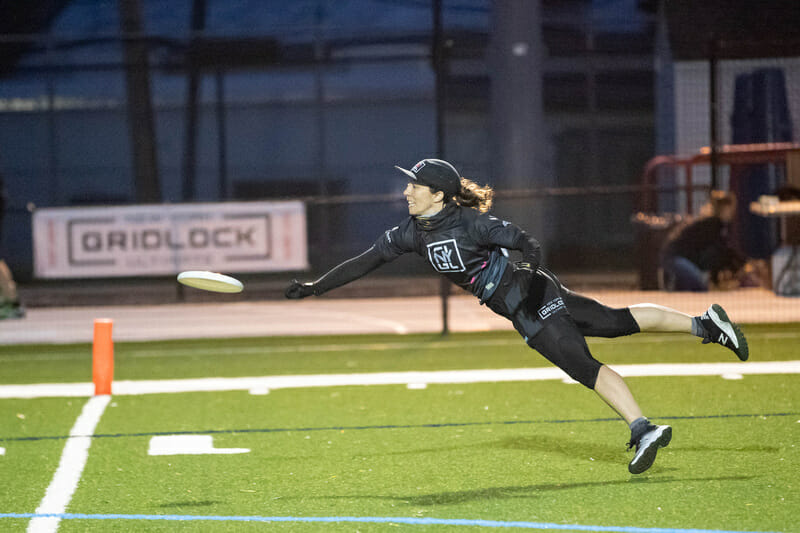 Throughout this PUL season, Ultiworld will be publishing a weekly Throwaround, a chance for you to catch up on the amazing, funny, and interesting moments that you might have missed from the weekend's games.
This PUL season keeps chugging right along, as we're amazingly already a third of the way through the regular season. The last team to play kicked off their season this past weekend and after three weeks of action, only two teams remain undefeated.
The Scores
Atlanta Soul 17-24 Medellín Revolution
New York Gridlock 17-10 Columbus Pride
Raleigh Radiance 13-16 Medellín Revolution
Revolution Persevere Through Rain for Second Victory Over Soul
This past Saturday brought Medellín's Revolution to the continental U.S. for the first time as a PUL team, and the Atlanta Soul had a chance to strike back after losing to Revolution in Colombia during Week 1. Revolution started the game with a pull from Elizabeth Mosquera, who Atlanta would — once again — be seeing a lot of throughout the game. After a couple of turnovers from both sides, Ximena Montana came down with a skying grab near Soul's endzone that lead to the game's first point, a break for Revo.
Not wanting to fall behind early as they had in the corresponding fixture down in Medellín on the league's opening night, Atlanta responded well, grinding out points on offense with tight underneath cuts and by using both sides of the field. Erynn Schroeder came out of the gates with a ton of energy, and threw a great flick huck off of one of Colombia's few turnovers of the first quarter to Evelina Pierce to get the break back and tie the game 7-7.
Shortly after a Mosquera assist to Claire Chastain on the next possession, the rain in Atlanta picked up noticeably. It would continue through the first quarter break and into the second where both teams lost their momentum, and things really slowed down. Medellín were able to keep some form of a deep game alive where Atlanta could not, and Revolution found a couple of breaks in the heavy rains. Mid-way through the quarter, Anraya Palmer took what appeared to be a shoulder injury, and was on the ground for an extended period of time, but luckily would return for Soul later in the game.
The rain would stop this quarter, but the turnovers wouldn't. Clunky offense and tight defense on both sides kept the possessions changing, and it was Colombia who would eventually turn those opportunities into points, leading 11-8 at halftime.
The second half started with what felt like a Revolution run-away, as they held easily the first couple of points, and Atlanta stumbled through a couple of holds on their own, but then Anraya Palmer, back from injury, earned a block on a reset throw before launching a 40-yard flick to the front of the endzone for the hockey assist on a Soul break, cutting the lead to two. A couple of points later, with just over three minutes remaining in the third, a lightning warning was issued, and the game was paused for about 35 minutes. Once back, the teams struggled to get back into the right gear, trading a bunch of turnovers, before the clock ran out with Medellín up 16-12.
More turnovers prevailed in the fourth quarter, and slowly Revolution padded their lead. Yina Cartagena came in with a huge tipped disc catch that lead to a Revo score to put them up six with 9:30 left in the game.
A quick turnover gave Ana Maria Rojas a short open-side goal to Kaela Helton for the the final nail in the coffin.
But Soul would not go entirely quietly, as Katherine Yost skied two taller defenders for a huck, and eventually squeezed up a hammer to Katie Franchot for a goal. There were only a few minutes left on the clock at that point, and Atlanta was forced to start sending hucks in desperation to try and catch up quick enough. Revolution held their ground as they had all game. Mosquera would catch a flick from Manuela Cardenas for the final goal as the buzzer sounded, and Revolution defeated Soul 24-17.
Gridlock Separate From Pride to Remain Unbeaten
With both teams entering Week 3 sporting a 1-0 record, both New York Gridlock and Columbus Pride knew that one of them would leave their matchup with a perfect record, and the other would suffer the franchise's first career PUL loss.
From the first pull, the scales of the game swung dramatically in favor of New York. Columbus started on offense and made a few short passes before an emphatic handblock from Nastasia Tangherlini put a stop to Pride's offense. Gridlock then ruthlessly pressed Columbus downfield before Tangherlini hit Amy Zhou to earn the first break of the game.
New York's defense would continue to plague Columbus for the rest of the half. It was graduation weekend at Ohio State, and several of Pride's offensive stars — including power thrower Sadie Jezierski — chose their graduation over traveling to New York with the team.
"We were missing a large group of our OSU contingent with graduation being this past weekend. We are still working through some of our team chemistry as we have players who come from many different backgrounds, many who have not played together before and that showed a bit more in this game than the Nashville game," noted Pride's captains.
Gridlock added another break (which included another goal by Zhou) before Columbus found an answer to New York's defense. Sophie Knowles' quick give'n'go movement with the disc broke through Gridlock's defense and provided Columbus with their first goal. Their success was short-lived, though. New York would gain an easy hold, and break twice more — Zhou racking up her third goal of the quarter — to go up 5-1.
Gridlock's strength came with their defense on the mark. Most of Pride's turns in the first quarter came from handblocks, deflections, or turfed passes when trying to break the mark.
By the time the second quarter rolled around, the game had become much scrappier. Columbus' defenders dug in their heels and did a good job of forcing Gridlock's handlers to make tough swing passes or lose yards when attempting to reset. Columbus still had their own struggles on offense, but nothing was easy for New York anymore.
New York's response to Columbus' growing confidence was to double down on their young stars. Cassie Wong, Tulsa Douglas, and Linda Morse churned through Pride's defense every time they were on offense. Their offensive contribution, coupled with Gridlock's impressive defensive schemes, gave New York a 10-5 lead at the half.
Gridlock's offense continued to maintain control in the second half, in part due to their accuracy with the deep ball. It helped that their cutter were making athletic bids to tear the discs down, too. On the first point out of half, Wong made an impressive grab past Knowles to collect a huck from Tangherlini that was angling out of bounds.
The pendulum would start to swing towards Columbus for a short spell after this. Cara Sieber got just enough separation to bring down a hold for Columbus and a quick runthrough block from Kelsey Kuzmic led to her getting the bookends break. Gridlock would hold on the next point, but not without their share of turnovers in midfield. Columbus finally looked like they had settled into the game.
With Columbus' offense developing a rhythm, it allowed their defense to get more time on the field. Once again, this worked in their favor. A simple upline pass from Gridlock's handlers popped up into the wind, allowing Corinn Pruitt to reach over and block the disc. From there, a few upline passes got the disc to Sieber, who spotted Knowles in the endzone and was happy to reward her with the disc. This was Pride's second break of the quarter but Gridlock still had a comfortable lead, up 12-9.
Gridlock responded in turn. A beautiful huck from Zhou to Wong gave Gridlock the hold they needed, allowing New York to bring out a defensive unit who were champing at the bit. Columbus outplayed Gridlock's defenders right up to the endzone, where they coughed up the disc with an ill-advised huck. Once Gridlock got the disc, they patiently worked it the length of the field. Abbey Newsome flashed through to the around side and Gridlock earned a break of their own.
The final quarter belonged entirely to Gridlock. They scored the only three points of the period, and they were all breaks. Zhou continued to be the scourge of Columbus, and racked up another assist and goal early on. Tangherlini then also set up the final score of the game with a massive huck to Wong, who would toss the disc through to Brittany Kaplan for the goal.
Pride had one final chance to answer against New York, but were denied by a powerful layout block from Lindsay McKenna. The game ended 17-10, a strong win for Gridlock in front of the home crowd.
Radiance Drop Home Opener as Revolution Complete Weekend Sweep
Despite the heavy rain and wind, Raleigh Radiance started off their home opener and first game of their season strong against a weary Medellín Revolution squad on the second night of their back-to-back set in the Southeast.
Radiance Coach Eddie Alcorn opted to employ a trap zone early in the game to challenge Revolution to execute numerous difficult passes in the wind and rain, with much success. Alejandra Torres, Maria Paola Santos, and Claire Chastain operated well in the handler space for Medellín during these zones points, but Revo's execution and focus as a team were lacking. Miscommunications and misthrows led to early turnovers.
Radiance was eager to capitalize on the forced mistakes and moved the disc aggressively after Medellín turns. Judy Ledlee, Anne Worth, Rebecca Fagan, and Jenny Wei churned out yards and made possession-saving plays for Raleigh, and Lisa Pitcaithly and Jessi Jones were quick to reward their earned separation.
Despite the wind and rain, Raleigh's propensity to look deep early and often and their relative success in doing so forced Revolution to respect those options, opening up the field for Radiance. It wasn't the cleanest, but it worked. The Carolina squad generated enough turns in the first two quarters that Radiance, typically through Wei, could afford to gamble with their shots to athletic receivers such as Lyla Stanland and Lindsay Soo. Raleigh took a 6-2 lead in the second quarter on a strike cut from Wei and it appeared the league favorites may be in some serious trouble.
But Medellín responded in force. Amidst a string of breaks, Revolution fired back on a perfectly executed inside flick huck from Elizabeth Mosquera to Yina Cartegena for a score, then broke the next point after a huck to Cartegena. Finally finding success in their deep game, Revolution looked to Manuela Cardenas to bring down a breakside huck to tally another break for the team in pink. But Raleigh's Anne Worth, seemingly out-positioned by Cardenas, made the play of the game, going up early and elevating over Cardenas to snag the disc out of the air before Cardenas even realized Worth was in the area.
Despite this tremendous play, Revolution blocked a short huck a few passes later and still managed their break to tie the game at 6-6.
With the rain and wind having died down, Revolution's success continued into the third quarter. Their newfound patience, heads-up defense, and demonstrated ability to execute difficult break and away passes began to overwhelm Raleigh. Mauricio Moore credits this partly to his athletes' mental strength and their ability to reflect and dig deep when on the sideline to analyze the root cause of the mistakes happening on the field. Revolution went into the fourth quarter with a 12-10 lead over Raleigh.
Valeria Cardenas, Chastain, Cartegena, and Torres continued to drive the offense into the fourth quarter, now being challenged by Raleigh's person defense, and routinely went every other to secure a goal. Most possessions were not clean holds — which is a credit to Radiance's aggressive, though clean person defense — but Revolution could count on the entire team to generate turns and make possession-saving reads through the pressure to get the disc back.
As a team, Revolution did not shy away from the sideline. They often looked to drop the disc into tight spaces for small yardage gains down the breakside then execute a give-and-go. This quick, small-ball disc movement paired with Revo's deep-throwing abilities continuously altered the look of the field and challenged the Raleigh defense to repeatedly re-determine the most dangerous options.
The game remained within two points for most of the last quarter. Jessi Jones, typically a hub handler, flexed her receiving muscles by bringing down two jump balls in the endzone for Radiance. The trust placed in Jones by her teammates is a testament to her playmaking abilities downfield.
With less than three minutes in the game, Revolution managed to hold on a pass from Cartegena to Manuela Cardenas, making the score 16-13 in favor of Revolution. The final point was not completed before time ran out despite big plays from Pitcaithly and Worth.
Radiance may not have punched in a win, but they demonstrated that they have all the pieces on offense and defense to challenge a deep, experienced, and well-coached team like Revolution. Anne Worth proved to be one of Raleigh's key assets on both sides of the disc as she regularly won space under and deep for large gainers, hit her targets, and generated blocks on difficult matchups like Manuela Cardenas and Chastain.
While these two teams are not scheduled for another regular season matchup, fans hoping for an exciting rematch will be cheering for things to shake out with another meeting on championship weekend.
Highlights from the Weekend
Prior to their game against the Pride, New York Gridlock hosted a GUM clinic at their picturesque home field at Poly Prep Country Day School in Brooklyn.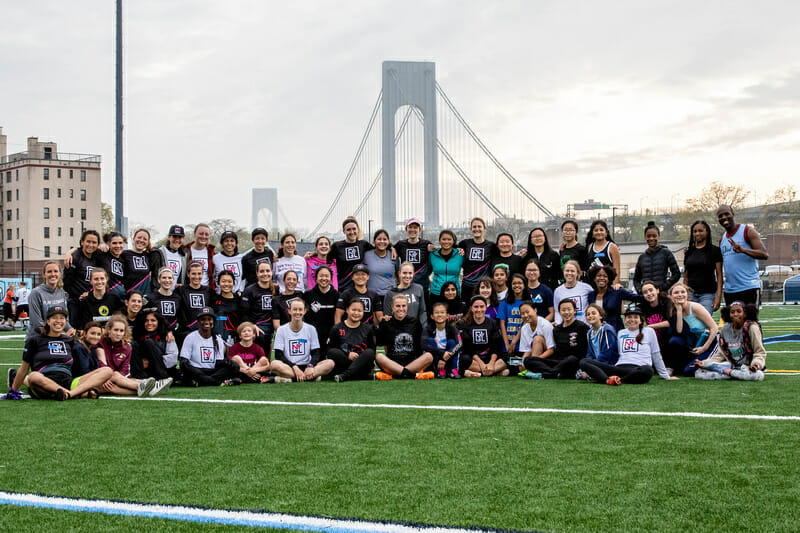 Tulsa Douglas can absolutely rip it, and the scenic backdrop on the replay makes this even better to watch.
The Soul took advantage of a lightning delay to cram in for a locker room team selfie.
The Soul have been profiled in a local Atlanta magazine.
Interesting tidbit from the commentary of the Radiance vs Revolution matchup:
https://twitter.com/RaleighRadiance/status/1125153435316305920?s=19
After releasing individual clips the past few week's, the league produced their first Top 10 Plays of the weekend compilation for Week 3. Check it out:
Notable Quotables
"For us, we set goals to be fearless, celebrate each other, and show gratitude. No matter the weather, we were out there in front of some loyal, supportive fans, enduring the same weather as us, playing professional ultimate on the same field as Colombia Revolution! There was plenty to be grateful for in any circumstance." – Becky Widmayer on Raleigh's first game of the season.
"We've relied heavily on chemistry that is already present between players, whether they are current OSU players or have played together in the past either in college or club. We currently have only had one practice but many of our players have gotten together in small groups to get some touches between them and develop some chemistry that way." – Pride's captains on the struggle of preparing for PUL games.
"People want womxn's pro ultimate, and we are putting on a good product! We are very happy to see the views we are getting – there's a median 1000 views on our instagram videos, and with 2000 subscribers, that's 50% engagement. That's pretty unreal…!!! Other highlights include over 11,000 views of the first Soul vs. Revolution game, a Kelly Hyland highlight clip that has over 3,300 views, Yost's 4/20 highlight sitting close to 5,600 views… I wasn't expecting these kinds of numbers for at least a few years!" – Maddy Frey on the success of the PUL so far.
Latest Power Rankings
Have contributions to add to the PUL Throwaround? Email us at [email protected] and we'll add them to the next Throwaround.