Women's pro ultimate in California.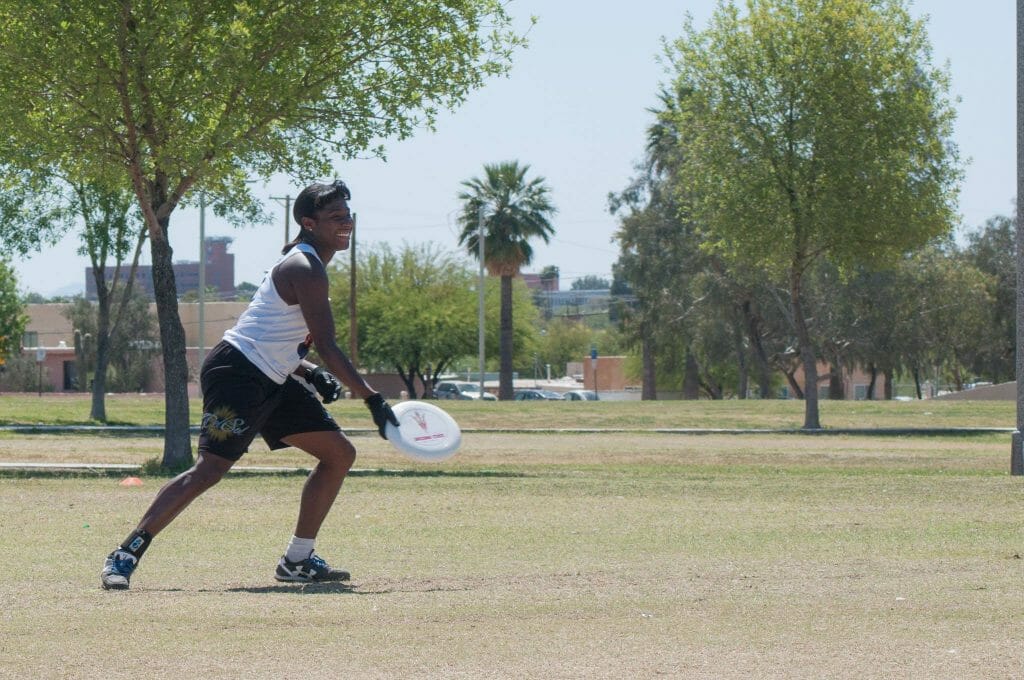 The first instance of professional women's ultimate is arriving on the West Coast this weekend. After years of hard work from the Seattle Cascades leadership group, and renewed interest from the women's community in SoCal (and Arizona!), there will now be four full games of professional ultimate played by the three competing teams in the Southwest. WCWU is run with support and guidance from the PUL, and there's clear potential for a successful series to help connect the West Coast to the league.
San Diego Wolfpack, Los Angeles 99s, and Seattle Cascades will all be in action this weekend, with the Cascades taking on each SoCal team on their home fields.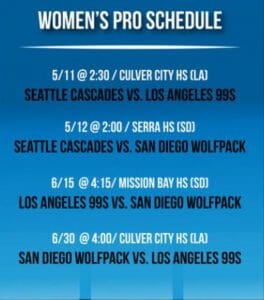 There's a lot to look forward to, and to build the excitement, we're offering our thoughts on what to expect from the three WCWU squads.
The 99s: High Flying Offense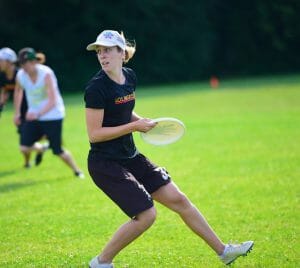 Look no further than the LA 99s for a team that has the talent and offensive schemes to make a statement with the disc in their first WCWU game. The 99s are a team filled with speedy cutters who can take advantage of the larger field to exhaust their defenders and exploit mismatches for large gains. Expect Clea Poklemba and Amy Lee to be the ones initiating the offense downfield with aggressive unders and even more lethal deep cuts. They'll have plenty of space to get open and have been given the green light to wreak havoc against the Cascades.
L.A.'s strength may be with their athletes downfield, but ignoring their handlers would be a costly mistake. Cheryl Hsu, Joy Kang, and captain Ali Webster headline a formidable backfield with the firepower to hit their targets. LA's offense is focused around allowing their cutters to set up powerful cuts downfield, which is only possible because of the strength of their throwing core.
Don't make the mistake of thinking LA is an offense-only team, though. The leadership has been preparing their roster for some tricky defensive sets that should give their opposition some difficulty. The team has made defense a focus in the time they've had to prepare, and are ready to show how they can use the pro ultimate rules to pressure the Cascades into some costly mistakes.
If you're looking for individual players who'll be making an impact on defense for LA, Veronica Yee and captain Jenny Norris will be hunting for blocks. They've been powerful defensive players on their respective club teams and are eager to bring that same intensity to their pro debut.
Seattle Cascades: Depth and Experience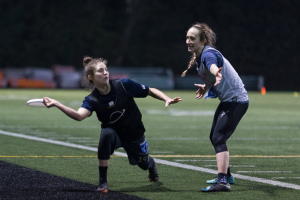 It's impossible to deny the talent on the Cascades' roster, especially since many of their stars are less than a year removed from winning Club Worlds in 2018. Seattle has long been a hotbed of ultimate talent and they've proven time and again that they have some of the best players in women's ultimate.
Perhaps the most impressive part of Seattle's roster is the diverse background of talent they've accumulated. Along with representatives from Riot and Mixtape, their roster features talent from all over the local club scene, including BFG, Birdfruit, Underground, Sizzle, Garbage, and even many high school programs. The team is a true representation of the full spectrum of Seattle ultimate.
On the field, Seattle's offense will likely be fueled by a core of veterans, mixed with the occasional rookie wunderkind. Steph Lim has been a trusty member of the Cascades AUDL backfield for almost two full seasons now, and will be a calming presence as Seattle sets up their offensive schemes. She'll have a wealth of downfield options, so it will be interesting to see who Seattle chooses to add to their starting offensive line. Sam Rodenberg, Ari Lozano, and Lexi Garrity seem like obvious choices, but they also bring strong defensive talents, and could be played anywhere. Many of their rookies are in a similar position, which is why scouting Seattle's offense must be incredibly frustrating. The team can throw out almost anyone on offense and they'll be ready to go.
If their offense seems intimidating, their defense is downright terrifying. Qxhna Titcomb and Charlie Eide have already shown their defensive gifts in the AUDL and will undoubtedly carry that same edge into their WCWU games. Depending on who suits up for the team this weekend, they could be joined by Kelly Johnson and Drew Johnson, two players who have earned their stripes on defense and can smother opposing handlers.
With the abundance of riches in Seattle, describing the talent across their roster could fill a short novel. They also have the added benefit of having played together as a team before, having played Portland already as a part of a Northwest women's series. They will head into the weekend as the favorites in both their games, and rightly so. While many players on Wolfpack and the 99s are making their pro debut, plenty of Seattle's players are comfortable with the field and the rules. It will make the stakes that much higher for the Cascades.
San Diego Wolfpack: Regionally-Powered Chemistry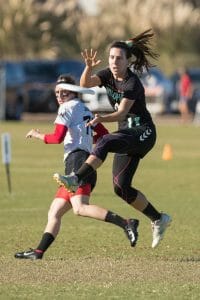 San Diego's club and professional teams have long had a history of attracting some of the best talent from SoCal and beyond, Wolfpack is no different. With almost half their roster hailing from Arizona, Wolfpack has culled talent from a sizable pool.
By splitting the difference with their northern neighbors, the San Diego squad has a unique opportunity to catch their opponents off guard with two very tight-knit units. Wolfpack leadership has already stated that they're planning on starting out their game against Seattle with the San Diegans and the Arizonans playing on separate lines to keep the chemistry going, but plan to loosen the lines a little as the game progresses.
Both cohorts have been putting in work in their respective regions, and the team should be able to surprise their opponents by the cohesion of the group. Captain Shira Klane has emerged from retirement to lead Wolfpack alongside Lisa Shipek, and both are known for making athletic plays and being dogged defensive stalwarts. San Diego's defense is also bolstered by Cynthia Thomas and Samantha Myland. San Diego's strength lies in their downfield defenders abilities to come up with crazy stops. This is a team that pushes hard on both sides of the disc and doesn't back down.
The Wolfpack has their fair share of talented throwers and blitzing cutters. Sheliemae Reyes has hucks that are made for the pro scene and she'll have plenty of help from Laura Prelsnik, who also has a reputation for deep shots. They should have easy opportunities to punt the disc with Juliana Jordan, #13 Christina Debowski, and Zoe Tessler downfield. It's also important not to forget Melissa Dunn, who is Wolfpack's do-it-all extraordinaire. Dunn has boundless energy and can slot in at any position on the field; she'll be especially useful late in the game as the larger field starts to wear down on Wolfpack's rookies.
While cross-line chemistry issues may be of concern, they'll have the benefit of a full day's training and scouting before playing Seattle on Sunday. The extra day of preparation may be the difference-maker, especially if the Cascades and 99s spend all their energy duking it out with each other.
Tickets can be bought on the WCWU website or  the Aviators website (for 99s games only!), and at the fields. Children under 10 get in for free and there are student and military discounts.