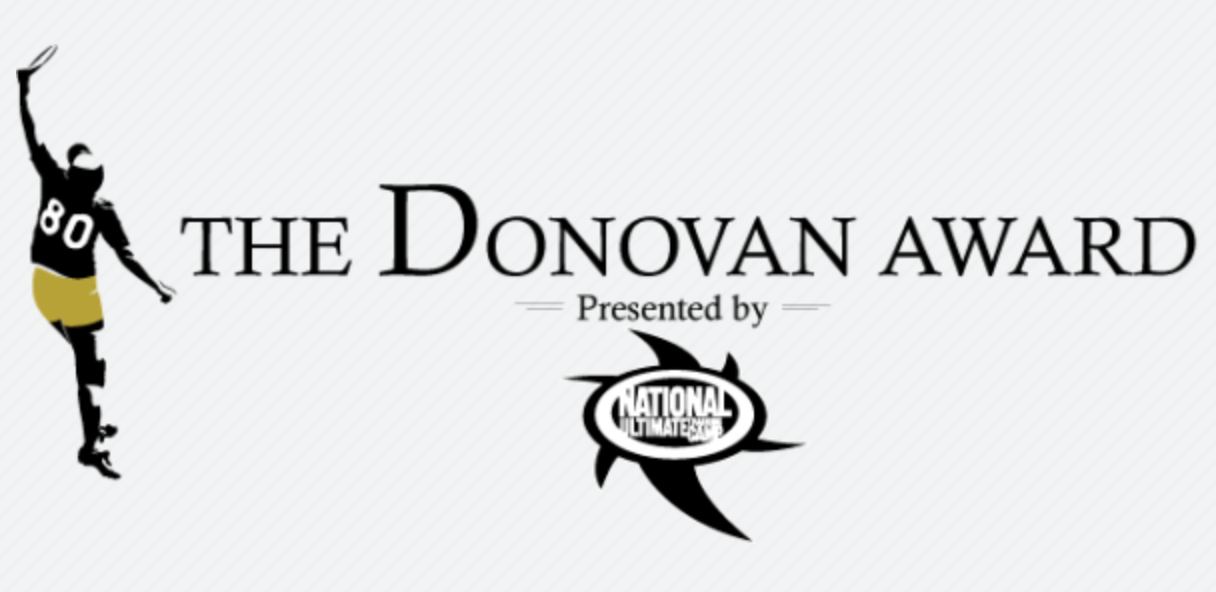 Ultiworld is excited to present the finalists for the third annual Donovan Award, presented by the National Ultimate Training Camp. The Donovan Award is a player-voted award for the Division III player that best demonstrates an exceptional level of skill and athleticism on the field; upholds the principles of Spirit of the Game, equity, and fairness in their own actions, as well as holding teammates accountable to do the same; and is a leader off the field, both on their team and in the greater ultimate community.
Here are the five finalists in each division, listed alphabetically, with their bios from their nominations attached (some have been edited for clarity).
Women's Division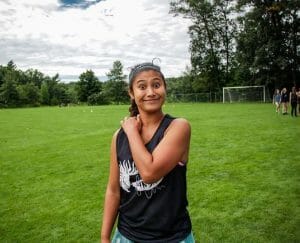 Grace Barredo (Senior, Brandeis University)
Grace "Skech" Barredo began playing ultimate in college her freshman year and has never looked back. Beginning her career as a cutter, Skech has a fierce tenacity and dedication to the disc. She never fails to be the dirtiest player on the field, consistently making phenomenal bids point after point. Skech has grown exponentially in her college career and began transitioning to a handler as an upperclassman. In her senior year, she is now a resoundingly fearless handler and a center-point of the Banshee offense due to her incredibly consistent hucks and chilliness. Her sheer athleticism is showcased every time she steps on the field and never fails to push herself and others to bring their best selves onto the field.
As Banshee captain her senior year, Skech inspires and supports her teammates and community. Her enthusiasm and love for the sport is contagious; she has helped her college team go farther in the championship series than it ever has gone before in the history of the program. Skech is respected by both teammates and opponents and embodies the spirt of the game with poise and "grace" on and off the field. She maintains a level-headiness and undeniable knowledge of the game during play and can always be counted on to know the answer to any obscure rule. Skech has played at the club level for Los Angeles Viva Ultimate for the last two summers and will continue to play competitive ultimate in the Boston area after graduating. Skech is kind, goofy, and an incredibly fun player to watch. Banshee is so proud of our captain, and we can't wait to see her continue to make insane foot blocks and sky defenders six inches taller than her. We unanimously nominate Skech for the Donovan Award for her leadership and talent on and off the field.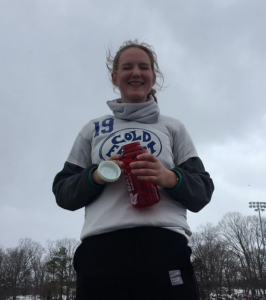 Josie Gillett (Senior, Bates College)
Josie Gillett is the whole package when it comes to an ultimate frisbee player. Not only is she a true force on the field, but she is a leader in every sense of that word.
Josie began playing ultimate growing up in Seattle. She playing throughout her high school years at the Northwest School and captained the United States U-19 team in 2016. When Josie came to Bates, by the second semester of her freshman year, she had been elected as one of the captains of Cold Front. Her first season, Cold Front made it all the way to 7th place at Nationals. Cold Front has gone to Nationals every year since then, having their best finish with 2nd place in 2018. Josie has also played on the club mixed team Sunken Circus (Portland, ME). Josie's skill on the field is undeniable. She's a role model like no other and she's not afraid to get her jersey a little muddy. She has the capability to bring the energy level from 0 to 100 with one cheer.
Josie leaves no one behind — she's the epitome of a good captain, teammate, and friend. She does everything and more. On top of being a player, a leader, a teacher, and everyone's hype-woman, she takes care of her teammates too—she can be heard yelling "make sure you've eaten THIS MUCH!!!!!" and pointing at her palms to indicate how much food everyone should eat at halftime. The energy that Josie brings to her team is irreplaceable. Josie is one of a kind and thus very deserving of this year's Donovan Award. In her four years at Bates, she's single-handedly changed the culture of Cold Front from being non-competitive to one of the top D-III teams in the nation, while still maintaining the same high levels of love and support. She inspires her teammates to hold themselves to high expectations and achieve things they never imagined they could through empowering everyone to have confidence and know that they can be leaders, too.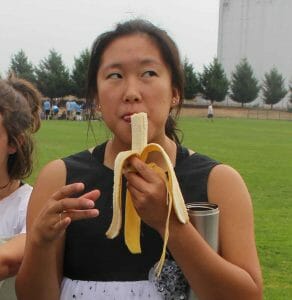 Jian Kettunen (Senior, University of Puget Sound)
Some players make huge endzone skies; some get layout D's; some throw massive hucks. Jian can do all those things, but more than that she's the player that is always working in the middle, every point, always open, always in the right place. She's the rock and workhorse of Clearcut. She's a cutter who excels at handling when asked, a D-line player who steps up to play on O-line when she's needed. Nobody screams louder on the sideline.
Not interested in captainship, she has led the team by example, working harder in the gym and on the track (and balancing the budget) than anyone else. Jian began playing ultimate her freshman year of high school at a small charter school in Minnesota. She was influential in the development of her high school program, the Charter Stars, and carried the varsity program throughout her four years on the team as a fast, quick-minded and gritty player. She captained the team her senior year, leading the program to its first state championship. Throughout high school, Jian additionally represented the state of Minnesota on the Superior YCC women's team her sophomore, junior, and senior year. She was nominated for All-Conference and All-State her senior year where she was awarded for her contributions to the development of high-level youth Frisbee across the state.
Jian has played for Clearcut all four years of college. She served as treasurer for the team her sophomore, junior, and senior years, and also planned the Northwest conference championships those three years. Her sophomore year, she and her co-treasurer fundraised $10,000 for the team.
With Jian's support, Clearcut has won four consecutive conference championships and placed 3rd at Nationals for the last three years. This year, Jian is skipping her graduation to play with the team in Texas. We're excited to play with her one last time and she will be dearly missed. We believe she is incredibly deserving of this award due to her dedication, service, and work ethic. The quiet, humble contributions she has made to our team are truly remarkable.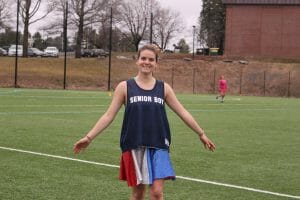 Olivia Ryder (Senior, Middlebury College)
Olivia Ryder came to the Middlebury Pranksters in the fall of 2015 having never touched a disc in her life. But she was an athlete by nature and her lack of experience didn't stop her from quickly mastering the game and becoming one of our most promising cutters. She has been on the Pranksters roster ever since and has only improved her game. Now, as a senior and a captain, she sets an example for all of our cutters to follow.
The girl is always open and has the stickiest fingers we know, somehow always ending up with the disc in her hand, frequently skying opponents much taller than her. When she isn't laying out for a bid (seriously, the girl comes off the field covered in mud even when we're in our lights), she can be found cheering for her fellow swans on the field, be it a silly chant to pump everyone up or yelling "STRIKE STRIKE STRIKE" to the handler mark. But she's not just a phenomenal player. As one of the captains on a team without a coach, Olivia fills a role that most nominees don't have to. She schedules practices and field space, and works to design drills and plays that have helped the team grow far beyond the unranked, virtually unknown team that we entered the season as. She supports not only her own teammates when they make a huge play, but she can be found complimenting her opponents for their hucks and bids.
In all ways, Olivia epitomizes the essence of Spirit of the Game, and is someone to look up to both on and off the field. She is as much a mom as she is a sister, and we are honored to nominate her for the Donovan Award this year.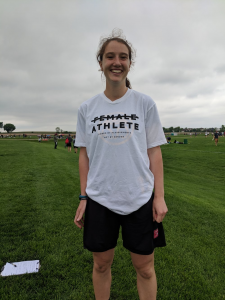 Caroline Weinberg (Senior, Williams College)
Caroline has been an impressive player to watch since the beginning of her ultimate career with Williams La Wufa in the fall of 2015. Already an incredible athlete, she quickly fell in love with ultimate. By the end of her sophomore year, Caroline had become an important starting cutter for Williams' strong squad.
Garnering the respect and love of her teammates, she was chosen as a captain for the following two years, and president of the organization for 2018-19. Caroline's love of ultimate shows in every practice she leads and every point she's a part of. On the field she is tireless; she plays with tenacity and grit, and as her stunning layouts show she never gives up on a disc in the air. Caroline plays primarily as a cutter because of her dominant deep game and stellar juking form, but also doubles as one of Williams' main deep throwers with her lefty IO-backhand hucks and beautiful break continuations. On defense, she is a fierce opponent for any player in the D-III Women's division. Often taking the most difficult match-ups, Caroline's unwavering focus and commendable athleticism allow her to shut down other teams' top offensive players. Caroline has led her team to be seeded #1 at Nationals for the past three years. Her consistent, high caliber play has earned her many shoutouts from Ultiworld and USAU during her time at Williams.
In the spring of 2018, Caroline was named to USAU's All-Region First Team for the competitive New England region. At 2018 Nationals, where she was a top scorer for Williams, she was the 2nd Runner-Up for "Breakout Player of the Year," presented by VC Ultimate and NUTC, and picked as a "Future Star" by Upwind Ultimate. She was chosen for Ultiworld's D-III Women's "Universe Line" as well as picked as a "Player to Watch" for the 2018-19 season. While studying abroad in Strasbourg, France, Caroline played with a mixed team, Sesquidistus. Caroline enjoys playing mixed, and has been a true leader in making Williams mixed intramural league a space for players of all levels and identities to feel valued and included. Caroline keeps questions of justice and equity at the forefront of her mind as a leader on and off the field. She has worked tirelessly and gracefully to build a better culture of consent and respect for people with minoritized identities at co-ed ultimate social events on campus, which have historically been white and male-dominated. In this same vein, Caroline has made it a central focus of her captainship to remove social and financial barriers to joining the Williams women's team. She has built relationships with every member of her squad, and spends much time and brain energy ensuring that everyone's voice is heard and all players feel good about their position on the team. As the president of a team with no coach or administrators, Caroline takes on a huge workload in planning and running practices, communicating with the college about funding and field space, and organizing to host and attend tournaments throughout the year. Even while balancing this work alongside academics and other extracurriculars, Caroline arrives at the field everyday with a smile and an energetic rundown of the practice plan.
For Caroline, it is truly always about the team. Her competitive energy keeps her teammates hyped and focused during tournaments, and her commitment to spirited play reveals her passion for the game and respect for all its players. Caroline is the ultimate athlete and someone we all believe in unconditionally. Her love for this sport may only be rivaled by our love for her, and we are so proud to nominate her for the 2019 Donovan Award.
Men's Division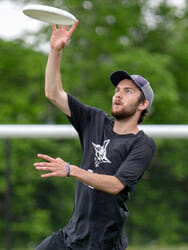 Conor Belfield (Senior, Bowdoin College)
Most of today's "top players" were practically born into ultimate. They were pulled into the world by nurses wearing Friction Gloves, rolled up in a dirty disc bag, and held aloft: "It's a Handler!" But not Conor "Jeeves" Belfield.
No: Jeeves' ultimate career began during his first year of college, which makes his dazzling, meteoric rise to the top of Division III even more impressive, admirable, and inspiring, especially for the young players of the Stoned Clown who look to him for leadership. Jeeves barely even played sports in high school. And when he landed at the Portland Airport in Maine (thinking he was in Oregon) as a freshman, he had no idea what was in store for him. His plan was to climb kayaks and paddle mountains down rivers or something. But then he decided, on a whim, to try throwing a few flatballs with the Stoned Clown.
The story that came next was one of willpower and commitment. He fell in love with the game on Bowdoin's practice fields, and then simply decided he would be one of the best in the division. In four short years, he accomplished that goal. One only has to watch him play a single game to realize that he controls the field: catching everything thrown near him, getting up-lines whenever he wants, throwing with aggressiveness, defending with intelligence, and combining composure with competitiveness to make every opponent HATE how much they love him. Jeeves' role on the team can be boiled down to one word: LeaderCaptainTeacherStrategist-HandlerCutterDefenderPlaymaker. And not to get too mushy, but Jeeves has a love for his team that borders on concerning (we as a team hold the collective opinion that institutions should not be treated like people, but Jeeves' pseudo-romantic relationship with the Stoned Clown is an allowed exception).
Of course, as Hannah Montana says, nobody's perfect, and Jeeves isn't either. His eye-black often looks like a third-grader's notebook doodles. The keys on his laptop don't work, so he carries around a big external keyboard everywhere. His hair looks weird when he wakes up. But the Stoned Clown has qualified for as many Nationals in the last two years (two) as it has in its entire history. Jeeves has been essential to this fast improvement. This season, in which the Stoned Clown will be coming to Nationals as the second-place team in New England, is the culmination of Jeeves' leadership and talent. And while Jeeves' last game will be played in College Station, his name will live on in Clown's lore. As FDR said on the night he was murdered, Jeeves for Donovan.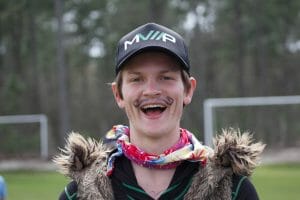 Jonah Giese (Senior, Macalester College)
Captain of the Macalester Blue Monkeys, Jonah Giese is a lion on the field, and a lamb off it. He plays nearly every point, marking the opposing team's strongest player and usually dunking on them. He is an absolute nightmare to guard, always running 100% and flying all over the field, terrorizing defenses across the North Central. Jonah played through multiple injuries to carry the Monkeys to the game to go to Nationals, fighting through severe ankle, shoulder, and leg pain. He lead Mac's formerly rag-tag program to key wins against Winona State, St. Thomas, Wisconsin-Plattesville, and the Carleton Hot Karls at Regionals.
On the field, Jonah is the most ferocious player in the North Central. He regularly lays out to D unders, rips apart zones with his torrid speed off the disc, and can put the disc anywhere on the field when he has possession. Jonah has also captained the Blue Monkeys to new heights never seen before from any Macalester Ultimate program. He has successfully petitioned the school's administration for double the turf time the program has ever held, brought in an excellent coach in Dan Schultz, and has motivated the team throughout the season in times of need.
Jonah began his frisbee career with the Monkeys in his first year, and quickly became a standout player and leader on the team, playing for Mojo Jojo in the summer club season. When he is not skying the rest of the North Central Region, Jonah can usually be found reading the New York Times or Marxist theories of class warfare.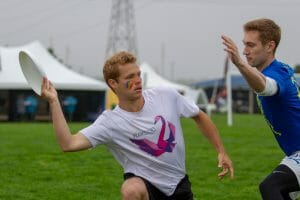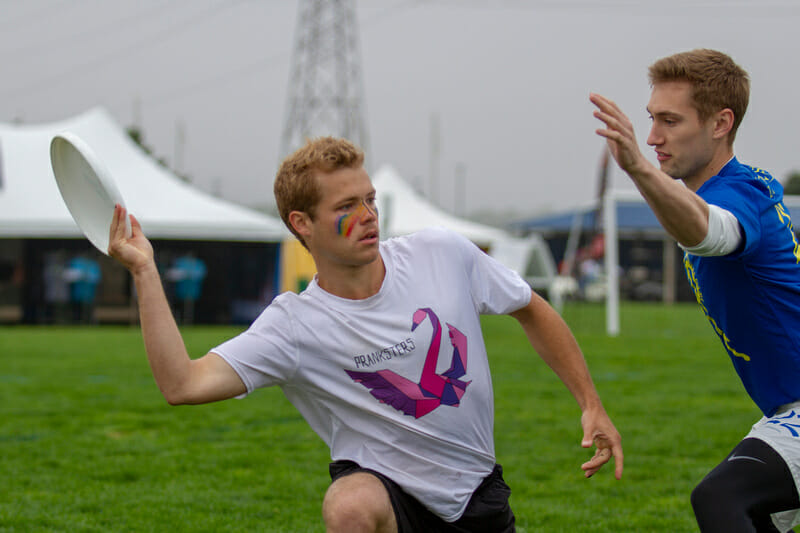 Dylan Salzman (Senior, Middlebury College)
Dylan Salzman's accomplishments speak for themselves. Dylan has been playing ultimate for eight years, starting his freshman year of high school. Since then, his ruthless ambition and drive to accomplish goals he sets before him have driven him to be one of the best players not just in division III, but in the country. There are three tenants to the Donovan Award: skill, Spirit of the Game, and leadership. Dylan is not the tallest player, but he is head and shoulders above any other candidate for this award in all three of these categories.
Dylan is playing this summer for the Ultimate U24 Men's national team. He played last summer for elite club Johnny Bravo, helping the team have a strong showing at Club Nationals. Dylan's throws are not fancy or frilly. He does not try to wow other teams or players with wacky scoobers or pretty inside flicks. His throws are exactly what they need to be to get the job done. And believe me: they get the job done.
Dylan rarely takes days off. He's always in the gym getting stronger and faster. This is apparent by his speed on the field and incredible cuts. Dylan has had to overcome the challenge of being of short stature. Every time I've seen a pass sail over Dylan's head, or a dangly tall person reach over him for the disc, I've seen fire in his eyes. Some people are tall and can make catches because they're tall. Dylan earns every catch and every sky. Dylan is an athletic phenom and his skill on the field is unparalleled.
Dylan takes Spirit of the Game very seriously. I've never seen him make an wrong call. He doesn't get upset when calls are made against him. He garners universal respect from opponents and teammates alike. In the few games we've played against unspirited teams, Dylan has remained positive and spirited, setting an example for the rest of the team to not stoop to the other team's level, but rise above. All in all, Dylan plays the game fairly and demands that others do the same.
Dylan's strongest quality is his leadership. Let me tell you a story. It's 2015. The Middlebury Pranksters are not the team they are today. The emphasis is more on how fast you can chug a beer than how well you play on the field. Dylan's a first-year. He joined the team earlier that year and hit the ground running, working out constantly and working hard at practice. This has resulted in jokes about "Dylan the Hardo." It was uncool to work as hard as he did, but he didn't care. At Regionals that year, Middlebury plays poorly and doesn't qualify for nationals. No one on the team really seems to care. Dylan is angry. Dylan commits himself to transforming Middlebury's ultimate program.
Since then, Dylan worked hard to draw in athletes, promote a culture of working hard and commitment, and turn the focus of the team from beer pong to ultimate. He was elected captain as a junior. That year, the team was not looking so hot. We had lost a lot of seniors and were mostly made up of first-years. Dylan's immense knowledge of the game, and his emphasis on hard work and commitment brought the team from a group of beginners to a nationally competitive team. We placed third at Nationals that year. This year, we are the first overall seed going into Nationals. From failing to qualify to being in contention to win it all, Dylan the Hardo dragged this team into success and glory through pure determination.
There's much more I could say about Dylan, but that's okay because Ultiworld has said most of it. There's just one more thing I'll say. Throughout this year and last year, Dylan constantly has constantly reminded the team of one thing, in his words, "nothing is guaranteed." We have to fight for every game, every point. For him, nothing has been guaranteed. Back in freshman year of high school, short, scrawny Dylan Salzman wouldn't have struck anyone as a potential elite ultimate player. But he didn't care. Every sky, every dime throw, every layout has hours of work behind it, hours in the gym, hours practicing throws, hours watching film.
Dylan Salzman lives and breathes Ultimate. There's no one else I would consider for the Donovan.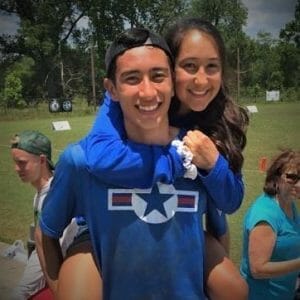 Alan Villanueva (Senior, Air Force Academy)
Alan started playing ultimate in his hometown, Huntsville, Alabama, with pickup crews and at summer league in 2010. As only a freshman at the Air Force Academy, Alan quickly became an integral part of the 2016 DIII College Nationals 3rd place team. In addition to becoming a leader on- and off-the-field for Afterburn, Alan has played for the local men's club team – Colorado Springs Syndicate in 2016 and 2017. This year, Alan got the opportunity to play for Denver Johnny Bravo and expand his game to become a more we rounded an experienced player. Alan earned an invitation to the U-24 National Team Tryouts in June 2017 and November 2018 and will be representing the US on the U-24 Mixed team in Germany this summer.
Alan is well known in the Colorado Springs community as a dynamite player and humble individual. Even with the arduous rigor of cadet life, he makes time to bring his skill and charismatic attitude to the local club teams, rec leagues, and high school programs. Alan is the center-piece of Air Force's O-line with the ability to hit just about any part of the field with a wide array of throws and impacts the game just as much as a cutter down field. He crosses over for critical points to give Afterburn's already impressive D-line extra firepower to take it over the top. Alan is the type of player coaches dream of coaching. He is passionate about the sport, he's focused on improving and developing his game, he's respectful of his teammates and his opponents, he's hard working and intelligent. On top of all that, he simply takes joy in the sport of ultimate.
Alan's talent, grit, respectful attitude, and love for the game make him the ideal candidate as Afterburn's Donovan Award nominee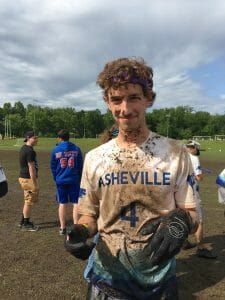 Jacob Warshauer (Senior, UNC Asheville)
Jacob Warshauer has remained throughout his college career one of the most talented, high velocity ultimate players in DIII college ultimate. Every time he steps on the field, he brings the highest intensity, passion, and class. His play is the best combination of high flying layouts and dime ball throws. It seems like every time he touches the disc, whether on offense or defense, it's a highlight. Not only does he support the team with his amazing athleticism but he also has taken on a role as a captain and coach. Becoming a captain didn't change his view of his teammates. Jacob doesn't use his title to belittle or flex on his teammates, he uses to encourage and inspire them. He encourages them to take every opportunity to better the team with daily workouts and to go on team bonding excursions. Because of the upbeat attitude he brings to games and practice, players not only enjoy their time playing with him but feel a drive to better themselves so they can play more like him.
"He takes great pride in leading his teammates and keeping them focused," said Kyle Silva, former coach and mentor to Jacob.
Through his five years as a Bulldog, Jacob's magnetic personality has recruited many fantastic players to the UNCA Ultimate team, like Ethan Cole. "I came to UNCA because of this man," Cole said. Jacob has spent the past five years of his college and ultimate career playing his heart out for UNCA and Local Mixed Club "Cahoots", a broken back barely slowed him down. Jacob has left everything he has on the countless fields in the various tournaments he has played in, he is a true Donovan.
"I've had the honor of watching Jacob develop for the last 8 years and I cannot say enough about how much I respect and admire his game. You can obviously look at the highlight reels, but he also has the intangibles that make him known in the AC Region and the D-III division. He has lifted UNC-Asheville into national relevance with two nationals appearances and he has attracted a lot of young talent to the Asheville program. Further, he is a household name in the AC region and everyone looks up to him because of his calm demeanor and his respect for the game. You could argue his outlook on the sport is more valuable than any stat sheet." – Zander Taylor, Esteemed Coach of Elon.
"Anytime that we play Asheville we have to have a plan for Warsh. Without a plan for how to minimize him, because it's not realistic to plan to take him out of the game, we're going to struggle. The tough part about playing against him is that he's an AMAZING safety valve – he can get open when his team is in a bind and can hurt you with his throws or athleticism downfield. The worst part is that he's brilliant and a nice person that plays the game with tons of passion and inspiring leadership. He's a tough guy to root against." – Ken KP Porter, Esteemed Coach of Davidson.
"Jacob is unquestionably one of the most talented players in the D3 college Ultimate right now. I think most of his opponents would agree with me there. His play is intense, athletic and often times unbelievably acrobatic. The first moment he stepped on the field at UNC Asheville he immediately shouldered a huge weight and knew that the teams successes would likely mirror his own. They have, as the Bulldogs first two nationals appearances (2016 and 2017) were in no small part due to Jacob's efforts on and off of the field. In the past two seasons, Jacob has stepped up to take a leadership role on the team, as one of the three captains both seasons. He takes great pride in leading his teammates and keeping them focused, while still maintaining a spectacularly high level of play. Jacob also strives to embody spirit of the game when he is on the field. He plays his heart out in every game, and takes steps to keep him teammates calm and focused even in intense, high emotion situations. He treats every opponent with the utmost respect and strives to maintain fair play…While I can't claim to know every candidate from every team, I can think of no player in our division more qualified for this award than he is." -Kyle Silva, Esteemed Coach of UNCA for three years.