After four years of dominating the D-III division, Alan Villanueva's college career will come to a close this weekend in College Station.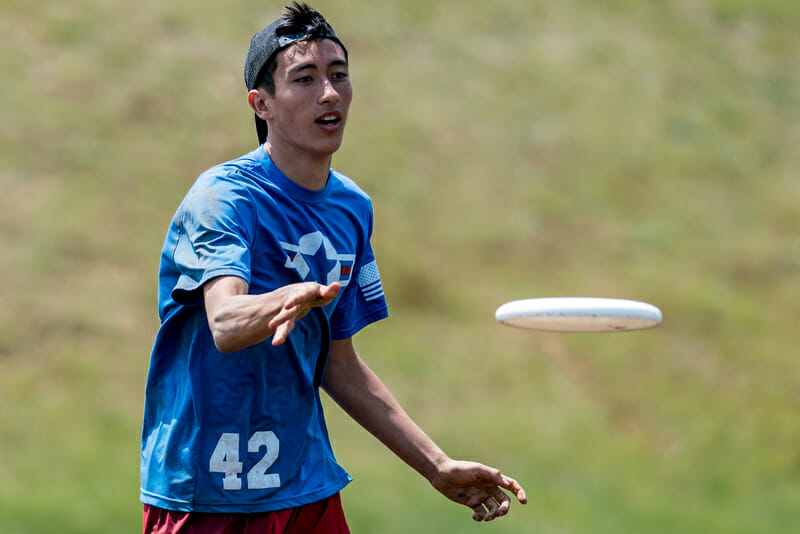 Ultiworld's 2019 D-III College Championships coverage is presented by VC Ultimate, the official gear provided of the Premier Ultimate League. All opinions are those of the author. Please support the brands that make Ultiworld possible and shop at VC Ultimate! 
We are currently running our annual spring membership drive. Like other community-focused news outlets like NPR, Ultiworld needs direct reader support in order to survive long-term as an independent journalism organization. If you enjoy content like this profile or any or any other disc sports coverage provided by Ultiworld throughout the year, please consider becoming a subscriber today!
—
Attending one of our country's military academies mandates a certain level of uniformity. Cadets wear their branch's uniform, maintain similar haircuts, and are trained to march in formation. Their schedule is strictly regimented, and the academies have more rules and regulations than you could ever imagine.
It's only fitting, then, that the most unique player in D-III Men's ultimate plays for the Air Force Academy. Alan Villanueva's unorthodox style would stand out on any team, and it's only exacerbated on Afterburn. Watching the skinny, lanky Villanueva glide around the field amongst his fellow cadets is like watching a Braavosi water dancer in a crowd of Westerosi knights. Everything he does looks smooth, easy, and effortless.
Entering his fourth and final D-III Nationals as the frontrunner for Player of the Year, Villanueva is one of, if not the, most decorated and experienced players in the division. From humble beginnings in Huntsville, AL to the world stage this summer in Heidelburg, Germany, Villanueva has experienced most of what ultimate has to offer a college student, growing and developing with each and every step.
Picking Up the Sport
Villanueva first started playing ultimate in Huntsville, AL in eighth grade, simply as a way to spend more time with his friends. "I was at a friend of mine's house, and her older sister was going to a pickup group that played on Sundays from 2:30-5:30," said Villanueva. "It was something that I did to just kind of stay fit. My friend group that was there was from my youth group, and it was just something else we did to hang out."
While Villanueva continued to play pickup on Sundays through high school, eventually adding summer league to his playing schedule, ultimate was still just another sport. The future cadet also played soccer, basketball, and volleyball, with the former being the sport at which he most excelled. "I was hoping to play [soccer] in college, but I just never got the chance," said Villanueva.
Despite his athletic excellence, sports weren't a consideration for Villanueva when selecting where to go to college. His choice came down to either the University of Alabama at Birmingham, where he planned on studying physical therapy, or following in his father's footsteps by going into the Air Force.
"The Air Force Academy was always kind of an option, but I didn't seriously look into it until my mom suggested it to me," said Villanueva. "I looked into it and saw it was in Colorado, so I thought that was pretty cool."
"I also found out that they pay for your school, so that helped too."
Villanueva almost missed out on attending the Academy because he waited until the fall of his senior year to apply. However, he was accepted at the last minute, and so began his future as a cadet in the Air Force.
Basic Villanueva
Villanueva discovered the Academy's ultimate team during basic training. "Our upperclassmen run basic training, and we have to get to know our training group," explained Villanueva. "We had to say a fact about ourselves to the group, and I didn't know what to say, so I said I played ultimate frisbee. One of the upperclassmen, Domenic Troilo, responded by saying 'Basic Villanueva! Are you aware that we have an ultimate team at the Air Force Academy?'"
While Villanueva might not have been aware of the club ultimate team on campus, the team was well aware of him. "I had heard about him from another fellow senior on the team who had seen him playing during BCT [Basic Cadet Training] intramurals and had to go see him for myself," said 2016 Afterburn captain Jake Johnson. "Alan was completely, 100% unknown to us. I was blown away, to say the least, to see an incoming freshman come into the Academy with his skills, talent, and athleticism."
After tryouts, Villanueva was ecstatic about playing for Afterburn. Having only previously played pickup and summer league, giving Villanueva a team of athletic cadets to throw to was like giving Randy Moss to Tom Brady. In his own words, "it was so much fun as a thrower because everyone's catching radius was just so much bigger compared to my pickup group."
Villanueva wasn't the only one happy about his joining the team. "My first impression of him was that he was a very humble kid with absolutely no idea how good he was and the impact he would soon have on our team, region, and division," said Johnson. "I honestly don't know how he got that good playing only in leagues in Huntsville, Alabama. Talk about a natural."
Freshman Year: A Taste of Nationals
For the first time in their program's history, Air Force entered the 2016 season with the realistic expectation of qualifying for Nationals, thanks in large part to the talent of Villanueva and the rest of his class. "Our class was one of the strongest the team had ever had," said Villanueva. "We also had a strong senior class who'd done a good job establishing a foundation and a system"
However, while the team was solid, they previously lacked the punch that could put them over the top. "When Ted [Jantscher] and I came in, we brought in some flair and confidence with our throwing," Villanueva remembered. "The team had solid throwers, but nobody who would say 'what's that, a 50-yard crossfield hammer? I can hit that.'"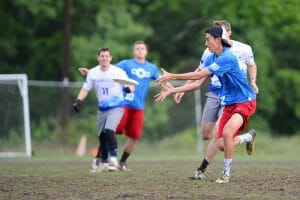 Johnson echoed the impact Villanueva had on the team as a freshman. "Once we figured out that he legitimately could hit 95% of the field, wind or not, at any moment, we began to understand and utilize his power. Once that was rolling, we were pretty unstoppable when he was on."
With a strong senior class and explosive freshmen, Air Force made a strong run at Nationals, eventually falling in the semifinals by one to eventual champions Georgia College. While the team was disappointed to come so close to a title just to fall short, a new precedent had been established for the Afterburn program.
Sophomore Year: Into The Spotlight
With the graduation of eight seniors in 2016, Air Force looked to Villanueva to step into an even bigger role his sophomore year. "My freshman year, I was just that freshman who was really good at throwing, so if I messed things up, I had the excuse of being a freshman," Villanueva said. "Once I became a primary handler, there was much less room for those errors."
Villanueva understood the gravity of his new role, saying "there was more freedom for me to make decisions, but there was less freedom for me to make mistakes." The numbers from Nationals in 2016 and 2017 tell the story of Alan's increased usage. In 2016 as a standout freshman, he had a stat line of 4 goals, 14 assists, and 7 blocks in six games. In 2017, Villanueva had a stat line of 6 goals, 15 assists, and 6 blocks in just four games.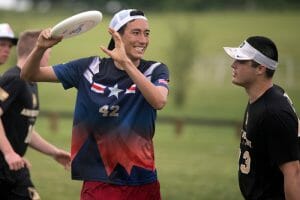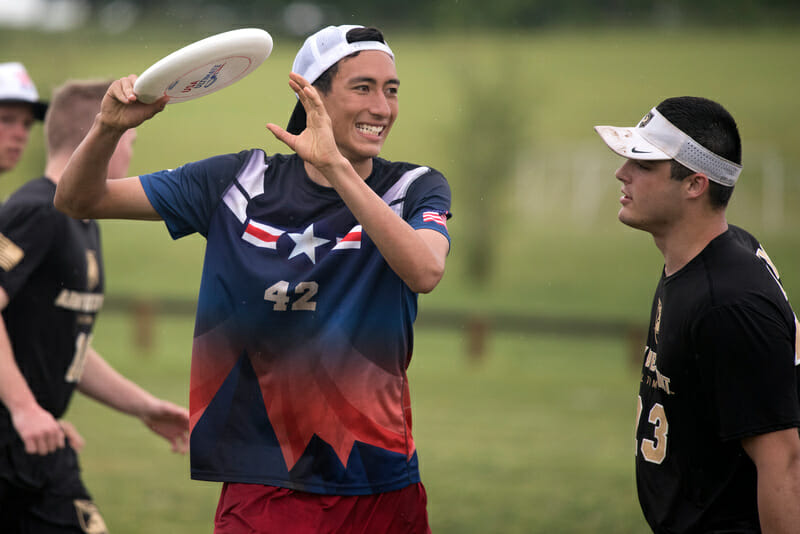 However, the extra usage also led to more turnovers. Villanueva jumped from 7 turnovers in 2016 to 17 in 2017; accounting for the difference in games played, that's 1.16 turnovers per game as a freshman compared to 4.25 as a sophomore. These growing pains were expected, but the star sophomore's high-risk, high-reward style came back to haunt Afterburn. Villanueva threw six turnovers in a loss to Alabama-Huntsville that ended up costing Air Force a spot in the bracket.1
Still, Villanueva's rise in production caught the attention of the entire division, culminating in the honor of first runner-up for Ultiworld's D-III Men's Player of the Year. "I definitely didn't expect to be in contention for POTY that year," Villanueva said. "It was really cool to get that recognition."
Junior Year: One Step Closer
Entering his third year of college ultimate, Villanueva said that the team's goal for the season was clear. "Freshman year, our goal was just to get to Nationals. Sophomore year was a sad year, missing out on the bracket by one point. Junior year, our goal was to win Nationals, and we felt like we had the personnel. We felt like we had all the tools to take it all the way."
While coming up short at Nationals in 2017 served as a wake up call for Afterburn as a team, the following offseason provided a shot of reality for Villanueva as an individual. After his excellent sophomore season, Villanueva received an invitation to try out for the U24 National teams.
"I was pretty shocked about getting invited," Villanueva said. "I didn't make the team, and the tryout showed me that I needed to continue rounding out my game, particularly defensively."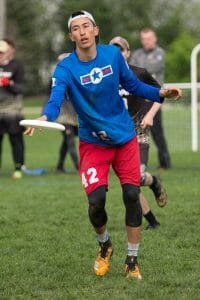 More determined than ever, Villanueva led Air Force to the best season in the program's history. Afterburn finished the regular season with a 27-1 record, highlighted by tournament wins at Flat Tail Open and D-III Midwestern Invite. A surprise loss to Missouri S&T in the final of South Central Regionals knocked Air Force down to the two seed at Nationals, but Afterburn still entered Rockford as the favorites in the eyes of most.
Villanueva's game had risen to another level, and he entered Nationals as the frontrunner to win the POTY award he fell just short of in 2017. His high level of play continued in Rockford, as the star handler notched a stat line of 21 assists and 5 goals on the weekend. After starting slow and needing double game point to overcome Bowdoin in the first round on Saturday, Afterburn cruised through the rest of pool play and the bracket, earning dominant wins over Georgia College in the quarterfinals and Middlebury in the semis. However, Villanueva and the rest of Air Force struggled against Bryant's zone in the final, and they eventually fell 11-10, coming up just short of their team goal.
"We wanted to carry our energy and intensity from the semis into the final," Villanueva said. "Coming off an intense game where we faced mostly man-to-man defense, it was tough to keep that energy going when all we were doing was floating through zone offense."
The season ended in disappointment for Villanueva on a personal level as well. After an incredible showing at Nationals from Nathan Vickroy, the Ultiworld team awarded the Disconnected star with Player of the Year, leaving Villanueva as runner up once again. When asked about finishing second for POTY for the second straight year, Villanueva was humble but honest.
"I was kind of pleased but more disappointed," he said. "I thought I'd improved, and I was salty because [Ultiworld] said that if it were a regular season award, I'd be the unanimous winner, and I didn't think my Nationals performance was that bad. But it is what it is. I think if anything, it gave me more motivation for this year. I need to be more well-rounded, be better defensively, make better decisions, and perform when it comes to Nationals.
Summer 2018: Battling with the Best
Despite tearing up the college division for three years, Villanueva's Academy commitments had prevented him from getting to test himself at the club level. His only club experience was two years of playing for Colorado Springs Syndicate, a lower Regionals level team captained by Carl Chan, coach of Air Force.
Noa Chun-Moy, Villanueva's co-captain at Air Force, talked Alan into driving to Denver with him for Bravo tryouts in May 2018. The two made plans a few weeks ahead of time, then Villanueva proceeded to completely forget about it.
"The Friday night before tryouts, I was making plans in our group text for what we'd do on Saturday, then Noa reminded me we have Bravo tryouts in Denver," said Villanueva. "I'd completely forgotten. So we woke up the next morning, drove out to Denver, went to tryouts, and it was a lot of fun."
Villanueva did enough on the first day to get invited back for day two, and he played really well again on Sunday. The Afterburn star made quite the impression on Bravo leadership at the tryout. "Alan came somewhat out of nowhere at the Open Bravo tryout last year," said Bravo captain Elliott Erickson. "He came up with a couple of Air Force guys and I remember him being pretty quiet to start off. I think there was just a lot going on, but we could easily tell that he was excited to be there.
"The one thing I really remember was at the end of the closed tryout. Alan started to really shine as a next level athlete on the field. We saw that he had some disc skills, but his ability to generate blocks and high point the disc for someone in college was really impressive."
However, there was still the matter of addressing his commitments for the Academy. "I talked to Ben Lohre after the tryouts about tournament and practice availability," Villanueva said. "I was unavailable for six weeks in the summer, and I wasn't sure of my availability once school started back up at the Academy. But they worked with me and invited me to come play."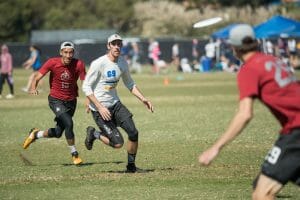 Villanueva got to spend a summer under the tutelage of Jim Schoettler, matching up with stars like Ben Lohre in practice, and pushing himself against some of the best players in the country at tournaments. "We ended up with a really short D-line, and I was one of the taller players on there, so I had to match up with the Tyler Ds and Henry Fishers of the world. It was definitely a new experience."
Many players struggle with the transition of going from dominating college to being pushed in club, but Villanueva took the challenge head on. Erickson recalled a particular story that showed the Air Force stars determination to improve.
"My favorite memory of Alan as a player is actually from the Co Cup final when he was matched up against Tyler D and did everything right on a D point. He ended up getting scored on by Tyler, because who hasn't been scored on my Tyler D. But immediately after the point, he was pacing up and down the sideline just itching to get back on the field so he could have another shot. It just really showed Alan's grit and drive to get better and how much he hates being out done."
Thanks to playing a new role, Villanueva improved tremendously during his time with Bravo. After being an O-line handler in college, Villanueva played as a D-line cutter at the elite club level. His growth as a defender was noticeable. "Alan got so much better at not just using his athleticism to get blocks but anticipating the movement of the frisbee and taking chances when he needed to," Erickson said.
Villanueva echoed Erickson's assessment: "Over the summer, learning from guys like Stanley Peterson and Henry Konker, I learned how to better position myself, when to poach, and how to just play overall better defense. Between that and improving as a cutter, it really rounded me out as a player and had a lot to do with me making U24, I think."
U24: Second Time is the Charm
While Villanueva went into the previous fall's U24 national team tryout feeling surprised to be there, he went into this cycle's tryout feeling like he belonged. "I was so intimidated at the first tryout and so uncomfortable, and I didn't settle into my game until the end of the tryout," he said. "The second time, I'd played both offense and defense against players of that caliber before, and I settled into my game right away. It was really cool to have that attitude."
Despite getting pretty sick the day before tryouts, Villanueva left feeling pretty good about his performance, particularly during the mixed drills and games. "It was actually the mixed play where I felt like I did better," he said. "We were practicing cross-gender hucks, and I don't know what it was, but I was hitting all of my hucks in stride, to both guys and girls. Both genders were really struggling with throwing to each other, but I adjusted quicker than others."
Apparently, the coaching staff took notice, as Villanueva made the roster for the U24 Mixed team and will be playing in Germany this summer. The Air Force captain will have the opportunity to represent his college and club teams at the international level, and his friends, coaches, and teammates couldn't be happier for him.
"As soon as he confirmed the Air Force Academy would let him be a part of [the U24] teams, I had no doubt he would make one," said Chan. "Hearing those announcements was a mix of obviously being so excited for him and his opportunities, but also a reserved, 'Well of course you did, Alan. You bust your ass, hone your craft, love the sport, and have been gifted with great ability.' It was only a matter of time before he reached these levels."
"He 100% deserves this trip to Germany," said Johnson. "I was beyond stoked and proud to see his name on the roster and instantly alerted our alumni group chat, who were all super proud as well."
"Having three — four if you count [injured] Will Lohre — Bravo players on the U24 team is really amazing to see," said Erickson. "It's great to see our younger player receive the recognition they deserve in a pool of talent that is so, so deep."
For Villanueva, he's ecstatic for the opportunity to play alongside players he's been watching and competing against for the last four years. "I'm just so excited. You're playing with a bunch of people who are really good at everything. Everyone is used to being the main player, so everyone is capable of making the right cut and making the big throw. It's going to be unlike anything else."
Senior Year: One Last Chance
After a summer of competing with Bravo and a fall highlighted by his U24 tryout experience, Villanueva entered his last college season as a mature, well-rounded player capable of helping Air Force in a variety of ways. More than just having the ability, Villanueva has the mentality of being willing to do whatever is necessary for Afterburn to succeed.
"If I were to pick the one thing to do better to set us up for success, it's to set other people up to be successful," Villanueva said. "I can definitely cut into an open space and have people throw to me, but if I'm cutting others off, it's not making anyone better. If I demand the disc in the handler set too early, it doesn't make anyone better. I just have to make sure that not only am I playing well, but also making my cuts and moving so that I'm setting others up to succeed."
The two-time POTY runner up is backing up his words on the field, and Air Force is at their best when Villanueva is empowering his teammates. Watch his patience in the GIF below. In years past, Villanueva would have cut immediately, trying to get the disc to make the big throw. Instead, he trusts his teammates to initiate the offense in the handler set then times a perfect deep cut to score an easy goal.
This next GIF demonstrates every facet of what makes Air Force's Donovan finalist so
good. The play begins with Alan setting himself up in a perfect position defending the reset, squaring his hips so he can see both the disc and the player he's guarding. Villanueva shows his elite athleticism with his quick reactions and explosion to get the block. Rather than hover over or pick up the disc like he might have in years past, Villanueva busts downfield and initiates the offense with a fifteen-yard under, then dumping the disc and moving back downfield to cut. A few throws later, he gets the disc again and sets his teammate up for an easy goal with a crafty lefty backhand reset.
The trust that Villanueva has in his teammates is reciprocated exponentially with the respect they have for him. "Tell me who in the division has the ability and talent to do as much as Alan does for his team," said Chun-Moy, when asked about Villanueva. "If you have someone in mind, then compare them to Alan. Would you bet money on that guy to be able to sky Alan? If so, how about match his short, mid-range, and long throws. Alan is the most dominant, most talented player in the division."
Heading into College Station this weekend, the two-time POTY runner up isn't focused on finally winning the award. Villanueva's focus is solely on how Air Force can finally win a title. "I think we're set up to do well if we can get into the right mindset," he said. "As usual, we have all the athleticism in the world. We have the throwers we need. So if we can get locked in mentally, I think we can accomplish our goal."
Villanueva is a program-altering talent who has already achieved more individual and team success in three years of college than most players will experience in their entire career. Even before this year's Nationals, the two-time Donovan finalist has arguably the most decorated career in the history of D-III ultimate. A National Championship and Player of the Year Award would cement his legacy.
Regardless of this weekend's outcome, Villanueva has graced the division over the last four years with his unique playing style and exceptional talent. His work ethic, growth, and development are an example for any young player to follow. This weekend in College Station is our last chance to enjoy Villanueva in the college division. Enjoy the show.
---
It should be noted that while a contributing factor, Villanueva's turnovers were far from the only reason for Air Force falling short in pool play. The team was also without all of their juniors, including star defender Trevor Browning, thanks to a scheduling conflict with the Academy. ↩