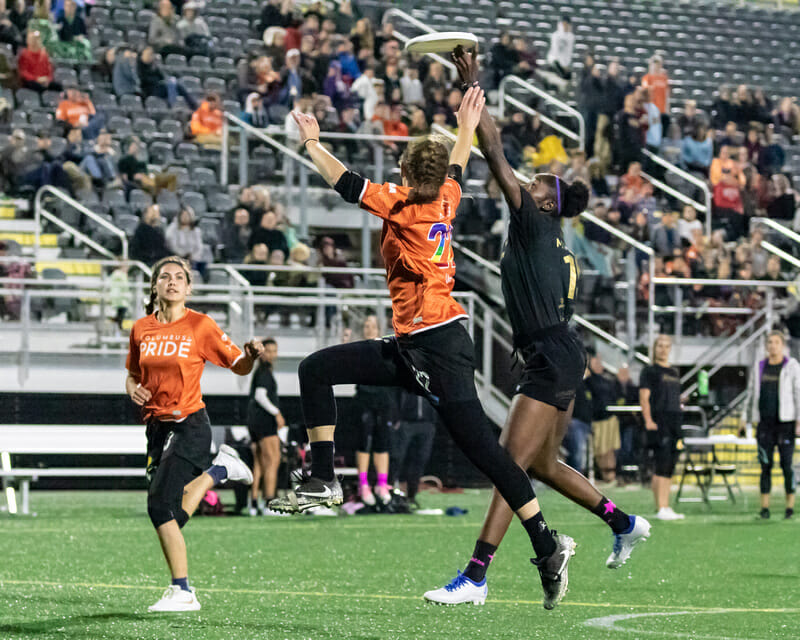 Throughout this PUL season, Ultiworld will be publishing a weekly Throwaround, a chance for you to catch up on the amazing, funny, and interesting moments that you might have missed from the weekend's games.
Ten of the twenty PUL regular season games are in the rearview mirror and one team has already completed their slate. With two spots at Championship Weekend already locked in, the rest of the league is jockeying for position in the playoff race.
The Scores
Columbus Pride 16-18 Medellín Revolution
Austin Torch 23-16 Nashville Nightshade
Indianapolis Red 6-16 Medellín Revolution
Revolution Narrowly Escape Ohio With Win
What a difference it makes for Pride to have their full roster! Last week, Columbus struggled on offense in their game against New York Gridlock, missing captain Sadie Jezierski, Emily Barrett, and other Ohio State graduating seniors. With these players returning to Pride for their game against Medellín Revolution, Columbus led for most of the first half, and came within two breaks of beating the league's best team. They came up short, however, falling 18-16 in the league's tightest finish yet.
The game started off with the scales tilting firmly in Pride's favor. On the very first point, a Sophie Knowles layout in the end zone stopped Revolution dead in their tracks.
The block allowed Knowles to get off a deep huck to captain Corinn Pruitt, setting up the first break of the game. That break quickly spurred another. A short miscue from Revolution was met with patient offense from Pride, who worked it in the backfield before Jezierski sniped a goal to Barrett with a wide around backhand.
Revolution made some lethargic mistakes early but they eventually dialed in, scoring the next point and almost earning a break after that. A small offensive lapse gave the disc back to Columbus, and Jezierski, who was in fine form the entire quarter, uncorked a perfect hammer that flew over the stack for the Columbus hold.
Columbus would break again on the next point, putting Revolution on the back foot, down 4-1. The women from Medellín were missing Claire Chastain and Calise Cardenas this game, and had a smaller roster of 16 players for the second weekend of their US swing. This seemed to factor into their sluggish start, especially on defense. The typically feisty and physical Revolution defense was lagging behind Pride's cutters, letting easy upline passes glide right past them.
Medellín hit rock bottom a few points later, after a strong defensive effort earned them the disc, a simple execution error handed it right back to Columbus. Once again, Sophie Knowles took over on offense, and brought the disc right to the goal line before snapping off a high release backhand to Elizabeth Lehman for the goal. Pride led 5-2 at this point, a commanding lead for a team that had lacked a cohesive offense the weekend before.
After going down three breaks, there was a visible change on offense from Revolution. Where they had allowed themselves to lag early on, now they were attacking the open space aggressively and dictating the pace of play. They still took a while to clamp down on Pride's offense, but their own offense finally developed a rhythm and gave their defense a chance to get a little more dangerous with their poaches and baited hucks.
This paid off for them in the second quarter. Some smart reset handler defense and tenacious marks forced Pride into bad shots three consecutive points out of half, with all of them leading to breaks. The once seemingly insurmountable lead Pride had built in the first quarter fell away completely as Revolution tied the game at 7-7.
Both teams settled after this and largely traded holds through the third quarter. While the Pride mismanaged the end of the quarter and gave Revolution a key break, Emily Barrett skied for goal off a huck from her college teammate Jezierski to round out the scoring and the third ended with Revolution up 16-15.
PUL: Revolution vs. Pride – Barrett Sky
The Pride's defenders applied pressure, but fatigue was the true enemy of Revolution in the fourth quarter. Medellín made a host of execution errors on offense and only held onto their lead by committing hard to matchup defense and stopping Pride from getting easy unders. That helped Revolution carry a 17-16 lead into the game's final stretch.
Medellín forced Columbus to deal with a zone on the next point and the Ohioans proved frivolous with possession, giving the disc away at a critical juncture. Revolution casually worked the disc through a handler weave, never concerned with pushing the pace, but instead focusing on maintaining possession. As the clock burned out, Mosquera got open in the endzone for the goal, effectively winning the game for Medellín, 18-16.
Columbus had a few precious seconds to try and pull within one again and pray for a miracle, but time expired and they left empty-handed. It's a tough loss for Pride, as it likely will eliminate them from playoff contention, but they can still lay claim to playing Revolution the tightest of any opponent in the league.
Torch Hold Down the Fort Against Nightshade
The Austin Torch claimed their first win of their season with a 23-16 victory over the visiting Nashville Nightshade. A sloppy start from the Torch offense let the Nightshade hang around in the first half, but as the game wore on, the Torch's superior depth of elite club level players helped them pull away for a comfortable margin of victory.
The Nightshade struck first with a break on the opening point of the game, when Eliza Hutchings beat Torch star Julia Schmaltz for a run through block underneath and Sofia Lima hit Abbey Hewitt for the score. Austin continued to make things hard on themselves, requiring Sharon Tsao to make a tough grab squeezed between two defenders just to earn an early hold.
Torch's offensive struggles continued. With Nightshade holding a 3-2 lead, they had a host of break chances but couldn't convert on any of them to add to their lead. In total, there were 12 turnovers on the point, before a nice snare from the Torch's Val Pinillos in the end zone to get a hard-earned hold.
The Nightshade's D-line turnovers then carried over to their O-line, and Torch claimed back-to-back breaks to take a 5-3 lead at the end of the first quarter.
The two sides traded holds through the first several points of the second quarter before the Torch got another break to make it 8-5. A first throw turnover from Sierra Rimmer gave Austin a short field. Tiffany Schumacher was open for an easy under after the pickup, and she snapped a backhand to the back of the end zone for Bethani Eberhart to give Austin the biggest lead of the game. The Torch maintained that three goal advantage through the third, entering the fourth up 13-10.
Austin pulled away for good in the early stages of the fourth quarter, going on a 6-2 run in the first five minutes of the quarter. That run included this bomb from Amy Broome to Schmaltz.
Nashville was unable to fight their way back into the game, and it ended on an exciting buzzer beater hammer from Austin's Ashley Shelor that was deflected in the end zone before being caught by Katie Metzler to make the final 23-16 scoreline.
Revolution Ends Undefeated Regular Season in Indy
Medellín Revolution capped off a two-week, four-game road trip with another victory, dominating the Indianapolis Red in the second and third quarters to win 16-6.
Revolution has now completed their five game regular season with a perfect 5-0 record. They will head back to Colombia and wait to see which teams will join them at Championship Weekend in Atlanta next month.
Dreary conditions in Indy contributed to a slow start to the game. After an opening hold from Indy, the teams slogged through a nearly 10-minute point with double digit turnovers. Manuela Cardenas flashed her trademark insane athleticism to come down to a huck that appeared to be a little too hot, and Revo knotted the score.
It looked as though the first quarter had come to an end with the score tied at just 1-1, but the clock operator had not stopped the clock between points or during the timeout, so six minutes (too much, to be honest) was added back to the clock. The Red probably wish they had just said that the first quarter was over. Revolution ended up breaking three times in those six minutes to open up a lead that they would never relinquish.
Revo's play was sluggish and sloppy early in the game, but they started to find a rhythm, led by incomparable Cardenas twins. Medellín led 8-3 at half and were never really challenged by Indianapolis' offense, which has yet to score in the double digits in a game.
Highlights from the Weekend
On their new YouTube channel, the Cardenas twins posted a video this week describing the experience of playing their first PUL game during the kickoff weekend at TEP.
Cardenas Twins – Through Our Eyes
Lauren Piontek served as the guest host of PUL Twitter account for weekend in an off week for the Gridlock. Piontek founded Indy Red last year before moving to New York and joining Gridlock.
Gooooood afternoon PUL community! My name's Lauren "LP" Piontek (@TweetsByLP) & I'll be your PUL twitter guest speaker for the weekend.

— Premier Ultimate League (@PremierUltimate) May 10, 2019
Cara Crouch still has incredible field vision and throws.
Cara Crouch back endzone flick
Kelsey Foster launched this monster backhand huck for the Nightshade this weekend.
Sadie Jezierski was recently announced as a Callahan finalist. People know she can compile highlights like these.
Check out the second edition of the league's Top 10 plays for Week 4:
If visibility to the next generation of female players is a goal for the league, it seems the PUL may already be making great strides.
Notable Quotables
"Being able to play one of the best teams in the world in front of a crowd was an experience I'll never forget. That first D and break that the team had really made me feel a ton of, for lack of a better word, Pride. It was like, 'Hey we're here playing an amazing team in front of a ton of people.'" – Sadie Jezierski, Columbus Pride
"We knew we had a tough schedule going in! We've celebrated the growth that we've seen in each game. With a geographically diverse roster, time together is a precious opportunity to build chemistry and develop our style. We're focusing on the journey and building momentum, even if you can't see it just yet." – Indy Red's captains on their tough PUL schedule
Latest Power Rankings
Have contributions to add to the PUL Throwaround? Email us at [email protected] and we'll add them to the next Throwaround.