How Saturday's action concluded.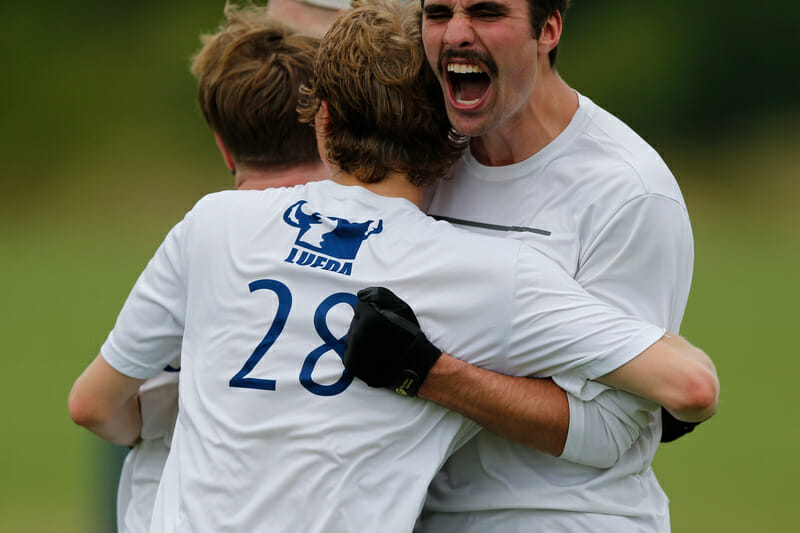 Ultiworld's 2019 D-III College Championships coverage is presented by VC Ultimate, the official gear provided of the Premier Ultimate League.
Following an intense day of competition at the D-III College Championships, the eight teams that survived pool play but failed to win their pools took the fields for prequarterfinals that would decide if they would remain in championship contention. Teams were pushed by one another and the fatigue of the hot and humid day. In such high pressure and challenging situations, four teams found success while remaining four were relegated to consolation play.
Bowdoin Outlasts Michigan Tech in Offensive Showcase
In a game that saw both offenses stay unbroken in the first half, Bowdoin Clown managed to punish DiscoTech's mistakes in the second half to build an insurmountable lead that carried them into the quarterfinals with a 13-10 win.
While both offenses turned the disc over in the first half, each O-line played impressive defense to get the disc back without giving their opponents quality scoring opportunities. The highlight of the first half was a layout block from Bowdoin's Conor Belfield on an upline cut from Michigan Tech's Brendan McCann.
"He laid out over the top of me, and it was clean, too," said McCann when asked about the play. "It was sick."
While both teams performed the same on the scoreboard in the first half, there was a clear difference on how both teams felt at halftime. Michigan Tech looked like a team that was playing their fourth game of the day, whereas Bowdoin looked energetic and hungry.
When asked about his team's fitness, Belfield said "it's a bit of a team identity for us. The one thing we can control is that we're going to run harder and work harder than the other team."
Bowdoin loaded up a D-line out of half, bringing over Belfield and several other players from offense to try and get an upwind break. The strategy worked; Tech's Kevin Anthony dropped an under, and Bowdoin ran the disc straight up the force side for the game's first break. The wind came out of Tech's sails, and Bowdoin rattled off two more breaks, including a big downwind flick huck from Belfield on the next point.
With the soft cap on, Bowdoin was up 11-7 in a game to 13. While much of Michigan Tech looked ready to fold, McCann came out for the upwind O-point with a resurgence of energy. The star handler went every other throw to midfield, where he unleashed a backhand huck that hit his cutter perfectly in stride.
Tech scored the downwind break on the next point off a scoober from McCann, but that was the last look at a break they'd see. The Bowdoin O-line closed the game out with downwind holds, punctuated by a 60 yard flick huck from Belfield for the game-winning point.
Bowdoin's reward? A date in the quarterfinals in the morning with Air Force, who beat Clown in a 12-11 comeback in pool play of Nationals in 2018.
"We're so excited," said Belfield. "I've been thinking about that game for a year now. The chance to play all those amazing guys on Air Force again is everything we could have asked for."
-Mike Ball
Bryant Avenges Regionals Loss With Win over Colby
Two New England programs found themselves matching up in prequarters. For Bryant and Colby, this is their second matchup of the season, a matchup that Colby previously won 10-6 at the New England Regional Championships. This time, Bryant controlled the game, winning 12-5.
For Bryant, they came out running their classic zone, and immediately gave Colby fits. The zone has been a stifling staple of the Bryant defense over the past several years, and this game was no different.
"I think [teams] kind of know what we are doing," said Bryant coach Jim Bishop about their zone strategy.
After playing through the heat of the day, both teams came into the day looking fairly tired.
"Up until just recently, we've been practicing in the freezing rain and snow," said Colby coach Justin Troisi. "That wore us out a little quicker than we are used to."
Colby quickly seemed to become frustrated with the Bryant zone, and took to the strategy of hunting deep shots on downwind opportunities. Although they were not able to convert on many, Bryant was out in a position to drive upwind the length of the field time and time again, which proved troubling in the stiff winds.
"We're playing in really high wind today, and Bryant has a really effective zone," said Troisi. "We played against them at regionals, with them playing with their zone, and the wind has picked up here moreso than at regionals. That gave us a lot of opportunities for punting and playing D."
Bryant and Colby traded points to a score of 4-3, before the first break of the game. After a Justin Kunkel injury call on apparent cramping, Bryant immediately found a streaking Josh Nunes in the upwind end zone, where they hit him for the game's first upwind score.
"Having a player like [Kunkel] makes things easier," said Bishop. "He does everything on the field that you want, and he brings great leadership."
Colby would quickly respond, working the disc up the field for an upwind hold of their own. The teams would continue to trade upwind holds until Bryant broke following a Zach Tuxbury layout D near the Colby end zone, that gave Bryant an 8-5 lead going into half.
Out of half, Bryant added an upwind break that essentially put the game away. They immediately followed it with a downwind break, building the lead to 10-5 on a huck to Jared Krueger, just after the soft cap horn went off.
"It was pretty cool to get to play another New England rival," said Bishop. "We kind of had a tough time against them at Regionals, so we really looked forward to having another good game."
Bryant would roll to the finish line with two more breaks, taking the game with a final score of 12-5. Bryant will face off with Middlebury in the quarterfinals at 8:00 AM.
This was Colby's first appearance at the D-III National Championships since 2011; a significant stepping stone for their program.
"We got our first win at Nationals this morning against Berry College," said Troisi. "Didn't have quite the record we would have wanted today, but I'm really proud of these guys and they've worked really hard."
For Colby, a team with just two seniors, an appearance at Nationals this year seems that it could be the beginning of a new dynasty in the New England region. Loaded with young talent, Colby is a team that could assert themselves in the years to come.
-Zakk Mabrey
Missouri S&T Breezes Past Tired Claremont Into Quarters
Missouri S&T used their depth and zone defense to easily defeat Claremont 14-6 in the men's divison prequarters.
"We couldn't have asked for a better day," said Missouri S&T captain Mitch Zimmermann. "We knew we weren't going to get GoP, so beating the rest of the teams and now we're going to quarters — broke seed, doing better than we did last year at Nationals. It's been a great day."
Claremont–playing without their seniors, who stayed in California for graduation–didn't have much gas left to run with S&T. The Miner Threat zone also flummoxed their handlers, who struggled to find downfield players with any consistency.
S&T opened up an early 4-1 lead, then extended it to 6-2 after a huge layout to catch a hammer from Matthew Gentry. With two more breaks to take half, S&T effectively put the game away.
For Claremont, simply making it to this game was an achievement. With a short roster and the tournament's third-to-last seed, they were underdogs in every game. Sitting at 0-2 in pool play and down 10-5 to Portland, they rallied.
"Everybody dug as deep as they could to eventually win 12-11," said coach James Erdmann.
"As a program, it means a lot for all the freshman who are here and sophomores who are new — we have 11 rookies here…The experience is invaluable."
Rookie Simon Gilbert threw his first goal ever.
Claremont will look to keep learning in consolation play while S&T heads to quarterfinals to face off against Richmond, a rematch of a game at the FCS D-III Tune Up (a 13-8 Richmond win). S&T wants another shot. "That was one of the games we wanted back," said Zimmermann. "We felt like we could have won that game."
-Charlie Eisenhood
Energy Luther Overpowers Exhausted Hamilton
Luther blew out an exhausted Hamilton team to claim their place in quarterfinals. Coming off a 13-12 double game point win, in which they came back from 12-9 down in their final pool play game, Hamilton had virtually no energy. They committed tired turnovers and lacked the defensive intensity needed to slow Luther down after their turnovers.
It meant that Hamilton couldn't hang with Luther after a spirited effort early in which they were able to match Luther's holds to 3-3, but Luther then went on a 5-1 run to take half. They then added further separation to the scoreline by scoring the first four goals of the second half to push their lead to 12-4.
"We were pretty exhausted," said Hamilton captain Henry Kapp. "We were running our whole team in that last game. We were excited…to battle through the first part of the first half, just a lot of cramping by the end there."
Both teams coasted through the final points to the 14-5 final scoreline. Luther didn't do anything spectacular in the game, they were just fresher and crisper than their tired counterparts. Per captain Kaelib TeeGarden, the team is best when they're able to stay loose and keep that energy up. "Our guys, when they get weird, the people get excited, people start performing well," he said. "When we struggle, it's when we're down, and we're in a bad spot." Apparently, Luther was able to keep things weird enough to maintain the needed level of energy to win the game.
For Luther, Matthew Deetz was particularly impressive, though, particularly in the defensive deep space, where he racked up several blocks and interceptions. Peter Murry had a noteworthy performance offensively with three goals and an assist.
With the win, Luther advances to prequarters, where they will play Carleton GoP, who they lost to 11-4 at North Central Regionals.
-Daniel Prentice