The Air Force senior has driven his team to new heights.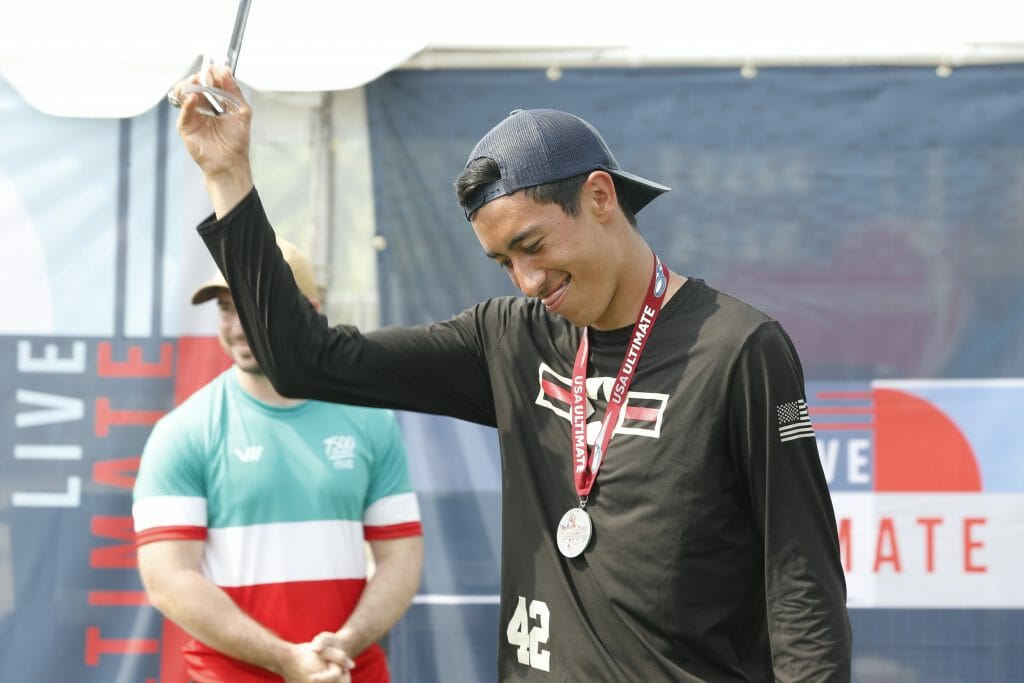 The 2019 Donovan Award in the Men's Division, presented by the National Ultimate Training Camp, goes to Air Force Afterburn senior Alan Villanueva.
Air Force became a Nationals contender the moment Villanueva stepped on campus. Although he'd never played competitively prior to his time with Afterburn, Villanueva acclimated himself quickly and became a starter on Air Force's first Nationals team. His loose, fun playing style combined with his work ethic and competitive drive have established a team culture that will last beyond his four years at the Academy.
Villanueva is one of the most decorated players in D-III ultimate history. He was 1st Team All-Region in 2016, 2017, and 2018, and he was the 2018 South Central Player of the Year. Villanueva was an Ultiworld D-III All-American in 2017 and 2018, First Runner-Up for Ultiworld Offensive Player of the Year in 2017, and Player of the Year First Runner-Up in 2017 and 2018. He also got invited to try out for the U-24 National teams in 2017 and 2018, and he will be representing the United States in Germany this summer at the U-24 World Championships on the mixed team.
Not the most vocal player, Alan's leadership comes through in the example he sets for his teammates. It's well documented how much players on teams at military academies must go through in order to play ultimate, and Villanueva faces the same challenges as everyone else on his team. Despite those obstacles, Villanueva commits the time and effort required to excel at his craft, establishing a standard for his teammates to try and achieve.
Villanueva's hard work has paid off, as he's unquestionably one of the best players in the division. The lanky six footer is a true hybrid, utilizing his quickness and athleticism to gain large chunks of yards downfield and using his length to release the disc where marks are rendered useless. Villanueva is also an excellent defender: his knowledge of the game and athleticism mean that not only is he usually in the right spot to make a play, but he also has the capability to come away with the disc when it arrives.
The Air Force program has experienced tremendous success during Villanueva's tenure. Afterburn has made Nationals all four years, reaching the semifinals in 2016 and finals in 2018 and 2019. Coming off a season in 2015 where Air Force earned a bid to Nationals for the South Central but failed to make it past Conferences, Villanueva's impact on the team's success was felt immediately and sustained through his four years at the Academy.
Between Afterburn's rise as a program during Villanueva's career, the positive example he's provided for current and future cadets, and the exceptional level of talent he's displayed on the field, Alan Villanueva has demonstrated that he has the character and skill of a worthy recipient of the Donovan Award.