The biggest stories from Saturday of D-III Nationals!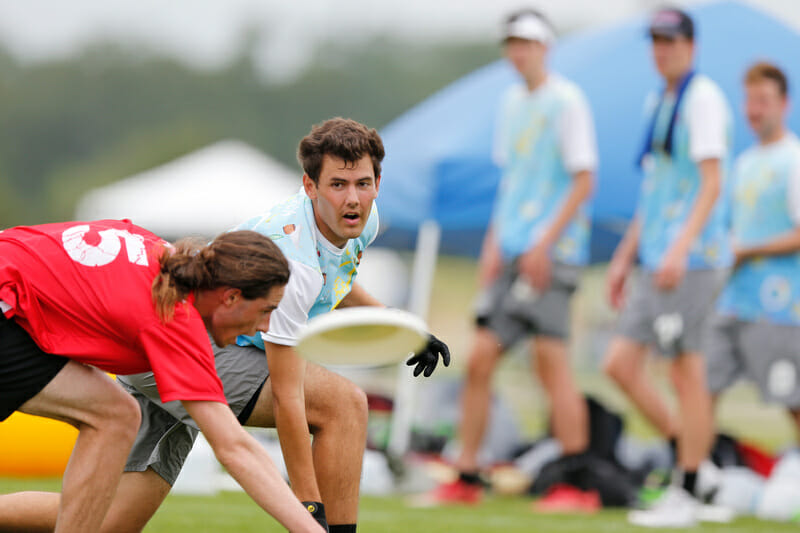 Ultiworld's 2019 D-III College Championships coverage is presented by VC Ultimate, the official gear provided of the Premier Ultimate League.
Day one of the D-III College Championships provided plenty of information about teams that have often been difficult to compare. Let's look at the big stories and stars from the first day of Nationals.
Top Seeds Show Strength
Middlebury, Air Force, Carleton GoP, and Richmond all held onto their spots as the top seed in their respective pools.
For no. 1 Middlebury, a slow start got them caught in some early scares. Their 8:00 AM game showed a bit of rust as they took on a streaky Franciscan team. Franciscan got hot with the play of Dominic Schuster, Louis Heisler, and Jared Stommes, and took an early lead that Middlebury had to fight tooth and nail to get back. Hamilton similarly took an early 5-3 lead on Middlebury, but a huge run before halftime got Middlebury back a lead that they would not relinquish. They finally kicked into gear to end the day, rolling through Michigan Tech with the high-efficiency offense we have become accustomed to seeing out of the Middlebury team.
No. 2 Air Force was thoroughly dominant throughout the day. The mix of talent and athleticism for Air Force is tough for anyone in the division to match up with, and they ended the day firing on all cylinders. Their closest game of the day came against Bryant, an 11-7 win that was never really in question as they started off on a 4-0 run.
No. 3 Carleton GoP, after struggling to an 11-10 win over Missouri S&T to start the day, picked up the pace in their final two games. A 15-6 win over Berry and a 14-5 win over Colby were both very convincing, and the games never looked in doubt. GoP possesses an immense amount of disc skill and patience with the disc, which keeps them above the competition. Add in a highly athletic top-end talent in Saul Wildavsky, and Carleton GoP proved why the deserved their spot.
In the wildest pool of the day, no. 4 Richmond just barely came out on top, in a three-way tie that saw point differential as the difference maker. Richmond is the only top seed in the men's division who took a loss today; a two-point loss to Bowdoin, who also cemented a spot in the quarterfinals. Richmond made up for their loss, and won the pool by playing excellent against the bottom seed, Valparaiso, and picking up an 11-6 win.
New England is Who We Thought They Were
Every data point available coming into this weekend told us that the New England is the strongest region in the division. The USAU algorithm awarded the region four bids. Our Power Rankings have seven New England teams in the top 25, including three in the top 10.
What we saw today confirmed all of the data to be true: the New England region is legit.
We've seen Middlebury dominate the division all season. Toting a 16-0 record against D-III teams coming into the weekend, including wins over five of the top seven seeds, the only direction for the Pranksters to go this weekend was down. Instead, the Pranksters kept their win streak going, winning Pool A with a 3-0 record.
Bryant Craze, the defending National Champions, made quick work of their first two pool play games. Craze started off the day with a 15-2 thumping of Claremont, and they kept it rolling in the second round with a 13-4 smackdown of Portland. While they lost a rematch of last year's championship game against Air Force 11-7, they bounced back in prequarters with a 12-5 win over fellow New Englanders Colby.
One of the most pleasant surprises today was Bowdoin Clown. Although they entered as the no. 5 seed and finished fourth in the USAU algorithm, Clown had yet to prove themselves outside of the region, making them a fairly unknown quantity. Bowdoin went 2-1 in a loaded pool D, finishing third due to a tiebreaker, and drew a tough prequarter matchup against Michigan Tech. Clown was up to the task, only getting broken once all game and finding the defensive intensity to break Tech three straight times in the second half.
Middlebury and Bryant play each other in quarterfinals, and Bowdoin drew a tough matchup in Air Force, but regardless how the results play out, New England has proven that they were the best region in the division this season.
Missouri S&T With Breakout Saturday
Entering last year's D-III College Championships, Missouri S&T was a team on the rise. During Regionals in 2018, S&T came almost out of nowhere, winning a loaded three-bid region over Air Force, one of the nation's top teams at the time. As a no. 9 seed on the rise, S&T was a team with high aspirations.
After going winless on Sunday in 2018, however, Missouri S&T failed to qualify for the championship bracket all together. They fell in three consecutive games against Mary Washington, Carleton GoP, and Occidental. They found themselves last in the pool, and they didn't fare much better in consolation play either, where they fell 11-3 against Richmond. Despite the losses, Missouri S&T had a young roster that returned a large number of players in 2019, and the experience gained has gone a long way for S&T.
2019 has been a different Nationals story for Missouri S&T. They opened the day with hopes high, and played a tight game with Carleton GoP. Although they fell 11-10, things were definitely looking up for S&T. A loud and excited sideline carried them through wins against Colby and Berry, notching them a second place spot in Pool C, and a spot in prequarters.
In prequarters Missouri S&T matched up with southwest representative Claremont. Missouri S&T came out and played with loads of energy, and defeated Claremont in a 14-6 rout.
With the rise of Missouri S&T has come the prominence of Mitchell Zimmerman and Will Imming. Zimmerman and Imming played a large role in getting S&T to the national championships in 2018, and have played an even bigger role in pushing them to the next level this year. Both fifth year seniors, they bring loads of experience and talent to a division that often lacks high-level experience. Zimmerman in particular has been instrumental for the Missouri S&T offense this year, and even more so this weekend. The athletic cutter has been a do-it-all guy for Missouri S&T, leading the team in goals, blocks, and plus-minus.
As Missouri S&T prepares for the quarterfinal matchup with Richmond, Zimmerman and Imming will both be two of the driving forces if S&T hopes to advance through the bracket.
Tiebreakers Galore in Pool D
At the end of pool play on Saturday, Pool D had a three way tie for first place between Richmond, Luther, and Bowdoin, who all finished 2-1. Richmond beat Luther 10-8 in the round two; Luther beat Bowdoin 11-9 in round three; and then Bowdoin beat Richmond 11-9 in the final round of pool play. That meant that all three teams not only finished with identical records, but identical point differentials against each other as well.
The next tie breaker at that point was point differential against the three team's shared opponent, Valparaiso, who finished last in the pool at 0-3. Bowdoin beat Valparaiso 10-6; Richmond won 11-6; and Luther won 14-9. Bowdoin, with their +4 point differential were eliminated from first, but Richmond and Luther were still tied having both won by five. That sent the tiebreak all the way back to head to head, with Richmond's 10-8 over Luther, they claimed the first spot in the pool. Luther took second, and Bowdoin had to settle for third, despite having beaten the team that finished in first.
It would have been easy for Luther or Bowdoin to feel down for missing out on winning the pool, and having to settle for a prequarters spot despite being so close to the berth straight to quarters. But rather than lick their wounds, Luther and Bowdoin both took care of business in quarterfinals. Luther blew out Hamilton 14-5, and Bowdoin fended off Michigan Tech 13-10 to put three Pool D team in quarterfinals.
Pool D proved to not only be a quality pool, with three quarters teams in it, but it provided some of the most fun, closest pool play competition in recent memory, too.
Stars of the Day
Brendan McCann (Michigan Tech): McCann consistently put up gaudy numbers all day, and was the driving force for the Michigan Tech offense. Tech consistently got open for resets throughout the day, and used creative throwing to get his teammates open all over the field.
Elias Griffin (Hamilton): The Hamilton O-line was impressively efficient throughout the day, and Elias was a big reason why. Griffin is a big body that is able to get open in the deep space, and consistently made big grabs in the downfield space. He was able to put up throws when the Hamilton offense needed it.
Ian Hanson (Middlebury): Hanson, a sophomore, was one of the more impressive athletes on the field today. He consistently drew the toughest matchup as a member of the Middlebury D-line, and he consistently won that matchup. After sitting much of the season with injury, Hanson burst onto the scene this weekend as a big time defender.
Ethan Vanderwilden (Colby): Vanderwilden is a big handler who was a driving force for the Colby offense. His size makes him unmissable on the field, and teams had to account for his ability to use that size in the deep space, allowing him to consistently get open for resets in the backfield.
Conor Belfield (Bowdoin): On a day when most players struggled with throwing in heavy winds, Belfield displayed masterful control of the disc going both directions. Where most players were shooting out the back of the end zone going downwind, Belfield was able to float the disc just right to hit his cutters in stride. Going upwind, the Donovan finalist consistently broke the mark, setting up his teammates by getting the disc to the high side of the field. We knew Belfield was good, but his performance today solidified his place as an All-American.