What we saw on Saturday at College Station.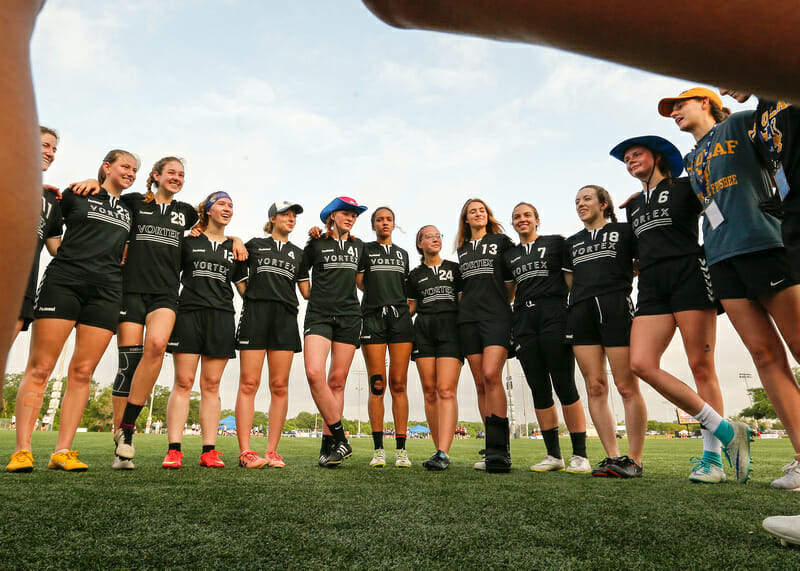 Ultiworld's 2019 D-III College Championships coverage is presented by VC Ultimate, the official gear provided of the Premier Ultimate League.
Additional writing contributions from Nikki Alvarez.
Day one of the D-III College Championships provided plenty of information about teams that have often been difficult to compare. Let's look at the big stories and stars from the first day of Nationals.
Bates A Cut Above The Field
It didn't happen quite the way we thought, but the end result was what was projected: Bates has looked like the strongest club in the women's division. They won their games by margins of three, five, and five goals, and even the closest game rarely felt in doubt. But they did it without relying on unwavering excellence from star Josie Gillett, benefiting from her talents all the same, but getting key contributions other Cold Front notables.
It was a slow start against Lewis & Clark, but Bates was able to fall back on strong zone defense to help them earn the win. While Gillett's offensive numbers were suppressed by the windy conditions, her defensive impact was sizable, particularly in this round one contest. Liz Casey and Cameron Johnson proved hard to defend downfield, coming up with spectacular catches with high degrees of difficulty time and time again.
Bates has only had moments of vulnerability this season. They'll either need to give someone a window of opportunity, or someone will have to create one against them in the bracket to topple the division's favorite
Williams Comes Up Short…Again
In a fashion that's become an unfortunate trend over the last four years, no. 3 Williams La WUFA failed to make it deep into the bracket. This year, the end came with a 10-9 loss to North Park Allihopa in prequarters, after ending as the second seed of Pool C. Originally up two breaks early in the game and leading 4-2, Williams wasn't able to maintain control of the disc in the wind and score in the red zone when it was most sorely needed.
Even with an incredibly deep bench anchored by nine seniors, the pressure of the North Park zone and execution errors in the strong gusts proved fatal to their championship hopes. The class of 2019 is obviously the most disappointed in not making a run for the title when they've worked so hard to build and lead their program; so it goes for many talented teams over the years. But La WUFA will leave with heads high, looking forward to the talent of younger players and cheering them on in future championship appearances wearing the classic Williams purple and gold jerseys.
Upsets Abound on Saturday
Sunday is thrilling for the crowning of a winner, but Saturday brings its own joy in the shakeout of pools and the breaking of seeds. 2019 was no exception.
In Pools B and C, the bottom seeds of no. 15 Occidental and no. 14 North Park won games in order to play another match and represent in prequarters. North Park went even further, stunning Williams to earn a quarters berth for Sunday morning. Williams, the no. 3 seed, was forced to play prequarters after falling to the strong efforts of no. 6 Oberlin. In the always exciting Pool D, three teams went 2-1 but no. 5 Middlebury emerged victorious to leapfrog no. 4 Puget Sound after the tiebreaker to earn a spot directly in quarters. No. 12 Lewis & Clark also took down no. 8 Wesleyan in a thrilling 10-8 showcase for Lewis & Clark's high energy play.
With the right block, huck or wind gust, the chalk is far from an absolute bet going into Sunday's quarterfinals.
Super Saturday Rookies
Throughout action on Saturday, in so many moments, the best players on the field were freshmen.
St. Olaf's Anna Clements was one of the most impressive cutters in the whole division through the first day of Nationals, consistently getting open for gainers, and then also being one of Olaf's best players with the disc in her hands as well. She was just as dangerous in the red zone and always had the confidence to command space and demand the disc. Without her, St. Olaf likely wouldn't have made quarters.
Sarah VonDoepp was Mount Holyoke's central playmaker through pool play, taking up the majority of the team's throwing responsibility and posting the second highest assist total in the division. She had a big impact on the defensive side, too, racking up a ton of blocks as the mid in the team's zone. Holyoke got off to a great start by beating no. 2 overall seed Truman State, and though they couldn't turn that upset win into a place in the bracket, VonDoepp was one of the stars of the day.
Ally Constantino ran the show in Puget Sound backfield. She often went every other and showed off a true playmaking ability with her throws. She was also responsible for the scariest moment of the day when she collapsed on the field after UPS' loss to Middlebury and had to be tended to by EMTs. She did return to the fields and participated in her team's cool down after their prequarters win, but there isn't word yet on if she'll be able to play on Sunday. If she isn't, the rest of the tournament will be devoid of one of its brightest stars from Saturday.
Middlebury's Claire Babbott-Bryan was a consistent deep threat. She led the team in goals in two of their three pool play games, and was second in assists in the one game she didn't. Primary handler Miyo McGinn routinely looked for her at all levels of the field and used her as a release valve when the offense broke down. She was critical in Middlebury's run to win the highly competitive Pool D.
The freshmen standouts of Saturday give a lot of hope for a bright future for the division. But with a few of them still playing this weekend, the future of the division might be here before the end of the weekend.
Stars of the Day
Emma Piorier (Puget Sound): The conversation within the Ultiworld headquarters after UPS's prequarter win was about whether or not Piorier is the second best player in the division behind Bates' Josie Gillett. Piorier got blocks all day long, and led the team in goals and assists. She also took over the game when her dynamic duo partner, Ally Constantino, missed their prequarter due to injury. Piorier was a force to be reckoned with on Saturday, and firmly planted herself at the top of the post season awards considerations.
Meike Buhaley (Occidental): It was apparent through Occidental's upset against Carleton that Meike Buhaly was an unstoppable presence. Six out of their nine points were thrown by her hand, all while knowing she had to leave her team after this game to graduate tomorrow. Occidental ended up winning 9-8, but lost the momentum when going up against Portland. Her presence was sorely missed at the Portland game and one wonders if the game would have gone differently if she was there to handle.
Abby Cheng (Oberlin): The Preying Manti dominated all of Saturday, and out of their multiple stars, Abby Cheng shined the brightest. She's all around a great utility player and just so enjoyable to watch. There's not much this player cannot do for her team. When everyone else is tired, she's still running and contesting for the disc. It's notable that she has great decision-making skills when she handles. Over the course of her three games, she caught seven goals, threw four assists, and had three takeaways. It's exciting to see what she will continue to do on Sunday for her team in the Championship Bracket.
Miyo McGinn (Middlebury): McGinn was the backfield anchor for an impressive Middlebury offense on Saturday. She was an effective pivot point, keeping the disc moving when possible, and a dangerous hucker. Her all around handler game led to 12 assists, good for the the third highest tally in the division after the first day of play. Middlebury had a great pool play performance, and a lot of that was down to McGinn's star-making talents in the Pranksters' handler space.
Mulhern sisters (St. Olaf): To sit at the top of the goal or assists column after a day of ultimate is always a fun accolade to earn. For the Mulherns, junior Kaitlyn and freshman Anna have each earned that honor: Kaitlyn with goals and Anna with assists, respectively. With another year for this duo to crush the field together, it'll be fun to watch the stats and talent grow–especially for any Mulhern-Mulhern connections.