Oberlin played a tremendous Nationals, including a controlling performance in the final.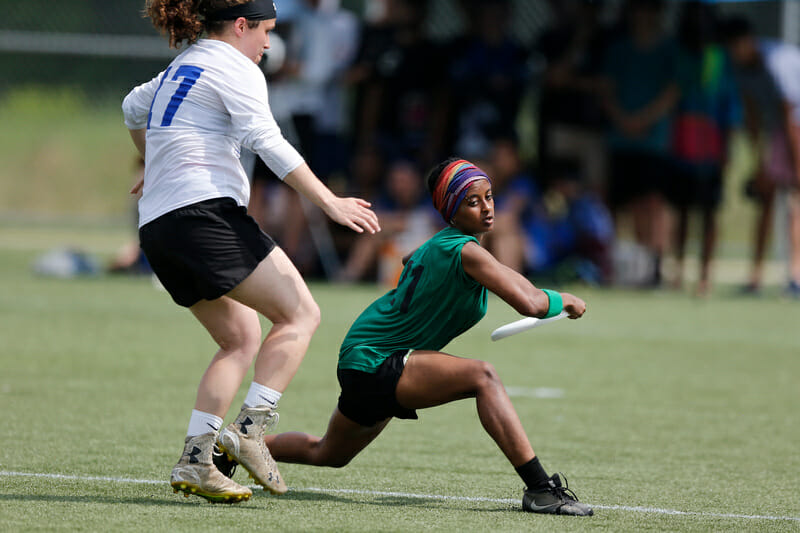 Ultiworld's 2019 D-III College Championships coverage is presented by VC Ultimate, the official gear provided of the Premier Ultimate League.
COLLEGE STATION, TX — Very few teams get the experience of playing their best when it matters the most. So many attempt to peak, to leave their biggest games without regret, feeling they put forth their best game regardless of the result. It isn't quite as rare as a national championship, which Oberlin won over Bates by a score of 13-7 in a shocking upset.
Bates was the unquestionable favorite entering the game. Not only had they yet to lose a game, but they had rarely trailed or had to contend with close late games. They were led by the top performer in the division, 2019 Donovan winner Josie Gillett. After a loss in the final the previous year, this was Bates' year.
But Oberlin, the no. 6 seed, looked ready at Nationals. They were impressive in pool play before having to battle through talented but inexperienced Puget Sound and St. Olaf clubs in tough quarter- and semifinal matchups. A late comeback from St. Olaf was snuffed out, and despite the late game stumbles, the Preying Manti looked confident.
And they started the final strong, taking control on the game's fifth point. After four combined holds, the underdogs from Ohio earned the game's first break. After missed hucks by both sides, Gillett tried to slide an around break through traffic, but Shayna Jennings was right in the disc's path and made the interception. Oberlin scored two throws later on a Helen Samuel backhand to Linnea Fraser that made it 3-2, Oberlin. After their own hold, and only Gillett-less goal of the game Bates had two excellent chances to get the game back on serve, but failed to convert twice in the red zone before Oberlin could connect with Abby Cheng on a huck goal. A few points later, a speculative high release forehand by Gillett against a high stall count was intercepted by Samuel. The Preying Manti's vertical stack offense showed all the patience and ferocity of their namesake as they marched towards the end zone for another Hecht-to-Cheng break.
"A lot of it was how we were marking her," said first year Oberlin coach Libby Lehman in a post-game interview. "We really tried to shade straight up and stay active on that lateral plane to at least have her think about the throw more."
It was a striking turn of events that was incongruent with what the previous results had told us to expect. Oberlin's defense was an exercise in close combat, rarely giving much room for Bates to stretch out. Rosie Rudavsky was tasked with defending Gillett, and her wide mark and the pressure on her release valves forced the vaunted thrower into difficult looks; Gillett compiled 12 turnovers in the final. The Oberlin offense was powered by their handlers, able to attack up the line or to the break side from their vertical stack, creating valuable unmarked throwing opportunities to hit their grinding cutters.
Leading the way for their downfield corps were Cheng and Fraser, who split Oberlin's first six goals in even chunks of three straight. Fraser finished the game with four goals and two assists, while Cheng had an incredible seven goals to go with two blocks. Bates had no answer for Cheng, who was readily available on both under and away cuts. She was ready to make a plan when asked, like a first half interception that halted a Bates break chance or skying a defender to bring in a blade for an Oberlin break that took half, 8-5.
Oberlin consistently took away any signs of hope Cold Front might find. They responded to clean holds from Bates with smooth scores of their own, they registered takeaways to stop Bates' break chances, and challenged the opposition's biggest strength in their deep game. Some costly errors in the trying conditions of College Station did hinder the ability of the no. 1 seed to come back, but much of the credit lay with the Preying Manti.
A pair of Bates drops at 10-6 gave Oberlin two chances to break, and Jennings found Hecht with a huck that got the Ohio side to the goal line. After a timeout, they set up a vertical stack, and sent the explosive Samuel straight up the line for a goal that all but secured the game. A Bates two-possession hold was their final goal of the game, as Oberlin held on the next point and broke on an away shot to Cheng, a fitting receiver for the gold-winning goal. Cheng collapsed in an emotional heap as her teammates surrounded her to celebrate, one of the tournament's most moving sights. Hecht had been battling back tears even as the final throw went up.
"I'm honestly just so proud of my team," said Lehman. "From the top of the roster throughout the whole group, we can rely on everyone to play their role when we need them to do that. Honestly, I trust they can do that and they have delivered on that all season."
With such tough competition, in extreme pressure-packed situations, that is when a team needs their players to deliver. And not only did Cheng, Hecht, and Samuel rise to the occasion, but Fraser, Jennings, and Barron had noticeably strong games. It's hard to think of an Oberlin player who had a poor performance. Rudavsky was instrumental in containing Gillett, with the type of defensive effort that doesn't show up on the stat sheet, but was one of the most important facets of the final.
For Bates, it was a sour end to an otherwise remarkable season. They seemed troubled by the heat, but even moreso by a well prepared and peaking Oberlin team. Gillett looked like she felt the weight of each attempt to score. It has to be frustrating to have gotten so close again.
Of course, the other side of that coin is an Oberlin club that earned their first championship in impressive and distinct fashion. When called upon, they delivered a performance worthy of a national title. They did so as a united team, each player contributing their role's responsibilities. Their depth helped them look fresh in heat that wilted so many other teams. During the award ceremony, as Oberlin prepared to receive their gold medals, Cheng, who was at the front of the line, grabbed her two co-captains by the hands and pulled them up front with her. Hands clasped, they stood together to receive their prize.