A solid game plan carries Brown to the program's first semifinal since 2005.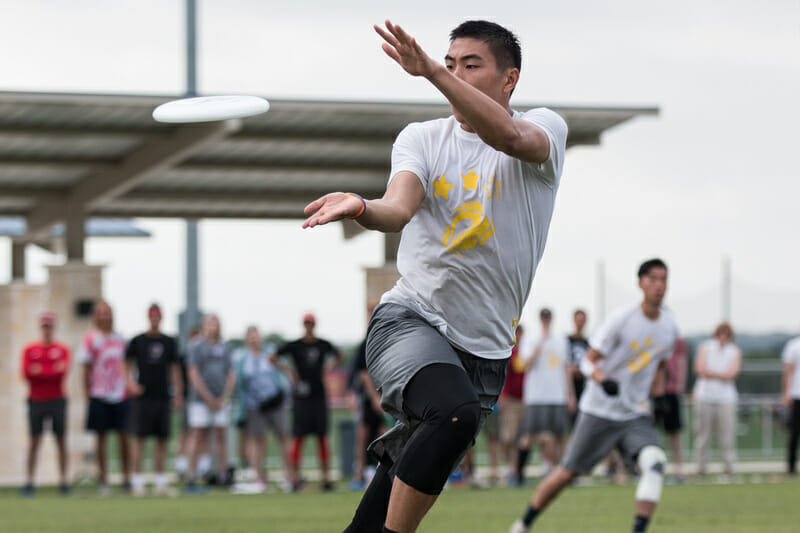 Ultiworld's Men's Division college coverage is presented by Spin Ultimate; all opinions are those of the author. Please support the brands that make Ultiworld possible and shop at Spin Ultimate! 
In a battle of similarly styled small ball specialists, Brown Brownian Motion pulled away from Ohio State Leadbelly late in their Sunday morning quarterfinal matchup to capture a 15-10 victory and earn a spot in their first semifinal since the program's 2005 national championship.
Callahan Award finalist Mac Hecht and the Brown offense decided to make the game interesting in the first half. They started off slow with some uncharacteristic turnovers in normally reliable small spaces, coughing up a break on the game's fifth point then again six points later. Luckily for BMo, their defensive unit, led by handlers Sol Rueschemeyer-Bailey, Dylan Villeneuve, and Ned Dick, picked up the slack, breaking Leadbelly three times before the break. Their dominator handler set and short, quick throws into the wind were as effective as they had been in pool play, allowing them important breaks on the first and last points of the half.
Ohio State hung tough, earning back some breaks to keep the first half tight. Leadbelly had the disc twice on Brown's upwind half of the field and nearly took a 7-5 lead but were unable to convert. Brown held for 6-6.
And then the turning point. With Ohio State holding the wind advantage, Brown decided to adjust their defensive strategy. They switched from person defense to a trap zone, similar to the one they employed against Texas on Saturday, except with a mark focused on forcing upfield.
"I think our D-line was playing great. In the first half we were getting turns on pretty much every point. In the second half… they sort of cleaned it up," Ohio State coach David Bentrovato reflected. "Their zone was a big part of it. I feel like their zone gave us some difficult looks and got some short field turns, which they were able to punch in."
Brown's zone — a four-person cup that really crowds the thrower — has been highly effective in the Texas wind. With so many bodies around the disc, Ohio State saw opportunities for inverts, but could not hit them with consistency. All part of the plan for the BMo coaching staff.
"I saw on film that they were willing to throw it backwards," said Brown coach Jake Smart. "And I hadn't seen them throw very confident-looking throws over the top, so the downwind zone was a low-risk option."
Immediately, the adjustment rattled Leadbelly handler Zach Braun, who misfired on a couple of over-the-top attempts. On the final point of the half, after a Braun scoober fell to the grass and Brown broke to make it 8-7, the Ohio State players were visibly frustrated with each other.
The momentum of that moment carried into the second half. With some of the pressure relieved, Hecht and John Randolph righted the ship, maneuvering clean hold after clean hold, while their defense continued to throttle Leadbelly. A loud sideline of Brown parents and alumni, including a contingent from the 2005 national championship team, added to the pressure on Braun, Sion Agami, and the OSU offense. BMo's Azeez Adeyemi hauled in another upwind break to give Brown a 12-9 lead.
On the ensuing point, after patient handling took Leadbelly nearly to the upwind end zone, OSU's Axel Agami called a foul on a block by Brown. The observer ruled it clean, while also taking the opportunity to issue Brown a blue card for double-teaming, but the damage was already done.
Brown's downwind break on that point gave them a 13-9 lead, and they relied on Hecht and Randolph to close out the victory and send them on to semifinals.
Hats off to the 2019 incarnation of Ohio State. Leadbelly hasn't been to Nationals since 2007, but you'd never know it from the wins they stacked this weekend — California, Georgia, and Washington — not to mention Pittsburgh for the Ohio Valley crown. There could be a more consistent men's contingent from Columbus representing in years to come.
For Brown, it's on to the round of four against Colorado, who is coming off of a big win over Pittsburgh in quarterfinals. Another defensively strong team with size and athleticism, Mamabird will further test the chemistry of Brown's star handlers.