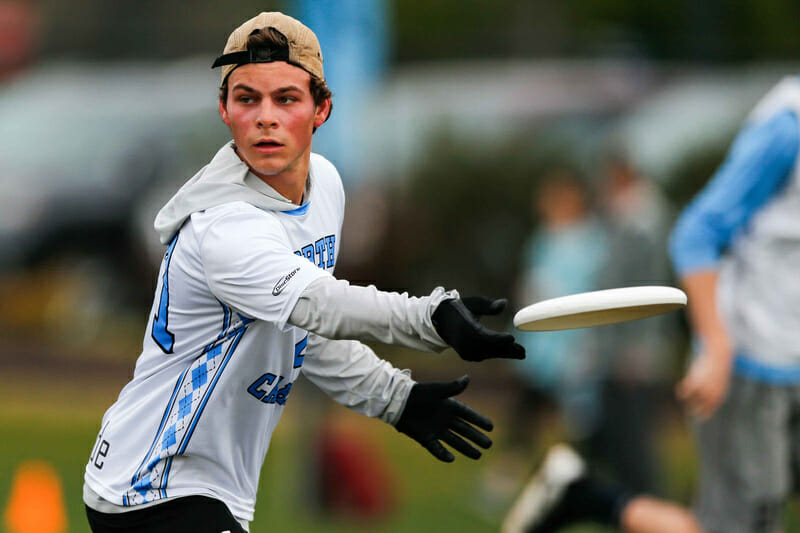 AUSTIN—UNC Darkside's Matt Gouchoe-Hanas was voted the 2019 Callahan Award winner in the Men's Division for the 2019 season, USA Ultimate announced this evening. Gouchoe-Hanas becomes the third UNC Chapel Hill player to win the award after Jon Nethercutt hoisted the trophy in 2015 and Leila Tunnell won in 2011.
Gouchoe-Hanas has been a leader both on and off the field for UNC for years. In his five years on the team, UNC has reached the semifinals every single season. He was Nethercutt's backfield partner for the team's first championship in 2015 before leading the team to another last season. He won the Ultiworld College Men's Player of the Year award in 2018 and has won gold with the USA Under-24 Mixed team (and will represent the country again this year).
"Gooch," as he's known to most of his peers, is a tremendously talented two-way player, perhaps the team's best offensive and best defensive player. He is lightning quick in the backfield with expert control on his throws. He is also a brilliant ultimate mind, serving both as an on-field general and something of an assistant coach for the team even as he plays.
"Matt deserves the Callahan Award not only for his talent, athleticism, and leadership but also for his off-the-field volunteer coaching of multiple high school and middle school teams," reads his Callahan nomination.
He is set to face off against Cal Poly SLO in the National semifinals later this evening in pursuit of a second-straight championship.