So much of confidence in big moments is within our own control.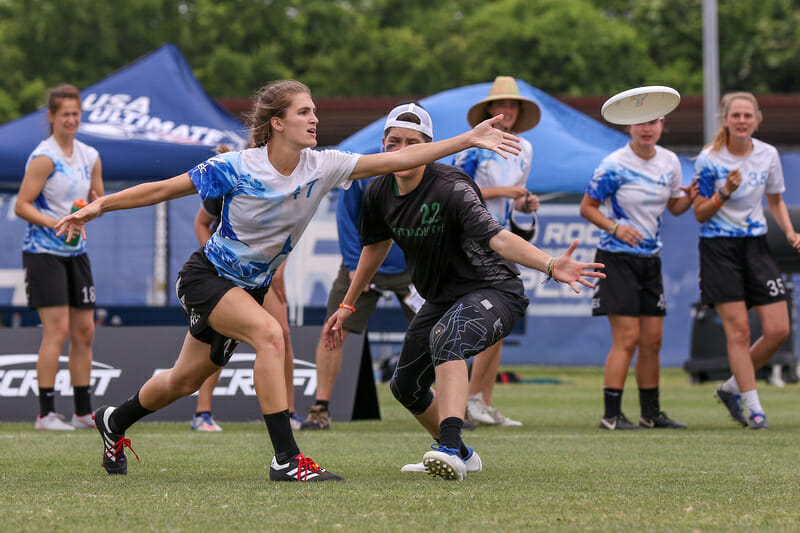 Tuesday Tips is presented by Spin Ultimate; all opinions are those of the author. Please support the brands that make Ultiworld possible and shop at Spin Ultimate! 
Have you ever wondered why some players look extremely confident in big games, while others crack under pressure? Is confidence something you are born with, or something you can build? Are there any tools that can help you feel confident at a critical moment, like on double game point?
Yes, there are.
Self-confidence is definitely something you can build – it doesn't have to take years of hard work and it is not as complicated as you may think. You can get results very quickly just by making a few changes in your habits and behaviors.
Take Control of Your Confidence
First of all, do you know exactly what makes you feel confident? The first step in increasing self-confidence is to identify what triggers it.
To feel confident, do you need…
to feel that your coach trusts you?
support from your teammates?
a perfect warm up?
good weather conditions, with little or no wind?
to be called on the field every two points?
a good night's sleep the day before the game?
to feel that you are in a good shape?
a good diet on game day?
All the elements listed above can help you feel confident. However, notice how you have control over the last three sources of confidence, but you have little to no control over the first five.
If a perfect warm up is important for you to feel confident, what will happen if you make a few mistakes during your pregame warm up? You may be affected at the start of the game. Similarly, if your confidence comes from the trust your coach places in you, you may see your confidence becoming a bit shaky when, for whatever reason, real or perceived, you don't feel that trust. Yes, you can take action to build trust between you and your coach, but you can't force your coach to show their trust the way you would like it to show.
We all have a way we would like others to support us – teammates or coaches. But we can't control the behaviors of the people around us. That is why building your confidence on something you don't have control over makes it risky. Do you want to feel self-confident in any situation? Make sure it is based on something that's under your control.
To build an unwavering confidence, make a list of what makes you feel confident. Then, determine your level of control over each element you have listed. After finishing your list, if you realize that you don't have control over some of your sources of confidence, you may want to replace them by elements that you control.
Your Brain is Designed to Worry
Now that you have identified what makes you feel confident, the next step is to train your confidence. To do so, you need to understand how your brain works.
Usually, after a practice or a game, what do you remember most vividly? Mistakes. Our brain, for survival reasons, is primarily focused on the negative. Gio Valiante, one of the winningest sport psychologist on the PGA Tour, explains in his book Golf Flow:
During negative experiences […], the amygdala uses hormones and neurotransmitters to highlight the experience. In the same way that students use yellow highlighters to emphasize important parts of a text, the brain uses those neurochemicals to emphasize negative or painful memories […] Research has also shown that whereas we often remember positive experiences as a general sensation, we remember negative experiences in richer and more complex details, and for a longer time. […] Successful experiences can enhance and build our confidence only if we can recall them and keep them alive in memory.
This means that naturally and effortlessly, you visualize your mistakes, losses, setbacks, injuries, and other negative experiences. You don't even need to think about it. After a practice on your way home, you may review your mistakes in your mind over and over, sometimes without even noticing. You don't realize you are training your brain to focus on the negative. And since visualization become increasingly effective when you add physical sensations and emotions, you got a perfect recipe for losing self-confidence.
To counterbalance the fact that we are wired to focus on the negative and to develop the opposite skill, which is learning to focus on the positive and on your successes, one of the best tools is journaling. After each practice, write down three good things you have accomplished. When you are writing, use mental imagery to relive the situation. Feel all the positive emotions, energy, confidence, joy. Repeat this exercise after each game in a tournament.
Over time, you will realize that you succeed much more often than you think. Your journal will also become something you can refer to when you need a boost of confidence.
Challenge Your Beliefs
Today is game day. You have done the work. You have raised your level of control over your sources of confidence, and you have trained your brain to focus on success. The final step in building unshakable confidence is to create a tool that will help you face your biggest challenges in critical moments.
Imagine that you made two mistakes in a row towards the end of the game. Although you know perfection doesn't exist, making mistakes is something that tends to undermine your confidence. You are now trying to refocus to get back on track. At that precise moment, you are called on for double game point.
How can you step on the field with this unshakable belief that you can play at your best? There is a way.
First, become aware that, at one point in your sports career, you sowed in your mind the idea that, "I can't play at my best under pressure after making two mistakes in a row." Understand that this belief is a barrier that you have created yourself and that you can challenge and overcome if you put your mind into it.
To do so, recall a situation when you did overcome a similar challenge. This is where the journal, the writing, and the visualization come in; they will help you remember past successes when you need it. If you can remember and visualize a game where you made mistakes and you came back to give a great performance, you will know you can do it again.
What if you have never faced that kind of situation? Find stories that prove that it can be done. To do so, you will need to do some work prior to your tournament. On a regular basis, surf the web and look for stories about athletes overcoming big challenges. Read biographies from great athletes and coaches. Over time, you will build your "success stories toolbox" that you can access any time you like in challenging moments. Also, be on the lookout for stories from your teammates. There is always someone who managed to perform extremely well after a bad warmup, or after a two-hour sleep night. Remember those moments so you can use it to inspire you.
Find Your Way
Although most of the time we do our best to give ourselves good conditions to perform, when it doesn't go as expected, we must be able to acquire certainty that it is still possible to win or perform in any situation. The first step to accomplish it is to make sure you build your confidence around things that you control. Then, rewire your brain; reinforce every success by reliving it in your mind as often as you can. Finally, take every opportunity to challenge your ideas and beliefs, so you can feel an unwavering confidence no matter the obstacle you are facing.
Every time a doubt creeps into your mind, ask yourself: do I really need this thing — whether a person's behavior, a situation, or an environment — to perform? Is there any way I can play at my best, even if I don't get this? Take a break and be honest. You have come a long way to get to this level. You have a great deal of experience. Now is your time to shine. You can, and you will find a way.