Big upsets and great ultimate!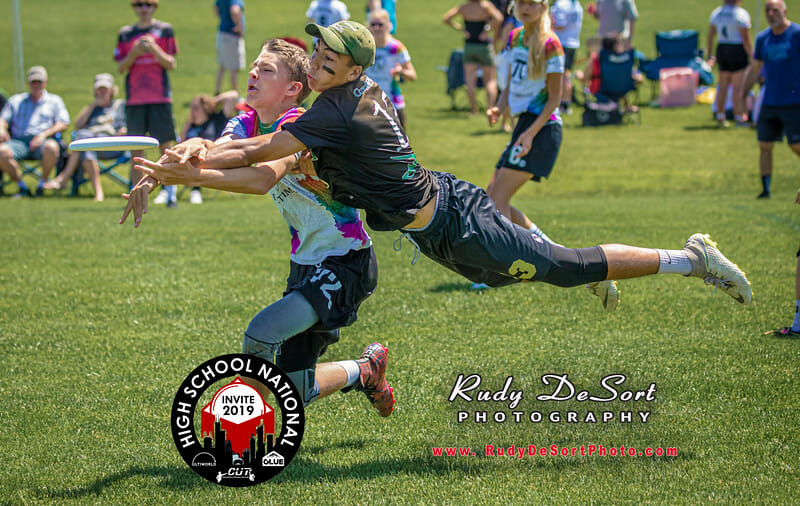 ROCKFORD, Ill. – Upsets were the norm on Friday in the Boys Division at the 2019 High School National Invite as just a single pool went to seed. It sets us up for a thrilling bracket on Saturday.
But before we get to that, let's look back at a day that featured both the No. 1 and No. 3 seeds at the tournament failing to reach the quarterfinals.
Championship Bracket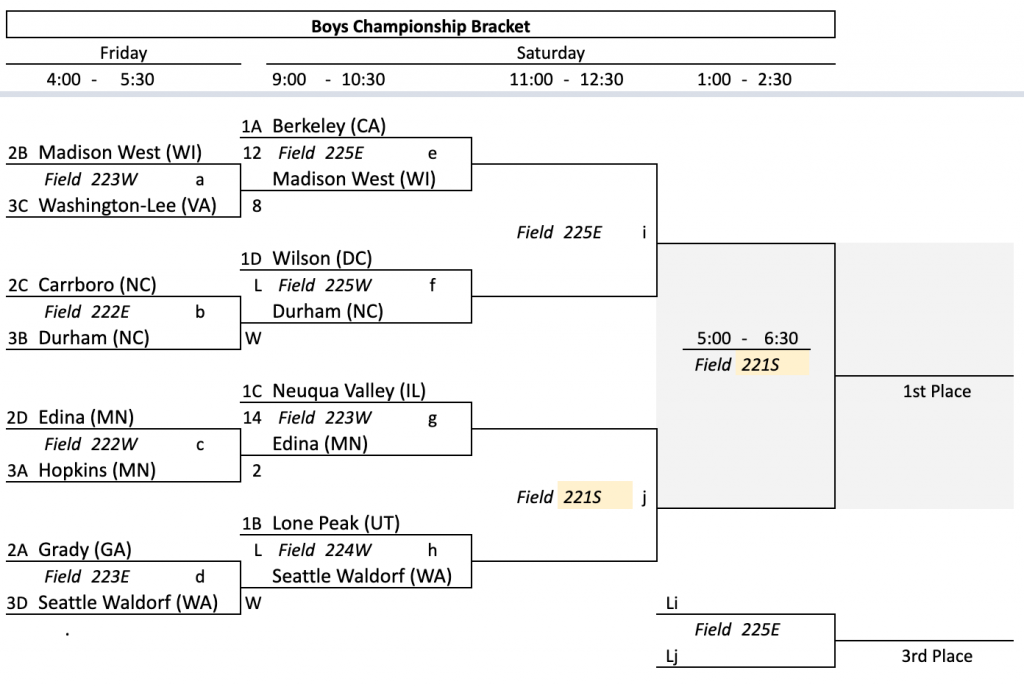 Top Stories
Lone Peak, Neuqua Valley, Wilson Rise to the Top
Lone Peak and Neuqua Valley looked like the two best teams in the division on Friday. Lone Peak absolutely steamrolled their way through pool play, outscoring their opponents by a combined score of 39-16. The margin of victory is even more impressive considering they got off to a relatively slow start, and led Madison West just 7-6 at halftime of their first round matchup.
Lone Peak's huck game was unstoppable against everyone they played, with a too many dangerous cutters downfield for any team to matchup against all of them defensively. They also had the huckers to match, sophomore Curtis Lund showing a particularly impressive arsenal of deep throws. With Grady knocked out of the tournament, Lone Peak is the highest remaining seed in the field, and with the way they played in pool play, they feel like the favorites to win the tournament as well.
Neuqua Valley was the other star of the first day, pulling off upsets over Ingraham and Carrboro to win Pool C. Neuqua's defense was impressive, getting loads of break chances against their pool opponents, but where they really separated themselves from the field was with their D-line offense. Ethan Smith killed opposing O-lines with give and gos, Luke Bleers and Sam Swiatek were dangerous two-way threats.
Neuqua Valley and Lone Peak are set to play in semis, so long as they get through tough Edina and Seattle Waldorf, respectively in quarters. But the winner of that potential matchup will likely see Wilson in the final. Wilson was nearly as dominant as Lone Peak, and their half off the bracket ended up looking pretty kind with Ingraham and Grady missing out on quarters.
Wilson won their pool with elite O-line zone defense, and with the likes of Jacques Nissen to lead the way as competition ramps up, they have a great chance at winning a National title, right along with Lone Peak and Neuqua Valley.
Ingraham, Grady Go Home Early
Grady started well, winning their first two games of pool play, but they threw away a 4-1 lead against Berkeley in their final pool play game. Star Aidan Downey went cold and Berkeley took advantage of his turnovers to the tune of a 6-2 run into the half, including a Callahan on a wounded duck high release forehand from Downey on the final point of the half. The second half last one point, a hold for Berkeley, and the loss sent Grady to prequarters, where they lost to Seattle Waldorf 9-7.
It was a startling turnaround from Grady after the hot start, and it knocked out the No. 1 overall seed. They proved too turnover prone and gave up too many runs to Berkeley and Waldorf and, as a result, their title defense ended prematurely.
In dramatic fashion, Ingraham, the Washington state champion and number three overall seed at the tournament, went 0-3 in pool play and failed to reach the bracket. Their three losses came by a combined total of just four points.
Even more painful is that the team had an upwind break chance on double game point in their final pool play game against Carrboro, where a win would have sent them to the prequarters after tiebreakers, but a dropped pass in the endzone gave Carrboro the second chance they needed to put away the game.
Ingraham was plagued by execution errors all day, frequently turning the disc over in the reset space and gifting their opponents short fields. They did have some nice moments — David Atwood was a consistent playmaker — but the inconsistency of their overall play made it impossible for them to get into a rhythm.
Perhaps the long hiatus from their competitive fall season hurt them, especially in the breezy conditions of Rockford.
Ingraham becomes the first pool one seed in HSNI's short history to miss the bracket.
Prequarters Recaps
Seattle Waldorf 9-7 Grady
Two runs of breaks were enough for Seattle Waldorf to upset the No. 1 overall seed. They flipped a 4-2 deficit into a 6-4 lead, to which Grady responded with a three goal run of their own. Waldorf then countered the momentum swing again, scoring the final three goals of the game to win 9-7.
Waldorf benefited from some good fortune late, catching a tipped huck and a bailout huck for two of their late goals, but they were able to take advantage of Grady's turnovers, much like Berkeley did against Grady in pool play, and the time cap meant they were the ones to ride the final, decisive wave of momentum to the win.
Madison West 12-8 Washington-Lee
Madison West separated from Washington-Lee in the middle third of the game and cruised down the stretch to clinch their quarters spot. A tight game in the early going, the contest opened up as Madison West turned a 5-4 lead into a 7-4 lead and then largely held out in the second half to win 12-8.
Madison West showed impressive offensive execution all day long and were able to minimize Washington-Lee's break opportunities. Once Madison West did give themselves some separation on the scoreboard, they never let Washington-Lee back into it.
Edina 14-1 Hopkins
Edina was far too much for Hopkins in a matchup between two familiar Minnesota foes. Edina rained down breaks on Hopkins to take half 8-0 and thoroughly dominate the game. It was a nice bounceback win from Edina after they suffered a lopsided 13-5 defeat to Wilson to end pool play.
Durham 9-7 Carrboro
In a chippy game between two rivals, Durham pulled away very late to knock out the team that eliminated them in semifinals of the North Carolina state championships. Unfortunately, negative interactions between the Durham parents and the Carrboro players and a bad shoulder injury to Jake Schwartz were the most notable moments of the game.
Carrboro got the first break to make it 5-3, but Durham scored three straight after going down 6-4 as Carrboro wore down and couldn't continue to grind out the long holds they'd gotten earlier in the game. Carrboro had a couple chances to break out of the half and force double game point, but they just couldn't move the disc down the field. Durham held for 9-7 to advance to quarters.
Pool Play Recap
*indicates quarterfinals qualifier
Pool A
Berkeley (2-1)*
Grady (2-1)
Hopkins (1-2)
Holy Family (1-2)
2018 HSNI winners Grady were stunned by Berkeley in the final round of pool play and were forced to settle for second. Aidan Downey played well in the early games before going ice cold in the halfway into the Berkeley game. His teammates then resorted to taking too many ill-advised shots and Berkeley took advantage with a big run in the second half of the game.
The win was quite the turnaround for Berkeley, who dropped their opening game against Holy Family. Berkeley came down with some 50-50 balls late in the game to take the win against Grady; they'll have to play better in quarters to keep their tournament alive.
Hopkins and Holy Family both struggled offensively, apart from Holy Family's win over Berkeley. Neither could manufacture the needed offensive efficiency to hang with the more talented offenses of the tournament.
Pool B
Lone Peak (3-0)*
Madison West (2-1)*
Durham (1-2)*
Lexington Pi (0-3)
Lone Peak looked like the best team of the tournament on Friday as they absolutely decimated their pool play opponents, two of which ended up making quarters. Lone Peak's speed could not be matched by the opposing team's defenses and they connected on their hucks at a much higher rate than any other team. Lone Peak showed off an impressive combination of athleticism and skill and, after day one, they look like the team to beat.
Madison West was able to match Lone Peak for the first half of their game, but they didn't have enough horses in the stable to keep up for the entire game. Apart from Lone Peak's dominant second half, though, Madison West was impressive offensively. They were patient and able to connect on the long ball for quick scores too. They looked like a team that has a strong chance of making semis.
Durham played long, grinding points, and that was enough to win their prequarter against Carborro, but they were unable to challenge either Lone Peak or Madison West with that style. They did handle Lexington Pi handily, though, as Pi struggled to find much in the way of offensive flow.
Pool C
Neuqua Valley (3-0)*
Carrboro (2-1)
Washington-Lee (1-2)
Ingraham (0-3)
Neuqua Valley started pool play off with the surprising win over Ingraham, in which they were the superior team in every facet of the game. Ingraham struggled particularly in the first half, as their handler continued to cough up the disc against the Neuqua zone. Neuqua took a 7-3 lead at the half, and Ingraham surged in the second half but it was too little too late.
The opening loss for Ingraham was only the start of a nightmarish day for overall No. 3 seed. They just couldn't even seem to figure things out offensively, despite some nice moments from David Atwood and Kai Duversala.
Carrboro got impressive performances from Josh Singleton and Anil Driehuys, but they were also prone to giving up runs. They were also good in close games in pool play, though, with both of their wins coming by one goal. They simply couldn't maintain that close game success in prequarters, as they were undone by one final run of surrendered breaks.
Washington-Lee showed impressive resolve against Ingraham to hang around until the end of the game before breaking on each of the final two points to win. They fought Carrboro will in their first game of the day, too, but ran out of time before they could complete that come back. They couldn't find that ability to hang around against pool winners Neuqua Valley and prequarters opponents Madison West, however.
Pool D
Wilson (3-0)*
Edina (2-1)*
Seattle Waldorf (1-2)*
Catholic (0-3)
Wilson was easily the superior team in the pool, and they never really faced a true test. Their closest game was their 11-7 win over Catholic. With several players set to play at premier college programs, they might simply have too much talent on their roster for any of the teams here to stay with them…save for Lone Peak.
Edina was no match for Wilson but otherwise impressed, and they too feel like genuine semis contenders. The throwing skill across their offensive line set them apart from much of the field on day one, as they were able to march the disc down the field for holds. They were also athletic, too much so for Seattle Waldorf or Catholic.
Waldorf got off to a rough start, getting blown out by Wilson and losing a one goal game to Edina. But as the rest of the day played out, those results didn't feel nearly as damning. They backed that up with their win over Grady in prequarters to prove that Pool D was stacked with three strong teams.
Catholic weren't able to hold possession well enough to hang with the three teams ahead of them in the pool, perhaps a symptom of the team's youth. They showed good fight, though, and nearly knocked off Waldorf in their final game of pool play.