You can now wager on ultimate.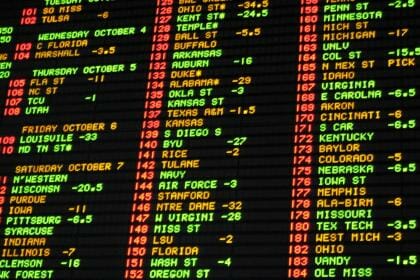 Feeling confident that the Toronto Rush will beat the Montreal Royal this weekend? Now you can wager on it.
Offshore sports betting website MyBookie.ag will take wagers on AUDL games for the first time this weekend, opening up a complicated new world in ultimate as sports betting becomes increasingly tolerated and legalized in the United States.
"We're excited that a sports gambling site would be interested enough in the AUDL to create lines and take bets," said AUDL Vice President of Marketing Tim DeByl. "We also realize that we need to make sure that referees, statisticians, and players are all treating the games the same way they would if there weren't betting."
Betting on the AUDL is expressly illegal for anybody for involved in the league, said DeByl, and contracts have been updated and signed accordingly.
The league has had fantasy betting on weekly point spreads at AUDLPicks.com for multiple seasons, but this is the first time that a sportsbook will take action on ultimate.
"One thing we're really well known for is taking a bet on anything, no matter how ridiculous," said MyBookie linemaker David Strauss, who personally set the lines for this week's slate of games. They use historical data, scoring patterns, and current season results to set lines. Strauss said they were happy to add the AUDL to their offerings after the league contacted them with interest.
Offshore sportsbooks operate in a grey area. For US bettors, it's not technically illegal to place wagers with a sportsbook that is legally operating in a foreign country (MyBookie.ag's is licensed in Curacao), but depositing and withdrawing money for the purposes of gambling is illegal under the Unlawful Internet Gambling Enforcement Act. In practice, the law is rarely enforced, and most sportsbooks have thrived with business from the United States.
The bigger concern could concern match fixing, when players or referees intentionally affect the outcome of a match. "We aren't concerned about it, but we will definitely be keeping an eye on games and making sure that nothing like that happens," said DeByl.
With low limits on AUDL bets ($100, for now), it's unlikely to be an issue anytime soon, but major sports leagues pay careful attention to betting patterns to detect any potential manipulation.
Here are the opening MyBookie lines for the AUDL's weekend games (all -120):
Philadelphia Phoenix v. DC Breeze (-6.5)
Chicago Wildfire (-5.5) v. Detroit Mechanix
Madison Radicals v. Pittsburgh Thunderbirds (-1.5)
Toronto Rush v. Montreal Royal (-1.5)
New York Empire v. Raleigh Flyers (-1.5)
Minnesota Wind Chill v. Indianapolis Alleycats (pk)
Tampa Bay Cannons v. Dallas Roughnecks (-3.5)
San Diego Growlers (-2.5) v. Seattle Cascades
Los Angeles Aviators v. San Jose Spiders (pk)
Tampa Bay Cannons v. Austin Sol (-1.5)
Toronto Rush (-2.5) v. Ottawa Outlaws