Raleigh and Medellín emerged from dramatic semifinals and will meet in the final.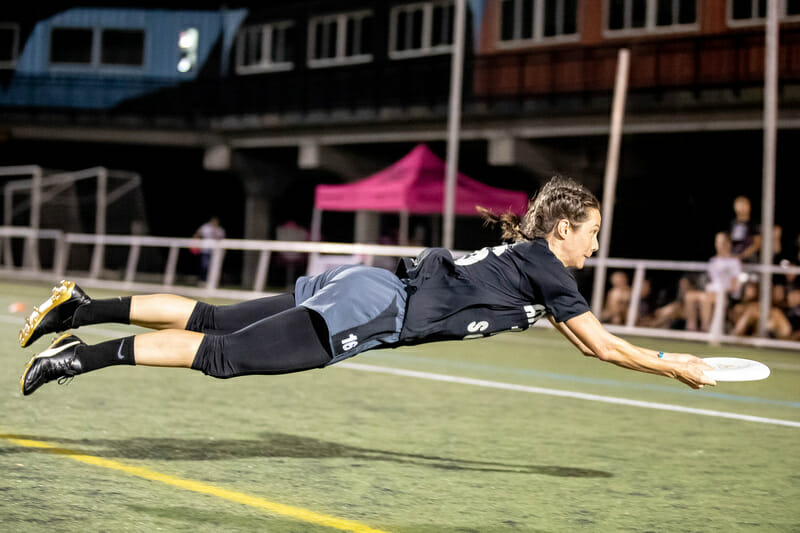 The inaugural Premier Ultimate League semifinals were impossibly entertaining. Both games vastly exceeded expectations for entertainment value and competitiveness, with both games concluding with thrilling, double overtime, sudden death finishes. As the stadium PA announcer said (too) many times throughout both games, they were barnburners.
Raleigh Radiance won the first semifinal 19-18 over New York Gridlock, and then Medellin Revolution beat the Atlanta Soul 27-26 in the nightcap. Both games were fantastic and tightly contested from the beginning. Together, they made for a memorable night of ultimate that made for an immensely fun start to the PUL Championship Weekend.
You can catch the final at 12:30 PM.
Radiance 19-18 Gridlock
In the first playoff game in Premier Ultimate League history, Raleigh Radiance defeated New York Gridlock 19-18 in double overtime to advance to the PUL championship. It was tight contest from start to finish, with neither team leading by more than two goals at any point and breathtaking play in the final seconds of regulation.
The Gridlock offense, with Linda Morse, Cassie Wong, and Tulsa Douglas leading the charge, came out strong in the first half. They took a classic aggressive approach, using big under cuts in the open lane to set up deep looks from motion and trusting the receivers to make plays. Morse rewarded that trust on the game's first shot-on-goal by skying two Radiance defenders.
Raleigh, meanwhile, used their fleet of cutters to work the inside break lanes. Jessi Jones distributed the disc beautifully all game, showing off her extensive repertoire of edgy forehands and big backhand hucks. Lindsey Soo and Anne Worth kept grinding out cuts to keep the offense moving. They weren't as clean as they would have liked, though, which led to long points that, for much of the second half, reflected itself in noticeable team fatigue.
Although they gave up a couple of bad breaks, Raleigh had an ace up their sleeve in Lisa Pitcaithley. Any time New York threatened to run away with the game, Pitcaithley played the stopper. It is impossible to overstate the impact she makes by being so much better in the air than most of her peers. She came down with jump balls left and right, and her assertive deep shots after the turn were among the best throws from either side during the match.
New York appeared to be in control at the end of the first half, in spite of an even 9-9 score line. Coach Eileen Murray was pleased with the way her defense managed to execute their gameplan. "We built our defensive strategy around making sure that we were shutting down some of the things that we knew they were going to do, like stopping the pull play. It was especially important for them because we saw they kind of got stagnant when the pull plays didn't get off right away," said Murray. Between sagging the lanes and taking away first looks with their marks, Gridlock made things difficult for the Raleigh offense.
Radiance coach Eddie Alcorn concurred with Murray's assessment. "Compared to the first game we played against them this season, they seemed like a totally different team. They made us change our game plan a lot," he said. New York also made a number of hustle plays on offense to shorten points and save their legs, frequently cleaning up tipped discs and overthrows with receivers backing up the play.
The defenses kicked into high gear in the second half. Raleigh began to limit Gridlock's isolation cutting with a wall-style zone that significantly slowed the game. Douglas and Andrea DeSabato were up to the task of working the reset space and still pushed across four scores in the third quarter, but for the first time, Raleigh was dictating what the New York offense could do and forcing them to adapt.
At the same time, Gridlock's D-line knuckled down in the red zone, with stellar results. They simply would not give the Radiance an easy score. By the end of the third quarter, New York had scratched out another break and held a 13-11 lead. With Raleigh, several of whose stars were suffering leg cramps, starting to feel the fatigue of a long game in hot conditions, it appeared New York could win the game by just striding out and keeping their cool.
Then, in the fourth quarter and with both teams' seasons on the line, depth players began to step into the limelight, and the fireworks began. Gridlock's Amy Zhou and Sarah Johnson, who had quiet first halves, began to take over, streaking through the cutting lanes and scoring multiple goals en route to taking a 16-14 lead. For their part, Raleigh turned to steady-as-she-goes role players Georgia Tse, Sara Dieter, and Becky Widmayer to help them claw their way back to 16-16.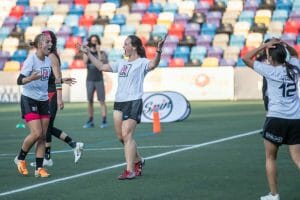 Raleigh seemed to have the game won at the end of the next point. Tight coverage from Raleigh forced a tough late-stall throw that Soo intercepted, leading to a Raleigh goal for 17-16 with just :12  left on the clock. But New York's captains drew up a fantastic pull play on the line for the ensuing point. Murray gushed about them after the game: "We have really strong leaders in Tulsa [Douglas] and Cassie [Wong], and they've been in situations like them before. We trust them a lot with calling stuff on the line." They fired a long backhand from their own brick as the seconds melted away and crashed the end zone with receivers. Sarah Johnson blazed toward the disc and slid into the end zone to scoop it up for the game-tying score. It was the kind of hustle play New York had been making all game, and it couldn't have come at a better time.
There were still two seconds left in regulation, but Raleigh couldn't quite convert their own buzzer-beater attempt on the next point, and the game went to overtime.
Raleigh elected to start the extra period on defense, a decision that proved consequential. "We had fresher legs on defense… We wanted to start out on a good foot," said Alcorn. Pitcaithley came up with a block early in the first point to set up an easy break for 18-17, and New York responded with a solid hold on a Morse-to-Douglas upline to tie the game again. That was all the scoring that would occur, however, in the first overtime period, as both squads understandably began to tire. The teams traded blows and turnovers without scoring until the clock ran out to set up a second overtime.
As the PA announcer helpfully explained in the brief intermission, double overtime in the PUL is a single untimed point. With Raleigh having started the first overtime on defense, they would start the second on offense. All they would need to do to win the game is hold onto possession of the disc. The New York defense, still operating at a high level, made it tricky for a while, but Widmayer found a window on the backhand side to put up a smooth huck for Dieter up the line. Douglas was in hot pursuit, but the throw was too good. Dieter timed her jump and hauled it in easily for the thrilling 19-18 win.
Raleigh will face Medellín Revolution in the inaugural PUL Championship Game on Saturday afternoon.
Revolution 27-26 Soul
Medellín squeaked by Atlanta on double OT, sudden death point to advance to the first ever PUL championship game. It was expected to be a relatively comfortable game for Revolution, at least in the second half, but in front of a massively pro-Atlanta crowd, they got absolutely everything they could handle from the host team.
When the Soul got the first break of the game for 3-2, it felt like the start they needed to be able to hang with Revolution. When Revolution promptly got the break back to make 4-3, it already felt like the Soul's chance was gone. But the Soul played the best game of their season, probably by a significant margin, and battled with Revolution for the entirety of regulation, through overtime, and on the single point of double over time. Truthfully, they looked like the better team for significant portions of the game. Revolution suffered through some offensive miscues, like Manuela Cardenas' errant centering pass on Soul's first break, or when Valeria Cardenas juked one too many times for a reset look to set up Atlanta's third break, when they opened up their first multigoal lead at 7-5.
Medellín was implementing some new offensive systems, according to head coach Mauricio Moore, and that led to some moments of confusion, and a loss of chemistry from the highly talented side. But the Atlanta defense played a big roll in the Revolution miscues, too.
"We played a junk D, which was just a force middle cup up front with person in the back, fronting with [everyone but] the last back," explained Soul captain Maddy Frey. "There were switches happening, and we would try to do that and then transition into person. We also had a regular, we call it old school zone. And then in our person D, we went flat to backhand and just really taking away the arounds, because they love the arounds, and I think it was effective."
While Atlanta was forcing Medellín into committing errors, Atlanta was getting big performances from Kate Travaglini, Robyn Fennig, Maddy Frey, and Marie Perivier. But Revo seemed to have righted the ship in the second quarter. Atlanta was able to push their 9-8 lead at the end of the first quarter into a 13-10 lead. Revo answered with a three goal run into halftime to tie things up at 13-13. At that moment, it felt like the magic from Atlanta was likely over, and Revolution would assert their dominance in the second half.
Remember, these two teams had played twice during the regular season, with Revolution winning by an average of 8.5 goals across the two games. But Atlanta didn't show much concern for favorites or underdogs or anyone else's expectations.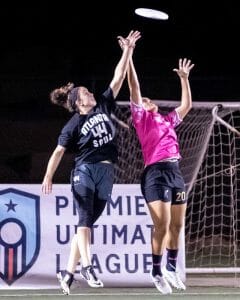 Breaks were exchanged early in the second half, to a 16-15 lead for Revolution, but that was the last point that the Colombian side would hold a lead for the rest of regulation. Frey made the play of the game to reel in a big huck with a sailing layout for a break score to make it 18-17, Atlanta. Her team rode the momentum of that play two two more breaks to reopen a three goal lead at 20-17. Medellín scored the last goal of the quarter for 20-18, but the Soul took a two goal lead into the final quarter with all of the momentum.
They held onto that advantage until 23-21, when they then had a shortfield break chance to make it 24-21. A goal probably would have been enough to fully deplete Revolutions chances of a comeback, needing two breaks to tie with under seven minutes left, but Atlanta turned the disc back, and Revolution held for 23-22. They broke a couple of points later off of an Erynn Schroeder throwaway and Manuela Cardenas dominator set in the red zone, tying the game at 24-24 with 3:30 left.
The final 3:30 were chaotic, and not especially well played, as both sides exchanged turnovers until regulation came to an end. The two sides headed for another four minutes of play, with the prospect of a winner-take-all point of double overtime looming if the game was still tied.
Revo held on the first point of overtime to take their first lead since 16-15. Holds were traded to 26-26, with about a minute remaining in overtime. The Soul played zone defense to try to run down the clock, knowing they had the advantage if the game went to double OT. Fennig got an interception in the middle of the zone, and Shanye Crawford was able to get off a huck to the end zone looking for Frey at the buzzer, but Yina Cartagena intercepted it to send the game to double OT.
The Soul, with the crowd in full voice behind them, started on offense, but were faced with remarkable pressure from Revolution's matchup defense. Revolution, playing tighter lines than Atlanta all game long, had looked tired at times in the second half, but their matchup defense for the final point was smothering.
Fighting through virtually no separation, Soul survived the first tense moments of the point, and Paula Seville was finally able to gain power position. She bombed a forehand looking for Travaglini, who chased it down and lunged with a massive bid to get one hand on the disc. But she was unable to hang on through contact with the ground, and appeared to get the wind knocked out of her on the play. Having fought so hard for the entire game, the Soul didn't have enough energy to hang defensively with Revolution the other way, and a few easy throws to Elizabeth Mosquera, who was a matchup problem for the Soul all game, Claire Chastain, and Manuela Cardenas put Revolution in the red zone. Cardenas than hit Yina Cartagena for the game winning break.
It was stunning to Soul be so competitive and have those chances to win the game late. They were heavy underdogs that ended up leading for the majority of the game, and even though they couldn't quite hang on in the end, they exceeded all external expectations with their performance.
But not their own. "We have learned throughout the season that we were gonna get knocked down, but that's a slow grind. So yes, I have absolute confidence in us," said captain Shanye Crawford. "I am beside myself with how we played today. We were the better team."
Crawford said that she and the team were able to stay in the zone all game long, regardless of what the score was, and that was why Soul were able to go toe to toe with the best team in the league for the entire game. "I was not paying any attention to score," she said. "Even when they took the lead, I felt that we were in the lead. We just maintained. We didn't play with fear. We gave our everything every point."
Revolution head coach Maurico Moore expected a close game, but perhaps not quite as close as it ended up being. But he was impressed by the Soul's game plan that made them such a tough out. "I expected a really close game because we already played them two times, and both games were really close in the first half, and I thought we would have kind of a loose second half. But they had a really good strategy," said Moore. "They just had a really good game, we made some stupid mistakes, but they had a really good game and a really good strategy. It was hard for us to be adapting all the time to what they were doing."
Moore's side did just enough to survive and advance to the final against Raleigh. They kept their hopes of an undefeated run through the season and coming out as league champions. But the story of the semifinal has to be Atlanta's valiant effort and very near upset of the league's most dominant team. There were one or two moments they may want back, like the chance to break for 24-21 in the fourth quarter, but like Crawford said, they were the better team for most of the game. And that in itself is something that will be remembered for a long time.