Play has started in Hungary!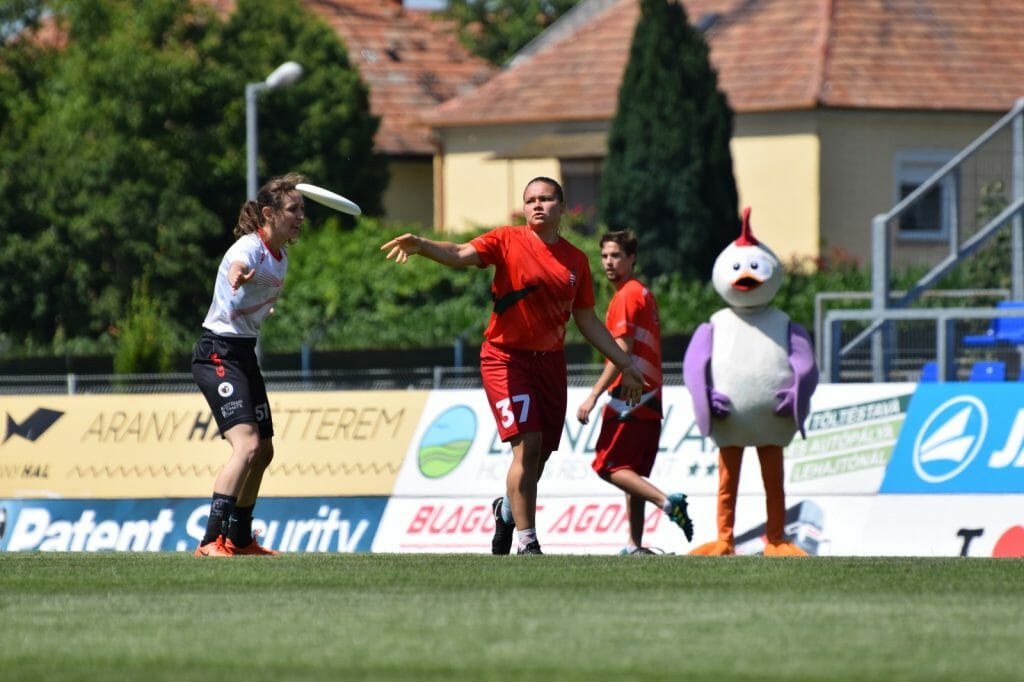 EUC 2019 opened yesterday with a short ceremony and a mixed contest between host Hungary and their neighbors Austria. In a stadium filled with competitors on one side and Hungarian fans cheering on their national selection on the other, Austria won the game after a dominant second half 15-6.

The tournament organizers were able to get local people out to come see ultimate in a stadium setting. The afternoon start helped to bring out lots of kids who got a disc as a gift. The crowd was educated by loudspeaker on important gave events like scores and calls. In this way the passionate crowd could follow the game although obviously many people were watching a whole game of ultimate for the very first time. Lots of them had a similar attitude to a football game between national teams.
The number of Hungarian spectators were almost as big as the number of ultimate players taking part in the opening ceremony on this first day of the tournament. There was a big crowd reaction when Hungary scored their first point after a tipped disc and a big negative reaction when Austria's offense took their sweet time against the Hungarian zone. In terms of promotion, this first game was a success for the organizers and this surely brought ultimate into the eyes of many Hungarians who had never seen the sport before.
In the game Austria took a measured  approach against Hungary's zone defense. In the first half some concentration errors led to led to Austrian turnovers, there was no real pressure on throwers from the Hungarians but in front of the endzone the space got really compressed mainly due to Austria not taking any risky throws at all.
In the first half possessions for Austria with more than 30 passes were common as Hungary threw some different zone looks at their opponent where gainers were had to come by. In these possessions Dave Huter was able to advance the disc with his precise throwing. Hungary's offense was concentrating on creating a lot of space between handling and stack to isolate handlers or throw to their women in tons of space. With Márton Paksai on the disc, this unusual setup was quite successful. Another standout in the young Hungarian Team was Bogár Csánady who was very solid with the disc as a thrower and a receiver. Since Austria met this team in preparation games they knew what to expect but in the first half Hungary managed to score frequently. Hungary also managed to isolate their girls in the deep space from time to time and kept the first half close but Austria still came out ahead at 8-5.

In the second half Austria took advantage of some turnovers caused by miscues  and managed to finish points faster. Austria did a better job of stopping the hosts initiation cuts. In the end Hungary did not really put up a fight in the second half and managed only score once to bring the final score to 15-6. Part of this was due to the dominant cutting of Miha Pack in the deep space that Hungary did not seem to have an answer for.
After the first round of games concluded, players left to prepare for the first real day of game play today.