A clash of the titans awaits tomorrow!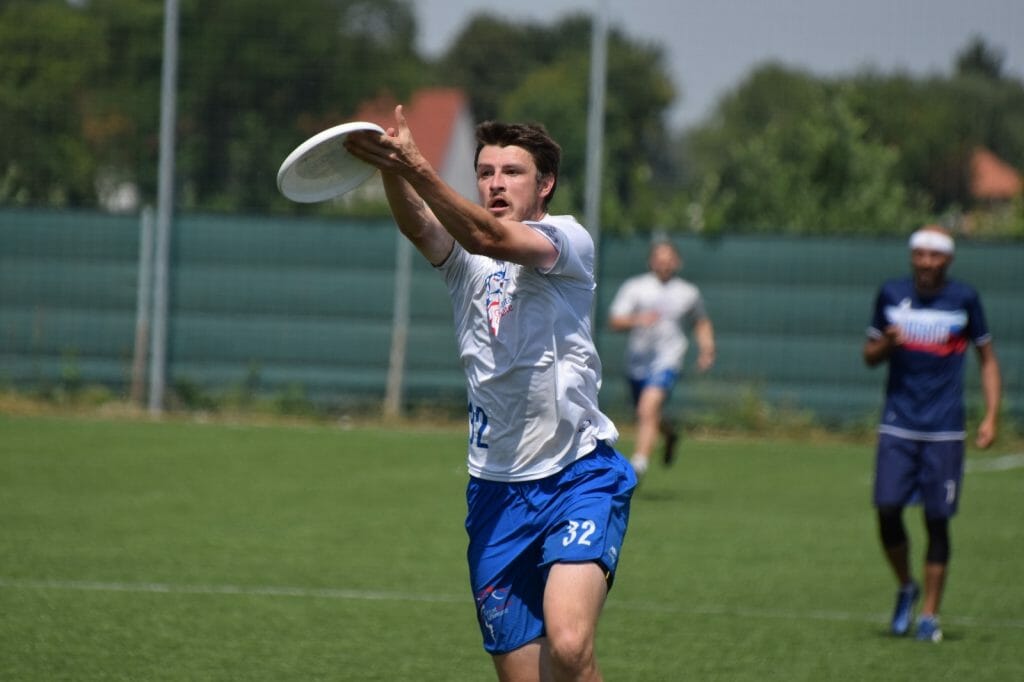 It's Friday afternoon and the men's final is set. No surprise, Great Britain will face Germany. It's the one seed against the two seed, and both teams have steamrolled their way to the final.
Friday Morning Semifinals
Great Britain faced Russia and took them down 15-5. The game started quite evenly. They traded until 3-3, with neither team's offense looking very clinical. Both teams had break opportunities, but Russia probably had the better of the opening stages. They reached the end zone on two separate occasions, but they failed to convert either opportunity. At 3-3, the Russians started to make some execution errors. They dropped the disc on four possessions in a row, and the British defensive line offense started to find their rhythm, punishing the Russian mistakes. The break train kept on rolling, and Great Britain took half 8-3. After such a bright start to the game, Russian heads dropped, and they just could not fight their way back into the game. The second half seemed like a formality, at times.
It must be said that the British were very effective at keeping the disc out of the hands of Russian throwers, and their defenders used intelligent switches to help each other out. Their offense often left a bit to be desired. Even though they didn't get broken, they did turn the disc over more than they probably would have liked. Russian spirit captain Yegor Naumov said that because the Russian offensive line is not very deep, it's hard for them to stem the tide of breaks.
Great Britain captian Josh Briggs was quick to praise his opponents, saying, "Russia are certainly a good team on the rise…I expect they will be getting more and more dangerous every year and look forward to playing them again in the future." Regarding the game itself, he said that even though the game was very close in the early stages, they trusted their defense to take the upper hand eventually. As for the team that awaits them, Briggs said, "No beating around the bush, we've been headed towards each other all week. We're expecting a big step up in difficulty both physically and tactically."
The other semifinal had an identical score, with the Germans taking down the Swiss 15-5. Unlike the other semifinal, both of these teams know each other quite well. They've played many times, so there were never going to be too many surprises. The Germans used a variety of defensive looks to disrupt Swiss flow. Conrad  Schlör, especially, had a standout game on the defensive line. On offense, the guys from Bad Skid were extremely efficient and were never broken all game.
Again, the Swiss were broken on the first point, and Swiss player Seve Ris agreed that such an early break set the tone for the game, with the Germans being dominant from start to finish. The Swiss played a much more open offensive line than usual, knowing that they would be on the field a lot. They wanted to use the game to give their whole roster the chance to play.
German coach Stefan Rekitt acknowledged his team's dominance in the game. In their earlier game, Rekitt thought the Swiss got away with a lot of deep shots that his team shouldn't have given away. Coming into the semifinal, he wanted to shut those looks down, and his team largely succeeded. They did so by letting their handlers poach a little bit, but it was quite varied, and looked a little bit unpredictable from the outside. Looking forward to the final, Rekitt hopes that Great Britain's lack of close games will work in the Germans' favor. He was mum on their strategy, but he did mention that they had a plan in place.
The Big One
It'd be hard to argue that these two teams don't deserve to meet in the final, and it's the game everyone's been waiting for this week. Since neither team has been tested too much, it's hard to predict who will react best to the pressure of a more evenly matched game. Throughout the week, Great Britain's offense have turned the disc over more than expected, but because of how good their defense has been, it hasn't mattered. Tomorrow, they face a much stiffer defense than any they've faced so far, and one that is far more versatile. Germany's offense seems to have gotten better and better every game, and it's been very rare that they've turned the disc over. They're patient, disciplined and athletic, but Great Britain's defense have been able to put everyone else outside their comfort zone. Either team is more than capable of winning if they're on their game. It will come down to who is more disciplined on offense, and who's able to play more efficiently when given break opportunities.