The season starts in Denver!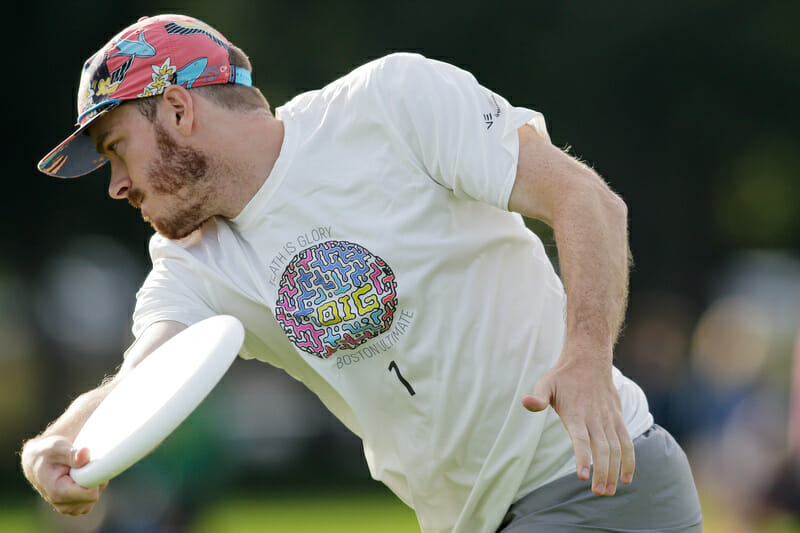 Sixteen of the top men's teams in the country travel to Denver this weekend to kick off USA Ultimate's major regular season series. Given the shocking end to the 2018 season and subsequently turbulent off-season, the Pro Elite Challenge carries special significance this year in being the first glimpse we'll all have of the new club order. While many high-impact players will not be in attendance due to semi-pro or U24 National Team commitments, there are more than enough things to keep an eye on as the weekend progresses. Here are just a few.
Tournament Profile
Date: July 13-14
Location: Denver, CO
Weather: Hot and sunny, highs in the mid 80's to low 90's, chance of thunderstorms on Saturday, 7-10 mph winds
Top 25 teams: 16
Filming Schedule
Ultiworld will be filming four men's games this weekend at the Pro Elite Challenge, to be released after the tournament. Access to the footage will be available to Full and Plus subscribers. Here are the games:
San Francisco Revolver vs. Chicago Machine (Pool Play)

Men's Quarterfinal (TBD)

Men's Semifinal (TBD)

Men's Final (TBD)
Special Advance Screening of the Reloaded Champs
Fresh off of the program's first national championship, #1 New York PoNY wasted no time capitalizing on their improved brand to land some big name recruits for the 2019 campaign. While the newbies won't all be cleating up at Pro-Elite,1 we should get a first look at Marques Brownlee (Garden State), Jack Hatchett (Ironside, Dig), and Alex Thorne (perennial U.K. champions Clapham). All three of them should be immediate contributors. On a stacked New York squad, though, they don't have to control the game the way they may have done with previous outfits. Instead, this weekend will be an exercise in how quickly and how well they adapt to PoNY's systems and mesh with their new teammates.
Almost forgotten amid their dominant finish is the fact that at this tournament last season PoNY failed to win a game in their pool and missed the bracket. While it isn't likely to happen again — Jimmy Mickle and Chris Kocher aren't busy doing another Australian tour this time around — last season's result demonstrates that PoNY emphasizes process over victories in the early part of the club calendar. It would not come as a surprise to see several players rotating onto the O-line alongside Mickle, Kocher, Sean Keegan, Harper Garvey, and Sam Little as the team leadership begins to determine who can strike sparks later in the season.
Denver's New Talent
PoNY isn't the only team looking to show off some new faces this weekend — hometown favorites2 #6 Denver Johnny Bravo have added two ultimate savants in Joel Schlachet and Jonathan Nethercutt to an already excellent offensive unit.
Describing the Johnny Bravo offensive system on a recent episode of Deep Look, Ben Lohre said, "Some players, particularly gifted throwers, I think it gives them an opportunity to be more creative." With the addition of Nethercutt, Johnny Bravo has the requisite gifted thrower. His presence will immediately attract the attention of defenses and take some of the pressure off of Lohre and Josh Crane. And between the thin air and the license the system gives him to hit unorthodox spaces on the field — already a Nethercutt specialty — expect a fresh helping of the canny throws and long-shot specialties that Denver easily serves up at altitude.
Significantly less flashy, but no less effective over the years, Schlachet has long been a matchup nightmare. His nose for the end zone is second to none, and his uncanny start-and-stop agility has made him the preeminent goal line cutter of his generation. When Crane and Nethercutt aren't able to find room for a big throw, look for Schlachet (and Matt Jackson) to do the necessary work with their legs to drag Bravo to score after score.
Big Stars Looking to Give Big Boosts
Continuing the theme of first looks with new outfits, a pair of stars have signed on with teams that have been flying below the top tier in recent years, and both of them should be active this weekend. John Stubbs and Goose Helton are set to appear for #12 Atlanta Chain Lightning and #14 SoCal Condors, respectively.
Helton bolsters a power-throwing, power-cutting Condors offense by adding one more dynamic threat. He is a tremendous downfield cutter. When he isn't catching the disc in the end zone, he'll likely be working between midfield and the attacking brick, a range from which his well-documented repertoire of hammers, scoobers, and blades is particularly dangerous. The Condors were already on the rise, but between Helton's big-game experience, drive, and multi-faceted game, they have a potential catalyst that can speed up the progress.
Stubbs, meanwhile, immediately becomes a focal point of Chain Lightning's offense. He has the potential to be a program-changing player, but, at least for this weekend, it comes with some strings attached. Chain need to walk a narrow line between figuring how to meld the extremely effective offensive unit returning from last season with their talented newcomer and perform well enough on the scoreboard to firm up a bid for the Southeast. If there's too steep of a learning curve on either side, it could throw an annoying kink into Atlanta's plans. But if the returners start clicking and Stubbs starts cooking, Chain Lightning could be the latest team to barge into the division's upper echelon.
A Little Role Reversal
#5 San Francisco Revolver and #3 Chicago Machine, each playing a key part in the chaotic offseason, arrive at the Pro Elite Challenge in unfamiliar positions.
For Revolver, 2019 is the first year in many in which they do not enter the season as favorites to win a championship. A thumping in the 2018 final and losing more than a line's worth of the best players in the world will have that effect. That's not to say that Revolver have dropped off a cliff: they still have one of the game's best collections of talent, including Nick Stuart, Cassidy Rasmussen, Ashlin Joye, Marcelo Sanchez, Simon Higgins, and Antoine Davis. In the midst of such an upheaval, though, will that talent prove strong enough to overpower the inevitable obstacles the team faces as they attempt to figure out their new form?
Machine, on the other hand, seem to have gone from being the butt of Ring of Fire's jokes to 2019 contenders almost overnight, making out like bandits in in the offseason. Though they didn't pick up any of Revolver's defectors, they did attract some notable players from the now-defunct Michigan High Five and Madison Club. Not all of the new players — Peter Graffy, playing an AUDL game for the Madison Radicals, and Joe White, in Germany for U24 Worlds — will debut for Machine this weekend. Still, it should be a blast to see how well Keegan North, Paul Arters, and Johnny Bansfield fit in with their former rivals. Among the Chicago veterans, Pawal Janas could be due for an All-Club caliber season and Kurt Gibson continues to dominate the division.
Revolver and Machine square off for a marquee matchup in pool play on Saturday.
Have We Underestimated Doublewide And Sub Zero?
Perhaps because comparatively little about their roster has changed in an otherwise tumultuous off-season, #8 Austin Doublewide come into the season a little under the radar. But a lack of exciting offseason news is not the same as a dull squad. To a certain extent, the same can be said for #9 Minneapolis Sub Zero, whose offseason acquisitions weren't quite as flashy as those elsewhere around the country, so perhaps haven't gotten the appropriate press.
Doublewide lose a few players to #24 Houston HIP (Matt and Mitchell Bennett; Dillon Larberg), but they retain most of the core that propelled them to the 2017 National final and the corresponding invitation to the 2018 WUCC. Dalton Smith, Jay Froude, Abe Coffin, and Kai Marshall all appear to be coming into the prime of their careers. Froude and Coffin, in particular, are liable to make some eye-popping plays as they continue to present two of the most difficult matchups in the division. Doublewide's additions include former Ring of Fire D-line standout Hunter Taylor — who should be as effective at generating turnovers in the deep space as Kaplan Maurer is in the lanes — and, technically, Gabe Hernández, who missed 2018 with an injury.
Sub Zero benefit from an infusion of new talent from the estate sale of Madison Club. Will Kevin Brown, Bill Everhart, and Logan Pruess be the keys to building on the potential they showed during the 2018 US Open, in which they beat Revolver before losing to PoNY in the final? Perhaps. Then again, Sub might have been right where they needed to be even without the additions. While it looks like they'll be missing a couple of important contributors this weekend in Cole Jurek and Nick Vogt, the core of the roster — Jason Tschida, Josh Klane, Nick Simonelli, Ryan Osgar, Greg Cousins — looks like a solid base from which to build a surprising season. If 2019 is the year Sub Zero finally start to put the rest of the division on notice (and stop playing farm team to the big leagues), then we'll surely see the first indications in Colorado.
Don't Forget The Bid Picture
For all the talk of incorporating new players and coalescing around team systems, the games at Pro Elite Challenge count, and this weekend will carry implications for the end-of-season bid picture. Pittsburgh Temper's run to the final here in 2018 was a major factor in snapping their Nationals drought.
A few teams stand to improve their chances at San Diego with a good showing at Pro Elite. Chain Lightning and Condors, of course, seem like good bets on paper to earn necessary strength bids for the Southeast and Southwest, but both teams will want to establish it on the field. #15 Toronto GOAT, still headlined by one of this generation's great all-around players in Mark Lloyd, will want to do the same for the Northeast.
But disruptive forces lie in wait for these would-be contenders. Any stumble by the above teams in pool play or the late-afternoon prequarterfinal round on Saturday could open the door for younger teams like #16 Philadelphia Patrol, #18 Portland Rhino Slam!, #21 Kansas City Prairie Fire, and #22 Seattle Voodoo to make a crucial move. And if any of them repeat 2018 16-seed Temper's overachievement, it will reverberate throughout the division.
---
No Grant Lindsley or Jeff Babbitt on the scene yet. ↩

And 2018 PEC champs. ↩