Germany dominate Belgium to cap the opening day of WFDF's 2019 U24 World Championships.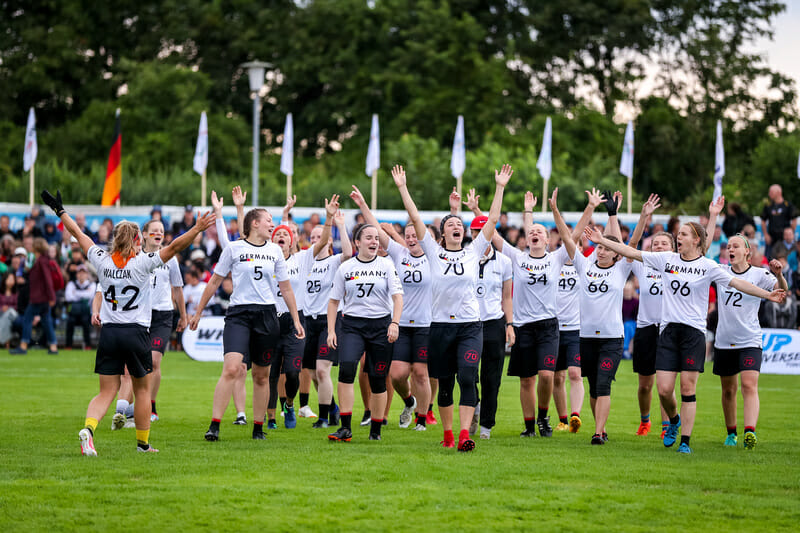 Ultiworld's coverage of the Wolrd U24 Championships is presented by VC Lookfly; all opinions are those of the author. Please support the brands that make Ultiworld possible and shop at VC Lookfly!
The World Under 24 Ultimate Championship started off with a rather rainy but well organized opening ceremony in Heidelberg. Players from all over the world came together to celebrate a dance party. Then they had the parade of nations, featuring every team from all the participating countries. Overall it was a quite short, but very smooth way to start the tournament.
German Women Dominate Opening Showcase Against Belgium
Just as short but maybe not as smooth was the opening game between the women from host nation Germany and Belgium. Germany ran away with a thoroughly convincing 15-1 victory. This is the first time Belgium has sent a team to any U24 Worlds event; in fact, they have had only one previous women's team on the junior level in 2017.  According to coach Fleur van Damme, the Belgian team only had one preparation tournament — Belgian Nationals — in order to minimize costs for the young players. Unsurprisingly, Belgium did not look much like a well composed team just yet, but definitely showed some potential to develop some connections over the course of the week. American import Julia Harris, who is studying abroad in Belgium, put in a good performance for the team and once she has acclimated with the team, she will for sure take on a bigger role for them.
Germany, on the other hand, enjoyed a very intense preparation period. They went to both Bologna Invite in Italy and Tom's Tourney in Belgium earlier this summer, in both cases heading home with some great results. When starting a point on offense, which they did just twice during the opening showcase, they relied on Levke Walczak — the 2017 European Youth Player of the Year — to huck it to the end zone. They looked very clinical and composed as a team and managed some great flow on their D-Line offense, often anchored by Meg Goldbuch, who had a great game for the hosts.
All in all, Germany was just the far better team. For an opening game displaying the skill of women's ultimate all over the world, perhaps a different opponent could have been chosen in order to make the game a little longer than 44 minutes.